The Saturday 3-2 loss against the New York Islanders was definitely a really tough way for the Chicago Blackhawks to have to end their eight-game winning streak. Chicago has been one of the hottest teams so far this season so it wouldn't be surprising to see them stepping up their game play soon just to ensure that a close loss like this doesn't happen again but also just for Stanley Cup chance security.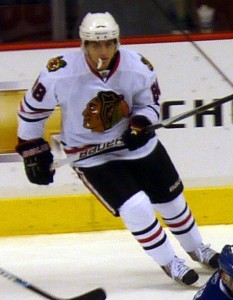 Even match-up for the night
The Islanders have also proven to be a rough team to go up against this season so there's no doubt that the Blackhawks winning for the ninth game in a row just wasn't a one hundred percent, for sure thing. The first period was evenly matched for both teams and went scoreless. Chicago's Daniel Carcillo lit up the scoreboard with the first goal of the game at 14:25 of the second period but just seconds after, New York's Cal Clutterbuck scored to even up the game.
Things were starting to look great in the Blackhawks' case when Patrick Kane scored 3:46 into the third period and gave them a 2-1 lead but it was still too early for them to just lay back for the rest of the game. The Islanders picked up the pace and Kyle Okposo took the rebound of John Tavares' power-play shot and swept it in to make the score even once again but just 51 seconds later, Lubomir Visnovsky gave the game-winning goal to New York.
Despite the way that the game turned out, Chicago still had good points for the nights. As usual, they came out and were already flying and dominating puck possession. They outshot the Islanders 10-8 in the first but New York had momentum of their own rolling. The Islanders shot up with energy during the second period and starting putting on the pressure during the third.
Darling impresses
Of course Blackhawks goaltender Scott Darling was going to beat himself up and be his own worst critic after that kind of crucial loss. The thing is he really didn't do as bad as he thinks despite being outshot 41-25. The game went back and forth the entire time and was iffy here and there but still, 24 saves through 40 minutes is a big deal. Two of the league's icons, Jonathan Toews and Kane, immediately rushed to Darling's defense in a release after the game. They acknowledged the fact that they probably wouldn't have gotten as far as they did without his help.
"He's competitive, he's critical of himself. But he played really well. He kept us in that game. We didn't give him too much help," Toews said. "He made some huge stops throughout all three periods. If he wasn't there on those, we could have been in real trouble. Thanks to him, he kept it a close game and somehow gave us a chance to win."
In the end, this was going to be a tough wake-up call for Darling no matter what. He made a career-high 38 stops against the New York team and he can only be effective if his team is up and ready to fight.
Oh Darling.

24 saves for Scott through 40 mins.#CHIvsNYI tied 1-1. pic.twitter.com/CLI3eovTEZ

— NHL (@NHL) December 14, 2014
It's far from over yet
The Blackhawks are one of those teams where pride is everything and they'll do whatever they can to keep it. They are also on the hunt with high Stanley Cup aspirations so this loss is useful as a major lesson that if they want to win every game, they'll have to show up to every game. Yes, they did put up a great effort against the Islanders but to a team like Chicago, just a high five after a game like that isn't enough. It's guaranteed that with the kind of talent and history they have, another eight-game streak will be right around the corner.
I'm from the sunny sides of Anaheim, CA. I currently go to college and am majoring in journalism. I talk hockey in other places so check out my Twitter.