The Chicago Blackhawks have had a rough February, with a 3-3-1 record. Heck, they've had a rough season, ranked 30th in the NHL with 41 points, so wins are a rare treat. When a 5-3 win against the fourth-best team in the NHL comes knocking on the door, fans savor it, especially knowing the next 11 days will be emotional as we head toward the trade deadline. The Blackhawks' performance at home against the Toronto Maple Leafs on Sunday was one of the season's most entertaining and memorable. Here are three takeaways from their big win on Feb. 19.
1. Jaxson Stauber Continues to Impress
If there is one thing fans probably didn't have on their bingo cards, it was that a 23-year-old rookie from the Rockford Icehogs of the American Hockey League (AHL) would be their best and most consistent goaltender of the season. Jaxson Stauber went undrafted and signed a two-year, entry-level contract ($883,750 AAV) with the Blackhawks in March 2022. He was expected to spend the entire season in Rockford, so it was a surprise when he made his NHL debut, and frankly, he has created one of the best stories of the season for Chicago.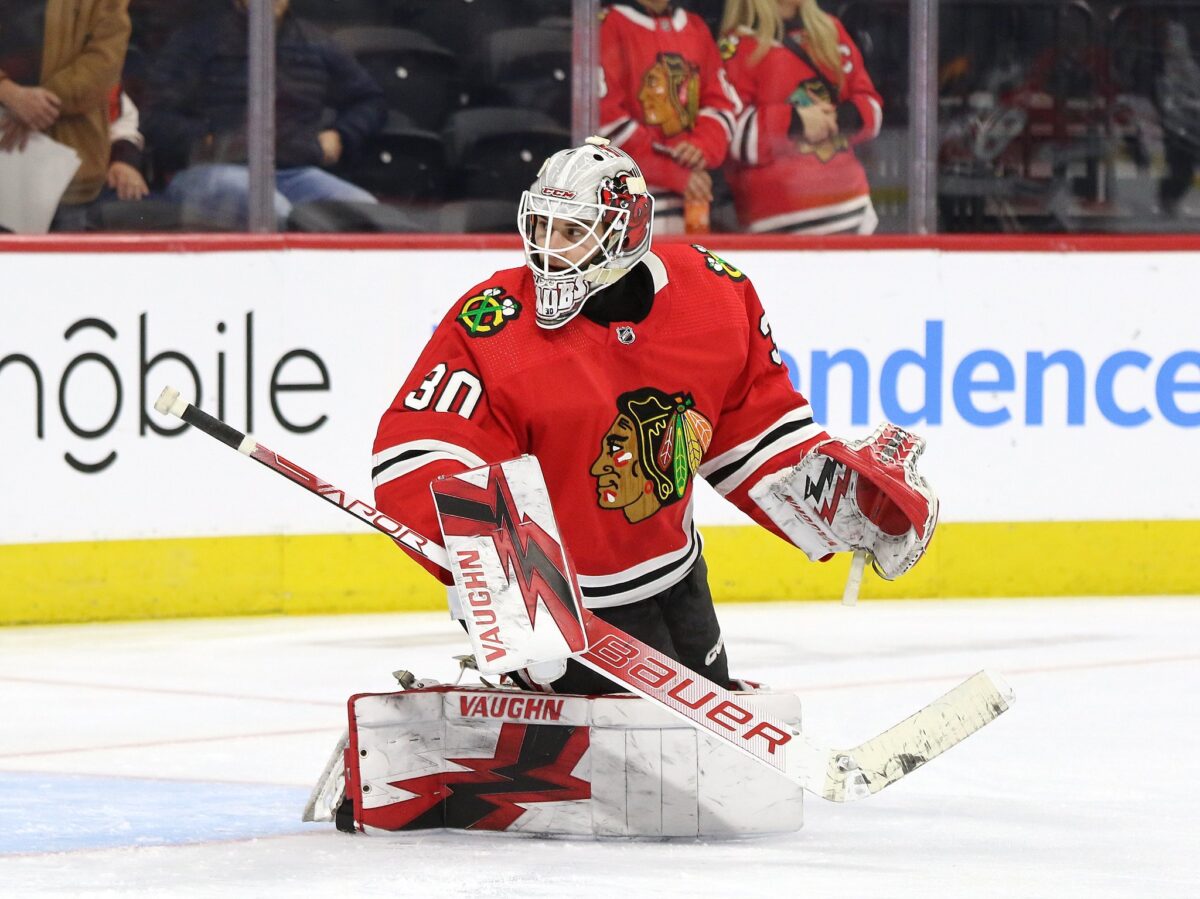 Stauber was recalled on Jan. 17 because backup goaltender Alex Stalock is dealing with ocular dysfunction, and the Blackhawks' go-to backup in Rockford, Arvid Soderblom, suffered a groin injury. He made his debut on the road against the St. Louis Blues, which is no small feat, and earned his first win. Four games later, nothing had changed. He was as poised against the Maple Leafs as he was against the Blues, coming up with big saves against players like Auston Matthews and William Nylander that kept the Blackhawks in the game.
Stauber anticipates and tracks the puck well and always seems to know where it's going, which helps him find the correct position to make saves. He stopped 32 of 35 Toronto shots and ended the night with a .914 save percentage (SV%). To make the night even better, he earned an assist on Max Domi's empty-net goal for his first NHL point.
---
Latest News & Highlights
---
Stauber has a 4-1-0 record, with a 2.77 goals-against average (GAA) and a .912 SV% – he almost has as many victories as Petr Mrazek and Stalock, who have six each in 39 combined starts. However, he may only stay in Chicago briefly as head coach Luke Richardson noted that Stalock is progressing and could return soon. Either way, Stauber has been a revelation and was a big reason why the Blackhawks beat the Maple Leafs. His calm and collected presence in net has also rubbed off on his teammates, and right now, he is the one goalie that I am confident will win when starting. Even ESPN broadcasters Kevin Weekes and Mike Monaco couldn't help but sing his praises throughout the game.
2. Cole Guttman's Nets Significant First NHL Goal
As if the night couldn't get better, rookie forward Cold Guttman also had some tricks up his sleeve. In August, Guttman was signed as a free agent from the University of Denver. The Tampa Bay Lightning, who drafted him, decided not to sign him as his draft rights expired, and it looks like the Blackhawks might have picked up a hidden gem.
Guttman and Brett Seney were recalled from Rockford on Feb. 15 after Jonathan Toews was placed on injured reserve with a non-COVID-related illness, and MacKenzie Entwistle was listed day-to-day with a wrist injury. Guttman made his NHL debut in a lousy game against the Maple Leafs on Feb. 15, a 5-2 loss, but Richardson had nothing but positives to say about him, and two games later, he netted his first NHL goal against the same team. Poetic, really.
Guttman's goal on Sunday was the eventual game-winner, putting the Blackhawks up 4-3 with eight minutes left in the third period. When he was recalled from the Icehogs, the 23-year-old had 30 points in 39 games and was third on the team in goals with 16, one more than top prospect Lukas Reichel. The Blackhawks gave him a lot of responsibility by making him the second-line center out of the gate, but he has adapted well. Against the Maple Leafs, he won six of eight faceoffs for a 75% success rate. He also recorded three shots, third-best on the team, and was a plus-one on the night.
Related: Blackhawks News & Rumors: Toews, Jones, Guttman, Injury Update
He has one point in three games with a 54.55% faceoff rating while averaging 12 minutes of ice time. After his game-winner, he said, "I really couldn't have drew that up better."
3. The Patrick Kane Show Continues
They don't call Patrick Kane "Showtime" for nothing, and despite the many exciting moments throughout the game, the night was really about Kane. He has a disappointing 41 points in 52 games this season; however, he has taken it up a notch these last few games. When the Blackhawks faced the Ottawa Senators on Feb. 17, he had two goals for his first multi-goal game of the season. Then, against Toronto, he got his ninth-career hat trick, marking the first time since the 2018-19 season that he has had consecutive multi-goal games. Each goal was prettier than the last, scoring first to make it 1-0, then 2-1, and finally, his third goal put the team up 3-1.
The game proved that when he is "on", there is still no stopping him. It was his best performance of the season, including attempting his vintage spin-o-rama at the end of the second period that was stopped by Maple Leafs' goaltender Ilya Samsonov.
Kane was skating with ease, had accurate, sharp shots, and the perfect passing plays, adding a bit of flare. No one is more entertaining than Kane when he puts on a show, and there was a hint of emotion knowing that it might be one of his last games at the United Center. The Blackhawks have two more home games before the trade deadline on March 3, and general manager Kyle Davidson said he expects Kane to give him an answer about his future "soon."
Kane got a standing ovation after scoring his hat trick and another after being named the first star, which made him a little choked up. If that is his last performance in Chicago, he didn't miss a beat, and fans were surely happy to be transported back to the Blackhawks' dynasty-era Kane for a night.
Related: Blackhawks: 3 New Teams Enter the Patrick Kane Sweepstakes
Kane talked about how he thought the reaction to his recent knee/hip injury was blown out of proportion. NHL scouts from 15 teams were in attendance and would never have known he was injured watching him play. If he wanted to prove that he was well enough to perform at his usual high level, he did. He now has five goals and six points in his last two games and is a plus-5. He's back. Tell a friend.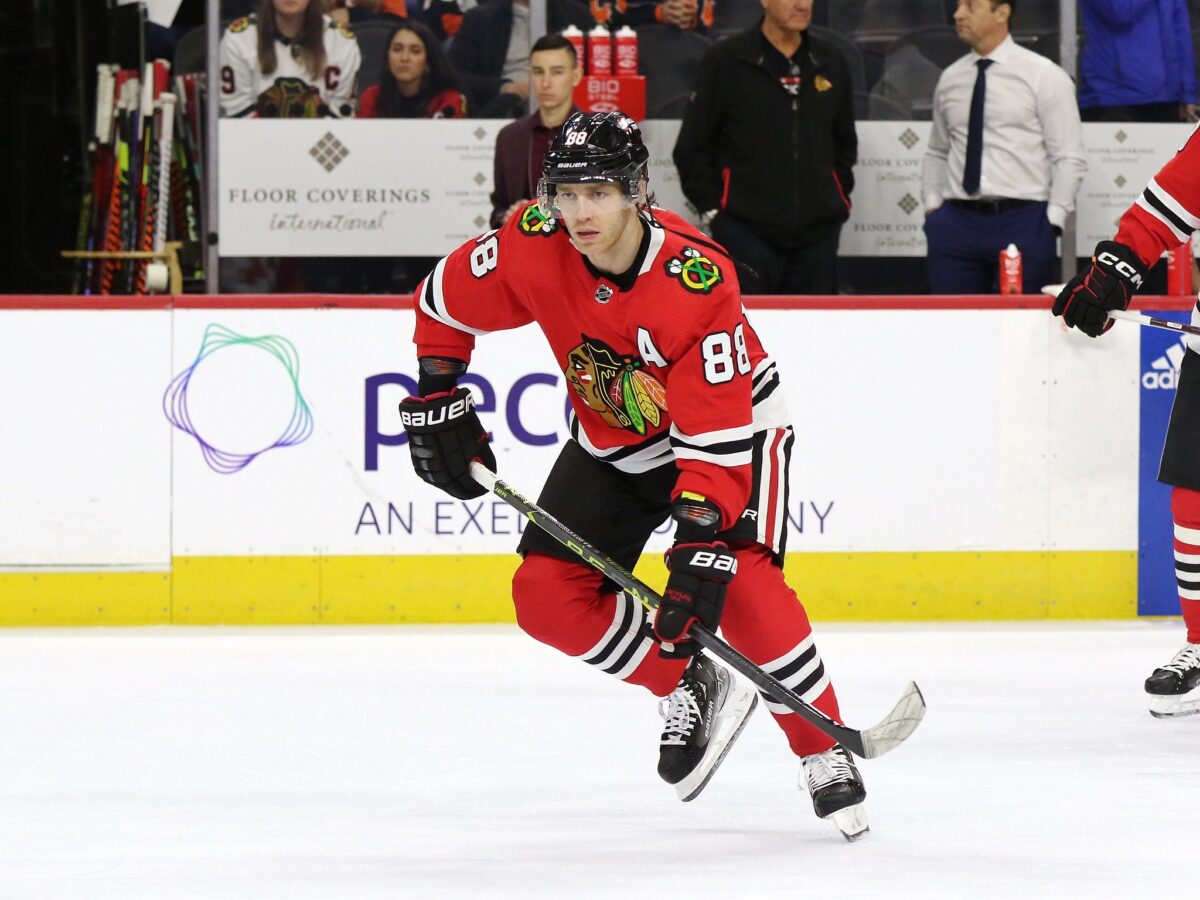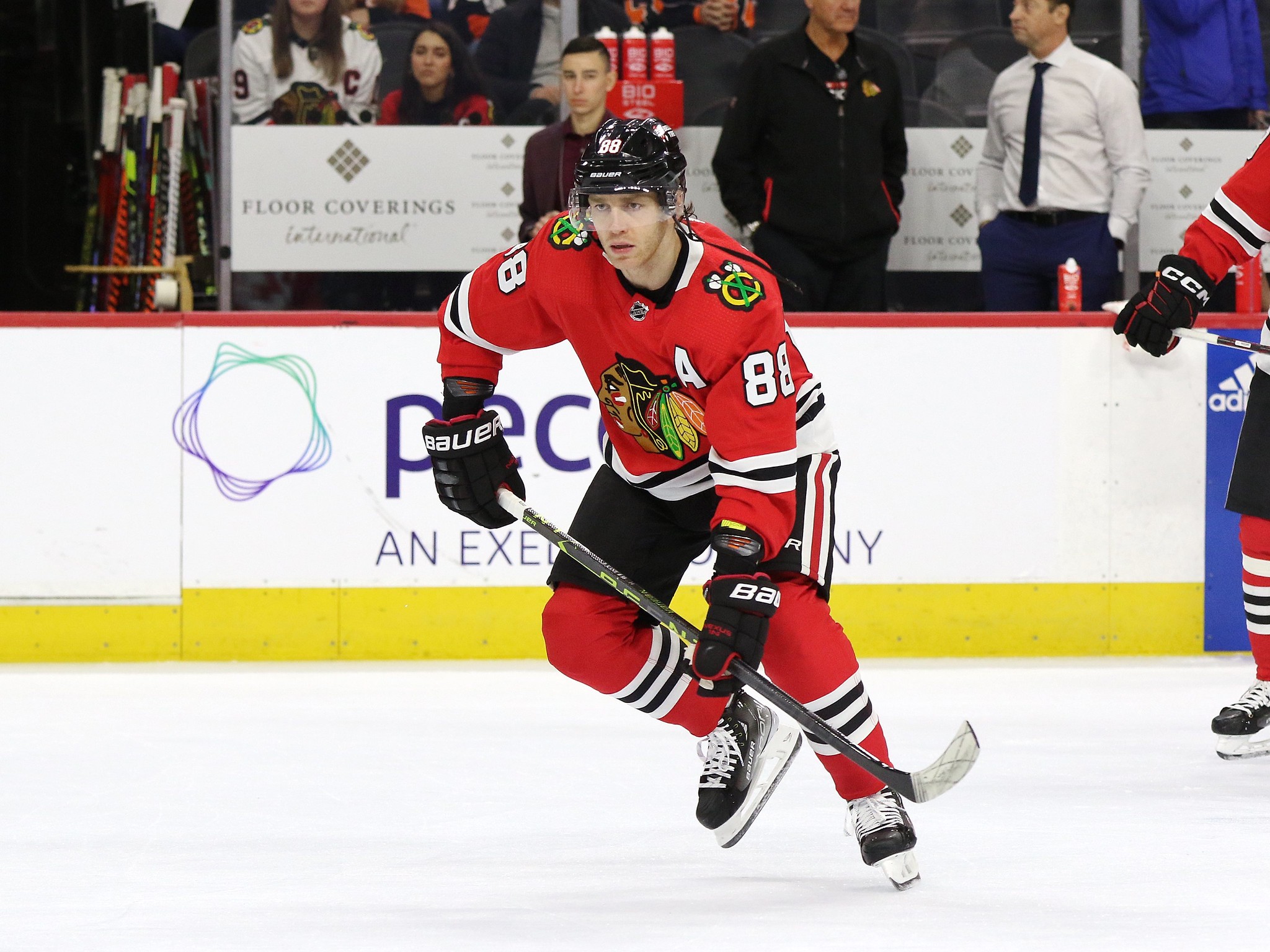 Forward Sam Lafferty spoke about the trade deadline recently and knowing friends may be on their way out. He said, "But it's all the more reason to play hard for each other for this last stretch before the deadline" (from 'Lazerus: As Blackhawks sink, don't lose sight of the toll the trade deadline takes,' The Athletic, 02/15/2023).
The Blackhawks played hard for each other against Toronto. Although the Maple Leafs rallied to tie the game 3-3 after being down 3-1, the Blackhawks never trailed. They also outshot Toronto 6-1 from the start, and it was a pretty clean game by their standards, featuring fundamental Blackhawks hockey, Kane theatrics, and unexpected heroes against a fellow Original Six team in front of a roaring United Center crowd. I don't know if the Blackhawks will deliver another performance like that again this season.
---
---