The Chicago Blackhawks have been a force to be reckoned with over the past few weeks. Since December 29, every game ended in victory for the defending Stanley Cup side that saw the Hawks complete a 12 game winning streak. That was, at least, until last night (January 21) at Tampa Bay. In a game that replayed last season's Stanley Cup Final, the Lightning played fast, battled hard and stopped the Hawks getting the shots on Ben Bishop in goal. The Lightning outshot the Hawks 33-18 and ended the impressive streak in a 2-1 victory for the home team.
Smells Like Team Spirit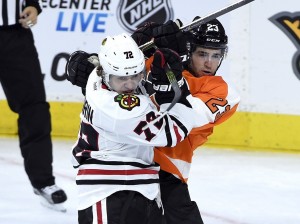 The spirit in the Blackhawks camp recently has been nothing short of exceptional. What with Patrick Kane's unbelievable 26 game point streak, some ridiculously good goaltending from Corey Crawford, Coach Joel Quenneville is now the second-winningest coach ever in the NHL, and now the 12 game winning streak, what else can the Hawks add to the list before the season ends?
The Hawks are currently sitting at the top of the Central Division and the Western Conference, and in second place in the whole league, with only the Washington Capitals ahead. Not bad, right?
Next on the Agenda
Next on the schedule is the Florida Panthers. The Panthers themselves, have just come off the back of their own 12 game franchise record winning streak, however, they seem to be struggling to find their victorious ways as they haven't won a game since the streak ended last week. This is where the Hawks can take full advantage. Even though the loss against the Lightning will be tough to take, they need to keep the momentum going and keep moving forward. Every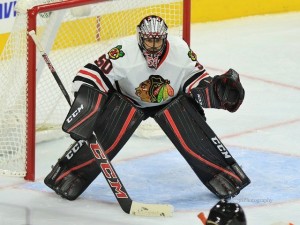 streak must end, as they say.
The Blackhawks need to put a big focus on winning one game at a time. Even though the winning streak was very impressive, they need to put that to one side and keep focussed and motivated on winning the next game. It will be disappointing to fans that the streak has come to an end, but, along with the coaching staff and the players on the team, everyone has to look
forward.
We're now over halfway through the season, the playoffs aren't that far away, surely that's on everyone's minds too?
So, that's it. The Blackhawks have to keep that motivation and the tremendous team spirit going to make sure that they do just that: keep going on. Every team will win, and every team will lose. And the mighty ship sails on..
I currently live in Luton, United Kingdom and I am big a fan of the Milton Keynes Lightning (English Premier League) and the Chicago Blackhawks.
I write match previews and other articles for the Milton Keynes Lightning website and I also help to write and put together articles for the match night programme.
I am a Media Performance graduate but my passion lies with ice hockey