As we turn the calendar to 2023, the Chicago Blackhawks are still trying to find their way in this rebuilding season. They've also been dealing with some injuries. Forwards Patrick Kane, MacKenzie Entwistle, Jujhar Khaira and defenseman Jarrad Tinordi are all currently unavailable due to injuries. This has opened the door for some of the younger players to step in and make their mark. Let's look at who the Blackhawks have given an opportunity, and how they've been faring.
Reichel's Ready to Roll
Top prospect Lukas Reichel got the call for the second time this season, having played one previous contest with the big club on Dec. 6. The 20-year-old is looking noticeably more comfortable and confident this time around than he did previously.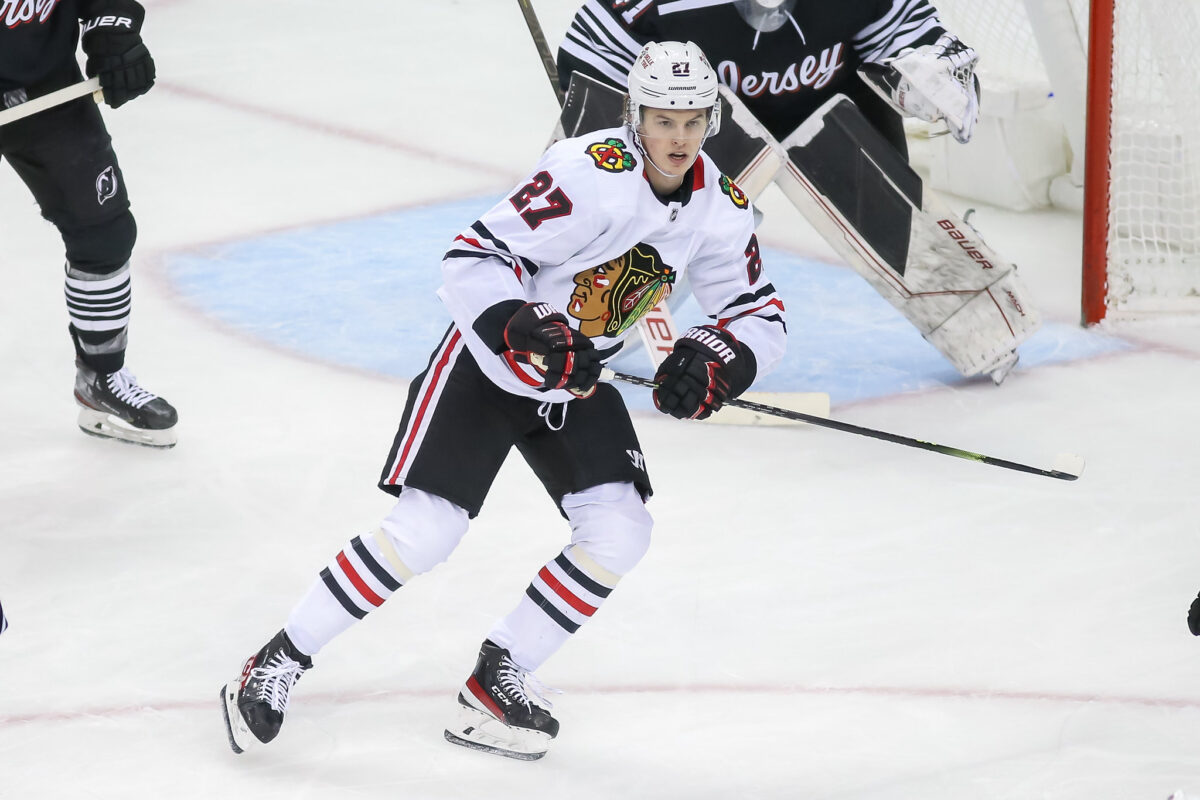 Kane being out has left an opening on the top line, where Reichel has slotted in on the left side alongside Max Domi and Philipp Kurashev. The absence of Kane has also given the youngster an opportunity to take charge a little bit offensively; something he's accustomed to doing with the Rockford IceHogs. On his first shift of the game versus the Arizona Coyotes on Jan. 6, Reichel basically took control on a takeaway and used his speed to create a quality chance. He ended the night a plus-1, registering a shot on goal and a blocked shot in 15:05 minutes of ice time.
Related – Blackhawks' 10 Defining Moments of 2022
Reichel's strong play paid off in the way of some production against the Calgary Flames on Jan. 8. Well I guess "some production" is a bit of an understatement. The German native notched his first ever NHL goal just minutes into the contest, and he added two primary assists; including the helper on Domi's overtime winner. In trying to determine a highlight reel to show, I decided to go with the one least likely to be shared by the masses. This is simply because it was such a fake-out to the goalie, which set up an easy tap-in for Kurashev. Really smart play by Reichel.
Lukas Reichel sells the shot the whole way then makes a terrific last-second pass to Philipp Kurashev, who buries it. #Blackhawks pic.twitter.com/kezHkI1Zk6

— Charlie Roumeliotis (@CRoumeliotis) January 9, 2023
We found out on the Blackhawks' TV broadcast that Kurashev speaks German, so he and Reichel can banter back and forth in Reichel's native language. The instant chemistry between the two, and with Domi for that matter, is evident on the ice. It will be interesting to see what the organization does with Reichel when Kane returns. Will they eventually send the youngster back to Rockford? Or will he have an opportunity to play with Kane? A line of Reichel-Domi-Kane could be really fun to watch.
Mitchell Finding His Way
After being called up, but in and out of the lineup through most of December (he played five of 13 games), defenseman Ian Mitchell has suited up for the last four games with the Blackhawks. He's played on the 3rd defensive pairing alongside both Jack Johnson and Caleb Jones. It appears the 23-year-old is finally getting an extended look.
Related – Blackhawks' Ian Mitchell Has Earned a Regular Roster Spot
---
Latest News & Highlights
---
In this span, Mitchell averaged a healthy 15:54 minutes of ice time and combined for three shots on goal, six blocked shots, two takeaways and a hit. He also logged 5:37 minutes of power play time. But the highlight of this stretch of games was his primary assist to Kane during the San Jose Sharks game on Jan. 1.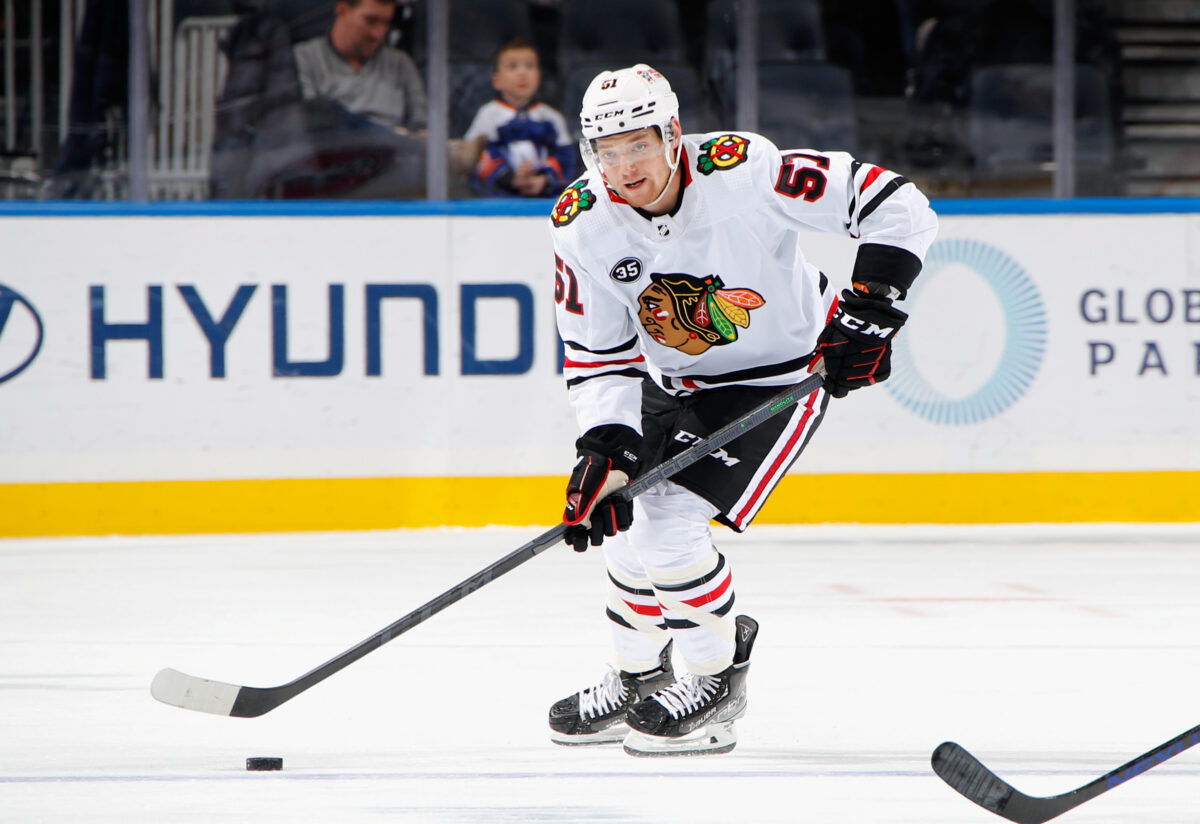 After the game, Kane was very complimentary of Mitchell's efforts. "He made a great play holding it in. Nice heads-up play not to just throw it back down the wall, but find me in the middle." Time will tell whether Mitchell continues to receive playing time moving forward.
Phillips Filling In
Another defenseman that's seen some time of late is Isaak Phillips. The 21-year-old was recalled when Tinordi was placed on injured reserve on Dec. 18 due to surgery for a facial fracture. Phillips played for the first time on Dec. 21 versus the Nashville Predators, and was in the lineup for seven total games before being a healthy scratch the last two contests. He slotted in on the second defensive pairing alongside Connor Murphy.
---
---
Phillips actually fits the mold of what the Blackhawks are looking for in a defenseman more than Mitchell does. The Ontario native is a big body at 6-foot-3, 194 lbs. Upon the Blackhawk's request, he's been working on the physical element of his game.
In his time with the Blackhawks, Phillips boasts 12 hits, three blocked shots and five takeaways while averaging 15:36 minutes of ice time. He also earned his first NHL point with a primary assist to Andreas Athanasiou on Dec. 31 against the Columbus Blue Jackets. Phillips, wearing No. 41, does a great job of keeping the puck in the zone, and Athanasiou does the rest.
Andreas Athanasiou scores his 8th goal of the season and Isaak Phillips records his first career NHL point with an assist. #Blackhawks pic.twitter.com/IwKy4lRvkv

— Charlie Roumeliotis (@CRoumeliotis) December 31, 2022
It's likely Phillips will return to the IceHogs once Tinordi is healthy again. Tinordi was on the ice for the Blackhawks' practice on Jan. 5, but his timeline is four to six weeks. He's still probably a few weeks away from returning. It will give Phillips, and Mitchell for that matter, some more time to prove they should be up with the Blackhawks on a more permanent basis.
Seney Earns a Call-Up
He's not exactly young, or a prospect. But I wanted to include him because he's still a new face for the Blackhawks. Forward Brett Seney has previously played in 55 NHL games, mostly with the New Jersey Devils in the 2018-19 season. But he never really made it at the NHL level, spending most of his time since then at the AHL level. The IceHogs took him on for the 2022-23 season to be a veteran presence that could help the younger players. The 26-year-old is essentially a professional that can take some of the pressure off the prospects.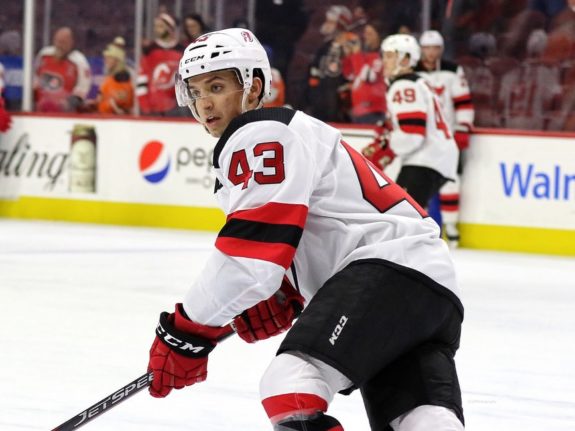 Seney's made quite the impact in the AHL; his 14 goals and 38 points in 32 games is currently good for the second-leading scorer in the league. This earned him a call-up, as the Blackhawks were in need of bodies due to injuries. Seney's played the last two games with the team, lining up on the third line with Jason Dickinson and Athanasiou. He hasn't exactly lit the world on fire, but that's not what he was called upon to do.
The depth forward averaged a decent 15:17 minutes of ice time and contributed five hits, one blocked shot, and one takeaway. Basically, he hasn't stood out in a bad way and he's been a solid contributor to help hold down the fort. He'll probably get sent back down to the IceHogs sooner rather than later, where he can help the team with their playoff push.
Related – Blackhawks Bytes on Adversity: Stalock, Johnson, Kane, More
Each of the above players represents new blood and new opportunities for the Blackhawks as they carry on with their rebuilding season. All of them have contributions to offer, some more than others. Considering the Blackhawks' state of instability due to the upcoming trade deadline and many imminent moves, more new faces could be given opportunities with the team. It will be fun to follow their trajectory and see how they fit in as the rest of this 2022-23 campaign unfolds.