As this is the inaugural post of my new series of Blog Reviews and Interviews, I thought a brief introduction would be in order.  This series will review hockey blogs – regardless of team, conference, theme, or major / minor pro status.  To start, I plan to work my way through the SB Nation's NHL blogs as those are the ones with which I am most familiar.  The first set of blog reviews will go through the Central Division of the Western Conference, then alternate between divisions of the East and West until I make it through the league as seen through the SB Nation lens.
And, yes, I'm going to be a total homer and review the Chicago Blackhawks blog, Second City Hockey, first – as the writer, it's my prerogative.  Since my regular posts tend more towards the academic, I will probably be a little more "casual" in my writing style here.  So, to quote a commercial for a mediocre beer, here we go…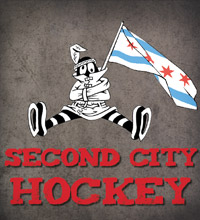 Blog:  Second City Hockey
Writers: Killion, SamFels, and McClure (also knows as the Triumvirate of Stupid), plus Hack and GMH (as noted for their Actual Intelligence)
Team: Chicago Blackhawks
Strength: Irreverent and intelligent commentary.
Weakness: Participants get a bit out of hand sometimes.
Warning: If you are easily offended by language and the occasional off-color reference, this blog is probably not for you.
Hidden Gem: If you read nothing else on this site, read the photo captions.
The writing styles of Killion, SamFels, and McClure are the initial attraction of Second City Hockey.  From the pop culture references to the hockey analysis, the game previews and recaps are among the best I have found (so far) in the blogosphere.  The writers, as well as those who comment, are not afraid to spell out exactly what they feel is going right and wrong with the Hawks at any given time.  Plus, they write well – nothing turns me off like a bad writer.  To be honest, the Triumvirate might possibly be my favorite blog writers.
I have been reading SCH since before the Olympic Break last season and, as you can see, I cannot say enough about their writing.  However, they also try to keep things fresh and interesting since, as we all know, there are only so many game-days in a season.  On game-day, there is always a place for Hawks fans to congregate on SCH.
Occasionally, the guys and the SCH fans also head over to the Bottom Lounge (a local watering hole in Chicago) or even meet up at games. When asked about how the Bottom Lounge events came about, Sam explained that it started as part of the deal for the BL advertising in The Committed Indian (the game-day program produced by Sam).  As with most teams, these fan gatherings tend to have better attendance during the playoffs than some regular season games, but from most accounts, the meet ups seem to be a pretty good time.
In addition to the usual game-day related items, they bring in new ideas. In November, the guys introduced "Atop the Sugar Pile."  As McClure wrote in the first post, "In this segment, we hope to give you, the pantsless, parents-basement-dwelling blog reader, a brief synopsis of who (or what) on the Hawks is trending and in which direction."  Atop the Sugar Pile provides the guys' weekly recap of the Hawks' Terrifying Lows, Dizzying Highs, and Creamy Middles.
Another notable series of posts is Abe Froman's A.M. Hot Links.  Granted, SCH is not the first or the only blog providing a recap of links to stories found elsewhere on the web, but it is a great addition for those who a) are not willing to troll about the internet looking for stories, b) do not have time to troll about the internet, or c) are too lazy to do the above.  Really, though, this segment is a great way to keep up with some of the Hawks news that is floating in cyberspace.  Plus Hack, the Hot Links compiler, is usually good for a snarky comment, especially about local sportswriters.
Well, enough of my proverbial "blowing smoke" up the Triumvirate's collective back sides.  The only issue I have seen with the SCH site comes from what seems to be a minority of posters, especially in the game-day threads.  As someone who used to read the comments regularly, and someone who fluently speaks sarcasm and snark, it was incredibly disappointing to stop reading the comments this season.  I can understand how some people new to the site might feel unwelcome, and it does get out of hand.  There are a number of "inside jokes" often referenced by the regulars that make you feel like you are not named Heather.
However, to the credit of Killion, SamFels, and McClure, they are the kind of bloggers who are involved in their site.  They do their best to provide a blog where people want to visit, read, and participate.  The guys are not "absentee landlords" and do not hesitate to use verbal force or, in electronic parlance, the "delete" key.   If you don't believe me, just search on the post "Principal's Office, Kids" by SamFels for a rather eloquent scolding.
Final Thought: Definitely worth the time to check it out, especially if you are a Hawks fan, but even if you're not.
So, that's the Second City Hockey blog in my words.  I also wanted to let the guys give you a few thoughts in theirs.
Four Questions for Second City Hockey:
Rebecca:  How long have you been writing for SCH?
McClure: After having contributed to the print wing, Sam Fels' Committed Indian, a gameday program sold outside the United Center for Hawks home games, Sam and Killion approached me to help out with the growing reader base and to lend a different voice to the blog.
SamFels: This is my third season writing for the blog and the publication I do called The Committed Indian that's sold outside every Hawks home game.
Killion: I guess I'm the one that's ultimately to blame for Second City Hockey's existence (at least as it is now).  I actually started writing the blog as Here Come The Hawks on blogspot in July of 2008 (July really is the best month to start writing about hockey don't let anyone tell you otherwise).  In November of that year we were asked to take over Second City Hockey on the SBN network by James Mirtle who was in charge at the time.
Rebecca: Why did you decide to start SCH?
McClure: As I said above, I didn't start it, I was brought on later. But for me, I started writing for it in general because I love hockey pretty much more than anything, and I've been told I have a very… "unique" way of articulating myself.
SamFels: Much like McClure, I didn't. When I started the Indian I knew I needed an online component to it, and didn't want to start yet another Hawks blog. I found Killion's, originally Here Come The Hawks.com, and asked if I could join up and use it as the web outlet for the Indian. Luckily he was gracious enough to take it on, and it was only a couple months later that SB Nation, whose hockey wing was being run by James Mirtle, asked us to be part of the reconstruction.
Killion: I started Here Come The Hawks mostly because there weren't a lot of options out there for Hawks fans.  There were a few message boards but they never really appealed to me as a great way to read/talk about a team, I never cared for the sense of hierarchy or exclusivity of them.  I was reading things like St. Louis Game Time, PensBlog, On The Forecheck and was upset there wasn't something like that for Hawks fans.  I wanted a place for some analysis and a new place for people to talk about the Hawks.  In the past it was hard since half the games weren't on TV but then that started to change and the team actually seemed like they were worth watching again.  Rather than wait around for someone else to start something up, I thought I'd just give it a shot on my own.  I don't think I have the greatest mind for writing or hockey knowledge… I just had a decent amount of time on my hands and a boring day job.  It was just a good time to start up something new.
Rebecca: What do you think SCH offers readers that differs from other blogs?
McClure: With the myriad blogs out there that offer what can be found in a newspaper game story, I think the biggest thing that we offer is our own individual perspectives of how we each see what's going down, both in action on the ice and off it.  And I think what gets people to come back on top of the actual hockey acumen is that none of what we write comes across as forced, whether it's trying to hard to be analytical or trying to shoehorn some ill-fitting pop-culture reference in, all of us pretty much talk the same way we write. It creates a conversational aspect to it, which is amplified by the live-updating commenting system for all of our readers to converse amongst themselves and us.
SamFels: A few things, I think. One, you'll get a far better breakdown of the game than you can from the mainstream. And you'll get it with a unique voice that I think is pretty funny. It's honest, brutal, vulgar, but overall entertaining, and I think we do a pretty good job of pointing out stuff that a lot of people don't.
Killion: I like that we write more as if they're part of a conversation in a bar with friends rather than forcing analysis or recaps down your throat.  We don't claim to be the smartest site out there but we have our own way of looking or writing about things that seems to speak to people.  We let our personalities come out in the posts and it fosters a weird mix of humor, pop culture and occasionally hockey.  We're also all nerds and the internet loves a good nerd.  And as McClure mentioned, we are also blessed with a great platform from SBN that allows almost real-time commenting which really enhances our game threads and creates a (mostly) friendly atmosphere for people to talk about the game with other fans as the games play out.
Rebecca: Once the off-season starts, why should readers continue visiting SCH?
McClure: Because there is no off-season for us. Amongst ourselves we're always kicking around trades and possible pickups, and even in the event of an early exit, it seems as though the off season is shorter than ever due to free agency, the draft, rookie camps, etc, etc. There's always something happening and we'll always have a thought regarding it.
SamFels: Because it's better than actual working. And there's still draft, free agent, trade stuff to talk about, and the Hawks also have something goofy happen in the offseason like firing a GM or having a player get arrested.
Killion: The Blackhawks don't really get off seasons anymore so it's not an issue.  There's always a new free agent signing, training camp story, assaulted cabbie and hopefully a few more parades.  Once the season ends there's plenty to look back on or forward to and we love to write about it and throw around ideas with readers/commenters/other sites.  Plus… you'll need a break from mid/late summer baseball… trust us.