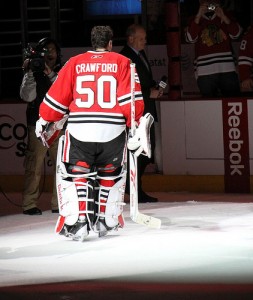 When discussing candidates for the Calder Trophy, it's always a little more challenging to compare goalies to skaters, because the stats are different, and the roles they play for their team are not the same. But since there's only one rookie trophy, and if one of the qualifications for "rookie of the year" is the impact they've had on their team, then one needs look no further than Corey Crawford of the Chicago Blackhawks.
Crawford had patiently waited his time in the Chicago Blackhawks system, last year losing out on the backup role to Niemi; but this year he was expected to be Marty Turco's backup. Instead, after the team faltered early behind Turco (3.02 GAA, .897 sv% for season), Crawford shone between the pipes and ended up doing the same thing Niemi did last year – usurping the expected starting goalie.
Make no mistake: time and time again this season, Crawford made the difference. When the team in front of him couldn't seem to find their legs, or left their game in the locker room when they took the ice, it was Crawford standing tall in goal that gave the team the capacity – and time – to get in the game. In a season where the team has constantly been labeled with "consistency" issues, Crawford has been one of, if not the most consistent player on the team this year. While he hasn't single-handedly thrown the team on his shoulders to carry them to the post-season, he's certainly done everything he can on his end of the ice to get them there, and has on occasion stolen them a few games.
For example, last night in Boston, Crawford was solid throughout, with his first 30 minutes being a flat-out goalie battle vs Tim Thomas at the other end of the ice. While Boston ultimately triumphed, it wasn't through lack of effort on Crawford's part, who made a 31-save performance (30 of Boston's 34 SOG came in the first two periods alone) – and a lot of those opportunities quite good.
Playing behind a defense that has not been anywhere near as stellar as it was last year – the Hawks give up an average 3.7 more SA per game this season – Crawford has frequently been the reason that the Blackhawks are still in the running to make the playoffs. At one point his stats danced close to Thomas's, with a 2.10 GAA and .927 sv%. His current record of 30-16-5 with a 2.28 GAA, .918 sv % and 4 shutouts is nearly identical to the guy he replaced, Antti Niemi (31-17-6, 2.46 GAA, .917, 5 shutouts).
He joins the likes of Ryan Miller, Henrik Lundqvist, and Evgeni Nabokov for goalies who've won 30+ games in their rookie year.
Additionally, there's only one goalie in the NHL who has also won 30+ games and let in less total GA this season than Crawford (113), and that's Tim Thomas (102). In his wins, Crawford is 1.87 GAA and .934 sv%.
But how does Crawford stack up against some of the best in the league when it comes to the "L" column?  For his losses, Crawford is 2.76 GAA and .889 sv%. Don't let his that save % figure fool you: Henrik Lundqvist, league shutout leader with 11, has been wildly inconsistent, with an eye-popping 3.17 GAA and just .887 sv% when he tallies in the losing column. Roberto Luongo, with the most wins in the league, has a 2.86 GAA and .903 sv% on losses. Pekka Rinne is 2.76 GAA and .902 sv%. Tim Thomas, the league leader for overall best stats, is 2.89 GAA and 0.909 sv % in his losses. While Crawford's sv% isn't as good in losses as some, he's letting in less goals on average for losses than most of the forerunners for the Vezina are.
Crawford also has not been streaky with losses, either; the most he had was 4 starts lost in a row in October/November while still playing backup to Turco. However, he has had two excellent winning streaks this season, including establishing the new NHL record for rookie goalie wins in consecutive starts, 8, set February 20th-March 5th.
What's the main reason Crawford would win a nod over fellow goalie rookies Sergei Bobrovsky (PHL) and Michal Neuvirth (WSH)? More wins, better GAA and slightly better sv%, plus, neither Bobrovsky nor Neuvirth have had to buoy their teams the way that Crawford has. The Flyers sit atop the Eastern Conference and the Capitals aren't far behind, but it is not solely due to their goaltending; both teams had very little turnover in the off season and both look just as strong this season as they did last, if not more so, in Philadelphia's case.  Both PHL and WSH have been very solid defensively; Crawford simply hasn't had that luxury.
Without Crawford, would the Hawks even be in playoff contention right now?
If you compare him to the other rookie goaltenders who've won the Calder in the past two decades, his stats are certainly comparable:
| | | | | | |
| --- | --- | --- | --- | --- | --- |
| Corey Crawford | 2010-11 | 33-18-6* | 2.30 | .917 | 4 |
| Steve Mason | 2008-09 | 33-20-7 | 2.29 | .916 | 10 |
| Andrew Raycroft | 2003-04 | 29-18-9 | 2.05 | .926 | 3 |
| Evgeni Nabokov | 2000-01 | 32-21-7 (T) | 2.19 | .915 | 6 |
| Martin Brodeur | 1993-94 | 27-11-8 (T) | 2.40 | .915 | 3 |
| Ed Belfour | 1990-91 | 43-19-7 (T) | 2.47 | .910 | 4 |
* Updated 4/14 with final stats for regular season

Here's the important things to look at in evaluating Crawford for Calder: consistency, excellent technique, a strong winning record that is getting his team into the playoffs, and solid statistics that hold up against far more experienced goalies in the league.
While there are certainly plenty of strong contenders for the Calder, Crawford leads the rookie goalies for consideration.