For the 13th time in 15 seasons, the Columbus Blue Jackets will not taste the sweet taste of the Stanley Cup playoffs. Given the level of expectation that the team had at the beginning, I can't help but think this is one of their most disappointing seasons to date.
The team went 15-1-1 to end the 2014-15 season. Summer optimism was at an all-time high. The fans in Columbus couldn't wait to get this season started. Then, in a flash, 0-8 was their reality. The team, the fans, and anyone else involved in the organization didn't know what hit them. The season ended before it started.
Although the season had some good moments in them, the team couldn't recover and stumbled to a 27th place finish. They own the fourth-best chance to land a top three pick in the upcoming draft. They could slip down to as low as seventh, although there is just a 7% chance of that happening.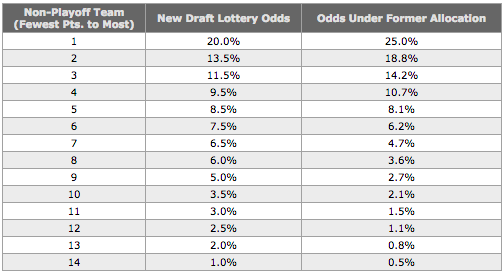 So here's the question. How should we feel about the state of the Columbus Blue Jackets? Missing the playoffs yet again is a bitter pill to swallow, although most fans by now know the feeling. But seeing Boone Jenner and Brandon Saad becoming the first pair of Blue Jackets to score 30 goals is an encouraging sign for the future. Should we be excited or concerned?
The answer is both, and there's nothing wrong with that.
There are many things to get excited about in Columbus. But there are just as many concerns to go with them. We are going to give you two lists of three to ponder. The first list will have three reasons why there is excitement for the future of the Blue Jackets. Then after you get excited, we'll give you three reasons why there is a lot of concern about the team. Get ready, because you are about to feel every emotion as we go through these lists.
First, The Good News
The Columbus Young Studs
Any discussion about the future of the Columbus Blue Jackets must start with their young group of players. We've already mentioned who finished with 30 goals. So who led the Blue Jackets in assists? You got it, another young stud. Alexander Wennberg (my breakout performer for this year) finished with 32 assists, one more than Brandon Dubinsky. Wennberg doesn't turn 22 until September 22nd.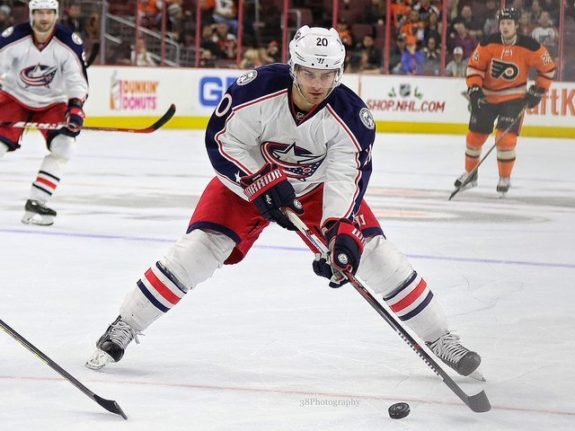 Another younger player, Cam Atkinson, shared the team lead in points with 53. He finished with a career high 27 goals, which gave him his third straight 20-goal season.
On defense, Ryan Murray and Seth Jones should anchor the Blue Jackets defense for several seasons. They are just 22 and 21 respectively. As long as these players develop as they should, the Blue Jackets are on their way up.
The Columbus Younger Studs
The future is already bright as it is for those already on the Blue Jackets. But it gets better. The current talent playing for the Lake Erie Monsters is reason to get even more excited. A trio of former first-round picks lead the way.
Kerby Rychel, Sonny Milano, and Zach Werenski are part of a core that is looking to get the Monsters to a deep playoff run in the AHL. Add Oliver Bjorkstrand and Josh Anderson to that mix, and you've got a nice young core in waiting who could push some of the veterans in Columbus. The most impressive of this group is Werenski.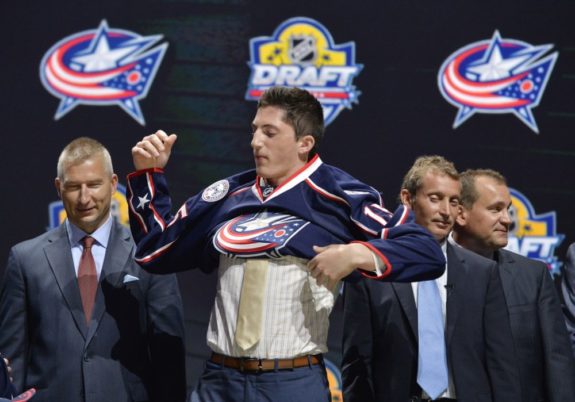 I saw Werenski play his first home game for the Monsters on Sunday night. He is still just 18 years old, but he plays the game as though he was five years older. His confidence stands out every time he is on the ice. It's no wonder Columbus made him the eighth overall pick in 2015. He could turn into one of the best defenseman in the NHL someday.
Columbus also gets a top-seven pick in this upcoming NHL draft. It will take some time for the plan to unfold. But don't sleep on Columbus. They're heading in a good direction.
John Tortorella's Impact
After the Blue Jackets let Todd Richards go after an 0-7 start, many wondered how the rest of the season would go with a new coach. That new coach was John Tortorella. That came with a variety of opinions. Many questioned if he was the right coach for this team. After seeing him this season, he makes sense for the Blue Jackets.
Let's face it, he can coach. With over 500 wins on his résumé, he's doing something right. He won a Stanley Cup with Tampa Bay. He floundered in New York and Vancouver. Many thought he would continue floundering in Columbus. Unlike New York and Vancouver, Columbus is a better situation for him and his style.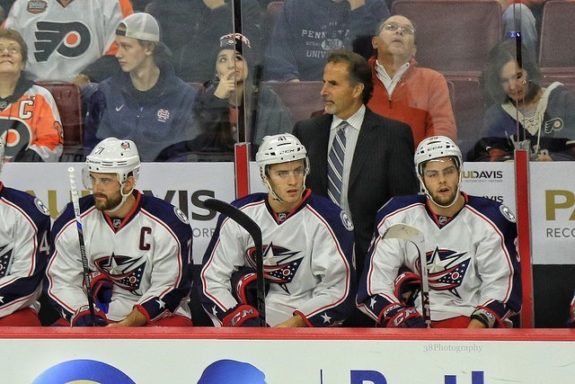 First off he has a young team. He is a teacher at heart. Tortorella can now do the very thing he thrives in. He can teach the game to a group more apt to listen to him. In his earlier two stops, he had a more veteran group. He appears more comfortable now than he did before.
Second and more importantly, he demands more from his players. Coach Richards was a players coach. But accountability was severely lacking. As soon as Tortorella came in, the culture changed. It doesn't matter the name on the back, if you play poorly, Tortorella will bench you, no questions asked. Just ask Seth Jones and Scott Hartnell about that.
Think of it like this. Tortorella is the ultimate sifter. You will either respond well to him, or you will be sifted out because of him. Just ask Ryan Johansen about his experience.
At the end of the day, Tortorella cares about one thing. That's winning. It doesn't matter who is on the ice, he just wants to win. He's the kind of coach that a young team needs to get to that next level. Not everyone will respond well to him. But a little fire never hurt anyone. What gets publicized is when he benches someone. What goes unreported is how deeply he cares about his players. When he benches someone, he's trying to teach. He's not out to get anyone.
At this time in the franchise given where they are at in development, Tortorella is a great coach to have around.
Major Concerns?
The Salary Cap
Columbus needs to make changes. Finishing in 27th place is unacceptable, especially given the high level of expectations placed on this team. Although the team wants to make changes, they likely can't do everything they want to do. Why? It's a little thing we call the salary cap.
With around $7 million in cap space for next season, assuming a full escalator, the Blue Jackets are a cap team. They still must re-sign RFA Jones, which could take up a nice chunk of that available cap. They unsuccessfully traded anyone at the deadline which could have given them some space. They really can't get involved in a major signing in unrestricted free agency.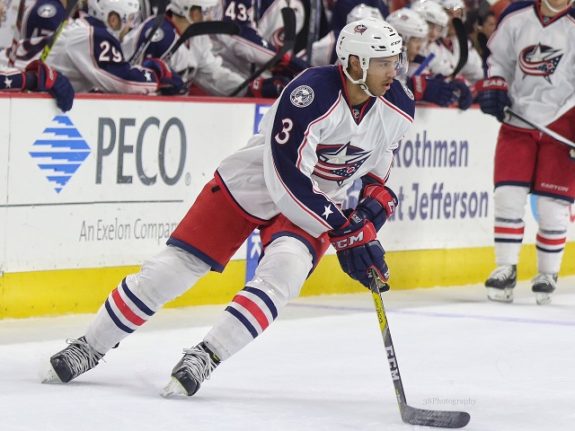 The likely result of this is that most if not all who are under contract beyond this season will return. They finished in 27th. I'm not sure about you, but that doesn't strike a lot of confidence for their chances in 2016-17. Not taking anything away from David Clarkson as a person, but imagine if that money was available for use to sign key depth pieces. His contract eliminates that possibility. The Blue Jackets have to depend on who's already here to try to get them to another level. Spoiler alert: I have them missing the playoffs next season as a result. Being a cap team hurts them, given the glaring needs throughout the lineup.
I'm afraid there's no easy answer for this one, unless an out of the blue trade opportunity rises up. Just don't see that happening though.
Goaltending Situation
Once thought of as a bedrock for this franchise, the Blue Jackets have to wonder what the future holds in net for them. Sergei Bobrovsky signed a contract that made him the second-highest paid goaltender in the entire league. The Blue Jackets put all their eggs in one basket, given his Vezina-winning season.
Unfortunately for the team, Bobrovsky has struggled with injury and spotty play. He began the season with "zero confidence". He got things together by midseason, only to see his season derailed by another groin injury. This has been a recurring problem for him throughout his career. He's been able to return to play, but the injury keeps coming back at inopportune times.
GM Jarmo Kekalainen told me in January that the plan was to explore every possible option for him, including playing fewer games and trying different routines. Bobrovksy was able to finish the season without re-injuring himself. That's a small step in the right direction. But this offseason for him and the team means everything.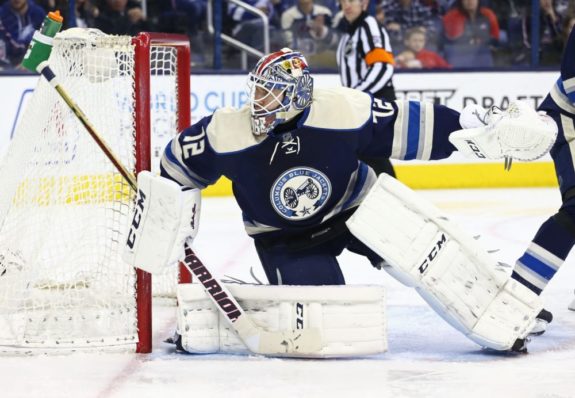 He'll still start as the number-one goaltender in Columbus. The thing that needs addressed is the back-up goaltending. Curtis McElhinney has not played near well enough to offset the loss of Bobrovsky. McElhinney also spent a lot of time on injured reserve. If the Blue Jackets want to make up ground next season, they must have a solid backup. Is Joonas Korpisalo the answer?
Sergei Bobrovsky is now the all-time wins leader in Blue Jackets history with 97, surpassing Steve Mason (96). #CBJ #BOBROVSKY

— Todd Sharrock (@ToddSharrock) April 7, 2016
Korpisalo certainly played well enough down the stretch this season that the team will consider him in that spot. McElhinney does have one year left on his deal. But we've seen this movie before. It has a bad ending. A Bobrovsky/Korpisalo duo is just what the Blue Jackets need. If one of them gets injured, McElhinney can fill that role. We'll see how the team handles this. Outside of re-signing Jones, not sure there's a more important need for Columbus this offseason.
Players in Proper Roles
Let's go back in time for a minute. Let's travel back to when the Blue Jackets last made the playoffs. That was in 2013-14, when the Blue Jackets lost to the Pittsburgh Penguins. Why do you think they made the playoffs that season? Although there were many things that went right, one thing that went right then and has gone missing since is a stable bottom-six forwards.
Blake Comeau, Derek MacKenzie, Mark Letestu, and others. Who would have ever thought those missing players would matter now? They do. The Blue Jackets haven't been to the playoffs since. What those players brought to the table was stability and solid play. It wasn't always noticed, but that was a good thing. Be honest with yourself. You wish they were still on the team.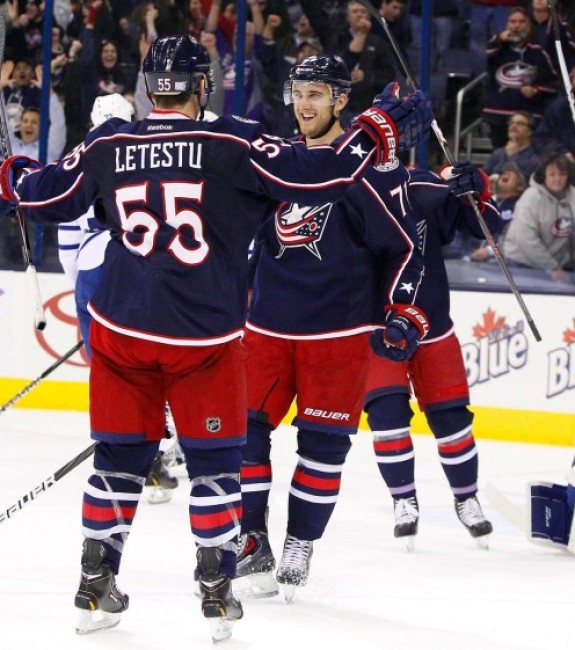 There were times this season that the Blue Jackets deployed a fourth line that had over $10 million in cap space. That's the Clarkson effect for you. For long stretches of time, the Blue Jackets got nothing from their fourth line. The puck was usually found in the Blue Jackets zone for upwards of two minutes, sometimes more. Not exactly a wise investment if you ask me.
This illustrates the issue at-hand. Because of poor play, there was lots of line juggling, in the hopes of trying to find the right combination. This caused players to play in positions that they weren't used to. Top-six players went to the bottom-six, and vice versa. Here's the question that we must get answers to. Who is truly a top-six forward? And then what else do you have to work with?
The Blue Jackets must properly evaluate what they have moving forward. A real close look at this indicates a potentially scary situation. There is talent in Columbus, but I'm not sure at this point how much true top-six talent there is now.
In my mind, there's only three players who are slam-dunk top-six players. Those are Saad, Atkinson, and Dubinsky. Of those three, I'd consider only Saad as a slam-dunk top three. This isn't a knock on Atkinson or Dubinsky. We are separating good from élite.
A message from the #CBJ captain, Nick Foligno:https://t.co/ckStWZnhBk

— Columbus Blue Jackets (@BlueJacketsNHL) April 5, 2016
There are two other players that are close to breaking this mold full-time. Those are Wennberg and Jenner. I do ultimately think each will get there, but there are questions. Matt Souva of Buckeye State Hockey wrote a nice piece indicating we need to cool our thoughts on Jenner somewhat. 30 goals is nice, but there is room for improvement. Same goes for Wennberg. He made great strides this season. I believe he's a year or two away from full-time top-six status.
Is Hartnell still a top-six guy given his age? He poured in over 20 goals again this season. He certainly could play there until the youngsters are ready. What about Nick Foligno? His last two seasons are polar opposites. He projects somewhere in the middle, which would put him at borderline top-six. You're still missing a minimum of two top-three players.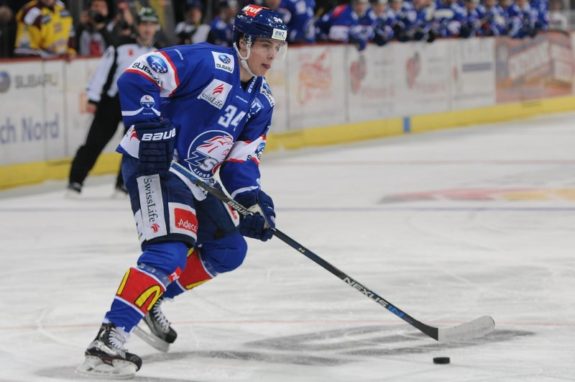 At this time, the Blue Jackets lack a true number-one center. They also need other top-six help. Maybe the draft lottery falls in the Blue Jackets favor so they can land Auston Matthews. If not, then this draft is of utmost importance. They cannot miss this pick. They must land a top-six forward with their first-round pick. Otherwise, they could find themselves in a bad spot.
If this happens, the Blue Jackets must properly identify where players belong in the lineup. Putting fourth-line players on your third line is no good. Neither is putting second and third-line guys on your top line.
There you have it. It's perfectly fine to experience extreme concern and excitement for this Blue Jackets team. Don't expect this ship to find smooth sailing overnight. This team will experience massive growing pains as they find their way. Can you handle another season of no playoffs next season? If you're mad now, how will you feel next April? Strap in for the long haul. The overall course of the team looks good. But they'll take the 1,000 mile trip one painful mile at a time.
If you keep everything in proper perspective, you can endure the painful moments better. Otherwise, this will torture you. Be excited for the future, but prepare for more pain now.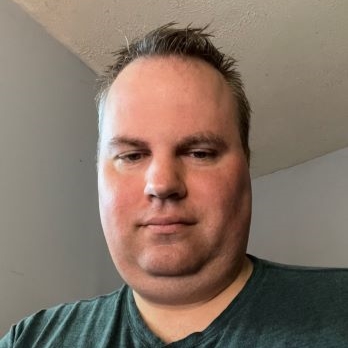 I am a fully credentialed writer who covers the Columbus Blue Jackets, Cleveland Monsters and Erie Otters as well as the Ontario Hockey League and NHL Draft. The 2021-22 season will mark eight seasons with the Hockey Writers. I am also the site's Credentials Manager.