The Columbus Blue Jackets are down to their final game before the 2023 NHL Trade Deadline. They play the Sabres at KeyBank Center in their only trip to Buffalo this season.
The game is an ESPN+/Hulu exclusive. Puck drop is set for 7:30 P.M. So plan accordingly.
---
---
There was plenty of news to discuss from the Blue Jackets' morning skate. We may have seen the last of one of the team's most popular players.
Korpisalo's Farewell?
With Joonas Korpisalo and Elvis Merzlikins splitting the weekend games, there was a question of who would start Tuesday night's game. Head coach Brad Larsen confirmed that Merzlikins will get a second consecutive start.
This could mean we have seen the last of Korpisalo with the Blue Jackets.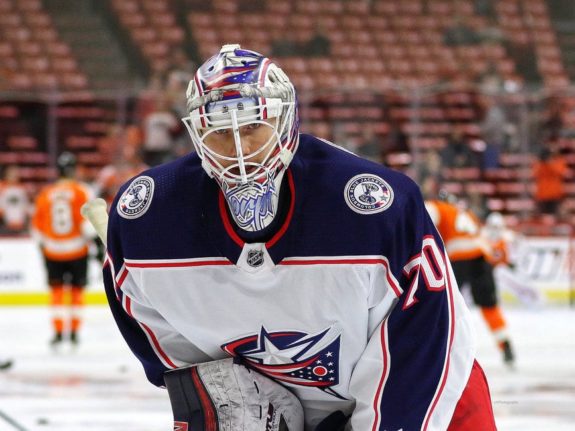 We've been down this road before. The thought was that Korpisalo would have been traded at the last deadline. However an injury prevented that situation from taking place.
This time is different though. The Blue Jackets already have two goalies in Merzlikins and Daniil Tarasov that would each require waivers to get to the NHL. This seems to leave Korpisalo on the outside looking in. That is of course unless they re-sign him and carry three goalies. The chances of that are very slim.
---
Latest News & Highlights
---
Korpisalo is available to backup Tuesday according to Larsen. However the only way he plays is if there's an injury to Merzlikins. With the deadline just three days away, it would be tough to play him in the event something happens.
Korpisalo has done everything and then some to turn his season around. He's up to 17th in goals saved above expected. The Blue Jackets have enjoyed better results of late.
Merzlikins has been better of late also including in a tough game Sunday where the Wild's Kirill Kaprizov scored all three goals including the winner in overtime. Merzlikins stopped 41/44 in the game. He's earned another start.
If this is it for Korpisalo, that's a tough way to end his Blue Jackets' career. He's done everything asked of him. He worked his way up from backup to NHL All-Star. He overcame a hip injury and has regained his form. He's been the best goalie on the team this season. However his contract status rules the day.
Expect a few teams to inquire about Korpisalo. For some, he would be an upgrade to what they have. The Kings, Oilers and Sabres among them to name a few.
All we wait for now is to see if the Blue Jackets get a fair offer for Korpisalo by the 3 P.M. Friday deadline.
Boqvist Game-Time Decision
The Blue Jackets are potentially getting some good news on the injury front. It is likely that defenseman Adam Boqvist will play Tuesday night.
Boqvist is officially a game-time decision according to Larsen. Then he said that Boqvist will likely be in. He took all of the normal routines during the morning skate. He skated with Gavin Bayreuther on the third pair and handled the top power-play unit. Assuming no setbacks, he will play.
"We need him for every game for his own development," Larsen said of Boqvist. "And his game's been trending the right way. We missed him last game and it looks like we'll probably have him tonight."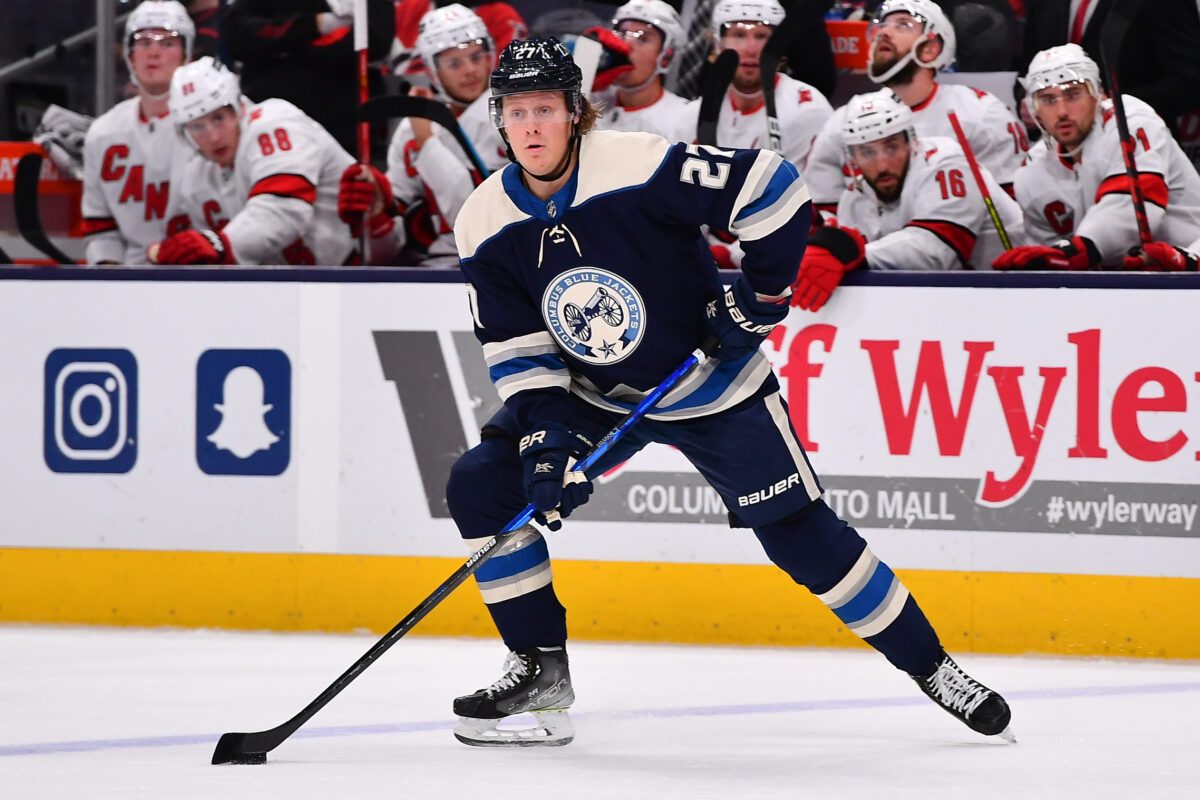 Expect the same lines and pairs from Sunday in St. Paul except for Boqvist replacing Billy Sweezey.
Forwards
Johnny Gaudreau – Boone Jenner – Kirill Marchenko
Kent Johnson – Jack Roslovic – Patrik Laine
Eric Robinson – Sean Kuraly – Mathieu Olivier
Liam Foudy – Cole Sillinger – Emil Bemstrom
Defense
Tim Berni – Erik Gudbranson
Nick Blankenburg – Andrew Peeke
Gavin Bayreuther – Adam Boqvist
Scratches: Vladislav Gavrikov (trade related), Lane Pederson (healthy), Billy Sweezey (healthy)
Side Dishes
Larsen said that Yegor Chinakhov and Carson Meyer were sent to Cleveland in order to play games. "They've both missed a chunk of time and our team has been playing better lately. So we want those guys playing."
Part of the reason the Blue Jackets have played better is the rise of Kirill Marchenko. He's been able to stick on the top line. Here's Boone Jenner on Marchenko: "You can see what he brings. He's obviously scoring goals and big goals for us at key times. But he's always in the right spots. He's a skilled player that can make stuff happen. He works extremely hard too. You get him in the corners and in battles. I think he's taken off here."
You Might Also Like
The Blue Jackets are trying to keep the trade deadline noise to the outside. Here's Jenner: "(We're) trying to keep it focused. I mean it is what it is. Obviously we are not in the spot we want to be in at this time of year. As far as our group here, we're trying to focus on our game and what we can do to build us in the right direction."
Here's Peeke on the deadline: "We're just focusing on the day-to-day. I think everyone knows what time of year it is. We're here to play games and focus on that aspect of it. Whatever happens, happens. A lot of it is out of our control."
Your broadcast team for Tuesday night on ESPN+ is Mike Monaco doing play-by-play and Ryan Callahan doing color.