The Edmonton Oilers finally moved on from Jesse Puljujarvi. Love the deal or hate it, the move was years in the making after Puljujarvi's agent came out and said the player would rather be elsewhere. A stay in Finland, a couple of new contracts later, what appeared to be a changed attitude for the player, but more uncertainty about his future in Edmonton led to a deal that saw him move to the Carolina Hurricanes on Tuesday.
---
---
But, this trade was not about Puljujarvi's future in Edmonton… at least, not primarily. Ken Holland noted when he spoke with the media on Tuesday, that hopefully, this was "Step 1" of a few steps before the deadline.
The fact that Oilers' GM Ken Holland was able to move Puljujarvi's contract without retaining salary, and just days ahead of the NHL Trade Deadline means Holland has something cooking. TSN's Ryan Rishaug writes, "My sense is the Puljujarvi deal isn't part of a larger deal already in place." At the same time, while nothing else is finalized, something is coming. This deal opens space and gives the Oilers the option to finalize terms on whatever deal they can find on a defenseman.
This Was an Important Move if the Oilers Are Adding
As Jason Gregor of TSN 1260 posts, "Expect Oilers to recall [Devin] Shore. Also [Vincent] Desharnais will come off an emergency recall and Edmonton will have $2.8 million in cap space and a 21-man roster now that Puljujarvi was traded. This trade was expected to clear cap space. Now who will they add?" That's an important question and one that Holland will answer in the next 72 hours.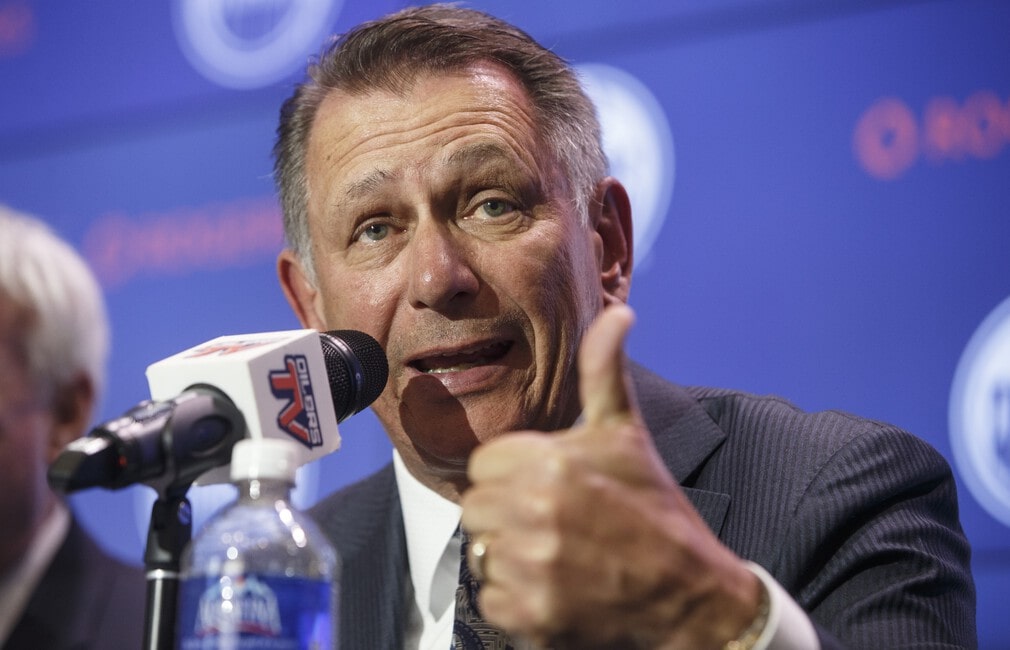 TSN's Darren Dreger reports that Holland continues to work the phones ahead of Friday's deadline. He's been rumored to be going hard after Mattias Ekholm out of Nashville and has kicked tires with the Montreal Canadiens about Joel Edmundson. On Tuesday, Dreger added, "The Edmonton Oilers and Arizona Coyotes were progressing on Jake Chychrun trade negotiations yesterday. Things cooled late afternoon. Holland also talking with CBJ and Nashville on Gavrikov and Ekholm. Plan is to resume talks with all 3 today."
If Puljujarvi moving was the only way to get one of these deals done and none of the Predators, Canadiens, Blue Jackets, or Coyotes wanted Puljujarvi worked into the trade, it made sense for Holland to pull the trigger on this deal as soon as possible.
What Can the Oilers Fit Now?
Technically, as per CapFriendly, the Oilers have $3,562,500 in cap space. They write that Edmonton has $4,412,500 in usable LTI Salary space with a roster of 19. Shore coming up lowered that a bit, as previously pointed out, Gregor notes a 21-man roster lowers it even more. But a player could be dealt as part of a pending trade, giving Edmonton room to add one of a few options.
---
Latest News & Highlights
---
Should the Oilers get Nashville to retain 25% of Ekholm's salary, he becomes a $4.68 million player. It's not likely Nashville wants to retain that much on a player with as much term remaining as Ekholm has, but those deals aren't impossible. If the Coyotes get their two first-round picks, would they be willing to retain 25% of Chychrun's remaining years? Many insiders believed the Coyotes misplayed the market for Chychrun. Will they move on their ask if the return is decent. He's got two seasons left and the Blackhawks retained 50% on Jake McCabe. If so, Chychrun becomes a $3.45 million player for two more seasons. What if Columbus feels the need to drop the price on Gavrikov? At 50% retained, he becomes a $1.4 million rental.
Holland Will Be Busy Trying to Do Something
There are other options, but these are the three names insiders believe the Oilers are chasing until something gets done on Friday. Moving Puljujarvi clears the path for something to get done and it's now a matter of whether Holland is comfortable trading not one first-rounder, but maybe two.
The time is now for the Oilers to win and Holland seems to be setting the table to make his big push. Will he do so? Fans in Edmonton won't have to wait long to find out.