The 103rd Memorial Cup just wrapped in Kamloops with the Quebec Major Junior Hockey League's (QMJHL) Quebec Remparts leaving the belle of the ball. They slayed both giants from the Western Hockey League (WHL) – the Kamloops Blazers and the Seattle Thunderbirds – en route to their first national championship since 2006. The team had a lot of personality, a lot of skill, and excellent execution, elevating their play when they needed it most.
The tournament served as a coming out party for one Rempart forward in particular, James Malatesta. The Columbus Blue Jackets prospect was phenomenal throughout the playoffs, winning both the Guy Lafleur Trophy as the QMJHL playoff MVP and the Stafford Smythe Memorial Trophy as the Memorial Cup MVP.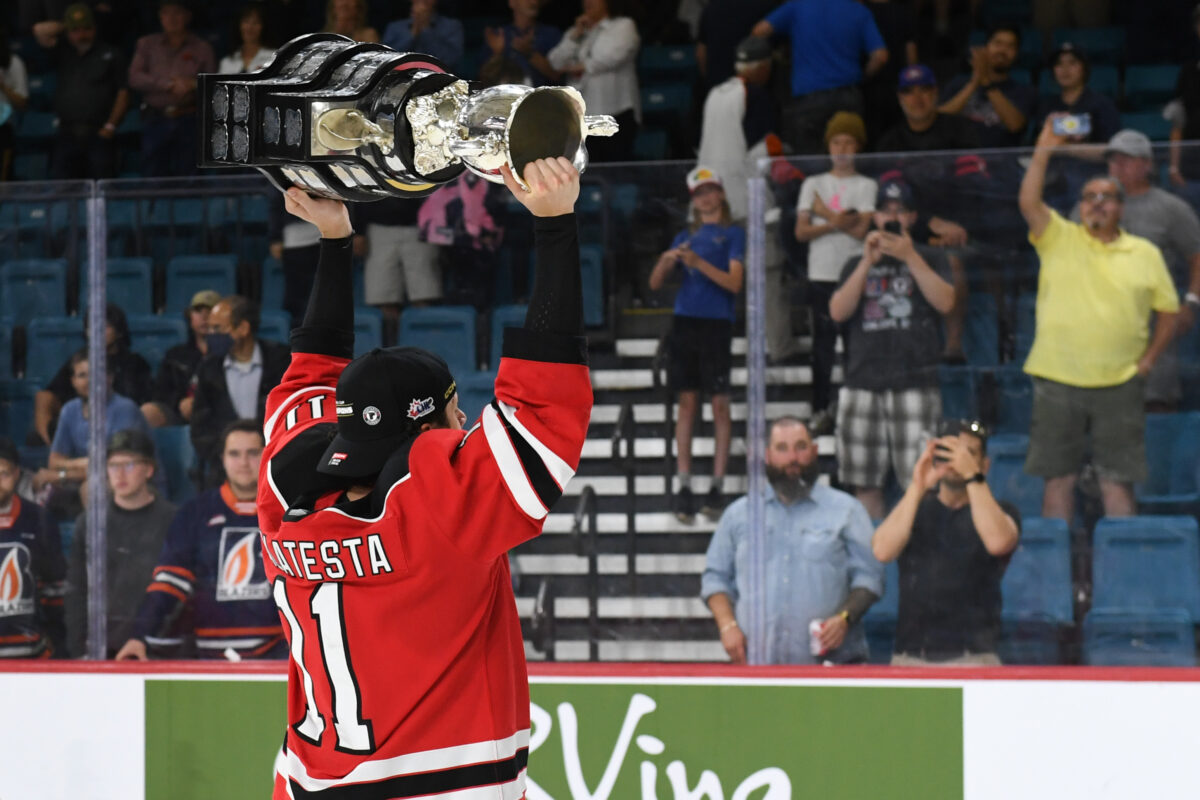 The Blue Jackets' prospect pool is littered with middle-round gems who have won awards in the Canadian Hockey League (CHL) this season. Malatesta's MVP nods join 2021 third-rounder Stanislav Svozil who was the WHL's East Division defenseman of the year, and 2022 third-rounder Jordan Dumais who was the QMJHL's regular season MVP.

Malatesta was selected a little later than the other two – in the fifth round (133rd overall) of the 2021 NHL Entry Draft. He brings a level of skill, grit, and work ethic that could translate well to the professional ranks, and if his scoring touch also translates, he could be one of the biggest gems mined from that class when all is said and done.
Malatesta's Progression
Malatesta's production has increased in each season since he was drafted because of one factor – his compete level. The discrepancy between his size and style of play is similar to the Blue Jackets' Nick Blankenburg. It's almost like no one gave Malatesta the memo that he's only 5-foot-9 as he drives through tough spots and throws big hits. Constantly in the face of opponents, his scrappy style combined with his skill also hints at fellow QMJHL alum Brad Marchand. I'm not saying he's a lock to be as productive as Marchard at the NHL level, but that blend of pest, skill, and 'big game play' bodes well for his career.
Related: Blue Jackets News & Rumors: Reaction to Mike Babcock News
---
Latest News & Highlights
---
Malatesta has also added a scoring touch to his repertoire this season, developing a quick release and a deceptively powerful shot. In 2022-23, he scored 37 goals in 55 games to average .673 goals per game (GPG). That would put him on pace for 55 goals over an 82-game season in the NHL. If that wasn't enough, he also upped his goal-scoring pace in the QMJHL playoffs, recording 14 goals through 18 games (.778 GPG), and again in the Memorial Cup, with five goals in four games (1.25 GPG). As the level of pressure elevates, so does his play.
"Like Messi at the World Cup, a striker is what Malatesta is," said TSN analyst Craig Button during the Memorial Cup Championship game. "He's got the ability to deliver, just like Messi delivered for Argentina at the World Cup. He's got that knack for being in and around the net. He just needs one chance and he can make good on it."
What speaks volumes about him as a player is that he was named MVP while not being the top point producer for the Remparts in either tournament. He was seven points behind teammate Justin Robidas in the regular playoffs and one point behind Theo Rochette and Zachary Bolduc in the Memorial Cup.
What's Next for Malatesta?
Now that Malatesta's time in the Canadian junior system has ended, what's next?
Most important for the Blue Jackets, he is under contract. He signed his entry-level contract with the team last December, so next season, he will be in Ohio, and Malatesta could push for an NHL roster spot. He already has the skills that undersized players need to develop as a pro. His speed is elite, his strength and physicality make him unlikely to be pushed around, and his defensive positioning is already sound.
I expect Malatesta sees some action during the preseason before he is sent to the AHL's Cleveland Monsters for opening night. With Alexandre Texier returning after a sabbatical, Justin Danforth returning from injury, and other prospects champing at the bit, there simply is not a ton of opportunity for a new player to crack the Blue Jackets' forward unit. While I wouldn't be surprised to see him start in the AHL, I will be surprised if he doesn't get a cup of coffee with the Blue Jackets at some point in 2023-24.