The Columbus Blue Jackets enjoyed a nice Sunday off after perhaps one of their best games of the season Saturday night in Detroit. They had energy. They controlled the game. Although it got interesting in the end, they held on to earn a 4-3 win on the road.

Meanwhile, the New York Rangers had a game at home Sunday night against the upstart Montreal Canadiens. Igor Sheshterkin was in net. On the front end of a back-to-back set, the Rangers were favored to add a win to their recent success.
Except it didn't happen that way. Samuel Montembeault improved to 3-0-0 all-time against the Rangers. The Canadiens defeated the Rangers 2-1. From a Rangers' standpoint, that's an unacceptable loss against a team they should beat on home ice. They got a chance to make things right Monday night in Columbus. They figured to be the tired team with the Blue Jackets at home waiting for them.
Actually, that's where this story begins. It was the Blue Jackets who looked like the team who played the night before. Yes the Rangers figured to be upset at Sunday night's result. But to have zero energy through 40 minutes of Monday night's game is almost inexplicable.
Unfortunately for the Blue Jackets, these kind of games have happened too often for their liking. If there's anything that should sound the alarms, it's this.
Rangers Dominate
Let's look at some eye-popping numbers from the first 40 minutes of the game. Keep in mind the final score was eventually 3-1 Rangers. On the surface, it would seem the game was at least competitive.
It was anything but competitive.
According to Nat Stat Trick at 5-on-5, The Rangers held a 17-4 advantage in shot attempts in the first period. They followed that up with a 19-11 advantage in the second period. That's 36-15 in 40 minutes.
If that's not bad enough, the HD scoring chances were 8-1 Rangers after 40 minutes. The Blue Jackets had absolutely nothing. How is that possible?
You Might Also Like
Then to make matters worse, they took a slew of penalties that helped the Rangers build a lead they wouldn't give up. The third period was at least a little more competitive. But by then, the game was decided.
On one hand, give the Rangers credit. They lost a bad one on Sunday and then did what good teams do. They put it behind them and grabbed a win the next night against a team they should beat.
---
Latest News & Highlights
---
On the other hand, although the Blue Jackets talked pregame about how difficult a challenge the Rangers would be, they looked unprepared to handle them. At one point, Corsi was 40-7 Rangers. If it wasn't for Elvis Merzlikins, this could have been 5-0 or 6-0 easily. He was the only Blue Jacket to put in a respectable performance.
No One to Like
Coach Brad Larsen didn't mince his words postgame when asked about his team's performance. Unfortunately he couldn't explain the lack of energy either.
"I couldn't find a guy I liked. That's how hard it was," Larsen said. "And especially no idea how we can play that well for two, two and a half periods in the Detroit game and then nobody had any gas. Nobody. We had a day off. There's no excuse for it. Looked like we got there at 4 A.M. I have no idea why. It blows my mind."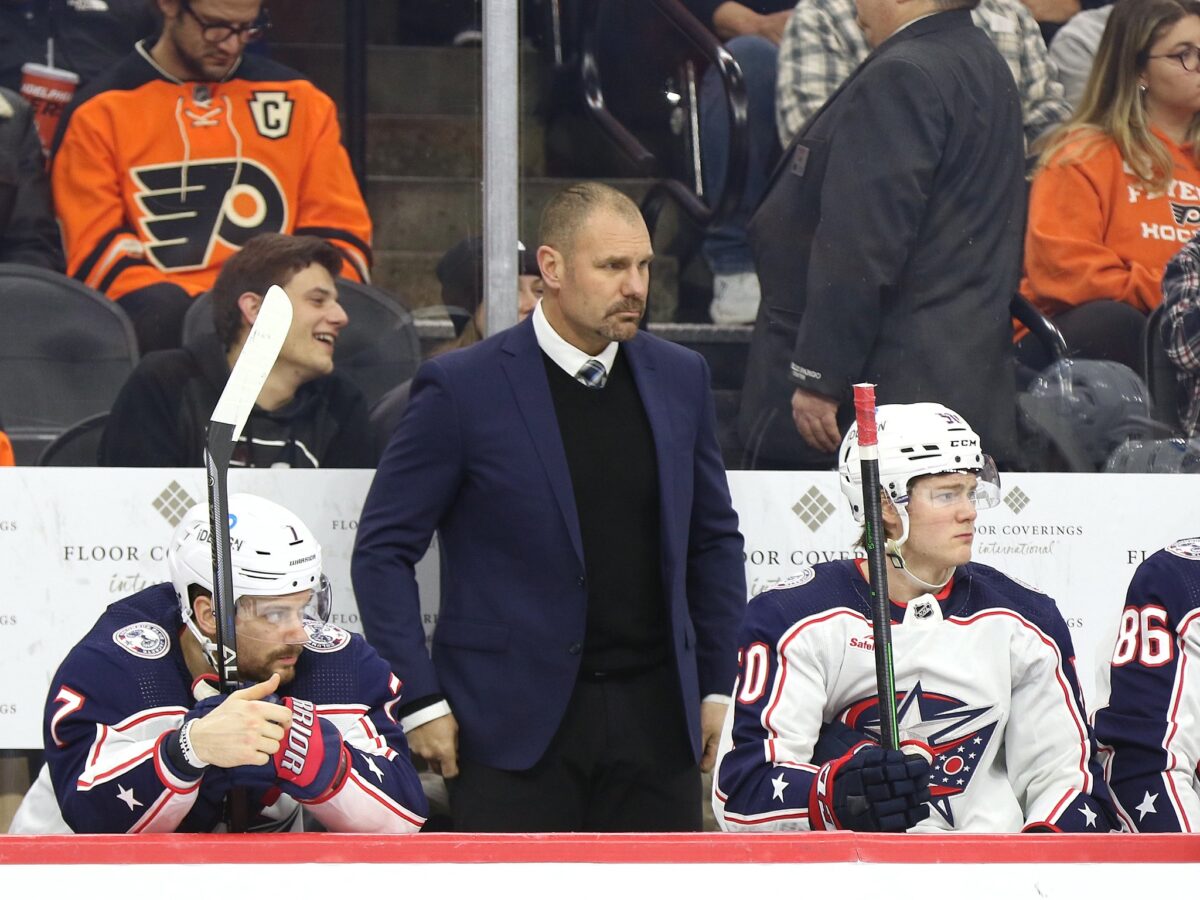 In Larsen's mind, the penalties have a simple explanation.
"If you're not skating, you're chasing. And when you're chasing, you're taking penalties. It's pretty simple."
Larsen also acknowledged the play of Merzlikins. He was the one bright spot for the night. Of late, he's been a bright spot for the Blue Jackets.
"He was good. I mean, he needed to be good tonight. He was good for three periods so he was the one bright spot."
Does Larsen think the Blue Jackets will have the energy needed for Tuesday night in Nashville?
"Well, we'll see how we respond. We're playing another real good team tomorrow. We got to get off this inconsistency as far as just hoping teams aren't gonna be playing well. We knew this team (the Rangers.) We talked about their record. They'd been playing really well. And you know, they're a big strong team. They can score goals, they can play at pace. We didn't want to check tonight at all."
Players Having Trouble Finding Words
Boone Jenner flat out admitted "we weren't playing in the first two." Yikes. That coming from the captain should sound alarm bells. Here's defenseman Andrew Peeke, the only goal scorer of the night for the Blue Jackets.
"I don't think anyone enjoys how we started. I don't necessarily have the words for it." Yikes again. Now we have players with no explanation and a head coach who said he has no idea why this happened.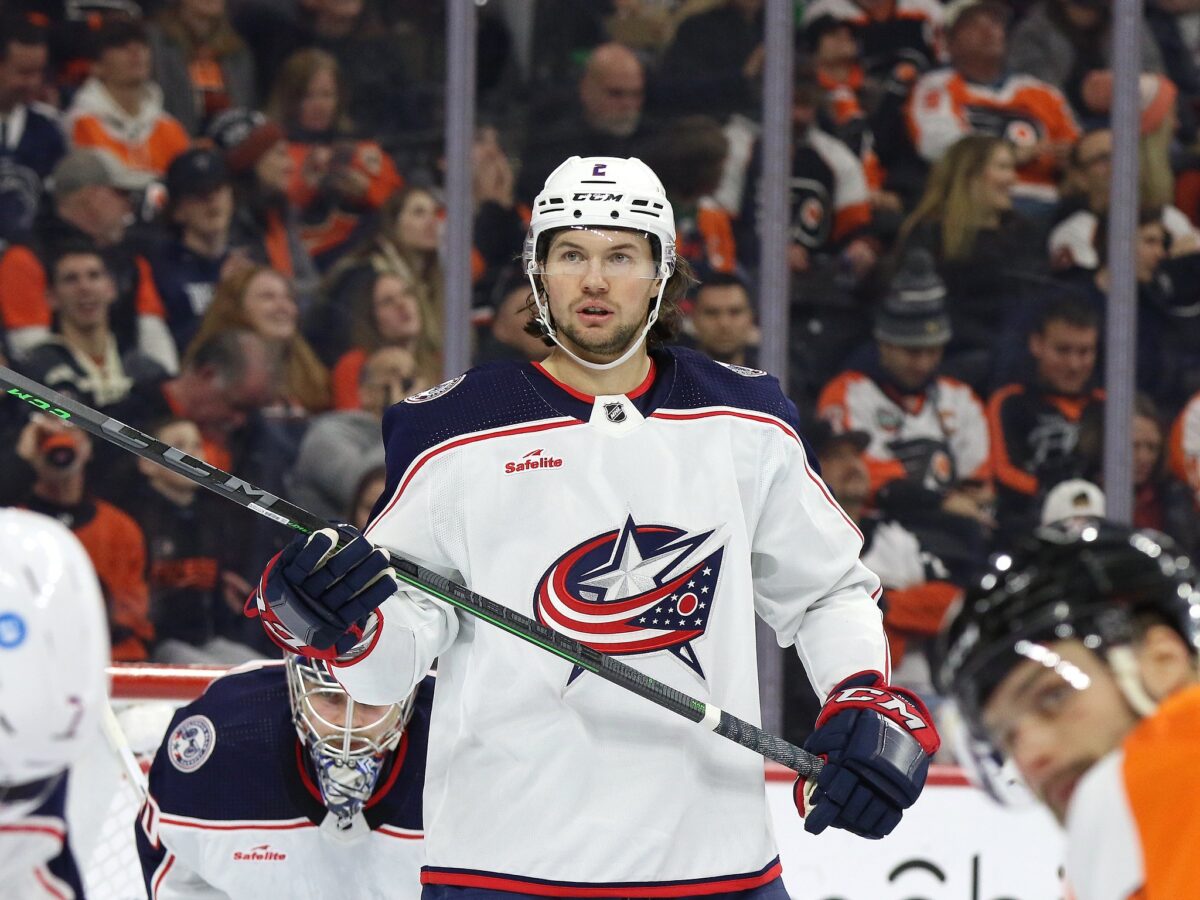 In the end, this is a team thing. Not starting on time and sleepwalking through 40 minutes of the game is a team thing from the head coach all the way down to the players. They are 39 more of these to play. It's reasonable to wonder how many of those games are going to be similar to Monday night.
Think of it this way. There's no shot of the playoffs. It's been a taxing season in the sense of losing key players to several injuries. That can be disheartening seeing your teammates go through that. But they have to find a way to press forward and find ways to invest in the games. Coaches need to get their team ready to play. The players have to start on time and give it their all. Whatever the explanation is, it didn't come together for them on Monday night.
Effort Is Non-Negotiable
The Blue Jackets are going to lose games. There is a talent gap between them and the top teams. That happens. But when they fail to show up at the start of games and sleep walk for long stretches, that's completely unacceptable and something they need to address the root cause of soon.
Effort should never be a question ever with the Blue Jackets. The fact that it is could be a sign of a bigger issue. These last 39 games are big games. Jobs are on the line. Development is at stake. When someone fails to show up with the needed energy, it impacts everyone in a negative way.
The onus is on everyone to figure this out fast. It's of great concern that we even have to discuss energy and effort for a team that wants to pride themselves on it. The Blue Jackets get a chance to wash away Monday's disaster Tuesday in Nashville, a building that's typically rough on them throughout the years.
If nothing else, we're going to learn a lot about this team. When there's adversity, who keeps fighting and who gives up? These 39 games will separate who is a part of the future and who isn't.
The lack of energy, effort and compete though has to stop. It's one thing to lose while leaving it all out there. It's another completely when you don't show up to start with.
The Blue Jackets have been dealing with the latter. And that's cause for great concern.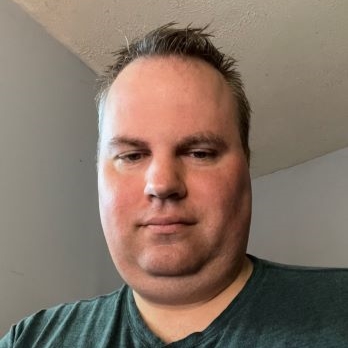 I am a fully credentialed writer who covers the Columbus Blue Jackets, Cleveland Monsters and Erie Otters as well as the Ontario Hockey League and NHL Draft. The 2022-23 season will mark nine seasons with the Hockey Writers. I am also the site's Credentials Manager. Please take note of the updated Twitter handle: @mark_scheig.