Welcome to our début of the Columbus Blue Jackets monthly mailbag. Once a month (or more if warranted) our Blue Jackets' writers Kristyn Repke and Mark Scheig will answer both fan questions and questions from each other about the team or anything else. With the trade deadline just three weeks away now, fans want to know what to expect as Feb 26 approaches.
Buy or Sell?
Question: How rough of a February would the Blue Jackets need to have for GM Jarmo Kekalainen to consider selling at the deadline? What pieces would they try to move? -Hockey Guy Keith (@NotFakeKTABRO)
Kristyn: I think the time is now, honestly. The team is only averaging 2.5 goals per game, and they have shown all season that they can't find ways to score. There are several holes on offense, and several of those vulnerabilities are showing through, especially now on the penalty kill, too. Mark Letestu, Sam Gagner, Scott Hartnell and William Karlsson – four players who filled those spots over the last few years – were never plugged at the bottom with comparable players. While Pierre-Luc Dubois has been solid this season, there are still gaps at center and even along the wings (paging Oliver Bjorkstrand).
Regardless, a move needs to be made. This team has surprisingly made it into February without one. They have been able to get this far without it because most teams in the division have looked pretty "meh" up until the start of 2018.
I'll get into Jack Johnson later in this article, but I am sure he will garner interest as a rental with becoming an unrestricted free agent at the end of the season. Ryan Murray would have also made great trade bait if he was healthy. I think the Blue Jackets would prefer to hang on to Markus Nutivaara who has held his own in Murray's absence, but the deal has to be right for the Blue Jackets to part with his services. Boone Jenner could garner interest on the forward front, as well as possibly Oliver Bjorkstrand, but both are restricted free agents at the end of the year, so I'm not sure many teams will go for them.
However, the Blue Jackets have several draft picks at their disposal. They still have first round picks for the next three drafts, and this year, they still have picks in the first four years. Those could incentivize some teams.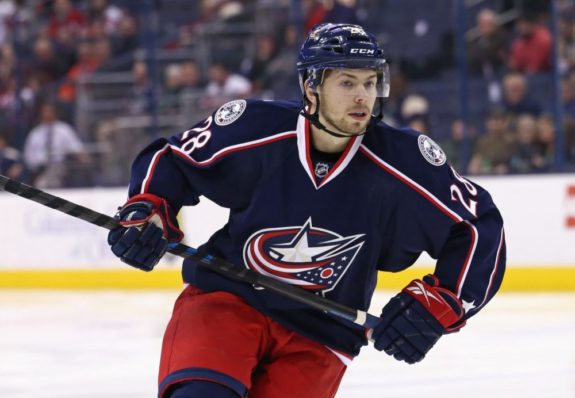 Mark: Keith, I think they're buyers no matter what. What I think will vary based on these next stretch of games is just how much they do. As we write this, the Blue Jackets hold the first wildcard. They're still within striking distance of the Metro top-three as well. They know they need to make moves. They still think they're contenders.
The thing that overshadows everything is the summer of 2019. This team essentially has two chances to win with the current setup before players like Sergei Bobrovsky, Artemi Panarin, Zach Werenski and others need new contracts. I'm not sure how you keep everyone considering what those three could command in a deal. Given these conditions, I could see the Blue Jackets willing to part with a high-end prospect and a high draft pick to get immediate top-six help. Jarmo Kekalainen has stayed patient with draft and develop. I think we finally see some aggression given where the team is at. They can't afford to not make the playoffs.
Two teams to watch for here are Montreal and Tampa Bay. The Blue Jackets have heavily scouted both teams this season and vice versa. I could see the Blue Jackets having interest in players like Max Pacioretty (if price is right) and Alex Galchenyuk. For Tampa, I could see the Blue Jackets having an interest in a player like Tyler Johnson. The team will keep their options open but I do expect them to go for it more than usual.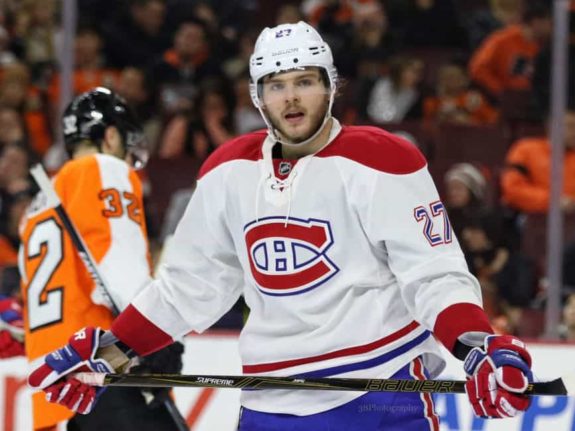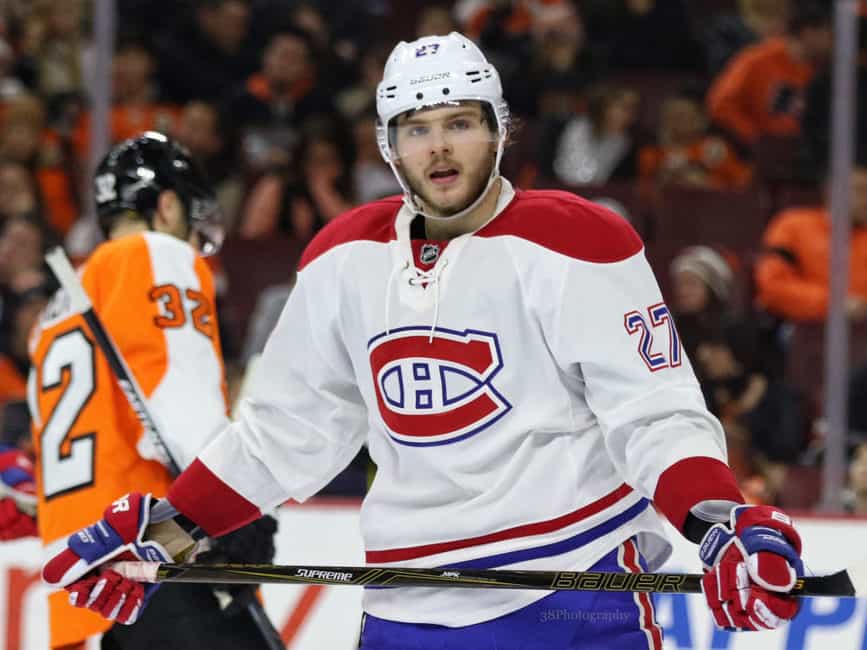 Jack Johnson
Question: When it comes to the Jack Johnson trade rumors, if we are all or nothing this season for the Cup, do you think they are better suited trading him for offense, defense or just keeping him? -David DeGood (@CoachDeGood)
Kristyn: I think Jack Johnson is a great guy to have in the locker room, absolutely, but if it's a deal that helps the Blue Jackets next season and beyond, they will have no problem making a deal.
Considering how much the Blue Jackets and the Montreal Canadiens have scouted one another, I could see Galchenyuk as a legitimate possibility. As I mentioned earlier, I don't think this is the Blue Jackets' year considering what we have seen so far this season.
Mark: This is a tricky situation from a what-to-do standpoint. He is a pending unrestricted free agent after the season. Given who else needs a contract, I don't see them offering a new contract.
That said, he can help you or someone. The question you have to ask yourself is what is in the best interest of the Columbus Blue Jackets? If you can get a player back who improves your team, then you make the deal. Otherwise he can still help your defensive depth.
This has not been Johnson's best season by any stretch. He'd be the first to tell you that. But he's still in the top-four and playing big minutes. The Ryan Murray injury situation certainly doesn't make things easier. If he was healthy, I'd say a deal would be easier to make. But since we don't know when Murray will return and their defense is already struggling in their bottom-four, you might need to keep him.
If I was the GM, I'd see what's out there on the market. In my mind, if a deal comes to pass, it would be rental for rental. I'd lean offensive in that case. Then I'd see about bringing in another defenseman in a separate deal. If Murray was healthy, I'd be ok with a Werenski/Jones, Murray/Savard top-four.
In the end, I wouldn't want to lose him for nothing, but it could happen if they decide to keep him.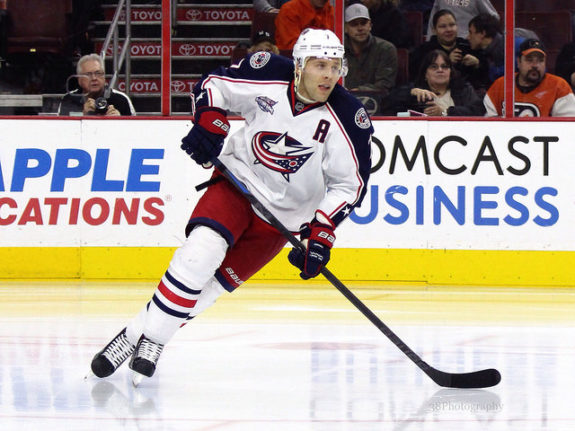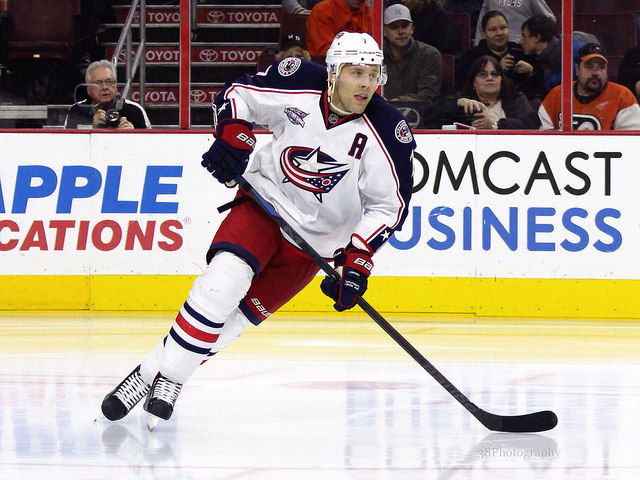 Scoring Woes
Question: Why do the Blue Jackets struggle so bad to score goals and how do they fix it? Can us fans really expect it to change after it's occurred all season? -Leslie (@lfoxcbus)
Kristyn: As mentioned earlier, Foligno has been up and down throughout his career, and this year was going to be a "down" one on the models if history was any indicator. Dubinsky's injury did not do him any favors, but again, Bjorkstrand, Wennberg and Atkinson's numbers should be higher. Even Panarin had trouble finding his footing for awhile there, and his season numbers should be higher than they are at this point.
Bobrovsky is pulling his weight, but with so many players having "off" seasons, Bob is proving he can only do so much for this team. Also, the shot quality has not been great all season. While the volume is there some nights, they are not getting as many of the second and third rebound opportunities they should, or the shots are coming from further away from the blue.
Tortorella has juggled the lines all season, which gets mixed reviews. Positive, because he is trying to find something, anything, at multiple points through tough times in the year, but also has not allowed many players to play together consistently to develop the chemistry needed to score.
Again, a move seems to be the main thing to get this team out of their funk if they haven't been able to do it themselves for the past 50-plus games. They will need help (from other teams, and likely other players) to get into the playoffs with the way they are trending now.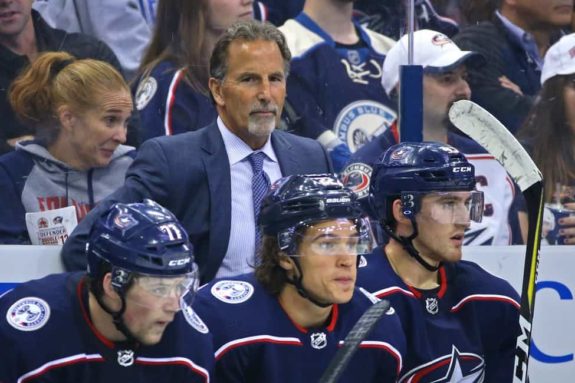 Mark: Leslie, I could do a whole separate post on this one. In watching the recent tape, a couple of things stand out to me. The biggest one is that teams do not fear the Blue Jackets. That's an indictment in itself.
I keep thinking back to last season when Carolina's penalty kill stymied the Blue Jackets. The Hurricanes were aggressive in not allowing the Blue Jackets to do what they like to do. For the longest time after that, teams followed this model and slowed Columbus down. They couldn't adjust to the aggression being shown by other teams.
That has carried over into this season. The Blue Jackets don't have the time or space they had last season. They don't surprise anyone like they did. They consistently see the opposition's best night in and night out. We have to remember they are one of the youngest teams in hockey. They're going through major growing pains including how to adjust to other teams.
Although it's bad now, we can reasonably expect them to slowly improve as they get more experience. They'll learn how to make adjustments. They'll learn about seizing momentum. They're in a state of frustration now. They have to recognize it and learn how to properly deal with it.
They've also had some bad luck in there. In several games of late, they've hit posts and crossbars. If those go in, who knows what happens? I do see better days coming for this team. I expect a couple moves by the deadline along with current players improving. Hang tough Leslie. This teams cares and is doing what they can to learn from this difficult situation.
Kristyn's Questions For Mark
Question: Do they bring the coaching staff (Shaw and Larsen) back next season if the Blue Jackets miss the playoffs? What factors will determine if they return or not?
Mark: Great question. Ask me this a month ago and I'd have said changes were only a matter of time. Since then the power play has gotten a bit better but the penalty killing has fallen off a cliff.
I would say that if they miss the playoffs, they will review every facet of the organization including coaching. Tortorella is signed through next season. I think he stays. I think Brad Shaw is safe. His impact on the defense is undeniable especially with Jones and Werenski. If anyone goes, it's Larsen, but I'm not as confident about that now as I was when the power play was under 10%.
I will say though if goals are hard to come by for the rest of the season, this is where the change will come in. There are too many talented players for it to be this bad. I do think Larsen's job is on the line the rest of this season.
Question: What are your three favorite non-hockey, non-sports Twitter accounts/people to follow and why?
Mark: I really had to think about this one considering how much hockey is on my Twitter feed! I was able to come up with three though.
The first is the Weather Channel. My wife is an avid weather person. She went to school for it. I love seeing videos of different weather phenomenon from across the world. I also have an unhealthy like for the movie Twister.
I'm also a big news junkie. Outside of sports I do not get to watch a lot of TV. So whether it's CNN, Fox News, ABC, the AP, I follow all the major news outlets.
And even though this is "kinda" sports related, I'm a huge fan of Daniel Negreanu. Anyone who follows poker knows how incredible a talent he is. When he can tell you what two cards you have in your hand, it's remarkable. I enjoy watching him play poker. He's also a huge hockey fan. I can't wait to see the inevitable Stanley Cup Final between the Toronto Maple Leafs and Vegas Golden Knights.
He also does great work incorporating poker and charities. Someone will get a chance to be coached by Kid Poker himself.
If you are in LA Feb 25th then come on out and play some poker for charity! Will be a fun event. https://t.co/MF5Jb2SADv

— Daniel Negreanu (@RealKidPoker) February 6, 2018
Mark's Questions for Kristyn
Question: Should the Blue Jackets rethink their all-in strategy given where they're at in the standings? Is going all-in next year a better strategy?
Kristyn: The Blue Jackets are not a legitimate Stanley Cup contender this season, plain and simple. They have not been able to compete against the top-tier in the league through 50-plus games to this point. Sure, they have battled a few injuries throughout the season, but at this point, all teams have, too. They have struggled to score and have yet to show they can play consistently for a full 60 minutes, let alone stretches of four-plus games in a row to win a playoff series.
This year and next year are big for Columbus in the contracting department. After next season, defenseman Zach Werenski will need a new deal, as will starting goaltender Sergei Bobrovsky and forward Artemi Panarin – both set to be unrestricted free agents at the end of the 2018-19 season. I think next year, they are closer to contender status, but that also depends on what they do at the trade deadline, during the next season, and if having another year under the younger guys' belts makes a difference.
The Nick Foligno, Brandon Dubinsky and Alexander Wennberg contracts don't look great right now. Foligno has been up and down and inconsistent for the past six seasons. Dubinsky is not trending toward being a 40-point per season player this year, and Wennberg is way off his pace. Good luck finding teams willing to pick up those deals, especially if their play continues this way into next season.
Unless the team has a 16-game win streak up their sleeves, I honestly don't know what moves can be made to dramatically improve this group this season.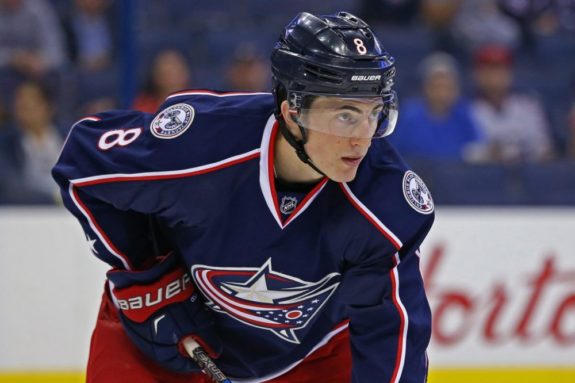 Question: What is some good, new music you've come across recently that you'd highly recommend to others?
Kristyn: A few weeks ago, I put together a list of my favorite albums that came out in 2017, so a few of these may not be super recent. My favorites in 2017 overall were Lorde's Melodrama and Silverstein's Dead Reflection. Two best albums of the year, hands down. Melodrama has something for everyone and no two songs sound the same, and it's an album to listen to from front to back. If you need specific songs, try "Supercut" and "Perfect Places."
Dead Reflection is at the top of Silverstein's discography with 2005's Discovering the Waterfront – an album I never thought they could return to in quality. But, Dead Reflection is pretty darn close. If you don't mind a harder sound, "Ghost," "Last Looks" and "Mirror Box" are in my top three.
Knuckle Puck's Shapeshifter album has been in heavy rotation since I caught them on tour back in November, and I'll get to see them live again on an off day on the Blue Jackets' California trip at Self Help Fest in San Bernardino. Specific tracks to listen to: "Gone," "Want Me Around" and "Everyone Lies to Me."
And, because I am a sucker for *most* members of One Direction (millennial here), if you want a catchy song that you won't mind being stuck in your head all day, I highly recommend Niall Horan and Malen Morris' duet "Seeing Blind" or Horan's latest single from his new album Flicker called "On the Loose." Get past the fact that he was in 1D, and you won't be disappointed.
As far as live shows currently in my queue (pending Blue Jackets playoff appearances, of course) include: Enter Shikari, Self Help Fest, Lights, Lorde, The Maine, Rock on the Range, Jimmy Eat World and the final run of Vans Warped Tour. Hoping to add a few more in there through the next few months, of course!
If you have a question you'd like answered in our next mailbag, tweet it to us @kristynrepke or @markscheig and use the hashtag #MKQA.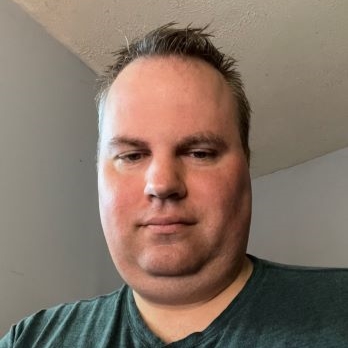 I am a fully credentialed writer who covers the Columbus Blue Jackets, Cleveland Monsters and Erie Otters as well as the Ontario Hockey League and NHL Draft. The 2022-23 season will mark nine seasons with the Hockey Writers. I am also the site's Credentials Manager. Please take note of the updated Twitter handle: @mark_scheig.