For more than a decade, Marc-Andre Fleury was the unquestioned starting goaltender for the Pittsburgh Penguins. Everybody remembers his spectacular Cup-clinching save on Nick Lidstrom; the native of Sorel-Tracey, QC has always had a knack for theatrics.
Professional sports can be a cruel business, and nobody knows this better than Fleury. Not long ago, it would've been hard to picture anyone other than #29 backstopping the Penguins.
Enter Matt Murray.
In his last two seasons in Pittsburgh, Fleury was phased out of the team's plans with the emergence of Murray, a younger (and cheaper) option. Not one to sugar coat my assessments, he outplayed Fleury when he was presented with his opportunity and never looked back. Before long, it was clear that Fleury's days in a Penguins jersey were numbered.
Fast forward to tonight, as the former Pens netminder prepares to play his first game in Pittsburgh since leaving the team that drafted him. Fleury's new team, the Vegas Golden Knights, are on a roll with a 3-1 record on their six-game road trip. The Penguins are coming off a loss to the New Jersey Devils after winning four straight.
Murray and Fleury (#rhymetime) are expected to start tonight and both have won 4 of their last 5 starts. Something's gotta give.
A victim of circumstance, a forgotten piece or simply not good enough; describe Fleury's departure how you may. He's back tonight, and the Penguins faithful at PPG Paints Arena will undoubtedly be ready to rain down some love on their gone but not forgotten Flower.
Peaking at the Right Time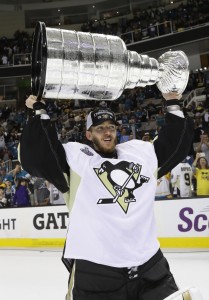 Murray (17-12-1) has been ok in his first season sans Fleury. He's been forced to miss time this season, including an abrupt departure from the team to cope with the death of his father. It has been a trying season for him, both personally and statistically. In 30 starts, Murray's SV% is barely over .900, and his GAA continues to creep close to the dreaded 3.00 mark.
If the Penguins hope to go for a three-peat, they will need him to elevate his play down the stretch, something he has a history of doing.
His monthly splits show a significant trend of elevated play as the season progresses, specifically in February & April:

His postseason numbers are a continuation of the upward swing depicted above. In 31 postseason starts, Murray holds a sub 2.00 GAA (1.95) and a .928 SV%. If healthy, history suggests Murray rounds into form in the later stages of the season. Trying to pinpoint the reason behind his penchant for late-season heroics is tough, but his simplified approach to the game is worth noting.
Penguins head coach Mike Sullivan, going back to last season's Cup Final, had high praise for his young goaltender's mindset: "I just think he has the ability to move by adversities," Sullivan said. "He's a mentally tough kid. He's a real resilient kid. He doesn't let any of the outside noise, or if he thought he should have had one of the goals, he doesn't let that stuff affect him."
As for Murray's thoughts…
"Just play the game…It doesn't matter the scenario. It doesn't matter what's going on. My job doesn't change," he explained. "I just play."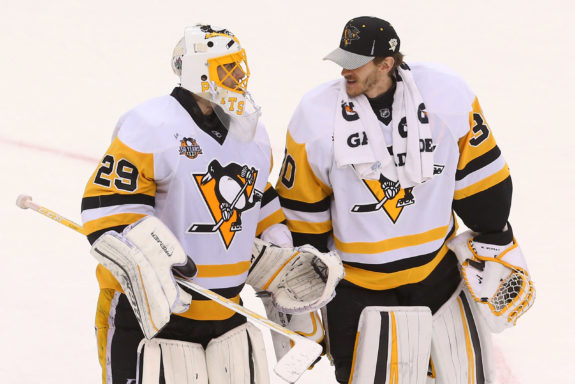 It's clear the now 23-year old is, apart from being a two-time Stanley Cup champion, mature beyond his years and that has helped him perform once the stakes ramp up.
Fleury 'THEN & NOW'
Despite his historically modest playoff performances, the Golden Knight version of Fleury is ready to buck the trend and lead the Knights on an unprecedented Stanley Cup run. He is playing, without question, the best hockey of his career right now.
Fully capable of stealing a game on his own, he's rarely had to do that this season, given how well his team has played in front of him. But there will be times down the stretch and in the playoffs when the Knights will need Fleury's heroics to bail them out. Don't put too much stake in his past playoff hiccups.
Numbers don't lie but they also fail to tell the whole story, unable to quantify certain key elements of a player's makeup (it's precisely why analytics & advanced metrics must be married up with traditional forms of scouting & assessment). Something about the desert has rejuvenated Fleury and it's shaping up to be a memorable run for him and his desert dwelling teammates.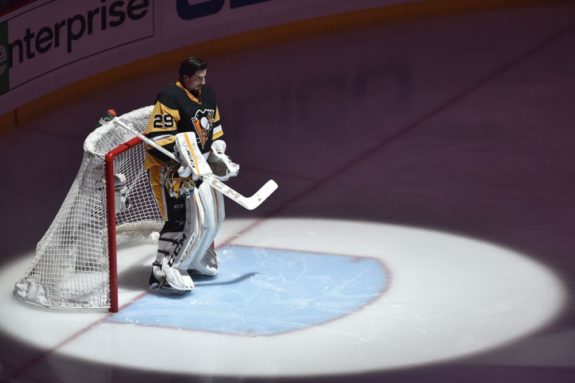 As for tonight, according to his agent Allan Walsh, Fleury's far more concerned about keeping it together during the Penguins tribute video than he is about his expected performance.
"He's worried about it. I think he's thinking, 'I sure hope I don't lose it in front of everybody.' "
Much maligned GM overseeing several underperforming fantasy franchises…
Born in Montreal, grew up in Cobourg (an hour east of Toronto), and have been watching hockey since I could hold one of those old plastic mini-sticks (anybody else remember curving those bad boys on the stove top?). Hope everyone enjoys all the great content on THW website. Cheers.