Today we have the first weekly preseason installment of "Metro Matchups". We will be putting the Columbus Blue Jackets, position by position, against each team in the NHL's Metropolitan Division.  First up we have the overhauled Pittsburgh Penguins.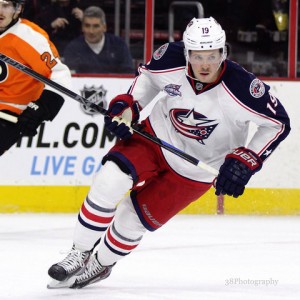 Blue Jackets First Line
Brandon Saad – Ryan Johansen – Cam Atkinson
Penguins First Line
David Perron – Sidney Crosby – Phil Kessel
For the Blue Jackets, Johansen is a star, Atkinson will score a lot of goals, and Saad will bring his skill and championship experience to improve them both. This is a top line that would be the envy of most NHL teams.
Most would think that a line with Sidney Crosby would be a clear winner against any team, but it's not quite that obvious. Crosby didn't seem quite like himself for much of last year, Perron was amazing when first acquired from Edmonton, but was invisible for the latter part of the year. Kessel could score 40 goals with Crosby, but who knows what they will get.
This was closer than many would think due to unanswered questions, but you have to go with the Penguins because of the potential answers coming in the form of scary production.
Advantage: Penguins
Blue Jackets Second Line
Boone Jenner – Brandon Dubinsky – Nick Foligno
Penguins Second Line
Chris Kunitz – Evgeni Malkin – Patric Hornqvist
Boone Jenner could turn into a serious game changer, and if Dubinsky can stay healthy, the duo could make some serious waves in the NHL. Add Foligno to the mix and you have a second line that could be a first line on many teams.
In Pittsburgh, Kunitz had a terrible year last season, and Hornqvist was injured, a lot, but this line has Evgeni Malkin, which heavily tips the scale. If Kunitz bounces back, and Hornqvist stays healthy some serious numbers will be put up.
Advantage: Penguins
Blue Jackets Third Line
Scott Hartnell – Alexander Wennberg – David Clarkson
Penguins Third Line
Sergei Plotnikov – Eric Fehr – Pascal Dupuis
I really like the potential for this Blue Jackets third line. Hartnell is a proven commodity, and Wennberg has big potential. If Clarkson can live up to some of the potential he had early in his career this could be a great line.
For the Penguins, Plotnikov at this point in an unknown coming from the KHL. Dupuis has missed most of the last two seasons, and nobody knows how he will produce. The only solid thing here is Fehr. Many question marks.
Advantage: Blue Jackets
Blue Jackets Fourth Line
Matt Calvert – Gregory Campbell – Rene Bourque
Penguins Fourth Line
TBD – Nick Bonino – Beau Bennett
I will be honest with you, both of these lines concern me.
In Columbus, Calvert COULD be good as the potential is there. Campbell has terrible possession numbers, but could improve with the Blue Jackets. Bourque could return to his old form, but I would wager that those days are behind him.
Nick Bonino, while an improvement over Brandon Sutter, goes invisible at times. Bennett is an injury prone, inconsistent player with a top-six skill set. The third member is going to come from the minors, but it is not known who it will be yet.
Advantage: Tie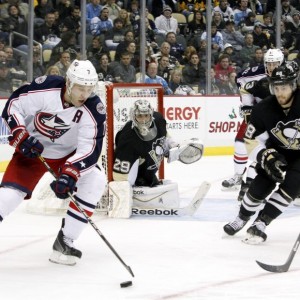 Blue Jackets Defense
Jack Johnson – David Savard
Fedor Tyutin – Ryan Murray
Kevin Connauton – Dalton Prout
Penguins Defense
Kris Letang – Olli Maatta
Ian Cole – Derrick Pouliot
Brian Dumoulin – Ben Lovejoy
The blueline is not exactly the strength of either side as questions remain for both teams.
The Blue Jackets need Ryan Murray to stay healthy and that will be a serious game changer.
The Penguins need their young players to step up and fill holes left by departing veterans.
With the Penguins however, the potential will tip the scales. Everyone knows what they are getting from the current group of Blue Jackets defenders, and it's not all that great.
Advantage: Penguins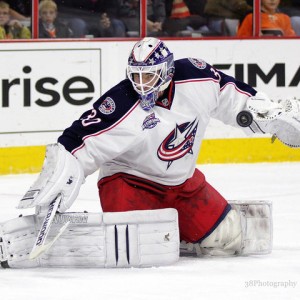 Blue Jackets Goalies
Sergei Bobrovsky
Curtis McElhinney
Penguins Goalies
Marc-Andre Fleury
Jeff Zatkoff
Now this is the one that will be met with the biggest argument. Bobrovsky versus Fleury would be a great matchup any day, and fun to watch. I have always been a Marc-Andre Fleury fan, and his resume demands respect, but if I were building a team around one of these netminders right now, I would go with Bobrovsky.
Bobrovsky is a Vezina winner who has played exceptionally well behind some questionable defenders. If the Blue Jackets can give him some support, Bobrovsky is going to be a perpetual Vezina contendor.
As for both backups, the word blah comes to mind.
Advantage: Blue Jackets
Final Rating
Both teams have loads of talent, and both teams have loads of questions. The difference maker is to assume that all scenarios turn out positively for both teams, and if this is the case the better team is in Pittsburgh. They have higher end talent, and a defense that should be superior. Both of these are game changers.
This whole scenario could change easily. If Saad and Johansen become the next Seguin and Benn, all bets are off, and I predict that after the trade deadline, the Blue Jackets defense will look much different. Columbus has the system, and skill set that gives Pittsburgh troubles, so regardless of what it looks like on paper, this will be a fun matchup to watch.
Overall Advantage: Penguins, but not by a lot.