Chaotic would be the best word to describe the off-season the Philadelphia Flyers have had. From locking up star forwards to getting rid of dead weight contracts to hiring a new head coach, the Flyers have been a busy bunch. That leaves many questions that will need to be answered over the course of this season.
1. Can Hakstol Reignite the Production Wheel?
If you can remember back to the 2013-2014 season, the Flyers found themselves in the playoffs as the number three seed in the Metropolitan Division. That season, seven players hit the twenty goal mark. Last season? Just four. This wasn't just an occurrence with one or two players, almost everyone saw decreased production, with the exception of Jakub Voracek. Matt Read scored 22 goals in 2013-2014. In 2014-2015, Read found the net just 8 times, despite playing five more games. Wayne Simmonds had 60 points in 13-14′. Last season? Just 50. And of course, there's Vincent Lecavalier, who had 20 in 2013-14, and just 8 this past season. Even Claude Giroux saw 13 points shaved off his 2013-2014 total.
A lot of this can probably be attributed to Craig Berube constantly juggling lines and not allowing players to develop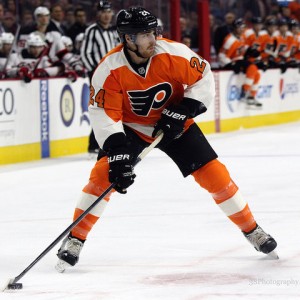 chemistry among themselves. Aside from Giroux and Voracek, it's hard to pinpoint even two guys that spent a majority of the season playing on a line with each other. Change is good, but in the case of the Flyers, too much of it will hinder the ability to boil up chemistry.
Bringing Hakstol in will also bring in a clean slate for the Flyers. Lecavalier won't (hopefully) have to worry about feuding with his coach this time around, and should get a legitimate chance to produce again. Berube limited Lecavalier to the fourth line for most of last season, allowing him about 12 to 13 minutes of ice time a night in a defensive role. While people may knock Lecavalier for his abysmal production last season, it'd be tough to place all of the blame on him. The Flyers need to find a place for Lecavalier, and get him back to producing.
A lot of weight is hanging on the guys on the backend. There was a very steep dropoff after Giroux, Voracek, and Simmonds this past season. If the guys on the back end can step up again, the Flyers will become a very dangerous team.
2. Will Jakub Voracek Live Up to His Contract?
Fresh off his breakout, 81-point season, the Flyers inked Voracek to an 8 year, $66 million deal. Well deserved, but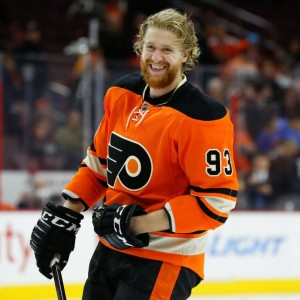 also very risky for a team who has been marred by bad contracts the past few seasons.
Voracek still had another year left on his current deal. It may have been beneficial for the Flyers to let that at least partially play out before signing him to such a huge deal. It would have given them a better idea if he was just a one-hit wonder, or if he is the real deal. That being said, if the Flyers would have waited and Voracek were to shock everyone and hover around 100 points next season, then the Flyers would likely be shelling out more money, but they would also have given themselves the reassurance that they aren't getting into a bad contract.
Of course, the Flyers already do have a lot to go on. At just 25, Voracek has shown improvement each season he has been in the NHL, along with showing priceless chemistry alongside Giroux on the first line. Keep in mind, both these players didn't have solid winger on the opposite side. It was the dynamic duo, not trio. Voracek's 81 points last season weren't just a matter of luck, they were hard earned and a result of the skill set he possesses.
So will Voracek be able to fill the giant shoes the Flyers have given him? It's hard to imagine why he wouldn't be able to.
3. How Good Can Steve Mason be?
This might be one of the answers where the sky is the limit.
You might remember last season in mid-March, the Flyers were just a few points out of the last Wild Card spot, despite the seemingly horrible defense and lack of offense they were experiencing. The main reason for this was Steve Mason.
Mason was nothing short of outstanding last season. He posted a .928 save percetage (3rd in the NHL) and a 2.25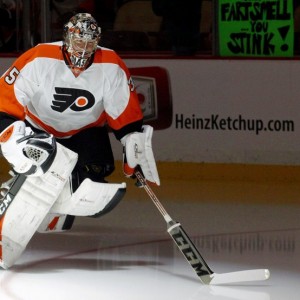 goals-against average (7th in the NHL). Those numbers came despite the fact that the Flyers had a defense ranked in the bottom third of the NHL. He also did this through frequent criticism from former head coach Craig Berube, who really never gave him close to the credit he deserved.
The Flyers have a new coach in town now, one who will almost certainly be better than the last. It's very hard to imagine the Flyers will be worse defensively than they were last year, so that only sets the table for Mason to be even better. As his time in Philadelphia has progressed, the 27 year old goaltender had just gotten better and better. Whether it be returning from injury in the playoffs and posting a .939 save-percentage, or a 46 save showing against a division rival, Mason continues to show Flyer fans why he is poised to be the future in net.
If Mason continues his excellence between the pipes, and the Flyers improve on offense and defense, they could become a serious threat in the Metropolitan Division.
Matt is a contributor for the Philadelphia Flyers at The Hockey Writers. He has previously covered the Flyers for GrandstandU. He enjoys playing hockey and making music in his spare time.