Thursday night, Craig Berube made the curious decision to pull goalie Steve Mason after allowing two goals on 16 shots. That's not the elite play we've become accustomed to from Mason, but it doesn't scream "pull him now". After the game, Berube justified the move by saying he wasn't happy with either goal allowed.
Let's take a look at the evidence:
The first was a shot from a prime scoring area near the hashmarks. Don't know how you can fault Mason there. The second was a floater from the point, but Mason was clearly screened by defenseman Nick Schultz in front of him. Don't think that's his fault either.
"He's played extremely well, and kept us in probably 95 percent of the games this year," Schenn said. ". . . You definitely can't put the blame on him. It's embarrassing we hung him out to dry a bit."
So why is Berube being so critical of the best goalie this team has had in years, and its arguable MVP? That answer may lie in what's happened in the past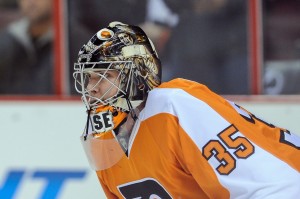 The Firing of Jeff Reese
Two weeks ago, goalie coach Jeff Reese was inexplicably let go from the team with little explanation. Reese had received a tremendous amount of praise for turning around the fortunes of Steve Mason. Reese took a promising career that had turned to shambles, and turned it into a top 10 goalie.
Mason was extremely close with Reese, making the split even more puzzling:
He was someone that was easy to work with. He was someone I felt I could confide my feelings to. He is somebody that I owe my career to. If it wasn't for 'Reeser,' I wouldn't be where I am right now.

Mason admitted Thursday's win against St. Louis was "a real hard game to focus on just because of the circumstances and what was going on."
Since coming to Philadelphia, Mason has the sixth best even strength save percentage in the NHL (min. 50 games) while playing behind a porous defense. The Flyers finally get a franchise goaltender, and they proceed to dump a big part of his success. The split was called "mutual", but good luck finding anyone that believes that.
Here's what Berube had to say about his departure:
"'Reeser' is a great coach," Berube said, referring all other questions to the team's statement. "You read the release. No further comment."
Here's what Reese said:
"I'm sorry, I just have no comment," Reese said in a text message. "I have nothing to say."
Does that sound like a mutual split on good terms to you? If Reese left for a health or family related reason, why wouldn't they say so?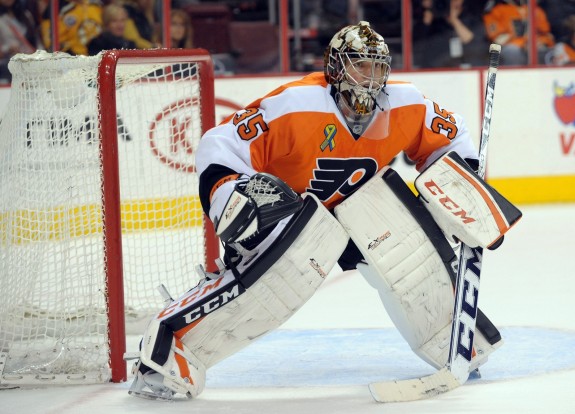 The consensus is that Reese disagreed with Berube's usage and treatment of Mason over the course of the season.
Mason has been injured a number of times throughout this season, both in games and in practices. Despite showing signs of fatigue, re-injury, and needing more time, Berube has continued to ride Mason. It's perfectly fine to play your #1 goalie when you're battling for a playoff spot, but when there are obvious warning signs about his health, you give him a rest.
Against the Maple Leafs on February 26th, Rob Zepp got the start with Mason backing up on the bench. Before the game, Mason, coming off an injury, was told he wouldn't come in unless Zepp sustained a serious injury. Zepp was pulled after two goals, not injury, and Mason went in.
Reese likely went to bat for Mason against Berube, Berube didn't like it, and now Reese is gone. With Reese gone, Berube appears to be taking his frustration out on Mason.
What Does the Future Hold?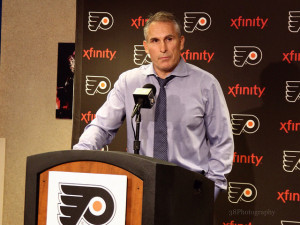 With nine games left in the season and their playoff hopes dashed, the end of the Craig Berube era in Philadelphia should be near. He'll likely be fired in the offseason, as he deserves to be.
Ron Hextall proved to be a wise GM with his trades at this year's trade deadline, and would not make the mistake of keeping Berube and dealing Mason. The team would be better off with Mason in goal and Claude Giroux as player-coach than without Mason and Berube behind the bench.
Hopefully whoever replaces Berube is smart enough to reach out to Reese, and repaired the bridges that have burned in an attempt to bring him back. It's the least the Flyers can do for a guy who singlehandedly carried the team for much of the season.
https://twitter.com/ShawnTHW/status/578768771302748160
It'll also go a long way in keeping Mason in Philadelphia when he's up for a new contract in 2017.
Bill Schoeninger is a Philadelphia Flyers writer and current Boston University student studying business. Coming to THW from Hometown Hockey, Bill follows and writes about the Flyers, Boston University Terriers, and NHL Draft prospects. Follow him on twitter @BSchoeninger17