Last night, as a part of the World Junior Championship Summer Showcase, Canada faced off against the Czech Republic. Among the participants in the game were Flyers prospects Travis Konecny (CAN), a first round pick in 2015, Nicolas Aube-Kubel (CAN), a second round pick in 2014 and David Kase (CZE), a fifth round pick in 2015.
All three players are relatively undersized right wingers, although Aube-Kubel and Kase spent much of the night on the left wing.
The majority of the first period belonged to the Czechs as they outshot Canada 14-7. The rest of the game, however, belonged to Canada, who went on to win 7-1. Here is how each of the Flyers prospects fared:
Travis Konecny
Konecy was the top-line RW for the evening on a line centered by Brayden Point. The two put on a show. Point ended up with two goals and three assists, while Konecny tallied three assists. His first assist was a relatively routine play in which he came off of the left side boards to set up Haydn Fleury for a slap-shot goal.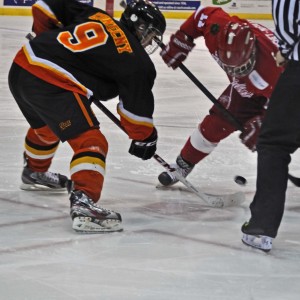 Konecny's second assist was a thing of beauty. He received a pass at the center of his own blue line. Instead of firing the puck into the corner or trying to get a shot through heavy traffic, he deked past one defender and, as the Czech defense was closing in on him, found a wide open Brayden Point. Take a look (GIFs made by Steve Ellis):
Konecny to Point… Again. Yeah, these kids can play. #CANVSCZE https://t.co/VJBVTqDrXo

— Steven Ellis (@StevenEllisTHN) August 5, 2015
His third assist was also fantastic to watch. It happened while the game was at four-on-four. This assist is just further proof that what Konecny lacks in size, he makes up for in tenacity.
Konecny to Point… Again. Yeah, these kids can play. #CANVSCZE https://t.co/VJBVTqDrXo

— Steven Ellis (@StevenEllisTHN) August 5, 2015
Nicolas Aube-Kubel
Nicolas Aube Kubel started the night on the fourth line with Matthew Barzal and his Val D'Or teammate Julien Gauthier. However, he played most of the game at left wing on a line with Point and Konecny. Aube-Kubel finished the night with two assists (he had three, but one was actually taken away from him), and a solid overall performance.
In the early stages of the game, Aube-Kubel seemed a bit uncomfortable at left wing. He definitely settled in as the game progressed and was given time on the power play. Although he still has an uphill climb if he wants to make the official team in December, he helped his stock tonight.
Aube-Kubel is listed on the QMJHL website as 5 feet 11 inches and 196 pounds. He looked much bigger than that. Granted, he played on a line with two very small players, but either way, Aube-Kubel is not as small as his height may seem to indicate.
David Kase
In the first period, Kase was all over the ice. As the game as a whole began to tilt against the Czechs, Kase began to disappear.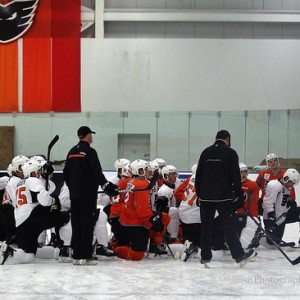 However, Kase was still one of the best Czechs on the ice. He played in all situations (ES, PP, PK) while contributing to a plethora of scoring chances. On the power play, Kase played the right point/umbrella position, the exact same spot that his countryman Jakub Voracek plays on the Flyers' power play. He looked incredibly comfortable and confident with the puck on his stick. He sent smart passes and almost scored a goal or two.
Although little was said about Czech prospects after the first period, the announcers did have positive things to say about Kase. Craig Button, an announcer for the game, a former GM and a prospect analyst for TSN, stated that Kase is a "smart player" and a "gifted offensive player." His high skill level was on display last night.
Even though this was only one game, an exhibition game, in the middle of August, it is still exciting to finally see the  good young Flyers prospects. Adding these three players to the likes of Travis Sanheim, Oskar Lindblom and Ivan Provorov, as well as potentially Radel Fazleev and Felix Sandstrom, should give Flyers fans high hopes that the organization will be well represented at the World Junior Championship in December/January.