The month of March for the Columbus Blue Jackets has one major theme in common. Road games and lots of them. Tuesday night in Pittsburgh starts a stretch of nine road games in their next 11 games overall.
Put another way, the Blue Jackets have just two home games left for the entire rest of March. One of them comes this Saturday against the St. Louis Blues.
The Blue Jackets have a road record of 7-18-4 in 2022-23. The seven wins are tied for fewest in the NHL and 18 road points are the fewest in the NHL. While there have been some notable moments such as with wins against the Winnipeg Jets and Dallas Stars, finding consistency away from Nationwide Arena has been hard to come by.
Head coach Brad Larsen, captain Boone Jenner and Erik Gudbranson all stopped by this morning to talk about the road and the opportunity they have.
Road Games Provide Opportunity
Larsen acknowledged that a big part of the road struggles is not having their full roster at any point this season. The miss talent presents a big challenge to overcome especially against the league's elite.
"The trend for me is what we've talked about all year, just the lack of personnel and key guys," Larsen said. "When you have your top defenseman play 13 games, that's tough. And there's a lot of road games and home games in that. So that's been the challenge all year, whether you're on the road or not."
---
Latest News & Highlights
---
"We're a young team. We got a lot of first timers in there. We got a lot of guys that are trying to find their way. The trade deadline's come so we lost some more key guys there. It's a challenge. But whether you're a road or home (team), you got to be up to the challenge. You got to settle yourself in. We're going to continue to look for that. We've got a lot of road games coming here. We only got two home games left this month. There's a lot of it coming and we're going to have to really bear down."
Larsen believes that now is the time for many of the young players to take their next step in the league. The opportunity to impress remains with 19 games left.
"It's an opportunity for some of our younger guys to take that leadership role. Not in the sense of standing up in the room. They've played games now. They're in that 40's, 50's, 60's games. Now you're going to embrace the role. At this point in the season, you're not looked at as a rookie anymore. You gotta find your way and step up. There's guys trying to establish themselves all throughout our lineup. There's guys trying to make their imprint on the NHL. So you have to do it on the road and you gotta prove that you're an NHL player. So what better way to do it than on the road and lead by example, because you're going to have to do it."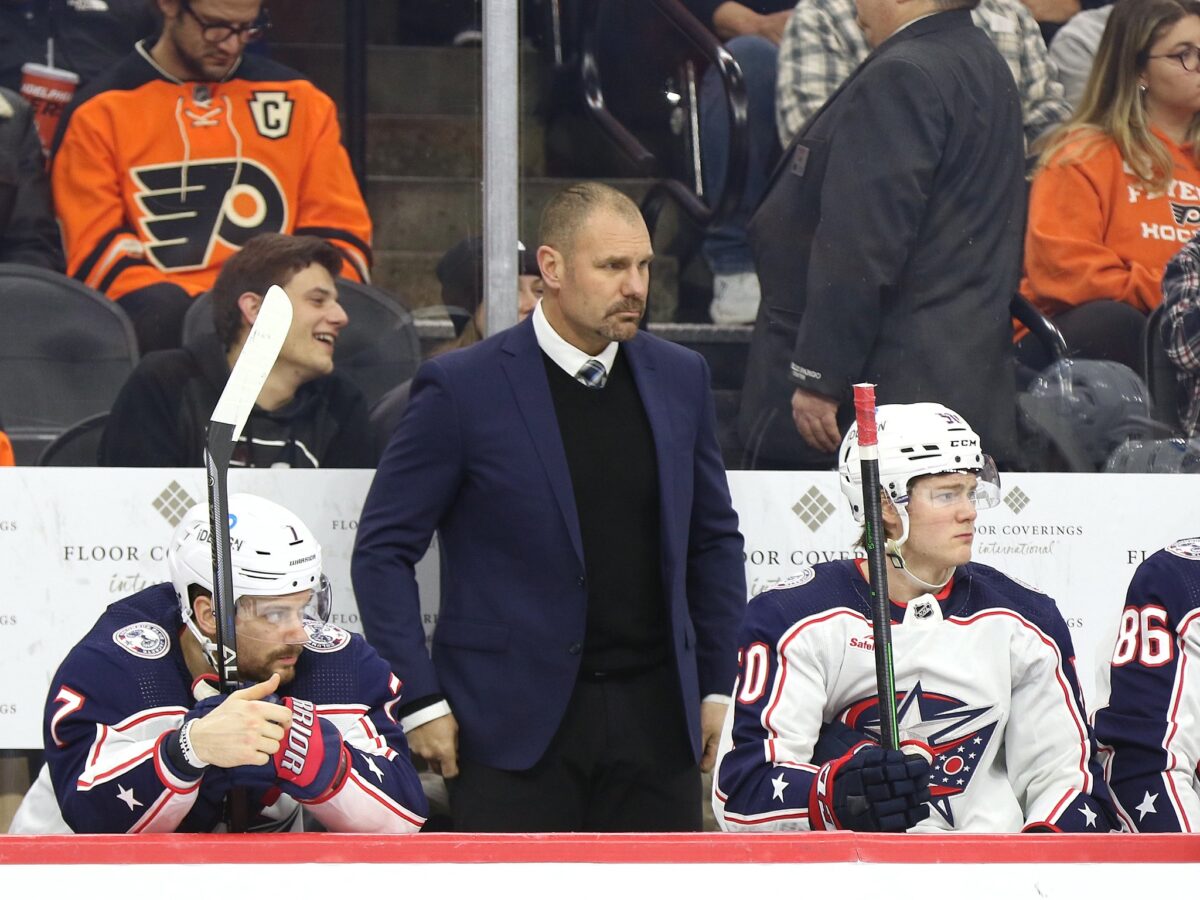 Jenner acknowledges that it's tougher to play on the road. With that said, it's another opportunity for the team to build towards next season.
"It's tougher to play on the road. (But) I think it can help your group too," Jenner said. "Just keep it simple. Everyone is together on the road. It's fun to go into buildings and try to quiet them. I think we can build around that and just focus on our game. Each individual has got an opportunity to step up and help this team get to where we want to get to. So for us it's more about the process. Us older guys we gotta lead it and continue to work on our game."
Gudbranson brought up a good point about the challenge of playing on the road. They don't get to dictate their matchup on the ice.
"You have to deal with not getting the matchups you want," Gudbranson said. "All game long. That's a big one. That changes things big time. Then you talk about being in another building. A rink is a rink. I think it comes down to matchups and managing the puck. That's what we talk about all the time. Keeping it a simple road game. You do what you have to do to learn to keep the crowd out of it too. You have to take care of business."
The Blue Jackets might not be in the playoff race themselves. But they are playing teams who are with many of them on the road. They could impact who makes the playoffs and who doesn't. If they are to find success for the rest of the season, they're going to have to find a way to make it work away from Nationwide Arena.
Trade Deadline Final Grade
The Blue Jackets as expected traded their pending UFAs. They also traded the contract of Jake Voracek to the Arizona Coyotes. It's time to assign a grade for their work.
Given what was expected to happen, my final grade for the Blue Jackets is an A-. It would have been a B but trading the Voracek contract completely off the books is the reason for the bump.
After the near trade with the Bruins, the Blue Jackets did get an extra 2023 first-round pick from the Los Angeles Kings, assuming they make the playoffs. It took them packaging Gavrikov and Korpisalo together to do it. But they got it done.
You Might Also Like
The trade of Voracek's contract is an underrated part of all this. This allows the Blue Jackets room to pay bonuses without having to carry any over to next season. It also gives them extra flexibility in the offseason to make needed improvements. Having his contract on the books would have hampered them.
The Blue Jackets now have the chance to be a major player in the offseason market. Not only can they bring impact players in, they could win the right to draft Connor Bedard. So although this deadline was more housekeeping than anything, they positioned themselves well to make big moves. That's all you can ask for at this point in the season.
Side Dishes
The Blue Jackets haven't won in Pittsburgh since November 2015. That's 12 straight games. The goal scorers in that game? Brandon Saad and Scott Hartnell. Sergei Bobrovsky stopped 28 of 29.
With Sean Kuraly injured, the Blue Jackets have just 20 available skaters. They are saving their regular recalls with 19 games to play.
One of those 20 players is Lane Pederson. The Blue Jackets have played him at center. Larsen said there's more to his game. "I think he's still trying to find himself. We put him in the center position. I don't know if that's his strength but that's what we need right now. He's played there but I think there's more in his game too. We need to see a little bit more of that physicality (where he can) impact the game. We know there's some skill there."
On the Penguins' side, Tristan Jarry with start against the Blue Jackets. Jake Guentzel is in after taking a maintenance day. However Ryan Poehling is not available for them.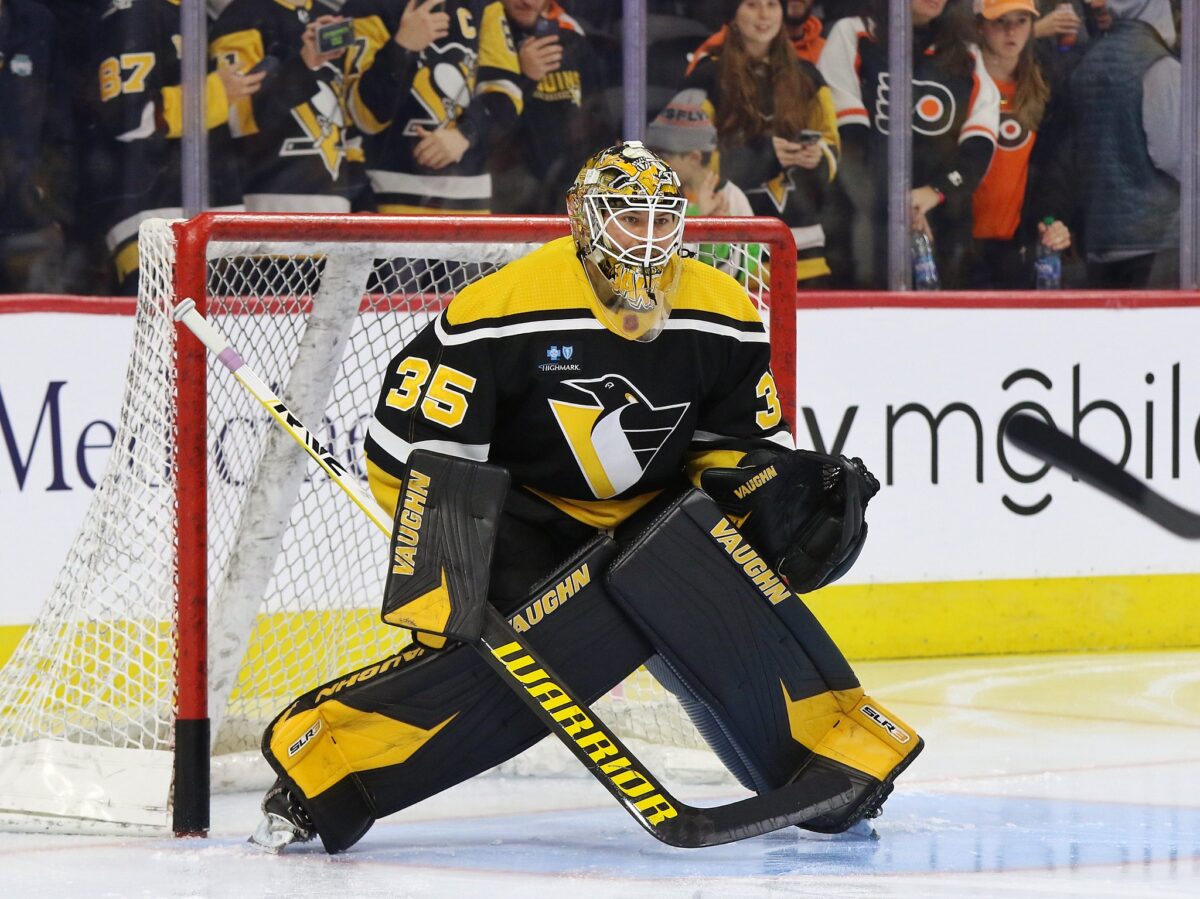 The Penguins have lost nine straight Metropolitan division games coming into Tuesday.
Fans in Buffalo, Ottawa, Florida and Washington will be rooting hard for the Blue Jackets. Each team enters Tuesday night just three points in back of the Penguins for the second wildcard in the East. Welcome to scoreboard watching season.