Welcome back to another edition of Blue Jackets News & Rumors. After today, the next time you see this column will be after the team holds their annual Media Day which will be held on Monday, Sept 18.

But before we get there, we have plenty to talk about. Namely, the Traverse City Prospects Tournament starts up this week. We now know who the Blue Jackets will be taking to Michigan with them. We also dive into another PTO and then end with a couple of side dishes.
---
Latest News & Highlight
---
Traverse City Roster Unveiled
The Blue Jackets last week announced who will be going to Traverse City. If one word comes to mind about the roster, it's loaded. You can see the full listing here.
The headliners are the debuts of both Adam Fantilli and Dmitri Voronkov in game action. In addition, David Jiricek, Denton Mateychuk and Corson Ceulemans, all of their defensive first rounders from 2021 and 2022, will be there.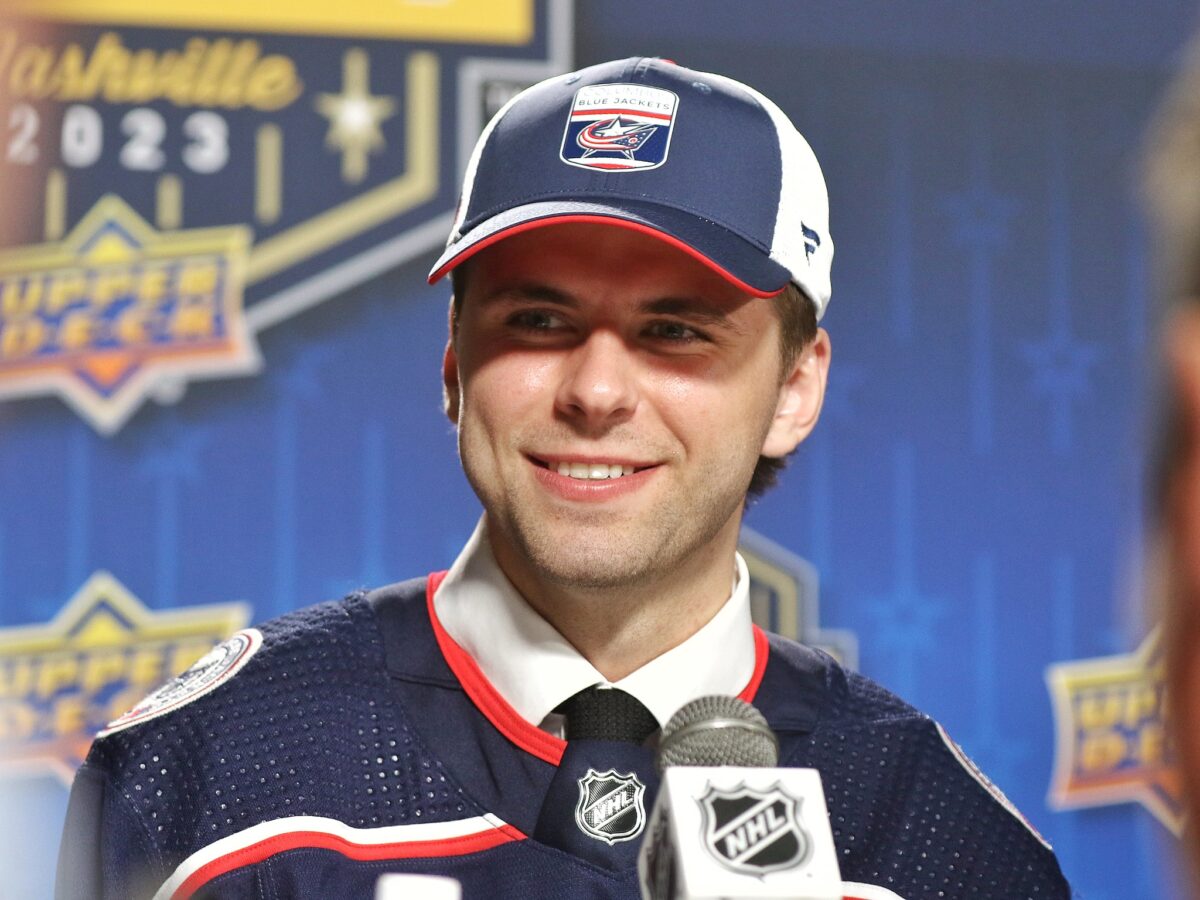 The fun doesn't end there either. Jordan Dumais, Luca Del Bel Belluz, Stanislav Svozil, Samuel Knazko and James Malatesta are among others who could be a big part of the Blue Jackets' future who will be in Traverse City.
While there will be many things to watch over the three games, seeing Fantilli and Voronkov in action for the first time stands out. Both could easily win a roster spot out of training camp. A tournament like this should give them a chance to dominate. What will be interesting to see is how head coach Trent Vogelhuber elects to play the lines with such a loaded roster. Can I interest anyone in a line of Malatesta, Fantilli and Dumais?
Overall, this gives everyone a true sense of just how strong this prospect pool is. Stay tuned as my colleague Mikhail Bryan will have a more thorough breakdown of everyone on the roster including some invites.
Matteau is Back
We now know another PTO that will be attending Blue Jackets' camp this year. He will be familiar to fans who followed the team a couple seasons ago.
Stefan Matteau is back with the Blue Jackets' organization after spending last season in both Germany and Sweden. He played for parts of two seasons with the Blue Jackets and also played with the Cleveland Monsters. CapFriendly was the first to report on this news.
Matteau is the fourth known PTO for this year's training camp joining Aaron Dell, Nicolas Meloche and Nate Schnarr. With so much competition for precious few roster spots, any PTO would have to have the camp of their life to breakthrough. The thing to watch here is because of the familiarity factor, Matteau could earn a deal as he would provide a valuable veteran presence on the Monsters. But with so many others vying for spots, it by no means is a guarantee.
Side Dishes
As the days pass by, we continue to monitor the situation with Diamond Sports Group and their ongoing Bankruptcy case. On Monday Sept 11, there is a hearing scheduled for setting the governmental bar dates for filing proofs of claim among other things. The attached 34-page document outlines what all is being discussed.
As of now, it continues to be wait and see from a Blue Jackets' perspective. In light of the recent ESPN issue surrounding Disney and Charter Spectrum, a big thing to watch will be what happens with other major carriers and if they will carry Bally Sports. The next few weeks are proving to be critical to what the final outcome will be.
My own take. Do not be surprised if multiple teams eventually offer an over the air option so fans can watch for free.
You Might Also Like
Nick Cotsonika of NHL.com recently sat down with Blue Jackets' head coach Mike Babcock for a three-part interview. You can see that here. In addition, Babcock did a Q&A with Aaron Portzline of the Athletic. (From: 'Mike Babcock Q&A: Many uncertainties, but optimism prevails with Blue Jackets', Aaron Portzline, the Athletic, 9/7/2023)