Over the last few seasons, the New York Rangers franchise has made waves toward becoming a powerhouse among the heavy hitters of the NHL. The front office has aimed to acquire weapons they hoped would send them back to the Stanley Cup Final, the likes of which New York hasn't seen since their 4-1 series loss to the Los Angeles Kings in 2013-14. While the Rags' project of trouncing back to the Final is still under construction, star centerman Mika Zibanejad has become one of the most important pieces to that puzzle.

The Swedish sniper has cemented his place among the great centers of the league, finding himself ranked alongside freak talents Tage Thompson and Aleksander Barkov. Zibanejad's extreme offensive prowess has helped propel the Rangers into a position of power in the Metropolitan Division, feasibly placing him on the cusp of the best season he's ever had.
Prime Time
Taken sixth overall by the Ottawa Senators in the 2011 NHL Entry Draft, Zibanejad entered the league with many other promising prospects such as Nikita Kucherov and Johnny Gaudreau. He seemingly developed at a rate on par with those big names and broke the 20-goal mark in 2014-15. The center held his own on a mediocre team that failed to finish better than fourth in the Atlantic Division, concluding his time in Ottawa with 151 points (64 goals, 87 assists) in 281 games over five seasons.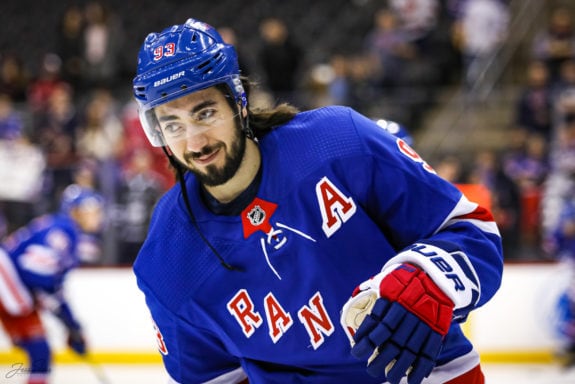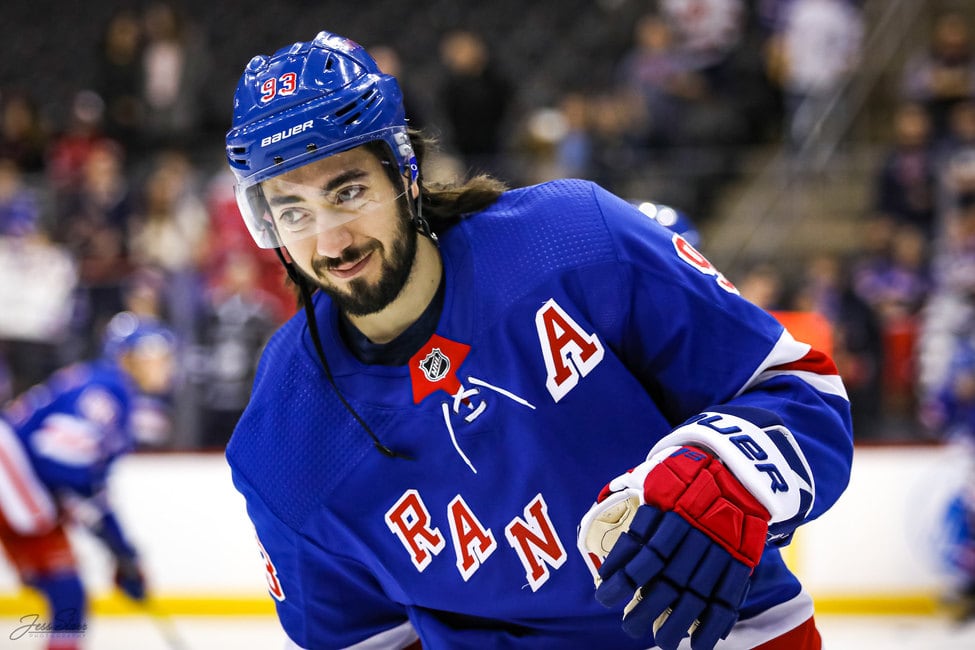 Young players who fail to break out in their first few seasons are likely to fall in their team's development system and in some cases, must opt to play elsewhere than the NHL. Zibanejad's career beginnings are important to reference when discussing what longevity means in the NHL. Only the strongest can remain steady through the physical and mental trials of playing in the hardest league in the world. The promise he showed at his start was a tell-tale sign of his coming success. Fast-forward 12 seasons later, and he has found his "prime" at the age of 30.
Related: Reviewing Jacob Trouba's First Year as Rangers Captain
---
Latest News & Highlights
---
In 2022-23, every stoplight was green for Zibanejad; he posted career numbers in points (91), goals (41), and assists (52). Rangers fans can rest easy knowing that he won't be slowing down anytime soon. Only Artemi Panarin scored more points for the Rangers last season (92), meaning the opportunity has presented itself for Zibanejad to erupt as the Blueshirts' top contributor in 2023-24.
Pressure Makes Diamonds
The Rangers' "core four" in Zibanejad, Panarin, Chris Kreider, and Adam Fox are all tied down until the 2026-27 season. While the Rangers are in much better shape than some of their divisional counterparts from a contractual perspective, they've still got their work cut out for them. With the Pittsburgh Penguins adding Erik Karlsson and the Carolina Hurricanes bulking up their depth for another deep playoff run among others, the Blueshirts will require Zibanejad's clutch efforts even more in 2023-24.
Now known as a prolific third-period game-changer, Zibanejad finds the net when he needs to. His grinder style of play and excellent skating proficiency allow him to be a "right place at the right time" kind of star. Giving the full 60-minute hustle every single night is a crucial characteristic a team wants, and Zibanejad fills that post.
The expansion of opposing firepower and depth in the Metropolitan Division will put the Rangers in those tough moments more often, where they'll be relying on the seasoned slasher to deliver. Zibanejad's skillset as a skater and leader will be tested tenfold, but his proven ability to perform in the clutch is an intangible that one just cannot teach.
Supportive Blueshirt Teammates
While Zibanejad played with a handful of decent skaters in Ottawa, it was minuscule compared to the superstar locker room in New York right now. Even since being traded to the Rangers, he has never played with as talented of a lineup as he will be during this upcoming campaign. Slotted on the first line between scoring phenom Kreider and budding talent Kaapo Kakko, Zibanejad's support system is sure to feed him that powerful left-circle one-timer which has been compared to that of the great Alexander Ovechkin.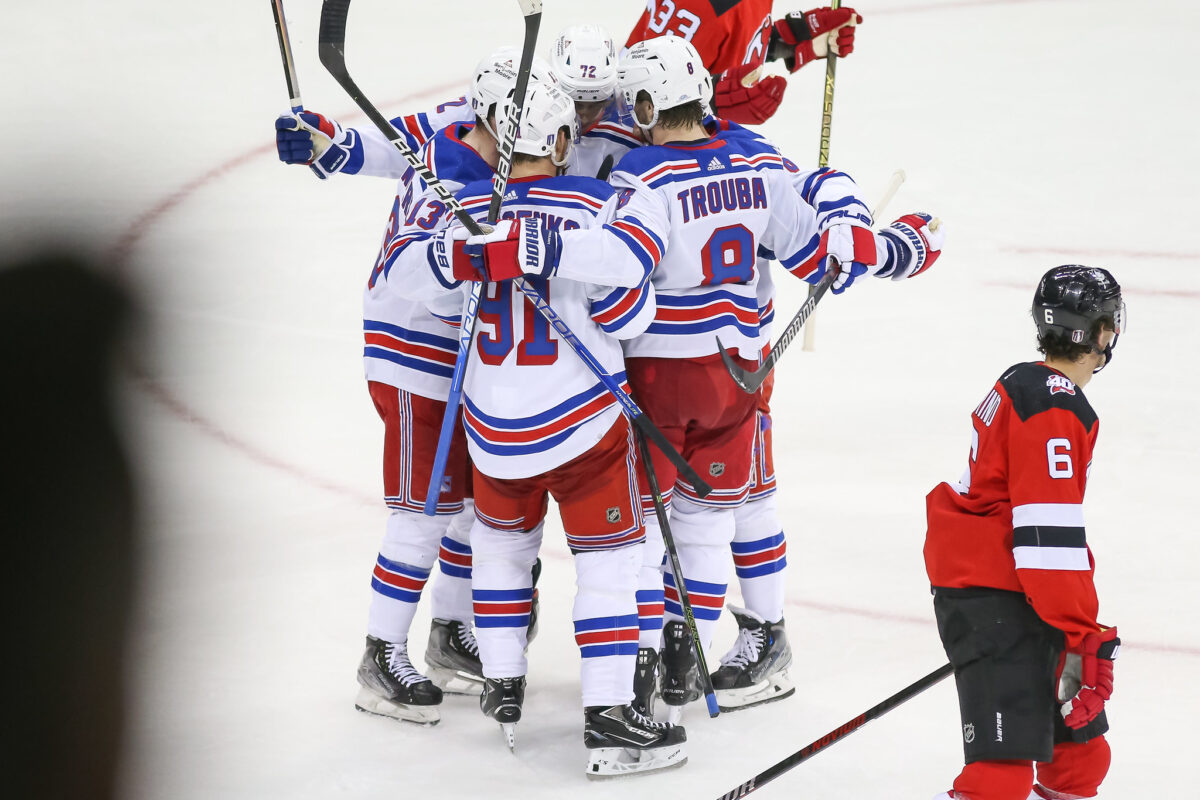 The Blueshirts' power play is certainly their most deadliest weapon. Working in tandem with Panarin, Fox, and Kreider to maximize efficiency on the power play will be influential in helping produce Zibanejad's scoring chances this season. If general manager Chris Drury somehow attempts to pursue Patrick Kane again, the Rangers' makeup would be even more deadly. However, the unlikeliness of such happening is rather low, leaving more work to be done for Mika and the gang.
Related: 3 Rangers Storylines to Follow This Season
It's a notion as old as hockey itself that influence on one's peers behind the scenes will translate to on-ice chemistry. Zibanejad is beloved and respected by his Ranger teammates, and they view him as one of their strongest leaders. His light attitude and enduring personality make him a favorite of fans and the front office alike. With the best season of his career right behind him and the future only looking stronger, Zibanejad is perhaps on the verge of his career apex.