The NHL Trade Deadline has closed its door for another year. Columbus Blue Jackets general manager Jarmo Kekalainen elected to remain rather quiet throughout the process, and, as such, the Jackets will look within their current roster to get the job done.
While they still remain in a wild-card spot, it's no secret that times have been tough lately. The Jackets have dropped nine of 10 games, 11 of their regulars are out of the lineup with various ailments and lastly, they're suffering from a serious goal-scoring problem. In fact, their offensive output has been a lingering sore-spot all season. Here's how they rank in offensive statistics throughout the 2019-20 campaign:
| | | | | |
| --- | --- | --- | --- | --- |
| GF % | SOG/Game | PP % | Shooting % | Face-off % |
| 2.62% | 32.7 | 16.2% | 8.0% | 48.6% |
| 27th | 8th | 26th | 29th | 25th |
With this in mind and no help on its way via trade, it's fair to assess whether they have the necessary pieces to push them through this final stretch. Luckily, they received some positive news on the injury front:
In addition to the Riley Nash and Wennberg news, Cam Atkinson is also expected to begin skating in the near future, so help is on its way. Until then, the Blues Jackets will look to a few veterans and perhaps some young talent to fill the net.
Pierre-Luc Dubois
No surprise here, Pierre-Luc Dubois is leading the charge for Columbus this season. Although February has been somewhat lackluster, the 21-year-old is on pace to challenge the 60-point plateau for a second consecutive season. While this total may not scream "elite," it is important to acknowledge that he is still playing in just his third season as a pro.
To put his numbers in comparison, his 48 points currently sit fifth in the league among players still playing on an entry-level contract, trailing names such as Elias Pettersson (60), Andrei Svechnikov (58), Matthew Barzal (56) and Quinn Hughes (51), all of which have been skating on lines with high-end NHL talent.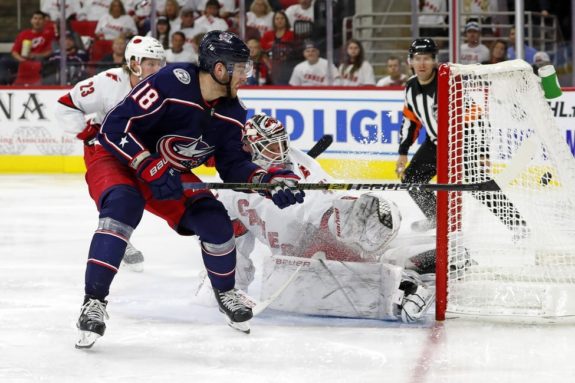 Dubois shows the potential to be an elite point producer in this league and will be a giant factor in how this team fares down the stretch.
Road Warrior
The playoff race is incredibly tight right now, meaning points are as precious as gold. Here's the good news – the Jackets' will play 10 of their remaining 17 games on the road. While the team has posted a respectable record away from home (12-9-10), it's Dubois that has truly thrived.
Through 31 road match-ups this season, the power forward has recorded 24 points, a total that has him 16th league-wide. He's also recorded 11 of his 18 goals during those games. To dive even deeper, he ranks eighth in the league with 19 road points dating back to December 14th.
Even Strength Vs Power Play
It hasn't all been positive for the 21-year-old pivot. His numbers on the man-advantage have been seriously lacking, an area that he and the entire team must elevate. He has recorded just two power-play points in the calendar year and an underwhelming nine throughout the entire season. Successful teams thrive on the special teams, meaning Dubois will need to find a way to get this going, and quickly.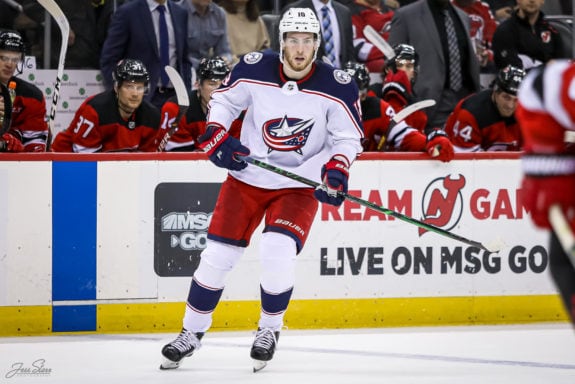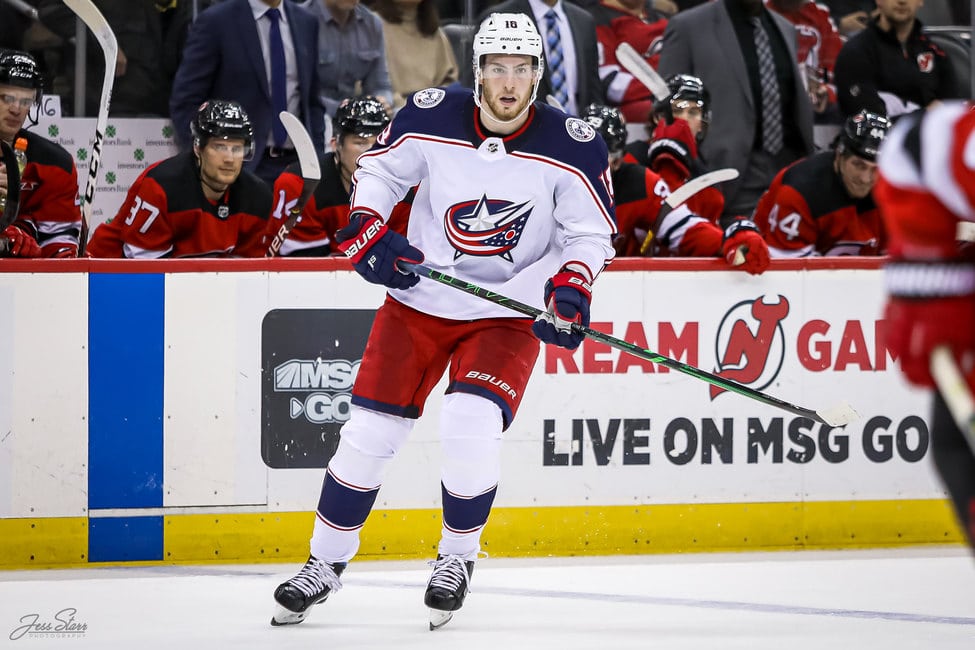 Luckily, his five-on-five play is picking up all the slack. Out of his 48 points this season, 37 of them have come at even-strength. If he can catch a bit of fire until their injured cavalry return, the Blue Jackets' chances of maintaining their snug wild-card position will remain solid.
Emil Bemstrom
Emil Bemstrom is an interesting candidate to add some secondary scoring in this final push. With goals in three straight, the Swedish rookie may have caught a spark, and his timing could not be better.
Proven Goal-Scorer
There is no question about it, this kid can score goals. He has proven that at the pro-level already, leading his Swedish Hockey League team in goals, with 23 in the 2018-19 season.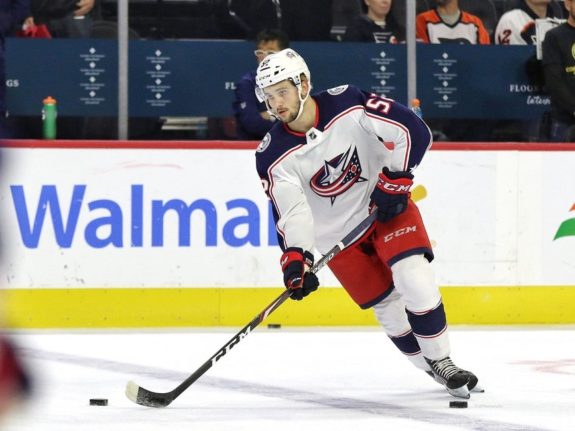 While his NHL rookie campaign has been up and down, the talent is certainly there and the numbers should eventually follow. With some added confidence, the sharpshooter has the potential to save the day and fill the net at a consistent rate.
Power Play Utilization
He has not produced consistently so far, that is no question. However, Bemstrom possesses an elite shot, above-average in terms of NHL caliber. Half of his 18 points this season have come on the man-advantage, which as mentioned, is a category the Blue Jackets are in desperate need of a boost. Allowing him the opportunity to deploy on the top-unit could add another element to this teams lacking special teams. Imagine this on a nightly basis.
Nick Foligno
Last but not least, we have the captain, Nick Foligno. He's a sturdy veteran who has picked up his play recently, leading an inexperienced group by example.
All Around Contributor
Although it has not been the most productive campaign of his career in regards to point totals, Foligno has stepped up to the plate when his team needs it the most. Since the 2020 calendar year began, the 32-year-old veteran has either led or produced in the top three in almost every aspect of the game for Jackets. The 6-foot-4 winger is well known for playing with an edge, and it's his play without the puck that separates him from most. Whether it's finishing his checks, blocking shots, racking up heavy minutes or chipping in on the scoresheet, the captain has been a catalyst for the team.

Here are his current 2020 calendar year statistics and where they sit on the team as of Thursday evening:
6 goals – third
8 assists – second
14 points – third
12 games with points – second
56 SOG – third
plus-6 – sixth
80 hits – first
21 blocked shots – second among forwards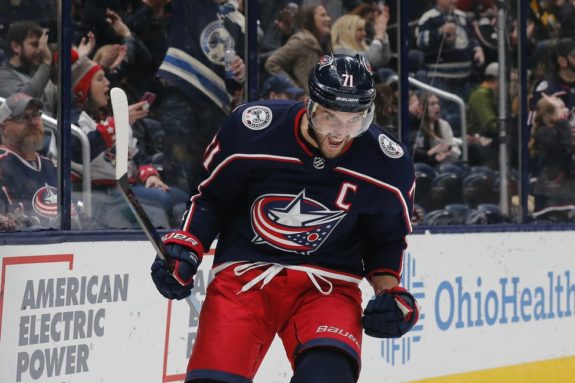 Foligno will not razzle-dazzle on the ice, but he will compete in every battle. He brings a very fierce work ethic, which he will ingrain on the young, more unpolished players on the team. Look for him to bring it each game until the final buzzer sounds in Game 82.
The Final Stretch
There is still tons of time remaining in the year. However, with most teams currently owning games in hand, the Blue Jackets will have to address these issues as soon as possible. If not, they could find themselves slipping down the standings and out of the playoff picture.
I am a West Coast hockey fan who loves everything about the game. I have been a Canucks fan my entire life but thoroughly enjoy watching every team play. My previous experiences is with the Victoria Royals (WHL) as a Communications Intern and a writer for Dobberprospects, who I currently still provide content with. I am an Arena Programmer by day and love writing about hockey in my free time.