We begin a new summer series with the Columbus Blue Jackets called Blue Jackets Pressure Points. We will ask hard questions about the team and attempt to answer them as it relates to the upcoming season and beyond. Today, we begin the series by going in-depth with perhaps the Blue Jackets most important player. Is Sergei Bobrovsky primed to rebound in 2016-17?
If the Columbus Blue Jackets even want to sniff the playoff race in 2016-17, Sergei Bobrovsky must get them to that point. If he has another season like last season, well, we don't want to think about the consequences.
There's only one word that accurately describes last season for Bobrovsky. That word is U-G-L-Y. Although he played better later in the season, he still finished with a losing record for the first time in his NHL career. That doesn't begin describing how rough the season was for him.
Bobrovsky finished with a record of 15-19-1-1 in 37 games in 2015-16. This includes an 0-6 mark in the team's first eight decisions. Within those first eight games, it felt like every puck shot at him would go in. That's because pretty much every puck went in.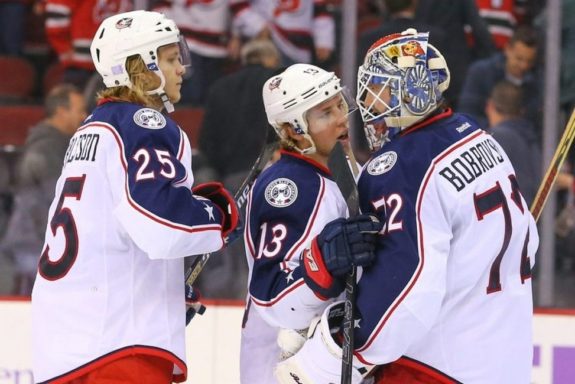 No matter the response the Blue Jackets had, they were never in any games. Bobrovsky admitted that his confidence was at zero. Not only did he not have confidence, the rest of the team followed suit. There were times last season I felt that the Blue Jackets had a better chance playing 6-on-5 with an empty net. What difference did it make anyway, right?
Even despite the worst possible start, it was still reasonable to expect the team to turn things around to a point. They weren't going to lose every game. Bobrovsky is good enough a goaltender that something would eventually click. We did see a small glimpse of him possibly regaining some of his form in his next 17 games, where he compiled a record of 11-6-1.
Then in a flash, things got worse again.
On December 8th, 2015, Bobrovsky re-aggrevated his nagging groin injury that has plagued him most of his career. At the time of injury, the Blue Jackets were leading the Los Angeles Kings 2-1. It was late in the 3rd period. Take a guess what happened after Bobrovsky left the game? You got it. The Kings quickly tied the score, then won it in overtime. Any hope of a sustained turnaround for the Blue Jackets left the ice with Bobrovsky that night.
Bobrovsky missed 42 total days thanks to that injury. He returned January 19th against the Washington Capitals. He allowed five goals that night, then two days later, allowed two goals to Calgary before reaggrevating the same groin injury. Seems he came back to the lineup too quickly. Need proof? He missed the next 50 days. The team wanted to make sure he was fully healthy.
Bobrovsky returned on March 11th and played 10 games to finish the season, going 4-6-0. All this is just on the surface. Some of the underlying numbers show a much uglier picture. Oh, and he is the highest paid Blue Jackets player, by more than a million dollars.
With all this said, it's fair to ask, will Bobrovsky rebound in 2016-17? Can he put this team at least on the fringe of the wildcard picture?
What Can We Expect Next Season?
Bobrovsky by far is the Blue Jackets' most important player. His performance will have a direct result in the Blue Jackets final record. What can we expect to see from him? The problem in my mind is that a range of outcomes are possible for him.
Bobrovsky started 0-8 last season, but he's also won a Vezina. In other words, he's been really bad, and really good at different points in his career. There is enough of a sample size out there where we can make some reasonable conclusions about realistic expectations. However, any prediction we make assumes certain things about him. Will he stay healthy? How much better is the defense in front of him? How many shots will he see? How many of those shots are high quality scoring chances? I could keep going, but you get the point.
Let's start by looking at his overall career numbers. Bobrovsky now has a record of 140-90-25-12, with a 2.54 GAA and .917 save percentage. For simplicity and a reference point, let's take his career-to-date numbers and assume for a moment those were his numbers just last season.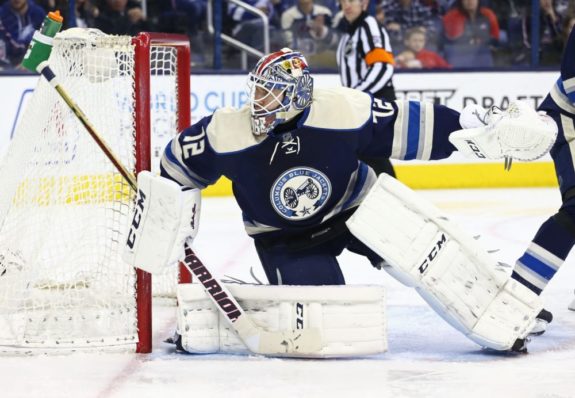 Bobrovsky's .917 save percentage would have tied him for 28th in the league, or equal to Edmonton's Cam Talbot. Bobrovsky's 2.54 GAA would put him 29th in the league, just ahead of Cam Talbot. For someone making over $7 million/season, this is scary bad.
If you take Bobrovsky's real numbers from last season, his GAA ranked 44th and save percentage ranked 45th in the league.  So there's good and bad news to take from this.
The good news is that most likely, he has a better season in 2016-17. Given how the rest of his career has gone, last season feels like an anomaly.
Injury played a major role. Who knows how he does if he stays healthy? And that 0-8 team start is not all on Bobrovsky. The whole team is just as responsible when they leave opponents with wide-open chances. The Blue Jackets are better defensively to start this season compared to last. Ryan Murray and Seth Jones get to start the season together. So the elements are there for an improvement.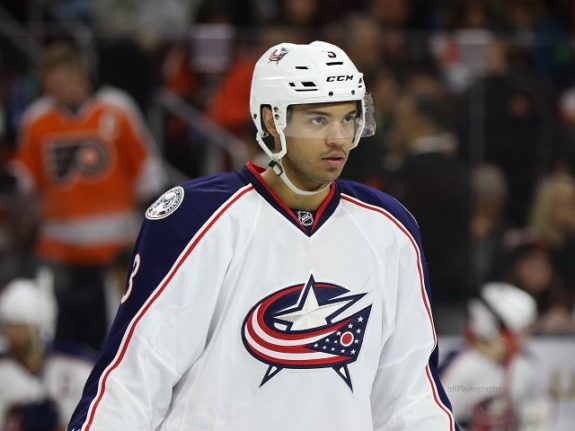 Now the bad news. The Blue Jackets paid Bobrovsky as a number one starting goalie. Even with the Vezina on his résumé, it's hard to imagine him jumping from below 40th into the top 10 in one season. Is it possible? Yes, it's possible, but not very likely if you consider his career numbers.
Plus consider his injury history. I couldn't imagine seeing the Blue Jackets playing him upwards of 60 games this season. They must take all necessary precautions to make sure he stays healthy. The last thing the Blue Jackets need is another groin injury early in the season. This puts pressure on the backup to perform, which has been severely lacking. Curtis McElhinney has been inconsistent throughout his Blue Jackets career. Joonas Korpisalo played very well once he got a few starts under his belt. Will the Blue Jackets turn to him to start as the backup?
No matter how you slice it, this is a big year for Bobrovsky. Rumors even surfaced that he was on the trading block. He was never asked to waive his no-movement clause, but that's still quite the statement if he was being discussed in any capacity.  He needs to show that he can stay healthy over the course of the season, while keeping his team in games. Goals for the Blue Jackets could come at a premium, so Bobrovsky has to answer the bell night in and night out. His salary says so.
#CBJ Jarmo Kekalainen, asked if he had offers to trade Bobrovsky:

"Noooooo."

— Aaron Portzline (@Aportzline) June 25, 2016
Here's my point. Although it's reasonable to expect improvement in goal, it's not very reasonable to expect a dramatic enough improvement to see a major turnaround. For the Blue Jackets to stay in the thick of the playoffs, Bobrovsky must play like he did in his Vezina season and playoff season. Anything short of that will leave the team short of the playoffs.
Is this too tall a mountain to climb for Bobrovsky? We'll see. He certainly will get the chance to rebound. The fate of the Blue Jackets rests squarely on his shoulders.