Second periods. They can make or break teams if they are not careful. Teams often talk about their focus on starting out or finishing games strong. You don't often hear teams emphasizing pushing the pace in the middle frame.
Case in point:  through the first 50 games of the season, second periods have not been a huge highlight for the Columbus Blue Jackets. Though they have a combined 590 shots in the middle 20 minutes – by far the most of any period – they only have 42 goals to show for their efforts. That's a seven percent shooting percentage. There are only five teams in the entire league with fewer second-period goals, and all five are not in playoff positions.
On the other hand, the Blue Jackets have surrendered 55 second-period goals – a minus-14 goal differential. In the past six weeks, the Blue Jackets surrendered four goals in the second period to the Vancouver Canucks (Jan. 12), Tampa Bay Lightning (Dec. 31) and Edmonton Oilers (Dec. 12). They also gave up three goals in the second period to the Ottawa Senators (Dec. 29) and Vegas Golden Knights (Jan. 23).
The Blue Jackets players and staff know this terrible trend needs to turn around, fast.
"It's a mental thing…we have to figure it out," Blue Jackets forward Brandon Dubinsky said after a forgetful second-period performance against the Minnesota Wild on Jan. 30. "We know how to play and now, we have all of our personnel back. There are no excuses. We know what we need to do and we have the team to do it. We have to figure it out."
So, what are some of the things the Blue Jackets can do to resolve this?
"We need to have the same level of effort [all game]," Dubinsky said. "Don't try to do too much or something that's not your job. Just focus on your job and do it to the best you can.
"It comes down to work ethic, too," Dubinsky added. "We've been getting outworked there [in the second period]. We kind of go 'oh crap, we have to get going again.' We start getting dominated there… but we shouldn't be looking for wake-up calls in the middle of the game. This team knows how to play hard and we're going to expect that out of each other moving forward."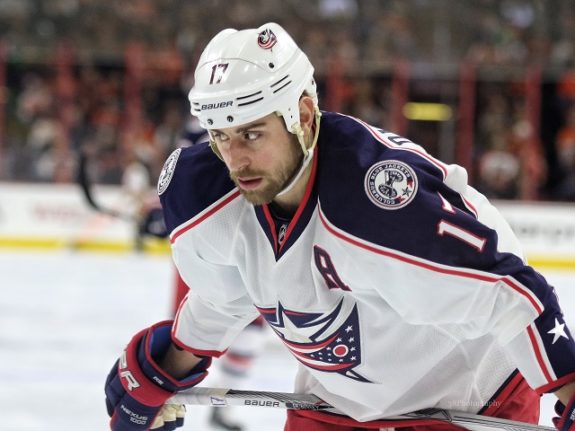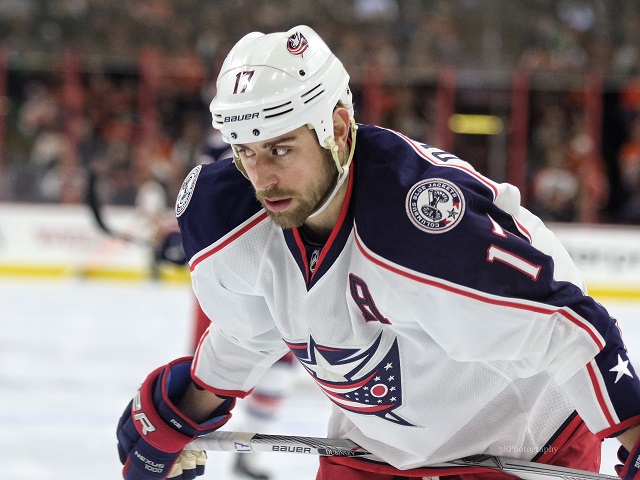 Blue Jackets captain and forward Nick Foligno knows second periods have hurt his team all season. It is something the team needs to resolve — fast.
"We can't have so many ebbs and flows in a game," Foligno said. "There are already enough [ebbs and flows] to begin with, so that can't come from us. That's what I don't like."
Foligno took used the Jan. 30 game as an example of the troubling trend they have shown all season.
"You look at our effort in that first period and we were dominating," Foligno said. "Then, the second period hits and our effort goes away. [The Wild] come right back and start dictating play, and it takes us awhile to get the momentum back again. That seems to be our biggest problem right now as a team and that's to me, that's mental. That's a standard we have to get to and understand and realize that when we play like that, we're a very good hockey team. When we don't, we allow teams to hang around and get back into it. If we keep this up, we'll be tooth-and-nailing it all the way to the playoffs."
As Foligno said, when the Blue Jackets lose control of the middle frame, they often lose control of the entire game and cannot recover. That's a major problem that brings back flashes of the 2015-16 season.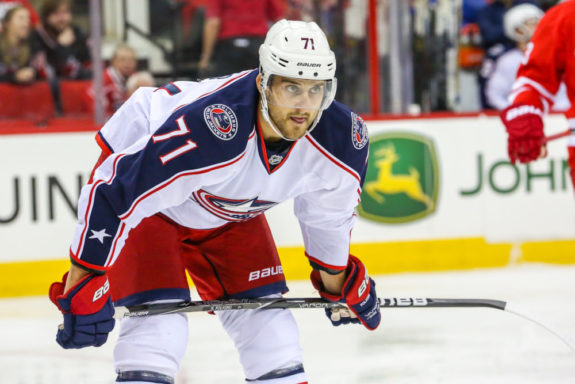 The second-period slowdown is part of a bigger Blue Jackets issue — their inability to score. While goaltender Sergei Bobrovsky holds down the fort, for the most part, he receives little to no support from the skaters. Only the Ottawa Senators, Arizona Coyotes and Buffalo Sabres have fewer goals this season than the Blue Jackets, and they are the three worst teams in the standings.
The Blue Jackets have also failed to score more than two goals in regulation in 11 of their last 12 games, and the one time they did, they lost 6-3 to the Golden Knights. Actually, the Blue Jackets have not won a game in regulation by scoring more than two goals since the team's 4-2 victory over the Toronto Maple Leafs on Dec. 20. Not good.
It all comes back to the second period. When the Blue Jackets fail to produce, or reduce the number of goals scored against them, for at least a full third or more of the game, it leads to big problems that cause them to fall in the standings. The Blue Jackets need to get out of their sleepy second-period mentality and find ways to score. Their playoff hopes depend on it.
After living in two NHL cities (Orange, CA and Raleigh, NC), Kristyn graduated from Ohio University's E.W. Scripps School of Journalism and worked in the Columbus Blue Jackets' Digital Media department. She currently resides in Columbus and has been an NHL-credentialed reporter since the 2013-14 season.