The 19-year old has taken center stage for the Columbus Blue Jackets.
After starting the season on the wing, Pierre-Luc Dubois now thrives on the top line between Artemi Panarin and Josh Anderson. They are by far the best line going for these Blue Jackets.
Dubois' Secret to Chemistry
You might ask yourself, how is this rookie able to find chemistry so early in his career? Why is he able to gel with bread and Andy while other more established players (see Wennberg, Alexander; Foligno, Nick and Atkinson, Cam) couldn't do it?
The answer to this according to Dubois comes from his time getting to know those players.
"I think you just gotta get to know the guys," Dubois said. "You gotta get to know their habits, what they like, what they don't like especially as a centerman to support them. Whether you're with Josh (Anderson) or with Alex (Barre-Boulet) from last year, you just gotta get to know the guy on the ice and talk a lot off the ice."
Dubois played with dynamic winger Alex Barre-Boulet last season for the Armada. Barre-Boulet is 5-foot-10. Anderson is 6-foot-3. They play a different type of game. Even still, Dubois excelled with both players. He took the time to get to know them on and off the ice. He finds out the little things each like to do.
The result is chemistry on a line and it's beautiful to watch. For someone yet to turn 20, this is a sign of maturity few players at that age have. Dubois is just getting started.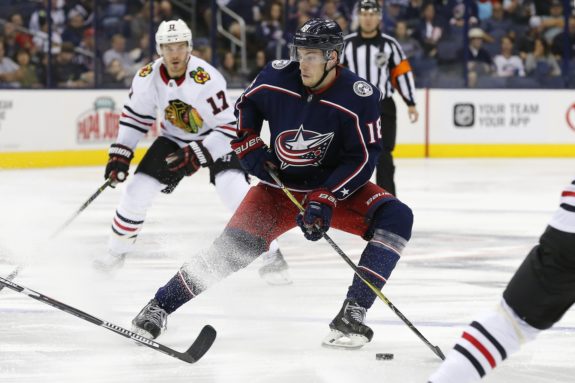 Thoughts on the Capitals' Game
Despite falling down 2-0 and eventually 4-3 in regulation, the Blue Jackets showed well outside a couple of key moments.
They fought back to tie the game at two thanks to their first shorty of the season. However before the period expired, an offensive zone penalty by Boone Jenner led to Alex Ovechkin scoring from his office to give the Capitals momentum and the lead going to the third period.
Then a bad line change by Dubois sparked a fourth Capitals goal. The Blue Jackets didn't get too down on themselves and kept playing. They made it 4-3 thanks to Zach Werenski's 8th goal of the season. They should have tied the game thanks to Dubois' strong move to the net.
The puck went past Braden Holtby, only to land dead on the ice. It didn't bounce forward as most pucks do. Jay Beagle swept the puck away before anyone could tap it in.
The real concern though is the bottom nine. Dubois' line dominated the night. No one else could join them and it cost them two important points. If the Blue Jackets want to stay on top of the Metro, they must get their main guys going. Wennberg, Jenner, Foligno, Atkinson, Bjorkstrand need to find their game. With a two-game series coming up against the New Jersey Devils, the time is now for them to awake from their slumber.
Sonny Milano Sent to Cleveland
This move surprised some when it was announced. Why was Milano going back to Cleveland if this was his year to stay? As it turns out, it's a numbers game that hasn't played out in his favor, yet.
With Wennberg and Calvert back from injury, the team only had so many open spots. Someone was the odd-man out. According to Tortorella, that man was Milano.
Milano is not a fourth line player. Playing him under 10 minutes a night is not ideal for him or the team. Sending him to Cleveland allows him to improve on his play away from the puck while finding his play on the puck. Both Tortorella and Milano agreed that his game had slipped a bit.
Expect Milano to come up when a top-six player has an injury. According to Tortorella, Milano is a big part of the team and will be back.
Should Columbus Call Buffalo?
Elliotte Friedman reported on Saturday night that the Sabres were open for business outside of Jack Eichel. Should the Blue Jackets call the Sabres about any of their players?
I do think the Blue Jackets should definitely call and at least ask. The name to watch for me is Ryan O'Reilly.
I get the contract. He has five years at $7.5 million after this season. I get he's struggled. It's the Sabres. Basically everyone has struggled. He's only 26 and does so many things well when he's right.
Why not call to see what the price is? The Sabres have Eichel. They also have Casey Mittelstadt coming eventually. There's your 1-2 punch down the middle. Does O'Reilly want to endure a build in his prime?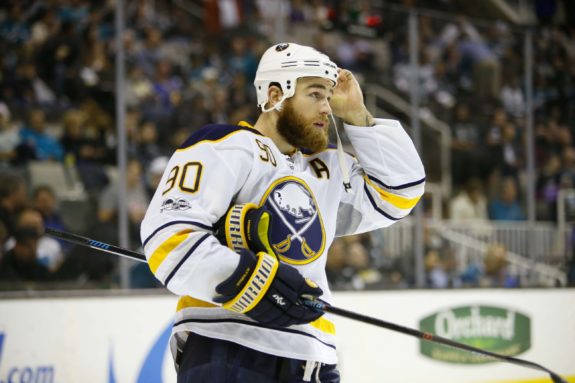 Let's face it. The Sabres need help in different areas of their lineup. O'Reilly could easily fetch a top-four defenseman, a winger and other futures such as a draft pick.
Imagine a trade where the Blue Jackets get O'Reilly and the Sabres get Ryan Murray, Milano and a pick. The Blue Jackets get their top-six center with price certainty while the Sabres get blue line help, a high-upside offensive winger who knows Eichel and a draft pick. They also get out from that contract.
I'm not saying this would ever happen but at least see what the Sabres want. O'Reilly would help the Blue Jackets now. If the price is too high, look for something else.
With the Blue Jackets carrying eight defensemen and Milano back in Cleveland, they have pieces they could trade. Whether it's the Sabres or someone else, the Blue Jackets want someone by the deadline. Feels like only a matter of time before they make their move.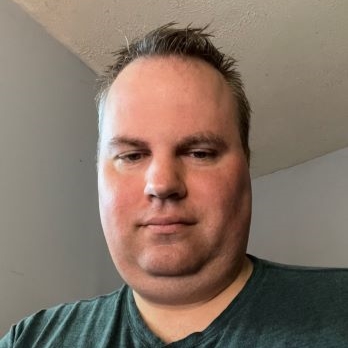 I am a fully credentialed writer who covers the Columbus Blue Jackets, Cleveland Monsters and Erie Otters as well as the Ontario Hockey League and NHL Draft. The 2022-23 season will mark nine seasons with the Hockey Writers. I am also the site's Credentials Manager. Please take note of the updated Twitter handle: @mark_scheig.