All we talk about is the Western Conference. Not even a mention of the Toronto Maple Leafs.
That criticism wasn't entirely true in regards to Episode 11 of the Facing Off Podcast — our season debut, starring Félix Sicard — since there was also valuable insight on Carey Price and the Montreal Canadiens.
Félix will always have a soft spot for the Habs, his boyhood team, and he revealed that Price was reverting back to his old Graf goalie skates — those with the white shell (also known as cowlings) — after some early-season struggles with a modernized boot prior to getting hurt.
That was news to me, and Félix looks like a genius in hindsight since Price has returned to record five straight wins, flashing his all-world form in stopping 150 of 156 shots for a combined .962 save percentage.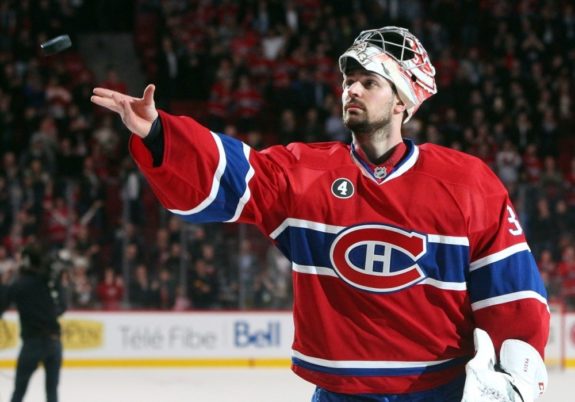 Hopefully our listeners learn something new on every episode of the Facing Off Podcast, but there was certainly an emphasis on the Western Conference in Episode 11 — and an earful on the Pacific Division, in particular. That's right in our wheelhouse, with Félix now covering the Ducks for the SB Nation website, AnaheimCalling.com, while I admittedly follow the Edmonton Oilers closer than any other club.
However, as an at-large contributor here at THW, I do my best to keep tabs on the league as a whole — both conferences, all four divisions, each and every team. And as host of the Facing Off Podcast, I try to mix it up and make the rounds to ensure our league-wide audience is thoroughly entertained.
That brings us to Episode 12, featuring another regular guest in Andrew Forbes — a senior columnist for THW, now in his fifth season of covering the Maple Leafs here and having been credentialed for several NHL events over the years.
We talk all things Toronto — from expectations to potential trades — and also spend a fair bit of time on Ontario's other team, the Ottawa Senators. We do touch on Price and Montreal again, then head south of the border to debate the New York teams and the rest of the Metropolitan Division. The Buffalo Sabres get a little play too, though (spoiler alert) they don't factor into our updated Stanley Cup predictions.
We close the show with some coach speak — from those on the hot seat to those on our ballots for the Jack Adams . . . and, yes, there are Western Conference candidates to keep everybody happy. So, no, Episode 12 isn't all about the East.