What a memorable week this has been for the Columbus Blue Jackets.
In the span of just seven days, the Blue Jackets participated in the NHL Draft, held their prospects' development camp and dealt with free agency. In the midst of that, two of the longest tenured players in Blue Jackets history moved on from Columbus.
Did you miss anything from this past week? Well you're in luck. We're here to help you fill in the blanks, while giving you thoughts on everything that happened. We'll also get you ready for anything else that could come up. Consider this your summer guide to the Columbus Blue Jackets.
The NHL Draft
Let's start our journey by revisiting the NHL Draft. It won't be soon forgotten by Blue Jackets fans considering what happened the first night. The Blue Jackets came in with the third overall pick thanks to winning the third draw at the draft lottery. Many expected the Blue Jackets to take Finnish star Jesse Puljujarvi with the third pick. This draft was "the big three" and everyone else.
There was lots of chatter suggesting the Blue Jackets could trade down if they truly weren't interested in Puljujarvi in the third spot. It was interesting to see if the team made the pick or made a trade. When the Blue Jackets turn came up, the group led by John Davidson, Jarmo Kekalainen and Ville Siren had Blue Jackets jersey in hand ready to give to the third pick. At that point, I couldn't help but think that Puljujarvi was the pick. They didn't trade down. But still, something seemed "off".
The team needed a center. They didn't seem sold on Puljujarvi. Were they settling for Puljujarvi since they couldn't make a move? Or, were they ready to pick someone else? I didn't want to believe they were picking someone else. In my mind, Puljujarvi is one of the best prospects of the last 10 years given his skill set.
Then, in a moment that would change the Blue Jackets franchise forever, Siren spoke something into the microphone that no Blue Jacket or NHL fan will forget for a long time.
"Columbus Blue Jackets are proud to select from Cape Breton Screaming Eagles, Pierre-Luc Dubois."
In that moment, I literally froze. I had goosebumps. Part of me was stunned. The other part of me saw this coming. The range of emotions felt in that moment were very surreal. Was this really happening? Were the Blue Jackets really passing on one of the best prospects of the last several years? Then I remembered how thorough and detailed Kekalainen and company are when it comes to stuff like this. Questions just started flooded my brain at that moment.
Why Dubois? Why not Puljujarvi? What are we missing in Dubois that makes him this good? Are there red flags in Puljujarvi we aren't aware of?  Given this pick's importance and who they passed up, this draft pick will go down as the defining moment of the Kekalainen era in Columbus.
Behind the scenes with Pierre-Luc Dubois at the #NHLDraft!#CBJhttps://t.co/7HkVrkXQKv

— Columbus Blue Jackets (@BlueJacketsNHL) July 3, 2016
The immediate question that everyone will rush to ask is "Did Columbus make the right pick?" We won't know that for many years. But I can tell you this. The team loves Dubois. In a behind the scenes video released by the team, Davidson tells Dubois that "we are excited as hell." In a separate video, the Blue Jackets scouting team raved about the kind of player Dubois is. Clearly, based on these videos and how the draft went down, the Blue Jackets got the player they wanted and are very happy about it.
I can understand if many Blue Jackets fans are still upset with the pick. Here's my take. There were many teams, the Vancouver Canucks being one of them, that coveted Dubois. He is widely considered one of the best five players in this draft. He was also considered the best Canadian skater on Central Scouting's final list. In my mind, the team improved with this pick. Now consider he could play center, and you start to see why this pick makes more sense than many are willing to admit.
Again, we won't know for years if it was the right pick. But there is clear logic that went into this pick.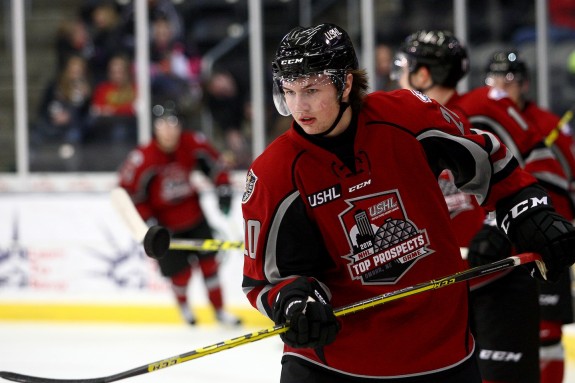 Columbus was not nearly done at the NHL Draft. Saturday saw the Blue Jackets select four players, highlighted by defenseman Andrew Peeke and forward Vitaly Abramov. At first, I didn't understand the Peeke pick. On my personal list, he was a third rounder. Kekalainen admitted after the draft that they had him as a first rounder. In the end, the team liked his size and mobility. It could be a good pick if it pans out. I just think there were better options out there at 34th overall.
As much as I question the Peeke pick, I definitely do not question the Abramov pick at 65th overall. How in the world did he fall this far? I had him at the end of round one. So did the Blue Jackets. This pick is a home run for the team. The Blue Jackets now boast two of the most intriguing prospects in terms of skill in Abramov and Oliver Bjorkstrand. I am looking forward to seeing how they develop the next few years.
The Blue Jackets ended that Saturday by picking goaltender Peter Thome and forward Calvin Thurkauf. Thome plays for the Omaha Lancers of the USHL and will play at North Dakota starting in the 2017 season. Thurkauf plays for Kelowna in the WHL and was a member of Team Switzerland in the World Junior Tournament. Each will be given plenty of opportunity to develop. We'll see if either can eventually make an impact with the Blue Jackets.
Development Camp
After the draft, the Blue Jackets wasted no time and got going with their summer development camp. I got to watch portions of the camp online, including the 4-on-4 tournament that ended the week on Thursday. This is a great chance for fans to see their prospects on the ice together before they leave for the summer. It also gives the prospects a chance to spend time together on and off the ice, while spending time in the community.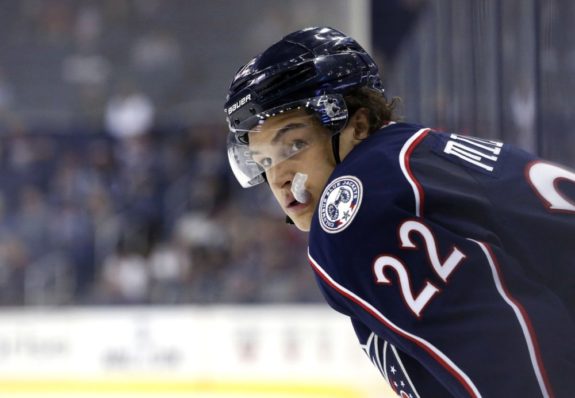 It's easy to overreact to development camp especially if a prospect shines. It's such a small sample size. I try not to put too much stock in what we see. With that said, here are some observations I noticed that we'll want to keep in mind.
I'm beginning to wonder if Sonny Milano lives at the rink. He was the main headline at this development camp even though he was a major contributor to the Lake Erie Monsters and their Calder Cup run. Milano is a rink rat. He loves this kind of thing and didn't think anything of it. This is the kind of player that coach John Tortorella loves. Milano is fast and one of the hardest workers you will find. Is it enough to make the Blue Jackets opening day roster? He's in the discussion.
A prospect that I've had my eye on for quite sometime time is Keegan Kolesar. He enjoyed a great year for Seattle in the WHL and to me, is one of the fastest rising prospects the Blue Jackets have. Think of him as a more skilled version of Jared Boll. Kolesar is not afraid to drop the gloves with anyone, but can make you pay offensively. Calling my shot here: I think he makes the Blue Jackets in 2017-2018 in their bottom six.
Dubois scored a pair of goals in the opening game of the 4-on-4 tournament. In that quick glance of him, I could see why he is so highly thought of. Makes you wonder if he can make the Blue Jackets opening day roster. He just signed his ELC which included the highest bonus for a third overall pick ever. There are some who believe he can make the opening roster. I'm not to that point yet. But if he kills it in the gym in the summer and comes to camp ready, a spot could be there for him. They could start himas a winger, but ultimately, the team views him as a long-term center. I think one more year in Cape Breton will do him wonders.
The other prospect that stood out was Abramov. He has high-end offensive skill. He put that on display in his shootout winner in the 4-on-4 tournament. Nobody was stopping that shot. I expect he goes back to the QMJHL for this upcoming season. But keep Abramov in mind for future seasons. This guy has great upside.
Free Agency
As expected, the Blue Jackets have been quiet in free agency. The salary cap is the main reason, as they were up against the cap until the recent buyouts of Fedor Tyutin and Jared Boll. Combined, Tyutin and Boll played over 1,000 games for the Blue Jackets and are very well-respected by their teammates and the community.
Unfortunately, hockey is a cruel business and you have to make decisions that aren't always popular or convenient. The buyouts created needed cap space for the Blue Jackets to allow for maybe a small, depth signing and room for potential roster bonuses. Tyutin is now in Colorado while Boll is still looking for a team. Their contributions to the Blue Jackets and Columbus have been gigantic over the years. For that, we say thank you to two of the classier men you'll ever deal with or meet. Best wishes to Tyutin and Boll in everything they do.
Is it possible that the Blue Jackets will sign somebody as a free agent? Maybe. If the right player becomes available for the right price that fills a need, the Blue Jackets will look at it. Aaron Portzline, one of the best beat writers in the country, made an interesting comment the other day about the fourth line. He said that the line was no where close to being set with Gregory Campbell and William Karlsson in the fold. Perhaps these players fill that role. But to hear Portzline say that, makes you wonder what the team could do. Is there someone in Lake Erie that can fill that role? Are the Blue Jackets looking at a depth signing? Make no mistake, the Blue Jackets fourth line of late has been awful. If Columbus wants to head in the right direction sooner, they need to stabilize that fourth line. It'll be curious to see if the Blue Jackets look for outside help or start with what they have. If Kekalainen has his way, some players from Lake Erie will start to push the veterans.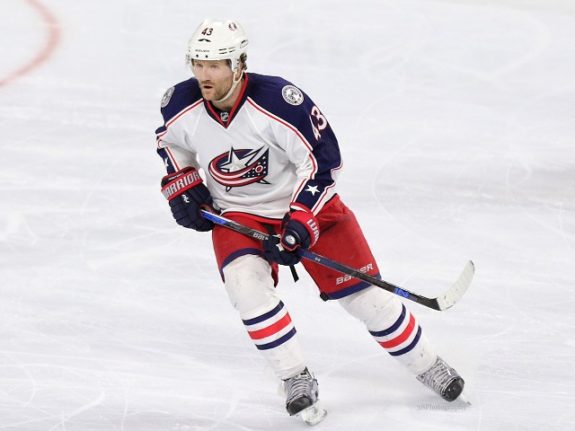 Other Random Stuff
Let's now take some time to discuss a few things as we head towards the summer.
I expect Scott Hartnell to start the season with the Blue Jackets. Is that 100% certain? Nope. But of you consider the team has tried to deal him on multiple occasions and hasn't been able to, it shows that other teams worry about remaining term. Hartnell has three years left on his deal. The Blue Jackets reportedly have said they'd consider retaining salary if that meant a deal could happen. Hartnell is still a very productive player and can help the Blue Jackets this season. But, don't be surprised if this is revisited as we approach the next trade deadline, depending on where the team is at in the playoff race.
Many expect the Blue Jackets to have another lousy season, meaning that they won't make the playoffs. While I think the team will improve, to go from 27th to 16th is quite the jump. Considering that most of the team from last season will return, except for a few youngsters, I expect the team to miss the playoffs, but trend in the right direction. Can this team make the playoffs? They can, but a lot of things have to happen.
What has to happen for the Blue Jackets to make the playoffs? First, they have to hope Sergei Bobrovsky returns to form and stays healthy. Prior to his injury, he played some of his best hockey, after playing some of his worst hockey. It will be interesting to see how Bobrovsky handles the summer. He's one of the most dedicated players when it comes to working out and preparation. What changes if any will they make to the routine to get him ready?
Next, a couple players need bounce back seasons, most notably Nick Foligno. He enters his second season as the Blue Jackets captain. He suffered through a career low in shooting percentage. If the Blue Jackets hope to gain any substantial margin in the standings, Foligno needs to lead the way. I expect he'll be better than last season, but to expect 30 goals again might be a bit of a stretch. He knows he needs to improve. If the Blue Jackets want the playoffs, he must improve.
Don't think the roster is set by any stretch. Many players will have their first taste of the Tortorella training camp. Anyone who has experienced this knows it is one of the most difficult camps that any coach has. Coming in unprepared is a big no-no. We will learn very quickly who did work in the summer and who didn't. This could help decide the last few roster spots. It's open season.
An always interesting topic are the lines. As of now, here's how I see the Blue Jackets opening the season.

Saad-Jenner-Atkinson
Calvert-Dubinsky-Foligno
Hartnell-Wennberg-Bjorkstrand
Campbell-Karlsson-Anderson
Murray-Jones
Johnson-Savard
Werenski-Prout/Goloubef

David Clarkson would make the 13th forward. Speaking of, anyone else find it somewhat unusual that there's a lot of silence when it comes to his status? Clarkson has dealt with back issues since his arrival in Columbus. But we really don't know how he's doing or what his status is. He has four years left on his bonus-laden contract. I don't suspect we'll get much in the way of clarity until training camp opens. He is a great person and ambassador in the community and hope his recovery is going well. Keep this in the back of your mind once we get to camp.
Who could be the 14th forward to open the season? I think Bjorkstrand and Anderson make this team. I think Milano is right there. I think Dubois could use another season in the Q, but could earn a roster spot right away. Camp will have its really good battles. A good camp for a player could mean making the big club.
I'll leave you with a couple of way too early predictions. I think both Brandon Saad and Alexander Wennberg enjoy career offensive seasons. I think Karlsson will be the team's most improved player. I think he ends up on the top-9 at some point. And finally, my boldest prediction, has Bjorkstrand garnering rookie of the year votes.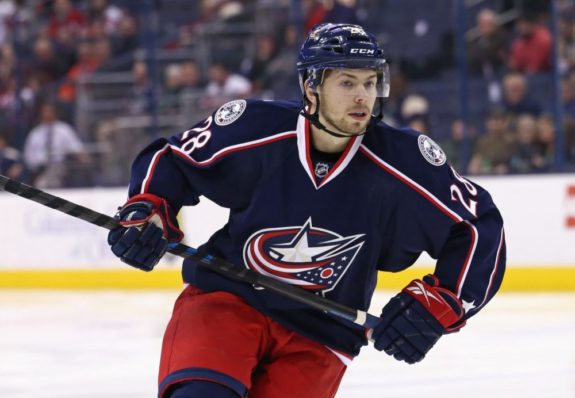 Thanks for following along this season. If any news breaks during the summer, we'll bring it to you. Have a great summer and we'll catch up with you most likely from the prospects tournament in Traverse City.