Now that the Columbus Blue Jackets' win streak is in the double-digits, it has understandably drawn parallels to their 16-game win streak from the 2016-17 season. With Thursday night's commanding 4-0 victory over the surging Florida Panthers, the 10 consecutive wins tied the Blue Jackets for the longest win streak in the NHL this season, and they became just the third team in NHL history to have 10-game win streaks in back-to-back seasons. Last year's 16-game streak, which ran from Nov. 29 to Jan. 3, was the second-longest in NHL history.
Though last year's streak took place mid-season in the midst of what some might call less important "feeling-out" games, this year's streak has happened under the immense pressure of being a young team fighting for its postseason life.
Here's what Blue Jackets players and coaches had to say when it comes to comparing the two streaks.
Head Coach John Tortorella
Tortorella said that the streaks are incomparable mainly because of the time of year each one occurred.
"It's apples and oranges to me," Tortorella said after Thursday's win. "When you have a 16-game streak in the middle of the year, that is totally different of a team that has been inconsistent in a number of different ways a lot of the year, and now has found its game and has its eye on one thing: getting an opportunity to play in the postseason. So, it's hard to correlate them together. They're totally different. It's a totally different circumstance."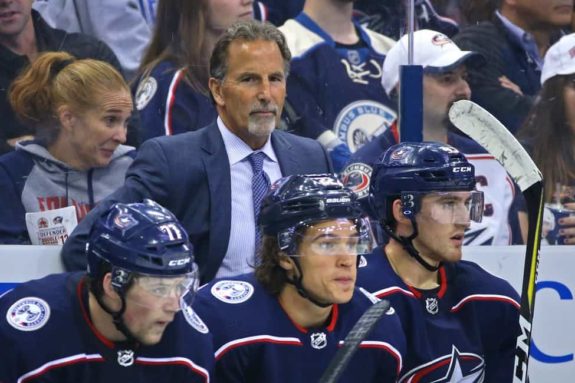 However, instead of "riding the wave" like the team did during last year's streak, Tortorella says he sees a more mentally sound and confident Blue Jackets team on and off the ice.
"We have a team that's playing with a ton of confidence," Tortorella said. "It's something that was our biggest inconsistency this year… just lacking confidence, lacking a strut in our game."
Ultimately, Tortorella said that the Blue Jackets players are thinking about a bigger goal than the streak: making the Stanley Cup Playoffs and winning games there.
#CBJ become the 3rd team in @NHL history to have a double digit win streak in consecutive seasons (16-straight in 2016-17), joining Flyers (1984-85 & 1985-86) and Penguins (2010-11, 2011-12 & 2012-13). Stat courtesy @EliasSports.

— CBJ Public Relations (@BlueJacketsPR) March 23, 2018
"They're not thinking about the streak," Tortorella said. "They're thinking about – I know – they know how important the games are. We don't talk about the streak. That's not what this is about. This is about the end of the year and trying to get in. That overlays everything. We're just trying to take it one day at a time. That's what I like what our team is doing. Game or practice, they're taking it one day at a time.
"It's a situation where several teams are trying to get [into the playoffs]," Tortorella added. "So, that far outweighs any type of thinking about a streak. It's a good time to be winning games, obviously, to put us back in the picture and give us a chance. That's all we're thinking about."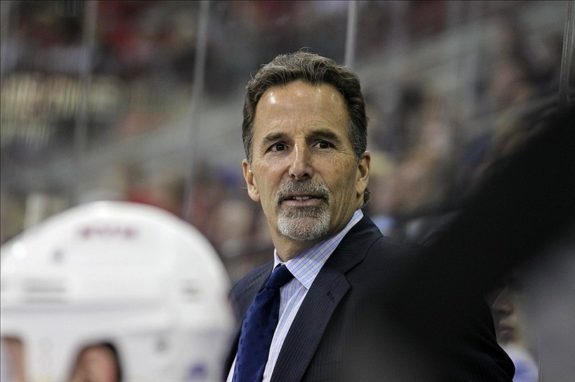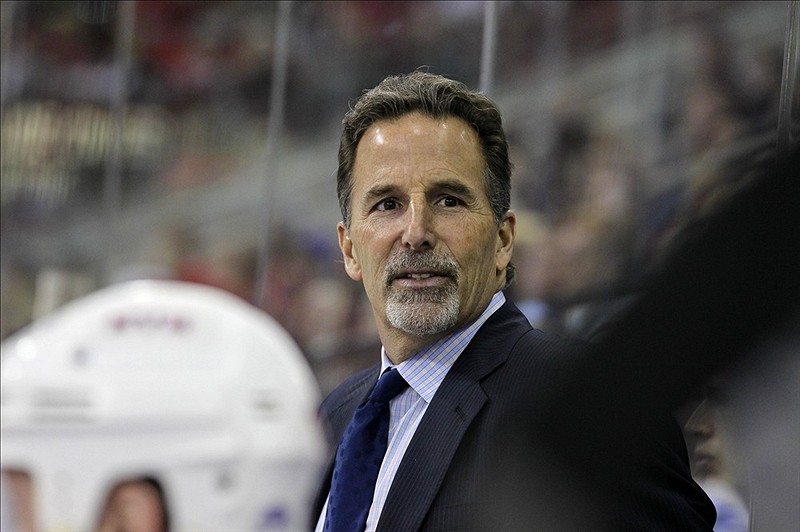 At least, Tortorella hopes that is all his team is thinking about.
"They better not trust the streak," Tortorella said. "Again, I don't even think they're thinking about the streak. That's better for me as a coach. Don't even ride it. We're not even thinking about our streak. I don't think they're even thinking about the streak. They better not [be]."
Defenseman Seth Jones
Blue Jackets defenseman Seth Jones knows he is a team cornerstone, both in playing ability and leadership responsibilities. He played a key role in both streaks. At first, he refused to compare the two streaks. After a little prodding, he finally caved:
"The only thing I will say about last year's streak is when we got later in the streak last year, it felt like we shouldn't have won the game but we were winning them," Jones told The Hockey Writers. "We weren't playing very good hockey but [goaltender Sergei] Bobrovsky was making huge saves and we were getting outshot every night but we were still winning. That's the only difference I would say. We're playing more solid hockey during this streak. I don't know if I can go back and say we should've lost one… maybe we should have along the way in this 10-gamer. I think we're playing some pretty smart hockey."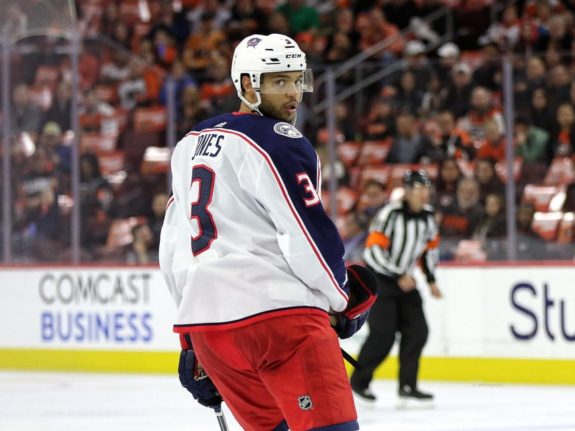 Jones also said that he sees a more confident team this time around, especially in high-pressure situations.
"We have had a pretty up-and-down year, but now is a pretty good time for us to hit our stride," Jones said. We have to continue to build on it – the season isn't over yet, but we couldn't ask really for a better time to feel more confident. We expect to win. We go into every game thinking we can win the hockey game.
Earlier in the season, we blew leads that we shouldn't have and gave away points we shouldn't have given away," he admitted. "Now, we're playing more confidently late in the third period. We used to sit back a little bit and try to figure out our game and let teams attack us and hope Bob made all the saves to win the game. Now it's changed where we stay on the attack a little bit more and try to dictate the pace while we have the lead."
Like Tortorella, Jones said that securing a playoff spot is a bigger goal than going on another record-setting win streak unless it helps them attain the result they want.
"We're building toward something here," Jones said. "We need to keep getting better and keep moving forward. Games are going to keep getting harder and harder, and we have to be ready for that come playoff time."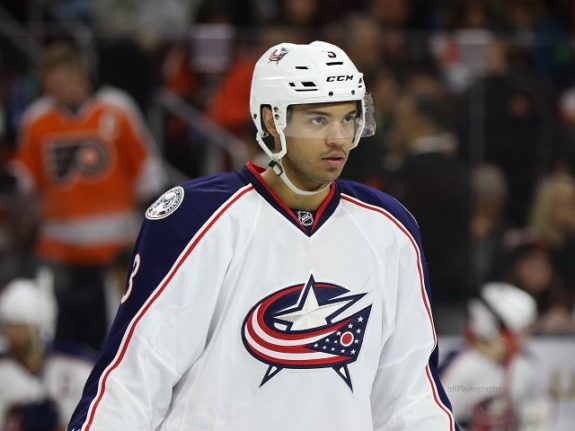 When asked whether win No. 10 made him and the team more comfortable about their playoff position (Sports Club Stats has the Blue Jackets at a 97.2 percent probability of making the postseason), Jones had a succinct answer:
"We need to see the 'X' next to our name. Nothing is ever sure in this league."
Forward Cam Atkinson
For forward Cam Atkinson, this 10-game streak does not feel like something to celebrate because like Tortorella and Jones, the immediate goal is to make the postseason.
"It doesn't feel like that because we're still fighting for our lives right now and we have to take it one day at a time and continue to get better," Atkinson said. "We're not focused on the winning streak. We're focused on finding ways to get two points every night and doing whatever it takes to get those two points. It's obviously great to have 10 wins in the bank but we're still improving every day and continuing to get better."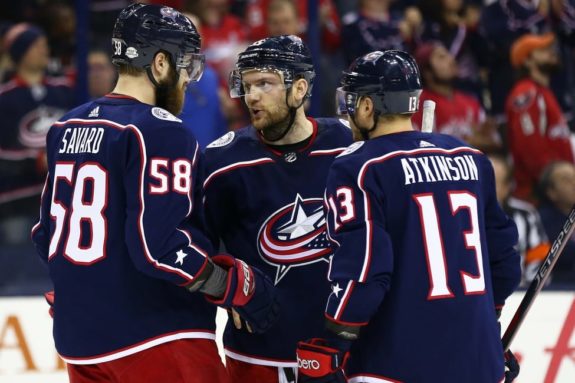 Atkinson said that the team's depth – bolstered at this year's trade deadline with the additions of Ian Cole, Thomas Vanek and Mark Letestu – is the key difference.
"Last year was such a whirlwind. There weren't any expectations for us and we were just playing," Atkinson said. "In that 16-game win streak, we were just finding ways to win. That's what we're doing right now but our depth is huge right now. It's crucial for us. Whoever is out there is the next guy up. Now we have more veteran guys who have been in these types of situations before."
With every line rolling, and every player and coach echoing the same message, this sure sounds like a confident and cohesive team that will be a threat down the stretch.