Elias Pettersson is the best prospect in the National Hockey League. The lanky, 6-foot-2 winger was drafted fifth overall in last year's entry draft, and the hockey world has been drooling over him ever since. Pettersson has been praised for his two-way game and his elite shooting ability, but how excited should Vancouver Canucks fans be about this kid? Sure, he's tearing up the Swedish Elite League but what is his ceiling as an NHL player?
Following in Forsberg's Steps
Here's the quick answer, the ceiling is high for Pettersson, extremely high. In early March, Pettersson surpassed Peter Forsberg and Kent Nilsson for the most points ever by a junior-aged player in the SHL. I don't know if you're familiar with "Foppa" and his skill-set but the back of his hockey card looks something like this: 885 points in just 708 games, two Stanley Cup rings, two Olympic gold medals, an Art Ross Trophy, a Hart, and was a first-ballot Hall of Famer in 2015 (not to mention he scored a shootout goal so monumental that it was eternalized as a stamp in Sweden). Anytime you have the rationality to put a prospect in the same sentence as Peter Forsberg, there is a reason to be excited and get your hopes up.
Pettersson led the SHL in scoring this year as a 19-year-old, putting up 56 points in 44 games for the Vaxjo Lakers. North American fans got their chance to see him at the World Junior Championships, a treat to watch for the Canucks faithful. We all saw him carving up the tournament this year, showing off his soft hands and ridiculous release, scoring five goals in seven games en route to a silver medal.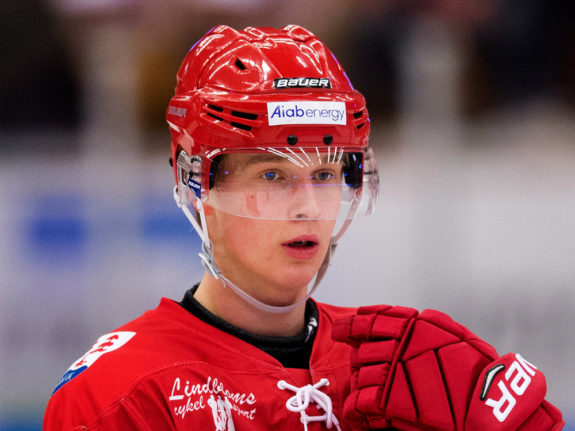 The Swedish Sniper
Pettersson's shooting ability likens him to Patrick Laine or Brock Boeser. He is going to be a guy that can take the puck off the wall to the top of the circle and beat a goalie with his quick release and shooting ability. On top of that, he has shown Canucks brass a positionally sound and defensively responsible game, and hockey IQ that is off the charts. What Pettersson lacks right now is the physical maturity to put up the same dominant numbers he has in the SHL, in the best league in the world.
Starting the season listed at 6'2″ and 165 pounds, Pettersson looked lanky and thin, even in his hockey equipment. The young Swede has put on a little bit of weight but he will need to have a big summer in terms of off-season training and adding mass to his big frame. This is a short-term problem though, nothing that should scare Canucks fans; he will fill out. On top of that, his dominance of the SHL this year against men, even with his thin stature, was a sign that his skill level is astronomical.
When Will Pettersson Cross the Pond
When TSN released their list of hockey's top 50 NHL-affiliated prospects in February, Elias Pettersson ranked number one. It seems clear that Canucks' top prize is ready for the NHL, the only hurdle left is getting him out of Vaxjo and on a plane to Vancouver. In an interview with Sportsnet, Trevor Linden acknowledged the task at hand by saying, "We're going to have to sit down and see where he's at but what he's done in the Swedish Elite League is pretty impressive."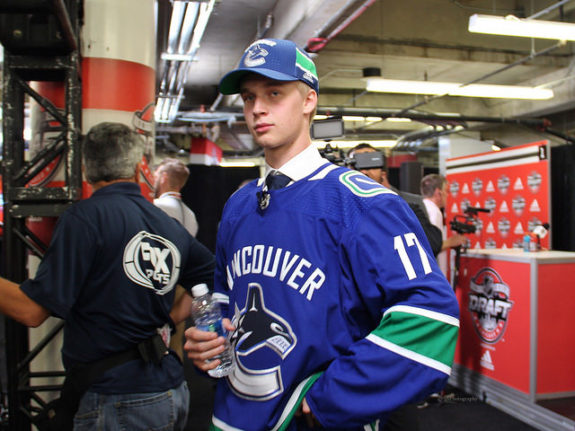 The thought of Pettersson and Brock Boeser on the same line, let alone the same team, must have goalies around the league shaking in their boots. Scoring goals is the hardest thing to do in the NHL and having two guys with 50-goal ceilings is something to be very excited about. Now, let's get Jimmy Benning to work the phones to get these two young studs a pivot-man to put the puck on a tee.