One of the prevailing themes of this Columbus Blue Jackets' season has been their youth. Thanks to the likes of Pierre-Luc Dubois, Zach Werenski, Seth Jones, Sonny Milano and Oliver Bjorkstrand, the Blue Jackets are one of the youngest teams in the NHL.
That hasn't stopped them from going on a season-defining winning streak.
Going into Thursday night's game against the Florida Panthers, the Blue Jackets have won nine games in a row to put themselves in position to land in the playoffs. Considering how this season started, it's a remarkable turn around.
The Blue Jackets at one point had just 15 regulation wins in their first 52 games. They now have about a 95% chance of making the playoffs according to moneypuck.com.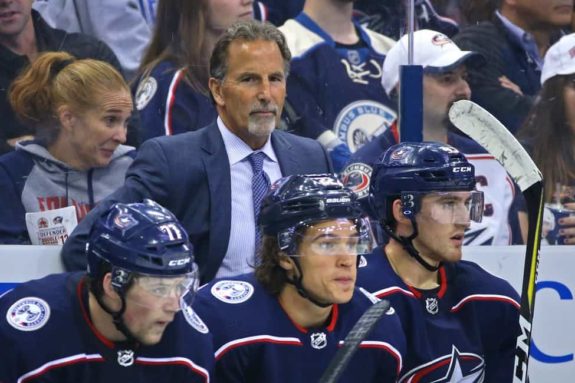 What has fueled the Blue Jackets to this streak? There are several things including an offensive explosion, a steady Sergei Bobrovsky, the defense chipping in offense and veterans stepping up.
While all of those are important factors, there is one overriding reason that stands out above the rest. The Blue Jackets are maturing right before our eyes. And it's not just the young players doing it. This extends to the veterans and the head coach.
The Entire Team Showing Maturity
Throughout the early part of the season, the Blue Jackets showed how young they were. A missed pass here. A missed assignment there. Easy games were not a thing. Then when they got momentum, the opposition forced it away from them. They couldn't get it back most nights.
Coach John Tortorella revealed having trust issues with certain players. The main victim of this was talented-winger Sonny Milano. He had the offensive upside, but his play away from the puck was something to be desired.
Tortorella would either limit the winger's minutes or would flat-out bench him. It even got to the point where Milano found himself back in the AHL.
Tortorella didn't have it in him to put Milano out in big situations. That is until his most recent call-up.
The Blue Jackets' offense was struggling. Mired near the bottom of the league ranks in goals, the Blue Jackets needed a spark. Tortorella saw an opportunity to give Milano a chance after hearing how well he played in Cleveland.
Milano hasn't left the lineup since. In all this, Milano's maturity cannot be understated. He could have said "you know what? Forget this. The team doesn't trust me. I want out."
"Nine games left. Every point matters." – @27SMiLano#CBJ pic.twitter.com/jKj14tK9m7

— Columbus Blue Jackets (@BlueJacketsNHL) March 20, 2018
Instead, Milano used the time to improve his game so he could be ready for his next chance. He's thrived ever since. This is just one example of many where we see maturity rising up in the Blue Jackets.
Seth Jones has become one of the leaders of the Blue Jackets. Zach Werenski continues to show incredible maturity for a defenseman of his age. Oliver Bjorkstrand has found his game and continues to make massive strides. Pierre-Luc Dubois shows his maturity every game by handling top-line center duties. This is just the young guys.
Nick Foligno has helped stabilize the team with his leadership. Boone Jenner has shrugged off an awful start to his season and has found a groove. Alexander Wennberg continues to show levels of maturity in his game, most recently on the defensive end.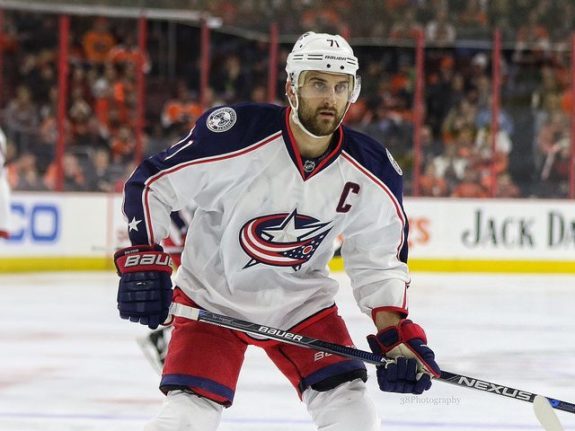 Even Tortorella is showing he is maturing at this point in his career. Compare him now to 10-15 years ago. He is handling himself better and demonstrating a level of leadership that resonates in the Blue Jackets' room.
Maturity in the Streak
This might still be one of the youngest teams in the NHL. But they are quickly maturing and gaining valuable experience that will help them in the playoffs if they get there. Look at how they've handled momentum in this winning streak.
In Philadelphia, the Blue Jackets locked it down and held a third period lead to win a huge game in regulation.
In Boston, the Blue Jackets were down 3-1 and things looked bleak. Instead of folding, they stormed into the lead only to lose it again. Then in overtime, they extended their streak.
In New York, the Blue Jackets gained an early lead only to see the Rangers press and make a game of it. Instead of letting them back in the game, they scored big goals to keep the lead. Lesson learned.
The winning streak is great. But the maturity this team is getting is priceless. If they experience playoff success this season, look at how they're handling their business. They're ready for their next test, the Stanley Cup playoffs.