When people debate the best defensive pairings in the National Hockey League, there's no denying that Columbus Blue Jackets defensemen Seth Jones and Zach Werenski have to be included in the conversation.
How have they succeeded so far this season? Let's take a look.
Shutting Down Teams' Top Lines
23-year-old Jones and 20-year-old Werenski may be young, but together, they are proving age is just a number as they shut down opponents' top lines night in and night out. Blue Jackets head coach John Tortorella said that was a bigger responsibility he told the two they would take on at the start of this season as opposed to teammates Jack Johnson and David Savard, who saw the majority of those minutes most of last season.
"I have allowed Z (Werenski) and Jones to play against some other people this year," Tortorella said earlier this week. "Jack [Johnson] and Savvy (Savard) were dead on last year and played a lot of minutes against top lines. Z and Jones have played a lot against top lines now this year."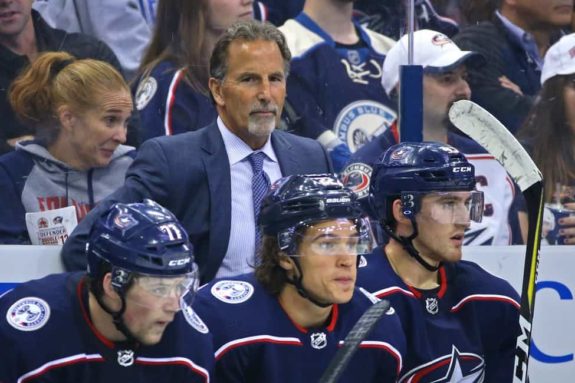 Jones said he has enjoyed the added responsibility.
"We've upped our game this year playing against a lot more first lines and taking on more responsibility," Jones said. "It's a good thing."
Fellow blueliner Jack Johnson said that the coaching staff has also trusted Jones and Werenski more to join the rush.
"They're looked to by the coaching staff to contribute offensively," Johnson said. "They're put in those situations and they're excelling at them."
Powerful Point Production
Together, Jones and Werenski have combined for 78 points, including 27 goals, through the Blue Jackets' 69 games. Personally, they each set career highs in the point production department already — Jones has 46 points and Werenski has 32.
Jackets defensemen have now scored five of #CBJ's last 11 goals (past three contests). Jones/Werenski with two each and Cole with one.

— CBJ Public Relations (@BlueJacketsPR) March 10, 2018
"The puck's just going in," Jones laughed after Friday night's 3-2 win over the Detroit Red Wings, where he had two goals on four shots. "You get stretches like that. Sometimes it goes in, sometimes you go 15 to 20 games without a point. That's just the way hockey is. It's a good time for me to be producing right now with the situation we're in."
Fellow teammate and Blue Jackets captain Nick Foligno said he is happy for Jones and that the way he plays is paying off in ways other than goal prevention.
"We'll take it," Foligno said of Jones' point production. "That's what happens when you are confident and reading plays, and you're involved in the game. That's what [Jones] brings. He's so dynamic at both ends of the ice. Not just offensively, if you watch him in the defensive zone, man, he breaks up a lot of plays that allow him to get up the ice and get going. We need more of that from him and we expect that from him. That's part of him being a leader on this team. He's definitely showing up for that part of it."
Foligno also added that the defensemen scoring makes the forwards' jobs that much easier.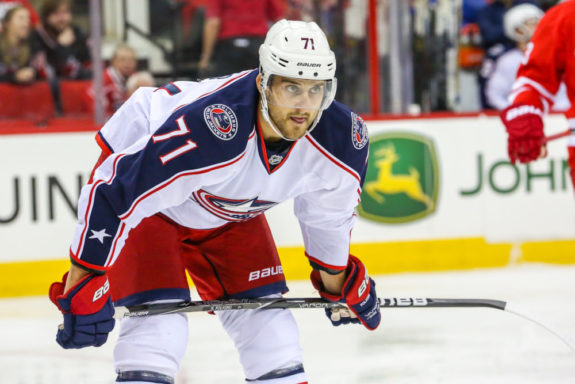 "When you see Werenski and Jones scoring a couple of big goals… our defensemen are jumping up on the play and making things happen," Foligno said. "That makes our jobs as forwards that much easier."
Healthy Competition for Franchise Records
Adding to that, Werenski and Jones are battling it out for a franchise record: goals scored by a defenseman. Werenski set it with goal No. 14 on Thursday against the Colorado Avalanche, but Jones' two on Friday put him one back of the youngster.
Their teammates are definitely watching what happens.
"They're going to be battling for that franchise record for goals by a defenseman, but that's fun to see," Calvert said. "We have two dynamic players like that who get up the ice. Seth Jones is a great skater and Zach obviously has that great shot and can score, too. They're huge for our team."
Calvert said there is "money on the board" when it comes to team records.
"Yeah, Zach has to put money up for getting the franchise record on the board," Calvert said. "If Jones passes him, they might have to ping-pong back and forth all year, but that's a good thing if they're both scoring for us the rest of the year."
Jones said he doesn't have a bet with Werenski for who will get it, but his message was clear: "let him know I'm coming for him, though."
Time Spent Bonding Together
Fellow defenseman Jack Johnson also credits Jones and Werenski's success to playing together for so long.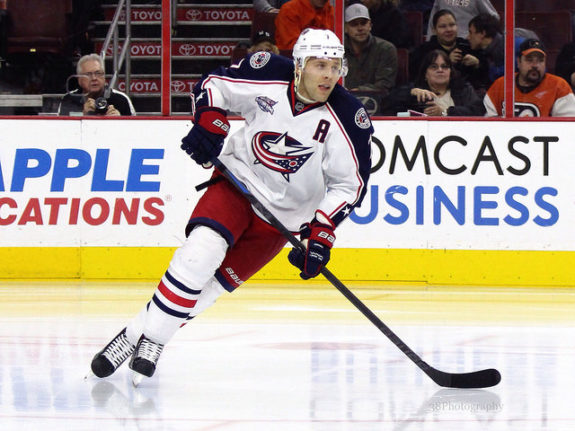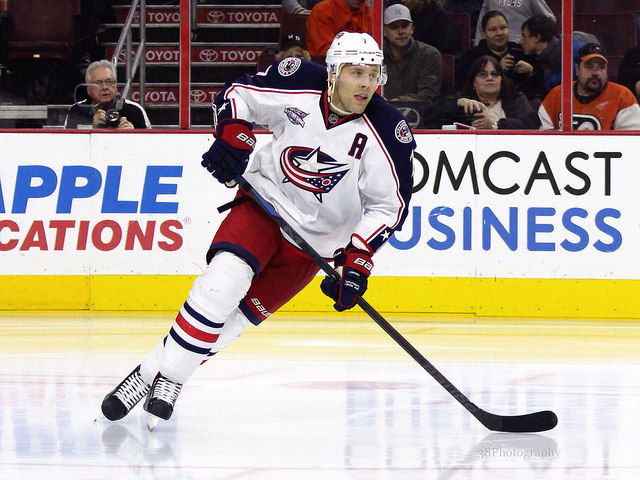 "They've been able to play together for two years straight," Johnson said. "That's huge. They've gotten to know each other and the little tendencies. Those things become second nature for them. It's a great thing for them and I'm happy they've been able to stick together for as long as they have."
Johnson said two defensemen playing together for that long is an anomaly in the NHL.
"I don't think from my experience, I have ever been able to play with someone for two years straight," Johnson said. "You don't see it too often. It's a really nice convenience and a good thing that they're able to keep growing as they keep playing together."
Tortorella agreed. "We have married Z and Jones together since they've been here."
Jones also credited his chemistry with Werenski for their undeniable success.
"Our games work well together," Jones said. "It's the same style. We're only talking about [how well we're playing together] now because we're starting to produce, but even from last year, you saw how quickly the chemistry was there early in the season, and it's only getting better."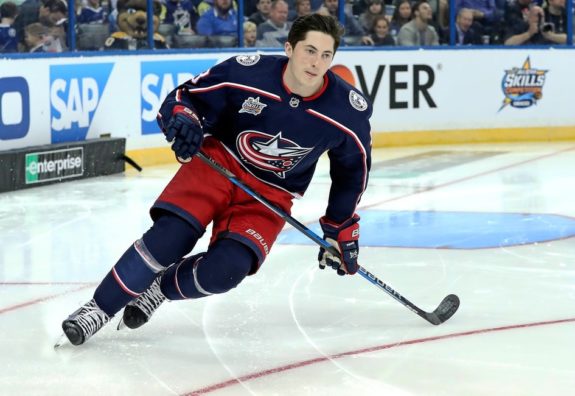 The two are also friends off the ice as well.
Jones Taking on a Leadership Role
The biggest area the Blue Jackets have seen Jones grow? Stepping up as leader, both on and off the ice.
That facet has really impressed Tortorella.
"He's had a hell of a year offensively, but the most important part about Jones' game is that he's becoming a leader," Tortorella said. "Just the way he plays… doesn't say too much during games, but the way he's carrying himself right now, he knows he's part of that leadership group. In all facets of the game, he just keeps on improving. He's got such a great role and his growth in the past couple of years since we've gotten him… he's just taken off."
Captain Foligno also recognizes what Jones contributes from a leadership perspective.
"Being a young player, you're going to grow every year," Foligno said. "[Jones] has taken on a bigger responsibility to help those guys along. He understands that he's going to play the most minutes out of everybody and a lot is expected of him, but he relishes that. He enjoys that challenge and his game speaks for itself. That's the kind of leader you want."
Calvert said that Jones has definitely taken on more of a teaching and leader role with Werenski, but also provides great balance for Werenski's natural skill and abilities.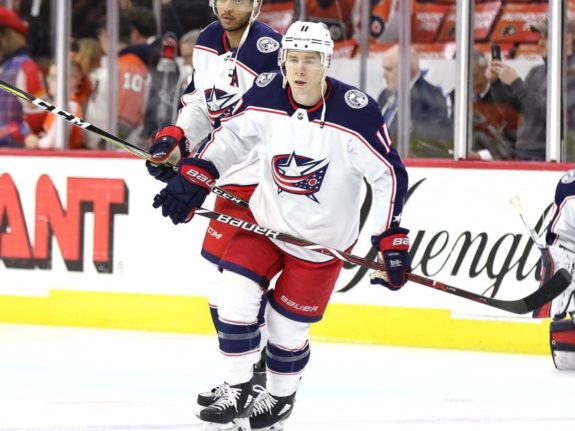 "Jones is a couple of years ahead of Z, and I think he just helps Werenski out," Calvert said. "Z is an offensive defenseman and Jones likes to get in that mix too, but he's steady back there and allows Z to play his game. They're a great balance and they both can skate. I wouldn't want to be a forward playing against them."
Overall Depth on Defense
With the addition of Ian Cole from the Pittsburgh Penguins at this year's trade deadline, Tortorella said his blue line is well-rounded, and that guys are finally starting to hit their strides.
"I think guys are finding their games," Tortorella said. "[Ryan] Murray has gotten healthy. The addition of Cole has put us into pairs we are really comfortable with, and I think the pairs are comfortable playing with one another. Ian Cole has solidified – at least, from a coach's point of view – our confidence in playing all three pairs. It doesn't matter who they're playing against. It just allows them to play."
When asked whether the defensive corps is doing anything different this season, Jones said they haven't. He also credits puck luck with the offensive outburst lately.
"I don't think we've changed anything," Jones said. "We've continued to be aggressive on the forecheck with our forwards as a five-man press and we're getting opportunities. I think our forwards are doing a great job of pushing their defensemen back, putting pressure on them, creating turnovers and we're capitalizing. In this stretch, we're producing offensively, but we like to think our game has been aggressive all year long."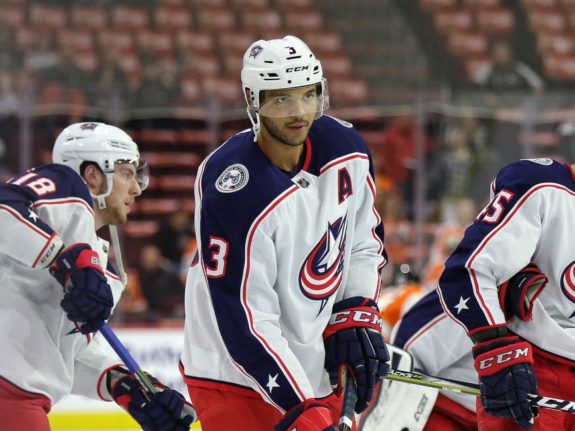 Johnson said this is the most skilled group of defensemen he has ever played with, and said that is because of the culmination of their talents.
"We can all skate and make plays," Johnson said. "We can all play in all situations so that's pretty nice that none of us are limited to one specific role. That's why our defensive corps has been so successful."
In Summary
With both players still in their early 20s, Tortorella and the Blue Jackets know Jones and Werenski will continue to improve. That's scary for every team playing against them when they are already this good.
Tortorella knows that Jones especially, despite being a two-time NHL All-Star, is still criminally underrated around the league.
"There's nothing you can do about [the lack of attention he gets], but Jones is one hell of a player," Tortorella said. "He's going to get noticed. The points he's putting up right now… and he's not too concerned about the points. He knows there is more to his game and that's the most important thing. That other stuff [like attention] will come in due time."
When Jones and Werenski reach their prime, they have the potential to be included in the conversation for best defensive duo of all time.