The Columbus Blue Jackets needed to do something, anything at this past trade deadline.
A golden opportunity presented itself for the Blue Jackets. The question was would they take advantage of it? How much would it cost them?
After the dust settled on an interesting deadline day, the Blue Jackets did exactly what they needed to do. They added three important pieces while giving up minimal assets.
We will review the three major transactions, discuss Jack Johnson and unload my notebook on the week that was leading up to the trade deadline. We'll end by sharing my overall grade. I think you know what it is by now.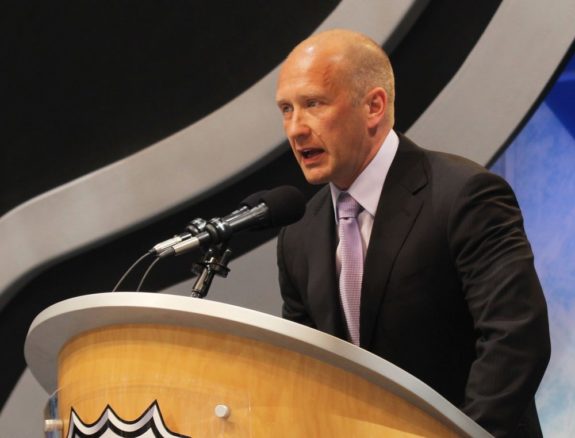 Three-Way Deal for Mark Letestu
The Blue Jackets didn't wait until Monday to complete this deal. In part of a three-way trade, they acquired center Mark Letestu from the Nashville Predators for a fourth-round draft pick. Earlier, the Predators acquired Letestu from the Edmonton Oilers for Pontus Aberg.
Rumors of the Blue Jackets interest in Letestu were known for a while. He previously played in Columbus before leaving as a free agent. The team knew what they were getting.
In Letestu, the Blue Jackets get a player who can do a lot. He stabilizes the bottom-six, an area the team has struggled with this season. He can win faceoffs, another area the team hasn't done well in. He can also play on the power play. They didn't waste time as they put him right on the second unit. He can also kill penalties. He and Matt Calvert are familiar with each other and they help stabilize a unit that was inconsistent at best.
The Blue Jackets traded a pick that would likely end up just outside the top-100. That's a good price to get this kind of depth. You may have also heard Letestu and his wife bought a house in Columbus. This trade made way too much sense for the Blue Jackets.
Considering where Letestu is at in his career, it wouldn't shock me to see the Blue Jackets extend him this offseason. It only took $1.8 million AAV on his last contract. I think you can lock him in for less this time around. Considering what all he can do, this is a no-brainer.
Ian Cole
The first trade of Monday's deadline saw the Ottawa Senators trade Ian Cole to the Blue Jackets for a third-round pick and minor-league player Nick Moutrey. Again, this is a solid deal for the Blue Jackets.
We've seen what Cole has done with the Penguins. He's a veteran presence who can help stabilize the young Blue Jackets while adding depth to the bottom-four. He's also a great interview. He'll be a joy to talk to in the room down the stretch. Expect he and David Savard to play together. At least for one night against the Washington Capitals, that pair was outstanding.
This deal cost the Blue Jackets around a top-75 or so pick and Moutrey. Moutrey is a bottom-six AHL player who can kill penalties and is a pest to play against. He hasn't made it to the NHL yet. Unless something dramatically changes in his game, we likely won't see him there anytime soon.
The question now becomes who plays? There are injuries now which make the lineup easier to decide. But what happens when Markus Nutivaara is ready? Taylor Chorney is here. Someone has to sit. John Tortorella joked on Monday that they have 900 defenseman now and have to make some decisions. Chorney was scheduled to play Monday before the Cole deal. Tortorella said Monday night that Chorns "got screwed."
To me it's simple. You play well, you stay in the lineup. That's how Tortorella operates. That won't change now.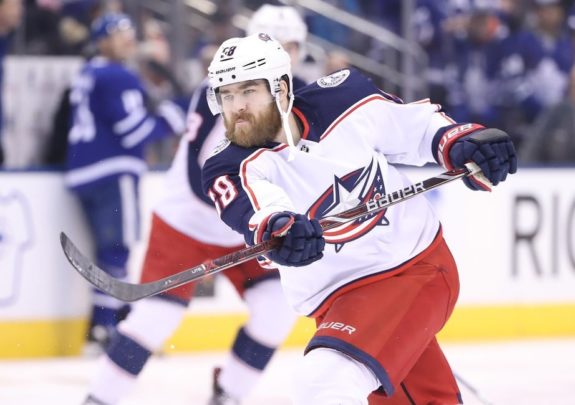 Thomas Vanek
You think the Blue Jackets wanted some power-play help? This deal bringing Thomas Vanek to Columbus screamed power play and offensive help.
This trade cost the Blue Jackets Tyler Motte and Jussi Jokinen. Like the first two deals, this was another win for the team. Jokinen cleared waivers earlier in the day. Motte could still get to the NHL full-time, but as Tortorella said on Monday, "he still has to work through the process." In several opportunities for the Blue Jackets, he couldn't consistently get his game going.
No draft picks were involved with this trade. This ensures the Blue Jackets will have a first and second rounder in this season's draft. Recall they traded their first last year to the Vegas Golden Knights in the agreement for them to take William Karlsson and David Clarkson's contract.
GM Jarmo Kekalainen said it wouldn't be fair to his scouting staff if they traded their first rounder again this season. In hindsight, that signaled depth moves as opposed to getting big fish at the deadline.
In Vanek, the Blue Jackets get a sniper who can instantly improve your power play. He still is a defensive liability. But given the injury to Josh Anderson, this move takes on added significance. Vanek can slot in Anderson's spot if the team so chooses. With Anderson out around four weeks, it's a good thing the team made moves. You can never have enough depth in a playoff chase.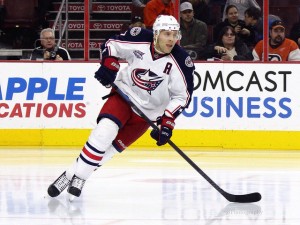 Jack Johnson
Once the Cole trade broke, attention immediately turned to Jack Johnson. Was this the end for him? With reports surfacing the sides "weren't even close" to an extension, many deemed Johnson's departure a foregone conclusion.
Not so fast, my friend.
The deadline passed and Johnson remained with the Blue Jackets. Let's try to dive into this one. Why are we here?
Recall Johnson asked the Blue Jackets earlier in the season for a trade. His minutes slipped and played on the bottom-pair. With him staring at unrestricted free agency, he wanted to go to a place where he could try to maximize his next contract. That could end up being his last "major" payday.
The Blue Jackets weren't simply going to give him up for pennies. Then a report surfaced suggesting the Blue Jackets could net a first-round pick for Johnson. Whether that was actually true or not we'll likely never know. But what we do know is the team didn't pull the trigger on a deal.
Why didn't the Blue Jackets trade Johnson? They didn't get what they wanted in return. They were likely looking for a forward in a potential trade, but it never materialized. Had a first rounder been involved, the team could have done this and used the pick to land a forward, but of course that didn't happen either.
This comes down to depth. You can never have enough depth in the organization. As Kekalainen said, "we're renting Jack Johnson for the rest of the season."
As for the future, you'd expect the team to try to re-sign him. Johnson said on Monday "the door is always open." So despite the trade request, he's open to staying. There are no hard feelings on either side of this.
The sides have time to negotiate. If they fail to reach a deal, Johnson will hit the market. The "asset" the Blue Jackets got was the rest of this season with Johnson. It's too early to judge this although I suspect most fans don't like this. They'll say the team runs the risk of losing Johnson for nothing. Whether you like the deal or not, the team thought keeping him was better than any offer they received. It may lead to an extension. Let's see what unfolds before hurling insults and judgment at the team.
They did and it's believed Dubinsky's name was brought up in this. https://t.co/wVHr4m1awn

— Jeremy Rutherford (@jprutherford) February 26, 2018
Other Notes
A report surfaced from Jeremy Rutherford of the Athletic on Monday morning suggesting the Blue Jackets had interest in Vladimir Sobotka and Patrik Berglund. Rutherford said he thought the Jackets' player talked about was Brandon Dubinsky. That's now the second time I've seen Dubinsky's name in a trade rumor. Stan Fischler recently said Dubinsky may have asked for a trade. As of now, there's nothing out there to suggest the Blue Jackets are actively trying to trade him. But we do need to file this away for future use. Could we see an offseason move involving him? Considering the contract and current production, it wouldn't stun me to see what's out there and available. Dubinsky has some sort of no-move protection per Cap Friendly. Rutherford is well-connected in St. Louis so this does take on a little more credence than normal. With Pierre-Luc Dubois' emergence as the top-line center and Alexander Wennberg penciled in as the two, trading Dubinsky is something not out of the question. We'll revisit this in the week's leading up to the draft.
Got to catch up with Calvert after the deadline. He said he had his family with him for the day. He said he was relieved when the deadline passed and he was still a Blue Jacket. He said on Sunday that there have been no talks of an extension with the team. He can now focus on the playoffs and then worry about talking contract after the season.
Monday was the 10-year anniversary of the trade that saw Brad Richards exchanged for Mike Smith, Jussi Jokinen and others. Jokinen remembered the trade well and recalled how naïve he was leading up to the trade. It was a huge shock for him. He said it shocked him because of his loyalty towards the team who drafted him. We always have to remember the human element of the deadline. Families are impacted. Futures aren't immediately known. Jokinen's story is a great reminder of how the business side works no matter where you've been. As it turns out, he was traded again.
The Blue Jackets played their best game in a long time Monday night after the deadline, a 5-1 shelling of the Capitals. Seth Jones and Cam Atkinson each scored three points. Letestu scored in his return to Nationwide Arena. The win has them four points clear of the Islanders and Hurricanes for the second wildcard in the East. They now embark on their California trip. Given how close the race is, they need at least two wins to keep up the pace. If they can get on a run, climbing the standings is not out of the question.
That said, do not sleep on the Florida Panthers. They won again on Tuesday. If they win their games in hand, the Panthers can overtake the Blue Jackets in the wildcard race. Circle Mar 22 on your calendar. The Panthers play the Blue Jackets at Nationwide Arena. That's a huge game.
The Blue Jackets have winnable games left. If they hope to get into the playoffs, they must win these games. Detroit, Montreal, Ottawa, the New York Rangers, Edmonton, Vancouver and Detroit again are games you just have to win. That's 14 points if they can win those games. The other 12 games won't be easy. Splitting those 6-6 would be 12 points. Getting 26 points in their last 19 games puts them at 95 points. That feels safe. Anything less and it's nail-biting time. The Blue Jackets can't give points away now. If they do, it might cost them the playoffs.
This summer has the potential of being somewhat explosive for the Blue Jackets. Will they re-sign Boone Jenner? He doesn't seem as untouchable as he once was. How much is Oliver Bjorkstrand's next contract? Lukas Sedlak needs a new deal. How about the defense? Both Johnson and Ryan Murray need new deals. So does Nutivaara. How big do the Blue Jackets want to go in trades? Do they find someone to play with Artemi Panarin? They also need to keep the summer of 2019 in mind with Zach Werenski, Panarin and Sergei Bobrovsky all up. There are tough decisions ahead for the Blue Jackets.
For now though, our focus turns to the playoff races. For the Blue Jackets, they're in a battle. They got reinforcements and are ready to make their final push. All things considered, I give the Blue Jackets an A- for their deadline. They filled holes at minimum prices. We'll see where the Johnson thing goes. If that works out later, it's a solid A.
Management did their part. They struck the perfect balance between buying and not overpaying. Now it's the player's turn. They'll have nobody to blame but themselves if they fall short of the playoffs.