With the National Hockey League trade deadline rapidly approaching, it's the topic that is top-of-mind for everyone involved: the front office, team locker rooms and fans alike.
While players say their main focus remains game results, they admit they think about the looming deadline.
After Saturday night's 3-2 win over the Chicago Blackhawks, the Columbus Blue Jackets' players said the deadline is definitely on their mind—who might dress for Monday night's Metropolitan Division matchup against the Washington Capitals and what their own personal futures may hold.
"Yeah, obviously you wonder," Blue Jackets forward Boone Jenner said Saturday. "It's something that comes up every year. We will see what happens. I mean, we still have to take things game by game. We are all here to win. But [the trade deadline] is part of the business; something that happens every season. We will have to see what happens."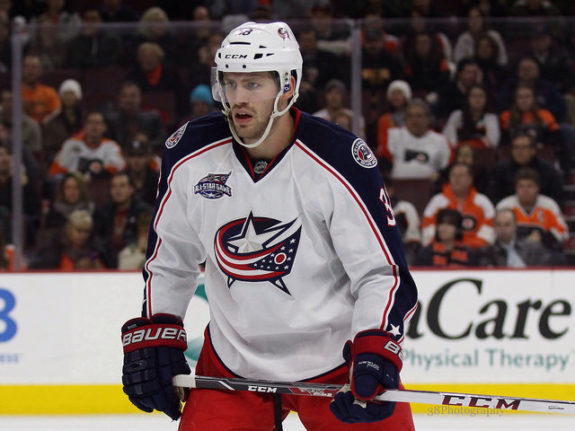 However, it appears forward Cam Atkinson uses a different approach.
"You can't think about it… that's the crappy part of the business," Atkinson said. "We have to focus on earning points here and moving forward."
If it is any consolation, Blue Jackets head coach John Tortorella says he is happy with the team he puts on the ice night in and night out.
"I like our team," Tortorella said. "I've always liked the team. Do I think we have played up to where we need to this year? No, we haven't. It's been a year of trying to find a level of consistency. It has been a tough year, but we are still right in the middle of it, which is great."
Tortorella added that he knows every team is exploring its options.
"Every general manager is looking to make their team better," Tortorella said. "For us, being as young as we are, [the front office is looking out] for the future, too. It's not trying to hit a home run for the next couple of weeks just to get [into the playoffs]."
"Work With What We Get"
Blue Jackets forward Josh Anderson said he and his teammates have to work with whatever the front office gives them in order to keep racking up the points they need to qualify for the postseason.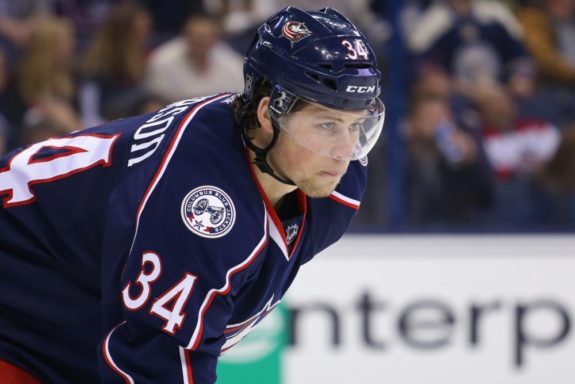 "Our focus is in this locker room and whoever they put together in this room," Anderson said. "We just have to go out there and worry about ourselves, battle through, and make a run for the playoffs. We went through [the team not making many moves] last year and we stuck with it. If [Blue Jackets management] think they can make our team better by getting players, that's the decision they're going to have to make. They just put the guys in our locker room. We all have to go out there and do our jobs."
That job has had an inconsistent showing all season—something the Blue Jackets players are well aware of. However, they said they have shown what they can do through the few bright spots and big wins this season.
"We know how good of a team we are," Anderson said. "Now, we have to go out and prove to our fans that we are a good hockey team and we are here to win."
Jenner agreed.
"If we play at the caliber we know we can and the way we can, we are a dangerous team," Jenner said. "Everyone knows that, especially when all four lines are going."
Related: Columbus Blue Jackets' Trade Deadline Expectations
What Happens Post-Deadline
A central theme prior to Saturday's game was letting go and playing with confidence. That direction came from Blue Jackets head coach John Tortorella himself and inspired the skaters on Saturday.
"When we go out and feel good about ourselves, good things happen," Jenner said. "We need to play confident. [Saturday night, we] had to find our way back and we actually did it. With the number of games we have left, you have to find a way to win games that are tied going into the third period if you want to keep playing through April."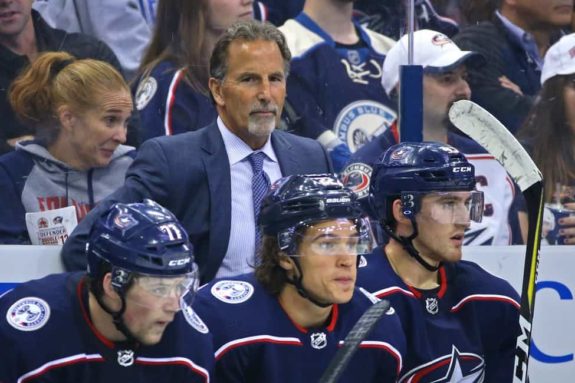 Tortorella said that winning two games in a row is a solid start for a team looking to regain confidence and string together a stretch run.
"Right now, it's really a confidence thing with our team," Tortorella said. "We're trying to find a way to string something together. You can talk about the word, you can say the word, you can spell the word. But, until you go through a number of games and feel good about yourself, it just doesn't happen."
Anderson added that not only is confidence key, but fighting to earn every point possible is just as important.
"We have to battle," Anderson said. "We can't give up because of what the score is. We know how important these games are coming down to the end of the season. We have to keep pushing until the very end."
Tortorella also emphasized that goaltending will be a major factor the rest of the way. That likely means that Blue Jackets goaltender Sergei Bobrovsky will have a heavy workload through the final stretch of 20 games.
#CBJ down the Blackhawks 3-2 to improve to 31-26-5 (67 pts) on the campaign. It's the 4th-straight home win vs. Chicago.

— CBJ Public Relations (@BlueJacketsPR) February 25, 2018
"[Bobrovsky] was outstanding [on Saturday] to give us a chance," Tortorella said. "He's going to have to be outstanding because we're still not where we want to be. Until we get where we want to be, that's how [we need Bobrovsky] to play."
Moreover, Anderson admitted a full-team effort will decidedly get the Blue Jackets into the postseason.
"When we get all four lines rolling and we have one of the best goaltenders in the league who can do it for us, and our back-end… you see what happens," Anderson said. "We just have to put it all together."
After living in two NHL cities (Orange, CA and Raleigh, NC), Kristyn graduated from Ohio University's E.W. Scripps School of Journalism and worked in the Columbus Blue Jackets' Digital Media department. She currently resides in Columbus and has been an NHL-credentialed reporter since the 2013-14 season.