After last night's victory against the New York Rangers, the Minnesota Wild completed a three-game road sweep. The latest win propelled the Wild to third place in the Central Division, and Minnesota has quickly turned things around after looking like an afterthought this season. Most teams still have 20-22 games left, so the playoff bracket is still far from being complete.
Piling on the Points
This past week, the Wild have beaten the New York Islanders, New Jersey Devils, and Rangers, giving them six important points. The game prior was played against the Anaheim Ducks at home, which they lost in a shootout. This leaves Minnesota at a four-game point streak. So far on the month, they are now 7-2-2 with two games still yet to play. Closing off the season strong will give the Wild a solid chance at locking down the third spot in the division. If the Wild were to fall into a Wild Card spot they would face either the Vegas Golden Knights or Nashville Predators, so it should be a priority to not face one of the top teams in the Western Conference during the opening round.
Winning Important Divisional Games
Beating the Chicago Blackhawks and St. Louis Blues were key matchups and important wins this month. Chicago is in the cellar of the Central division and looks to be a long shot at clinching a spot in the postseason. The Blues are only three points behind the Wild, with another significant game between the two squads to close out February.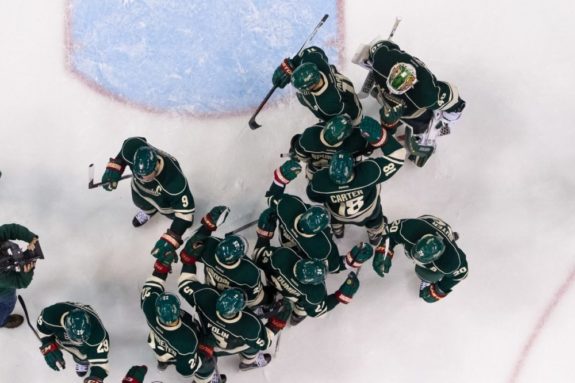 Things get only more hectic in March with a total of six divisional games. Minnesota plays against the Dallas Stars, Colorado Avalanche, and the Predators each twice. The showdowns will all be split with one on the road and one at home. The matchups are going to get more brutal as the year winds down, especially with the top five spots in the division being split by only 11 total points.
Wild's Stars are Dominating
Devan Dubnyk is 3-1-1 in his past five games. During the stretch, he has a .919 SV% (save percentage), although if you take out the game against the Washington Capitals, his average increases considerably. Dubnyk has been a sharp player and will need to continue his performance if the Wild want to make any type of run in the postseason.
Eric Staal has a total of seven points in his last five games. Against the Rangers, he posted a ridiculous two goal, two assist performance. He owns a plus/minus of four and has scored two power-play goals. Ryan Suter has tallied four assists in his past five games. He has a plus/minus of one and has played in 30 minutes or more in three of those five games.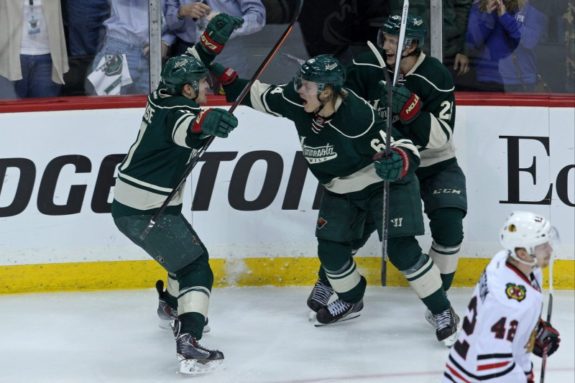 Jason Zucker has continued his career season with three goals and an assist in his past five performances. He also has a plus/minus of four during the stretch. Mikael Granlund is another player playing strong hockey at a crucial time. He has two goals and four assists in his last five games with a plus/minus of three as well. His best performance was against the Rangers, posting two goals and two assists with a plus/minus of three in that game alone.
Sustained Strong Play
Minnesota had a number of issues that plagued this season from the start. Injuries to key players such as Granlund, Nino Niederreiter, Zach Parise, Charlie Coyle, Jared Spurgeon, and Jonas Brodin contributed in a major way. Lack of hustle and not taking advantage of earlier divisional games also contributed. The roster is only a slight tweak of the 2016-17 Wild squad that lost in the opening round a season ago. That team posted the most goals in Wild history and, before adding Ryan White and Martin Hanzal, looked primed to make a Stanley Cup run.
Related: Minnesota Wild Healthy with Playoff Hopes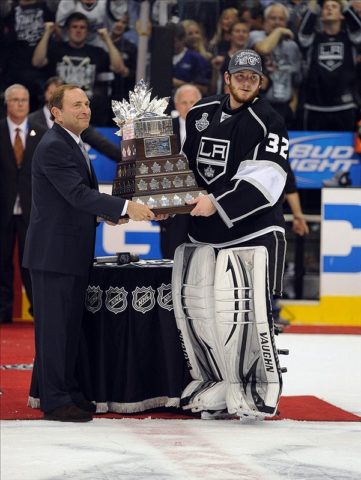 Bruce Boudreau provides a veteran coaching presence who has a ton of playoff experience. However, he has failed to make a Stanley Cup run after consistently coaching top-tier regular season teams. Every year, he has a chance to break the curse, but never seems to pull through. The Wild have veteran players like Parise, Staal, Suter, and Mikko Koivu who all have a lot of international and playoff experience.
Throw in the younger talent that has been consistently improving, such as Granlund and Zucker and the Wild look to have a real chance at turning things around. A playoff berth is now a reasonable thought, but the team shouldn't get too comfortable yet.
The optimism surrounding the team can quickly be turned around. As was previously stated, this team is relatively unchanged. If the team wasn't able to do it before, who is to say they can do it now? A key injury to the Wild could quickly turn things around again. An injury to an opposing team could also give other teams an opening. The Wild haven't been dominate for a long stretch either like they were able to a season ago. Getting hot at the right time can really help in making a playoff run. The 2011-12 Los Angeles Kings come to mind as an eighth seed that rode a hot goaltender in Jonathan Quick.
Minnesota Wild, A Playoff Team?
The answer is, yes! There is absolutely no reason that Minnesota should think that they can't make the playoffs this season. The Wild have a very talented team that would severely underperform if they do not clinch a spot in the playoffs. Although after so many years of being one and done, even a playoff berth alone would be a disappointment.