With how poorly their season has gone, rumors have been swirling around the Ottawa Senators and a potential teardown and rebuild of the roster for several months. The trade of Dion Phaneuf to the Los Angeles Kings on Feb. 13 was defensible as a salary-cap move and allowed the Senators to deny rumors of such a rebuild. However, the recent trade that sent Derick Brassard to the Pittsburgh Penguins by way of the Vegas Golden Knights reveals that a teardown is undeniable.
Assuming that Ottawa general manager Pierre Dorion is going to pursue such a plan, it only makes sense for him to ship out any player not signed to a long-term contract and not a part of the future. These players include Mike Hoffman, Jean-Gabriel Pageau, and Mark Stone. If the Senators want to pursue a complete teardown and rebuild, Erik Karlsson is the player that must be moved.
Captain Karlsson on the Move?
The two-time Norris Trophy winner is one of the best defensemen in the league and has been a foundational piece on Ottawa's blue line since the 2009-10 season. He has been captain of the team since the 2014-15 preseason and was the main reason they reached the Eastern Conference Final last season.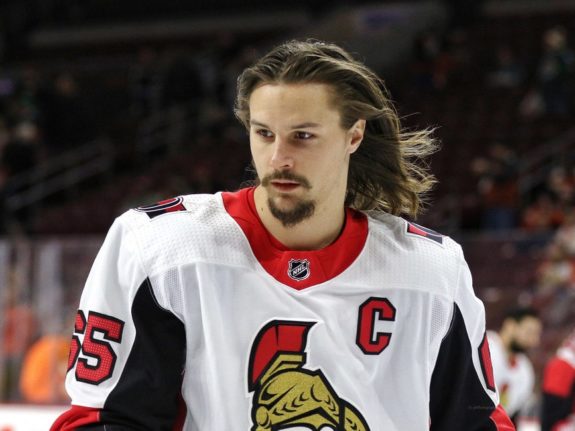 Although only 27 and in his ninth season, he is among the all-time greats in franchise history. He ranks third in career assists and points and fourth in goals created and point shares. He is beloved by Ottawa fans and moving him won't be easy nor will it be a popular move. However, it is still the appropriate move and is necessary for the Senators to consistently be competitive in the near future.
Karlsson is also a free agent after the 2018-19 season, and it appears unlikely that the Senators will be able to re-sign him. If he wants to be paid his full value and Ottawa has stripped its roster down, I argue that there is little chance that he wants to remain a Senator.
Potential Landing Spots for Karlsson
If Karlsson is made available, every team in the league will attempt to clear cap space and put together a package to land him. That does not mean every team could actually be a realistic option to acquire him. Not every team has the prospects and draft picks necessary, and even fewer that have the cap space to take on his contract for next season and beyond.
1. Karlsson is arguably NHL's top defenceman and top five, if not top three, players in the game. 2. The Senators are actively/seriously engaged in talks to trade him. 3. Even if it doesn't happen by Monday, it may very well occur in the off-season. In any case, unique situation.

— Bob McKenzie (@TSNBobMcKenzie) February 23, 2018
If it is assumed that the acquiring team is going to attempt to extend Karlsson, I see the potential landing spots being the Carolina Hurricanes, Philadelphia Flyers, Vancouver Canucks, Vegas Golden Knights, and the Dallas Stars. The Tampa Bay Lightning are in play for Karlsson but I don't see how they could re-sign him after next season with Nikita Kucherov also needing a new deal at that time.
The Hurricanes could send Justin Faulk, Brett Pesce, or Jaccob Slavin as the headliner and have plenty of cap space to extend Karlsson. Their issue is that they need offense from forwards and Karlsson wouldn't help them with that. The Flyers have Ivan Provorov, Travis Sanheim, Morgan Frost, and multiple goaltending prospects that could be of interest to the Senators with Craig Anderson getting older.
The Canucks are interesting because they only have 13 players signed to NHL contracts after next season. They would likely have to include either Elias Pettersson or Olli Juolevi in any trade, which they might be unwilling to do. The Stars have a lot of salary coming off the books this offseason but do need to extend Tyler Seguin and some RFAs in the next two offseasons. Dallas's prospect depth isn't as strong as other teams but if they were willing to include Miro Heiskanen, they could have a deal.
The Golden Knights could send any combination of prospects in return and have plenty of cap space to work with. They also have just 15 NHL contracts for the 2019-20 season and have over $33 million in cap space for next season. They have a need for a top-pair defenseman who plays the style of game Karlsson does.
Vegas Playing With House Money
In their inaugural season, the Golden Knights are the most surprising team in the league. As of Feb. 24, they are first in the league with 86 points and are all but a guaranteed playoff team. Given that very few, if any, projected Vegas to be this successful, GM George McPhee should go all-in in pursuit of a Stanley Cup this season. They already have a winning roster with skilled players and have plenty of draft picks and a solid farm system after one Entry Draft.
Winning in their inaugural season means that their timeline has moved forward by several seasons. Acquiring Karlsson means going from a chance to win a round in the playoffs to being a favorite to win the Western Conference.
What Does a Trade for Karlsson Look Like?
Predicting what Ottawa can get in return for Karlsson is difficult given the factors at work. One is that he is an elite defenseman and not many of his caliber have been traded throughout history. Another factor is that he isn't a rental player and has another year left on his deal after this season. That further increases his value. Lastly, there is his status as captain. Although plenty of captains have been traded in the past, being a fan favorite and leader means the team needs to hit a home run in the trade.
So, what will an acquisition of Karlsson take? It will likely take multiple first-round picks and at least one "A" level prospect, all of which Vegas possesses. Over the next three drafts, they have three first-round picks, seven seconds, and four thirds. In the farm system, they have multiple blue-chip prospects. They have two centers, Cody Glass and Nick Suzuki, both of whom project as top-six forwards, and defenseman Nicolas Hague, who is averaging better than a point per game in the OHL this season.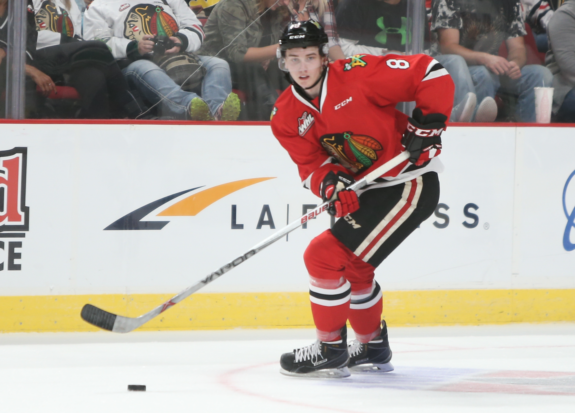 Additionally, if the return of goaltender Filip Gustavsson in the Brassard trade is any indication, the Senators could be in the market for goalie prospects to provide security in the future. Vegas has three of these in Maksim Zhukov, Dylan Ferguson, and Oscar Dansk. Dansk has NHL experience already while Zhukov is sporting a .915 save percentage in the USHL. A package of these prospects and picks would likely be enough value to make the trade.
There is also the question of whether Ottawa can include Bobby Ryan's contract in any deal involving Karlsson. Ryan is 30 and has four more years left with a $7.25-million cap hit. He has been unproductive recently with just 20 goals in his past 102 games. It makes sense for the Senators to rid themselves of Ryan's salary and is likely necessary for them to truly rebuild.
If Ryan is included, any team making this trade has to have at least $13.75 million available in cap space starting next season and more than that after Karlsson's extension. As mentioned, the Golden Knights have over $33 million in cap space next season and it only increases in the years that follow.
A trade for Karlsson that includes Ryan will be less in value than one only involving Karlsson. ESPN's Greg Wyshynski speculated that a trade involving Karlsson and Ryan would require Ottawa taking a bad salary in return to offset Ryan's contract. Vegas has all the parts necessary to make this trade possible. They could send back David Clarkson's contract to offset salary but wouldn't have to, given their cap situation. However, with no contract going back, the return for Karlsson and Ryan becomes even less.
For Vegas, giving up one of Glass or Suzuki (but not both), an additional prospect, and draft picks is a fair value and one they should pay. Even taking on Ryan's contract is feasible, and his contract could just be bought out at season's end. It's hard to not find a price worth paying for Karlsson.
Trade Makes Sense for All Involved
Addition by Subtraction for the Senators
From Ottawa's perspective, it is unrealistic to believe they can extend Karlsson. He certainly loves the city and his wife is a native of Ottawa, but a player can only take so much losing before he wants out. Another aspect is Karlsson's next contract. His current contract carries a cap hit of $6.5 million and is due to increase on his next deal.
His current cap hit ties for 14th-highest among defensemen while P.K. Subban has the highest cap hit for a defenseman at $9 million. When Karlsson receives his next contract, it is safe to assume that he will at least tie for the biggest cap hit for the position and have a higher cap hit than Subban.
A budget team like the Senators seems unlikely to pay Karlsson what he will earn on his next contract. Trading him now ensures that they would get some value for him rather than losing him for nothing if he departs in free agency. Although prospects are not a guarantee, they are better than having to start from scratch without Karlsson or high-end prospects. Vegas may also be able to provide Ottawa with the largest number of quality prospects of any team.
A Second Karlsson in the Desert
For the Golden Knights, adding a second Karlsson from Sweden gives them a franchise player for the foreseeable future. He would immediately become the face of the franchise alongside Marc-Andre Fleury and be a revenue booster for the team. That doesn't include how few number-one defensemen there are in the league. The Golden Knights may have a strong farm system but it is safe to assume to that they don't have a Karlsson in their prospect pool.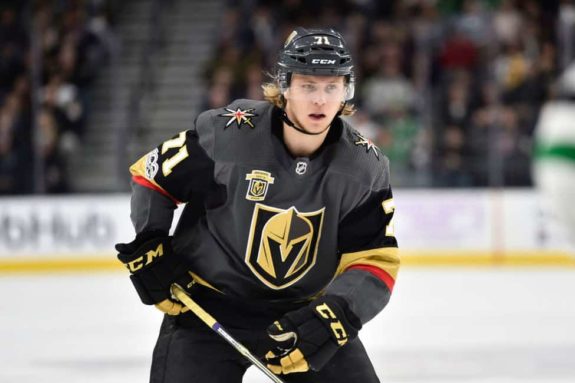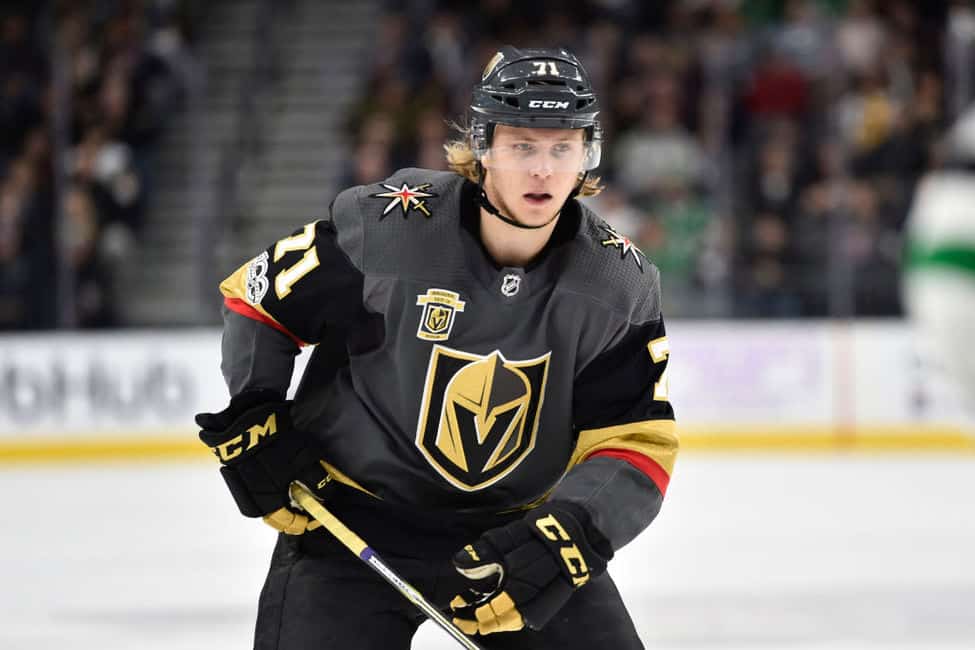 More Money in Karlsson's Pocket
This trade may make the most sense for Karlsson. He is a competitive player and clearly wants to win. Getting out of Ottawa gives him that opportunity. If Ottawa trades away Hoffman, Stone, and Pageau, it could be three to four seasons before they are a playoff team again. Karlsson is still in his prime at 27 but will be leaving it when the Senators are competitive again.
Playing for Vegas would also allow Karlsson to make the most of his salary. Nevada is one of four states with an NHL franchise that doesn't tax earned income. On Karlsson's current deal, which pays him $7 million per year, he pays just over 53 percent in taxes, according to Cap Friendly. That equals over $3.7 million paid in taxes each year. If he played for Vegas, he would only pay the federal tax rate and would bring home an additional $984,964 each year compared to what he does in Ottawa. With his next contract and a larger salary, the difference in take-home pay between Ottawa and Vegas will increase.
*All information came from Cap Friendly, Elite Prospects, and HockeyDB
My name is Kyle, and I'm the managing editor of The Hockey Writers. I joined THW in Oct. 2017 and am always striving to bring you the best hockey coverage possible. You can email me directly at kyle@thehockeywriters.com.