You have to give something up to get something, and when the Columbus Blue Jackets traded center Ryan Johansen to the Nashville Predators for Seth Jones in January 2016 they sacrificed one of their young, playmaking forwards for a player they believed could be a pillar on their blueline, and cornerstone of their franchise for years to come.
After two and a half seasons playing alongside Shea Weber, Roman Josi, Ryan Ellis, and Mattias Ekholm,  Jones has taken that experience and knowledge with him to Columbus and is living up to the hype that led to him being the fourth overall pick at the 2013 NHL Draft. He is just 23-years-old and has already become a leader with the Blue Jackets on and off the ice, as evidenced by the team sewing an 'A' on his jersey with captain Nick Foligno out of the lineup.
.@BlueJacketsNHL will have three players wearing the 'A' tonight, eh. With captain Nick Foligno out, Seth Jones joins Boone Jenner and Jack Johnson as an alternate captain. pic.twitter.com/DUyB8p2sBV

— George Richards (@GeorgeRichards) February 21, 2018
Jackets Jockeying For a Spot
"Huge. This was a huge win tonight, all of these games are important," Jones said after Columbus won a grimy 2-1 game in New Jersey to climb back into a playoff spot in the Eastern Conference. "We didn't play our best hockey tonight but we had some good structure, good minutes. They kind of dictated the play in the third (period), but Bob made some big saves and we closed it down defensively."
To make the playoffs and come out of the rugged Metropolitan Division Jones knows the Jackets will need to pile up more wins over the season's final six weeks. "We just have to play consistent hockey. We've kind of been up and down and all around this year with our game, just stick to our system. Everyone just do their job to the best of their ability and not try to do too much. Bob's going to make big saves for us as always, we just have to play within ourselves and continue to play as a team."
Trading Places
Ryan Johansen, Seth Jones cross paths at Columbus airport (Photo) https://t.co/SRd4I9k61m pic.twitter.com/RnkSyybnV1

— Randy Cantrell (@RandyCantrell) January 10, 2016
The time since the trade has gone fast, it seems like just yesterday that we were seeing the unforgettable image of the two traded players posing for a picture in a Columbus airport after they were traded for one another. But for Jones, Columbus is now home. "I feel good, I love this group. We have a good young core and I think my game has taken some tremendous strides since I first got here," the Blue Jackets' blueliner told The Hockey Writers.
"I've really developed into the role I'm in now and I'm playing a lot more minutes than I was a couple of years ago. I'm blessed to have an opportunity to be a part of this team and a part of this great group of guys." The trade was the first of his career and an eye-opener that this is the business side of the NHL. Nashville, like Columbus, traded from a position of depth to get something else they desired when they dealt Jones, who was 21-years-old at the time of the swap.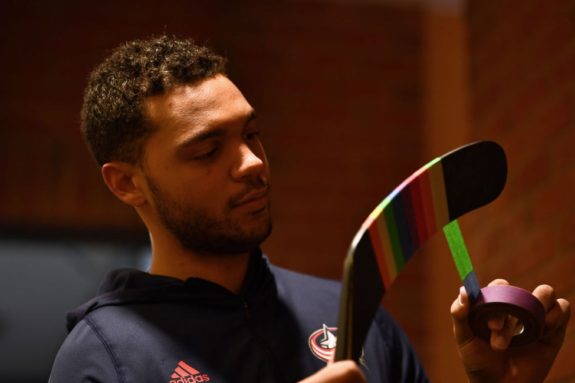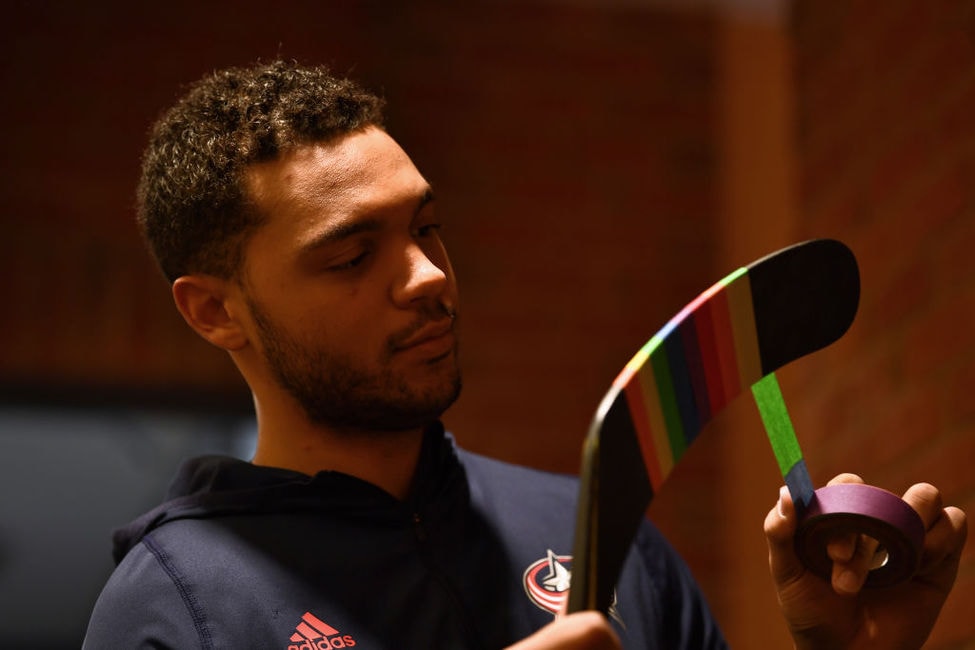 "It was tough. It was tough. It was my first time getting traded obviously, and I was 21-years-old," Jones recalled. "It was tough, but it happens and I think everything happens for a reason. I made the best of it. It's a business, right? It was a good hockey trade and Joey is obviously a great player, I'm happy he's doing well in Nashville."
Standings-Watch
Ever wonder how often players look at the NHL standings at the end of the season to see who's in, who's out, how many points separate each team, who has games in hand? "It's that time when you do (look at the standings)," Jones told THW. "But you also have to take it one game at a time. We have a little over twenty games left, everyone's looking at the standings. If you're not, there's a problem. We are looking at them, but also taking it one day and one game at a time."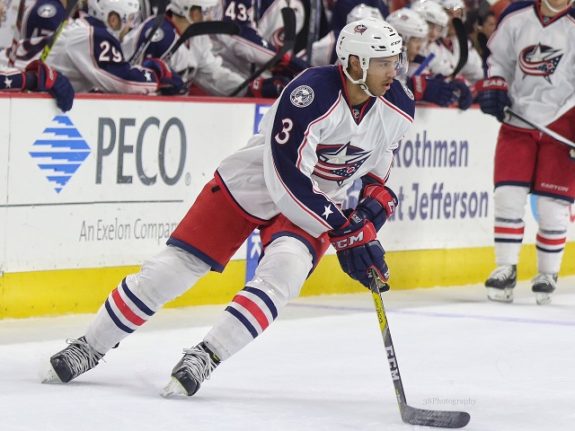 "Winning lightens the mood, winning cures all," Jones added. "It's been a battle this year – we've had our ups and downs and battled through adversity; we're a young team and it will make us better. We were top-five in scoring last year and we're near the bottom this year. We're still being aggressive, some of the bounces – we just haven't gotten them."
They found some puck luck in the 2-1 win in New Jersey and with 22 games left they're going to need more as the battle the Devils, Islanders, Hurricanes, and Panthers for one of the final playoff spots in the East. With Jones helping to carry the load on the Jackets blueline there's a very good chance Columbus will be in the playoffs once again this spring.
Dan Rice is in his 9th year of reporting for THW & has covered NJ Devils home games for 15+ years at various websites. He began his journey working for legendary broadcaster/writer Stan Fischler from 2002-04 & completed an internship at the ECHL; he also has been writing features for the NWHL (nwhl.zone) website since 2016.