The Columbus Blue Jackets should have a five-game losing streak going. Thanks to the heroics (and luck) of goaltender Sergei Bobrovsky, the streak ended at four.
For the third consecutive game, the Blue Jackets scored just once in regulation. Unlike their games against the Predators and Hurricanes, they found a way to win a game despite a lack of offense.
Time For Mental Reset
The Blue Jackets needed a game like the one Saturday in Detroit. They held a 1-0 lead most of the night until the Red Wings tied it midway through the third period. Were the Blue Jackets about to suffer another setback? It sure seemed like it in overtime. But Bobrovsky had other ideas.
Hey, @SergeiBobrovsky. You can't be serious!? pic.twitter.com/u6Grgnr2cZ

— NHL (@NHL) November 12, 2017
Call it great positioning. Call it luck. Call it whatever you want. This save gave the Blue Jackets new life when the game should have ended. They eventually won the game in the ninth round of the shootout thanks to a great move by Jack Johnson.
Here's the thing. The Blue Jackets needed a defining moment Saturday. Once again, their offense found little success. The Red Wings found a way to tie the game. It felt like just a matter of time before the Wings would break the Blue Jackets' hearts.
Not only did it almost happen once. It almost happened twice thanks to a separate breakaway in overtime. Then after allowing Frans Nielsen to score in the shootout, Bobrovsky shut the door on the other eight shootout attempts. He was your first, second, third and thousandth star of the night.
Bobrovsky's heroics allowed the team to enjoy the moment and a much-needed win. This was the mental reset the Blue Jackets desperately needed.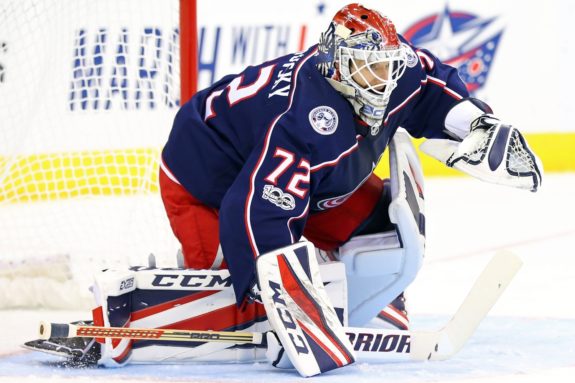 Frustration Mounting
Despite several high danger scoring chances this week, hardly anything went in. You could see frustration everywhere. Zach Werenski missed a gimme late in the Nashville game. Carolina's Cam Ward gloved down a dangerous Artemi Panarin chance. The numbers suggest better days ahead, but it doesn't help with the frustration of not scoring now.
This is where the young Blue Jackets need to take the next couple of days to unwind, relax and put the past behind them. They're getting chances to score. Their expected goals is among the highest in the league as of this writing. They just need to reset everything and start fresh Monday at practice.
This team is too talented to go long stretches of time without much offense. Let's see if this team can have fun. If they play with swagger and confidence, they're one of the best teams in the league. If they carry their frustrations with them, they're one of the worst. Tomorrow is a new day. The Blue Jackets need to have a mental reset to get back to their winning ways. It's coming. Saturday night was just the moment this team needed.
Sonny Milano
This one is a head scratcher for me. Milano is one of your leading goal scorers and yet can't find a spot in the lineup? I understand he has a way to go on the defensive end and away from the puck. But what does consecutive scratches do for him? This is a sign of a lack of trust between coach and player.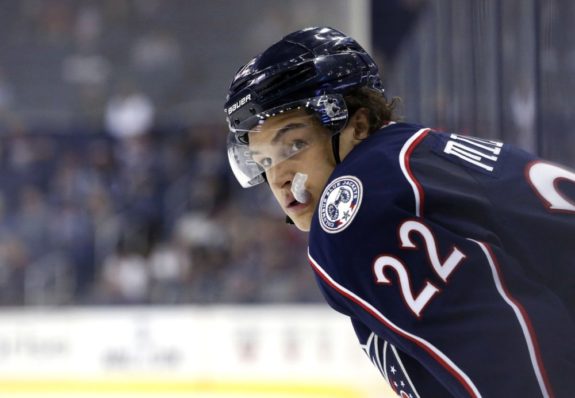 Tortorella iced a lineup of 11 forwards and seven defensemen both Friday and Saturday. In both games, Gabriel Carlsson dressed as the seventh defenseman. He played 7:43 on Friday and 4:48 Saturday in limited duty.
Tortorella doesn't trust Milano enough to put him in the lineup over a seventh defenseman at this time. That is a powerful indictment to the team's view of his overall play. Consider also that Milano started in the top-six out of camp. What a fall from grace that is.
What's Next?
Tortorella doesn't want to have to do this. But in his mind, he has no choice. He feels the team has a better chance to win without Milano than with him, despite the offense he can bring.
So what happens next? That depends. Tortorella will do everything he can to help Milano get better on the defensive end. Eventually there will come a point where the Blue Jackets will have to decide on the lineup when injured players Matt Calvert and Lukas Sedlak are ready.
Tyler Motte has played well in limited minutes. Tortorella said after the Carolina game that he stood out thanks to his skating. The question now becomes is there even room for Milano on the Blue Jackets especially when the injured players come back.
This is a big moment in Milano's career. How will he respond to this when it's his turn again? He has to play with a purpose away from the puck and show defensive responsibility. If not, he could end up back in Cleveland as he doesn't need waivers.
Blue Jackets Moves Coming?
The Blue Jackets are always looking to improve their club. If an opportunity is there, the club will do its due diligence.
Given their lack of offense of late, there is more of an urgency to see what opportunities are available. This past Thursday night, general manager Jarmo Kekalainen took in the Oilers/Devils game. With the Blue Jackets having an obvious need at top-six center, it's fair to wonder if Kekalainen wanted to take a closer look at Ryan Nugent-Hopkins.
TSN's Pierre Lebrun on Thursday commented on what the Blue Jackets might do in the coming weeks on Insider Trading.
ICYMI, INSIDER TRADING 🌏: #TSNHockey Insiders on KHL & #PyeongChang2018, LA's trade market outlook, CBJ's needs and Shipachyov closure https://t.co/zAIfB6Z7IF pic.twitter.com/PkxsVTFmZP

— TSN Hockey (@TSNHockey) November 10, 2017
Lebrun says the Blue Jackets are ready to move a defenseman for help up front. Considering Kekalainen's appearance at the Devils game Thursday, this indicates an increased urgency in finding a deal.
So who needs a defenseman? Most every team could use a top-four defenseman. But a couple of teams stick out. One of them is Edmonton. This is where I wonder about a potential deal involving Nugent-Hopkins and say a Ryan Murray or Gabriel Carlsson. The elements are there.
Buffalo is another team who needs desperate help on the blue line. Just not sure what the Blue Jackets could get in return. I don't think they'd be interested in Evander Kane. But worth noting, the Sabres have scouted the Blue Jackets a lot at Nationwide this season.
Other teams I could see calling Columbus on defensemen are the Blackhawks, Avalanche, Stars, Senators, Maple Leafs and Canucks. Tyler Bozak will become an unrestricted free agent after this season. Could we see the Blue Jackets at least ask about this possibility? The Leafs could use a boost on the blue line.
The Blue Jackets are looking. Will they find something sooner than later? Stay tuned.