This season, The Hockey Writers will have a recurring "Three Takeaways" feature after every Columbus Blue Jackets matchup, meant to serve as postgame quick hits.
1) Sergei Bobrovsky is Good
Sergei Bobrovsky won the Vezina Trophy last season as the NHL's best goaltender. Saturday night, he showed why he was the clear-cut winner during what players called a "crazy overtime."
Take a look:
Hey, @SergeiBobrovsky. You can't be serious!? pic.twitter.com/u6Grgnr2cZ

— NHL (@NHL) November 12, 2017
Not bad, not bad.
The Blue Jackets were quick to sing Bobrovsky's praises after the 2-1 overtime win that ended a four-game skid. They needed him to come up big, especially since the offense struggled to score and technically scored only three goals in the last three games combined.
"That [2-on-0] is never a play you want to see," Werenski said. "You feel like you don't really have an advantage there, and then you look and see who's in the net. It's Bob, and anything is possible. He showed everyone that tonight. [During overtime] we're all just laughing at how incredible he is. That was the save of the year, for sure. He doesn't ever fail to amaze you."
Blue Jackets forward Brandon Dubinsky agreed.
"He showed why he's the best in the world," Dubinsky said.
However, for Bobrovsky, it is just another day in the office.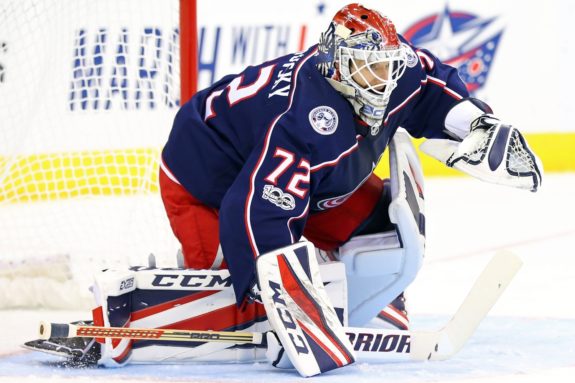 "I just try to keep my composure and just play to what's happening," Bobrovsky said. "I felt that I have to stop the puck and we need points, so I just have to stop it. We need two points, so we fight for them."
Werenski said Bobrovsky's mentality is the same, whether he is at practice or in the middle of a game.
"Every day in practice, he's our hardest worker," Werenski said. "He never wants to get scored on in practice and it carries over to games. It's awesome as a defenseman and as a team to have a guy like that back there."
With Bobrovsky in top form, two points are a great possibility every time he is in net. Now, if only he could play forward and generate offense for the Blue Jackets, too.
2) Success Beyond Regulation
The Blue Jackets improved to 5-1 in games that go beyond regulation—not a bad statistic with the unpredictability of 3-on-3 overtime and the shootout skills competition.
Dubinsky shared a few thoughts on the unpredictability in particular.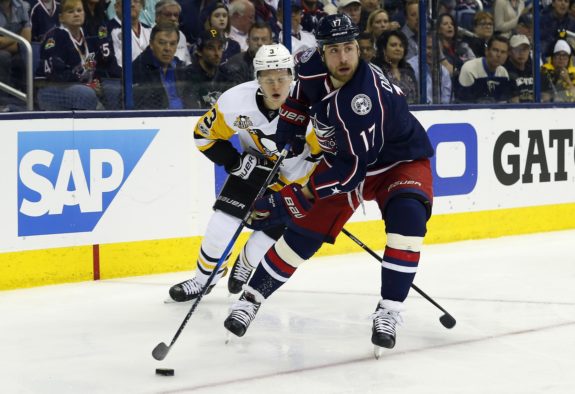 "It's an interesting dynamic; you never know how it's going to go when it's one versus one," Dubinsky said. "Anything can happen. I know after that overtime, I had to take a deep breath. I don't know if I've seen an overtime quite like that ever. 2-on-0s, breakaways, 2-on-1s… the fans got their money's worth tonight."
Blue Jackets head coach John Tortorella said the unpredictability is reflected in his overtime and shootout coaching.
"Flip a coin," Tortorella said when asked about how he chooses who shoots in a shootout.
It's a similar strategy for 3-on-3 overtime, too.
"It's so hard to coach 3-on-3 so we don't even bother," Tortorella said. "We know we're trying to play man-on-man. It doesn't always look like it's man-on-man when you don't have the puck, so we just let them play. I think sometimes you need to stay out of their way and let these guys, in that type of scenario, let them show off their talents and see where we go a little bit."
So, for unpredictability, defenseman Jack Johnson ended up being the one who scored the shootout winner to seal the victory. As Dubinsky said, anything can happen and anyone can be a hero beyond the set 60 minutes of play.
Tortorella said he will likely use Johnson more often in the shootout from now on.
"I asked Jack [if he wanted to go in the shootout], he just turns around and says 'I'm good,'" Tortorella said. "Then I said 'you any good at these?' and he says 'yeah, I'm good.' Just how Jack is, with that deadpan look. He's in the top three now, so we'll go from there."
Related – Blue Jackets 3 Takeaways: Struggles & Road Trips
3) Ending the Losing Streak
Another loss would have spelled big trouble for the Blue Jackets, who are in a tight Metropolitan Division standings race as it stands right now.
However, another check in the win column brings optimism back into the room and lifts the pressure the Blue Jackets dealt with in the last handful of games.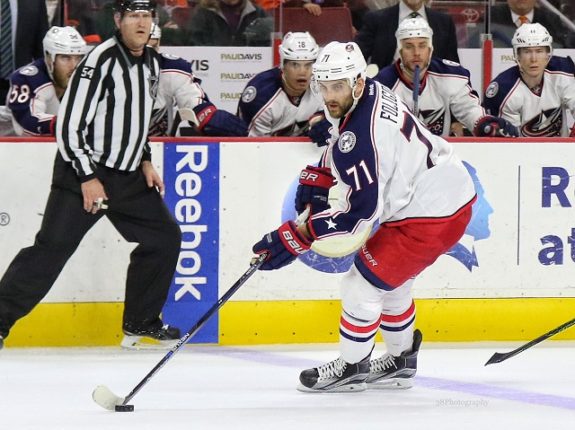 Tortorella said that for the players, winning is a big confidence booster. For him, even one point was a step in the right direction at this point in time.
"It's not so much about the win," Tortorella said. "We wanted to come and at least get something. For me, as the coach of the team, the thing that was encouraging was they checked better. That's the biggest point for me. As a team, we concentrated on the checking part of the game."
Dubinsky said that checking was part of the winning formula, but he and his teammates were determined to win so they could end the losing streak.
"We needed to find a way to get some points, regardless of how it happened," Dubinsky said. "The result was the most important thing and we got it. It feels good right now."
Dubinsky and the Blue Jackets hope to continue their winning ways as they take their show on the road to Montreal on Tuesday.