The Buffalo Beauts just keep coming and coming, and they are showing no signs of slowing down. After eliminating the Boston Pride in an exhilarating 3-2 overtime decision at the HARBORCENTER, the team now has compiled 11 straight wins. Even when they appear that they could be down and out, the Beauts rally and turn the tables where their opponents have to play the Beauts' style of game. No team for 11 consecutive games has been able to topple the defending champs or even neutralize them.
Take Buffalo's final regular season game on Mar. 10 when they faced the Connecticut Whale on the road. They weren't themselves in the opening period, then went into the locker room for intermission, came back out and won the game decisively 4-1. Even in the semifinal – the first home playoff game in Beauts history – the outcome of a win looked in doubt until Sarah Casorso drilled a shot on net from the point to vault her team into the final.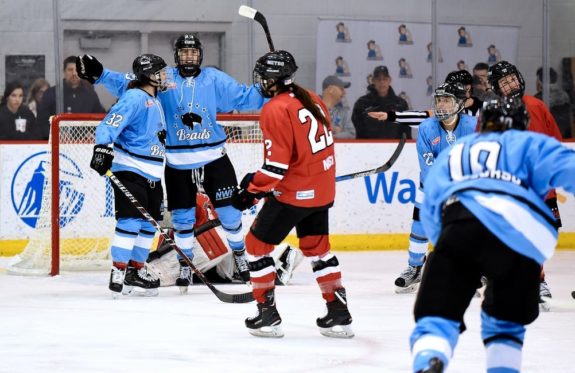 The Beauts' ability to win is generated by a cohesiveness – to the point of being family-like – that goes unmatched by other teams. These players legitimately care for one another and work for one another. Calling them a tightly knit squad is an understatement. Nothing needs to be deceptive about their approach either – in most instances you just aren't good enough to beat them.
With their unity underlying in every component of their game, here are three key reasons why the Buffalo Beauts will skate away with the 2018 Isobel Cup when they face the Metropolitan Riveters in New Jersey on Mar. 25.
1) Amanda Leveille
Goaltender Amanda Leveille may be the closest thing to a hockey player having a superpower that you will ever see. It seems that with every piece of vulcanized rubber that hits her, Leveille becomes that much more impenetrable. The way that the 23-year-old netminder can absorb pucks is just uncanny, and she is at her best in playoff and championship situations. Better yet, she has not even reached her apex yet this year. While Leveille has certainly been outstanding in net for the Beauts, there is still another level of play that she is able to perform at. It is no surprise that she will unleash it in the final – this is a netminder who has won three NCAA championships.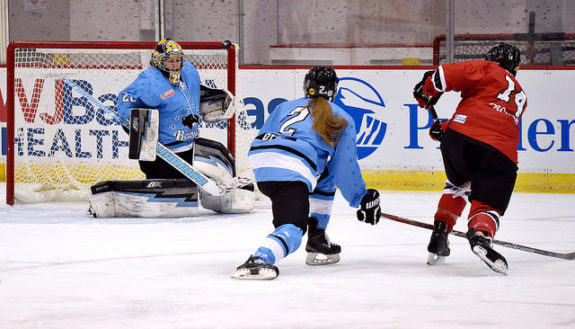 In the semifinal against the Pride, Leveille stopped 34 of the 36 shots that she faced to give her a .944 save percentage on the night. During the regular season she led all NWHL goalies in shots faced (498) and saves made (457). Leveille played in every regular season game and went 12-4 with a .918 SV% and a 2.53 goals against average. She has also defeated the Riveters in the last three meetings between the two teams.
It would be highly remiss not to mention the fact that Leveille dispelled the Rivs during last year's Isobel Cup semis with the exact same numbers that she put forth against the Pride this year. A goaltender of her caliber is a rarity – basically, the Beauts have Leveille and you don't.
2) Power Forwards
No team in the league has assembled a better collection of power forwards than the Buffalo Beauts. Maddie Elia. Hayley Scamurra. Kaylyn Schroka. Jordan Juron. Rebecca Vint. And of course the captain, Corinne Buie. Each of these players is not only sizable, but they are incredibly strong. This is enough to wear on a defense pretty quickly. Facing Elia one shift, then Buie the next, followed by Schroka, it is very taxing indeed. You cannot take a shift off against the Beauts and that is because you are facing at least one of these players every time you step on the ice.
Make no mistake – these are not lumbering forwards either. Each one is a sleek skater and can turn on the agility when need be. They also are superb scorers – some of the finest in the NWHL. Scamurra was rightfully awarded the Rookie of the Year honors this 2017-18 season. Her seven goals and seven assists in 14 games tied her for the team lead and made her a point per game player. Elia also accomplished the feat with her five goals and nine assists in the same span, and was another worthy candidate for top rookie honors. Buie and Schroka hit double digits in points as well, and Juron recorded points in each of her two regular season games.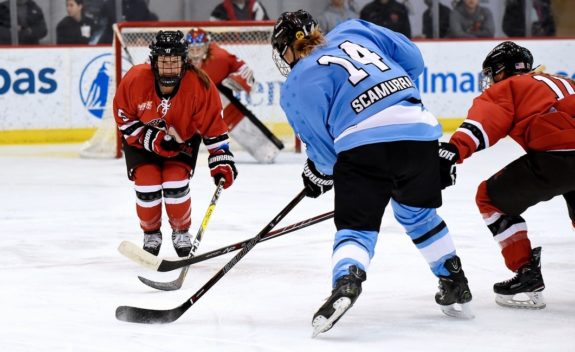 Then there's Vint, who did not play in the semifinal. While it is hard to justify changing the lineup going into the final, it is very tempting to insert her when it matters most. After Elia's 142, Vint was second on the team in face off wins with 113. Two of her three goals were power play tallies too. Point being, there is a wide array of Clydesdales on the Beauts and they are draining to play against.
3) Players' Improvements
The Beauts do not receive enough credit for the collection of valuable role players that they have on their roster. Let us take Jacquie Greco for instance. While Buffalo has utilized Greco primarily on defense this season, she is interchangeable as a forward when needed. Here is an instance where you wish that the league gave out a Most Improved award. Not that Greco's play was ever lacking, but her consistency became more apparent as the season went along.
Separately, Greco won the NWHL's Foundation Award for her efforts in growing the game, especially through her solid community involvement. Playing in 14 games this year she added two assists, blocked seven shots, and put 11 of her own on net. Within that same stretch she only received one penalty infraction. Greco is very heady in her play and she does quite well in lugging the puck up ice. She has had an excellent sophomore campaign that she carries into the postseason.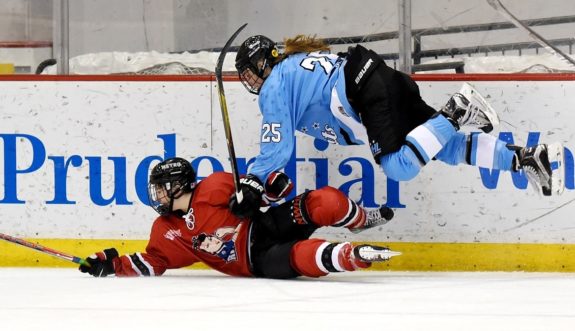 Then there is Colleen Murphy. The "Little Bulldog" had a season that was very similar to Greco's in how it unfolded. As Murphy's experience in the NWHL grew as the season went along, her confidence grew as well and she has really opened it up on the ice. Taking calculated risks, jumping up into the play, utilizing her skating to set up a feed – it has been a pleasure to watch her game truly develop through the year. It is no coincidence that Murphy was on the ice for Casorso's game-winner. Her ice time has been at the higher end from the mid point and up through the end of season. Co-coaches Seiling and Muni trust her in all situations, and she has seen plenty of time on both the power play and when shorthanded.