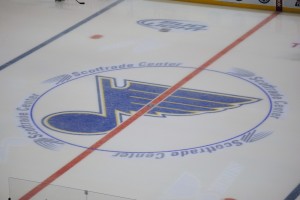 The St. Louis Blues' first round playoff opponent has been set.  The time for talk is over.
When the dust of the regular season battles cleared, the Blues had drawn the San Jose Sharks as their first round adversaries.  On paper, the matchup seems to be a mismatch, as the Blues swept the Sharks in their regular season series in 2011-12.  The series is set to begin Thursday evening in St. Louis.
How do the two teams match up?  The Blues have a balanced attack, an attack dog mentality on defense, and two of the finest goalies in the league defending their crease. They have a Stanley Cup winning coach in Ken Hitchcock, and one of their goalies, Jaroslav Halak, singlehandedly carried the Montreal Canadiens to the Eastern Conference Finals in 2010, upsetting both the Washington Capitals and the Pittsburgh Penguins before finally falling to the Philadelphia Flyers.  Halak knows the wars of the playoffs all too well.
The Blues have to contend with the Sharks' scorers, led by Joe Thornton.  The former Art Ross winner led the Sharks with 77 points.  Dan Boyle led the Sharks' blueline, and is the veteran presence needed to keep a team under control during the highs and the lows of a long playoff series.  The Blues counter that with T.J. Oshie and David Backes, each notching 54 points to lead the Blues in scoring.  The Blues boast a balanced attack, with scoring contributions coming from everyone in the lineup.  Add Jamie Langenbrunner and Jason Arnott for Stanley Cup experience, and the Blues more than match up with the Sharks.
The difference maker could be the return of Andy McDonald.  Sidelined for most of the season with shoulder and head injuries, the Blues forward has played 25 games and notched 22 points.  A healthy McDonald could make the difference for the Blues.  He has a Stanley Cup with Anaheim, and will no doubt be hungry to capture that glory again.
It's shaping up to be a great 2012 NHL Playoff season, and one would be foolish to count out the Blues.  While the Sharks have the potential to pull an upset, and certainly the Blues shouldn't take them lightly, the heavy favorite in this series is St. Louis.
Blues in five games.