Last week, the St. Louis Blues continued their Jekyll and Hyde season with a 2-1 record beating the Ottawa Senators and Nashville Predators by a combined score of 7-3, then losing to the Chicago Blackhawks on Saturday night 5-3. With a chance to regain some ground in the standings, they let two valuable points slip away against their Central Division opponents, claiming four of the six points available to them.
Here's a look at the biggest news and rumors for the Blues this past week.
Blues Secure Franchise's 2,000th Victory
On Jan. 16, the Blues beat the Senators for their 2,000th victory in franchise history. The accomplishment came with the home team in the middle of their seven-game homestand looking to bounce back from back-to-back defeats at the hands of the Calgary Flames and the Tampa Bay Lightning, being outscored 8-3. With the calendar turning to January and the Blues hovering around a .500 record, each game and point available to them becomes increasingly more important as they work to push their way up the standings.
Related: Salary Cap & Youth Could Force Blues to Make Defensive Changes
---
Latest News & Highlights
---
Despite being outshot 11-8 in the opening frame, the Blues took a 2-0 lead after 20 minutes of play thanks to rookie Jake Neighbours scoring his third goal of the season and Noel Acciari scoring his 10th. The game finished with goaltender Jordan Binnington stopping 32 of 33 shots in a 2-1 win over the Senators with Tim Stützle scoring the lone goal for Ottawa.
Neighbours Finding Groove in NHL
Despite being sent to the club's American Hockey League (AHL) affiliate, the Springfield Thunderbirds, twice this season, Neighbours is carving out a role for himself among the forward group. Averaging 13:29 of time on ice this past week, he scored one goal on four shots and got into his first NHL fight squaring off against Senators forward Parker Kelly in the second period. Of the fight, Neighbours said:
"I just didn't like the way "Cookie" (Acciari) went down. I didn't exactly see how the play happened, but he went down awkwardly and I didn't like the play. I thought (Kelly) was the man so I went right after him. I played against him in junior, so I know he's not shy to it. I knew I'd get a good answer" (from 'Neighbours brings fight to Ottawa in a much-needed victory for Blues,' St. Louis Post-Dispatch, Jan. 17, 2023).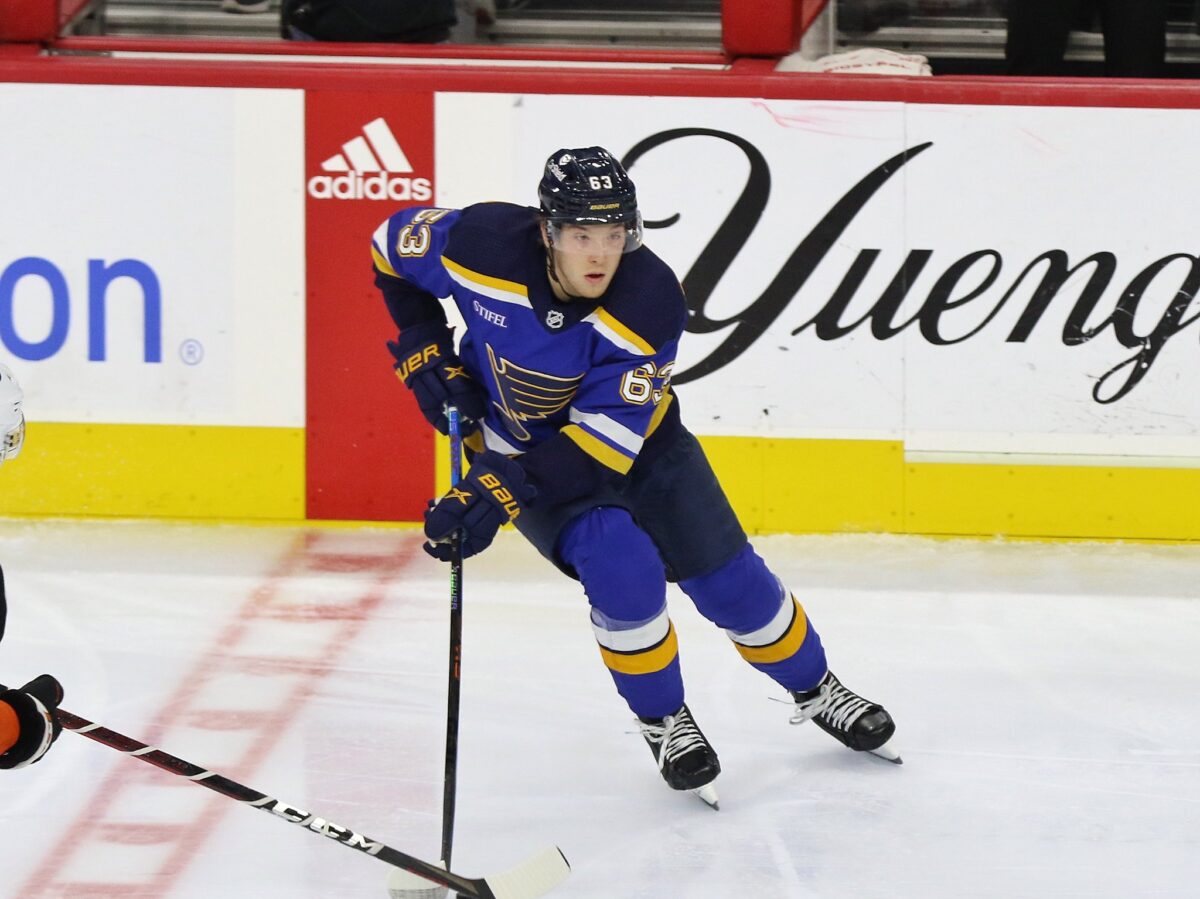 As the season moves along and players begin to return from injury, the Blues' front office will have difficult decisions to make regarding who to keep with their NHL club and who to reassign. Neighbours is among the waiver-exempt players this season and is a player they may not want to send to Springfield, but is an option that could give him an opportunity to see a top-six role and play in all situations until the team clears a roster spot for him.
Tucker Proving NHL Readiness
Among the biggest surprises for the Blues this season has been the addition of defenseman Tyler Tucker into their lineup. Drafted 200th overall by St. Louis in the 2018 NHL Entry Draft, he began to see time in the AHL with the Thunderbirds last season, earning his first official NHL call-up on Nov. 10 when Robert Bortuzzo went on the injured reserve list. He earned his first point in the NHL last week with a secondary assist on Brandon Saad's second-period goal against the Predators. This season, he is averaging 14:51 of time on ice through 11 games while blocking 12 shots and throwing 23 hits.
Brown Activated Off IR, Alexandrov Re-Assigned
The Blues got one of their forwards back from the injured reserve list on Friday, Jan. 20 with Logan Brown returning. In a corresponding move, they elected to send forward Nikita Alexandrov to the Thunderbirds. This season, Brown has two assists in nine games and has not played in a game since Dec. 6 against the Blackhawks. Alexandrov has split the season between the Thunderbirds and Blues appearing in a total of 38 games. He has 18 points (11 goals, seven assists) in the AHL, and two goals and two assists with the Blues.
Seravalli Names Four Blues Players on Trade Target List
Throughout the season, Daily Faceoff's Frank Seravalli has maintained a trade target list of 30 players that has consistently named forwards Ryan O'Reilly and Vladimir Tarasenko among the group. His updated list for the month of January has now included two additional players, Ivan Barbashev and Niko Mikkola.
With the team hovering around .500 and the numerous injuries to key players, the opportunity that has presented itself to the depth players has not gone according to plan. Seravalli notes that both Barbashev and Mikkola could be flipped at the trade deadline to add depth and real value to contending teams looking to bolster their lineup ahead of the Stanley Cup Playoffs.
Blues' Injury Report
With multiple players skating and ramping up their efforts throughout practice, the Blues could see multiple players returning to the lineup sooner than later. 
Tarasenko has been a regular member of the team's practices and is among those closest to returning to action. He could come back as early as Tuesday against the Buffalo Sabres.
O'Reilly is still a little ways off after breaking his foot on Dec. 31 against the Minnesota Wild. His re-evaluation is set for six weeks after his injury, near the middle of February.
Robert Bortuzzo (lower-body injury) and Marco Scandella (hip injury) were both among a few of the injured players skating in the optional practice ahead of Saturday night's game against the Blackhawks. While there is still no timetable set for Bortuzzo's return to action, Scandella's six-month recovery from surgery on his right hip places him with a hopeful return around March. It is uncertain if it will come before or after the March 3 NHL Trade Deadline.
Defenseman Torey Krug has resumed skating as well and has emphasized his excitement to rejoin his teammates in practice: "I feel good – a lot better and quicker than I expected. I'm just excited about getting back out there…I try to push it every day so I can get back and help the team."
Mike is a writer for The Hockey Writers and covers the St. Louis Blues since November of 2021. He has a keen love for statistical analysis, prospects, signings, and trades. Follow Mike on Twitter for further Blues or Central division hockey discussions, interview requests, or to provide content info.