The 2020-21 NHL season was shaping up to be one where St. Louis Blues defenseman Colton Parayko was going to take his big leap from the valued blueliner to prime No. 1 defender. With Alex Pietrangelo leaving to sign a lucrative contract with the Vegas Golden Knights, the Blues needed one of their remaining high-skill players to fill the void. 
While the Blues have brought in several talented defenders to try to accomplish that, Torey Krug being chief among them, the odds-on favorite was the Blues' 2012 third-round pick and home-grown talent, Parayko, especially considering how premiere of a role he has played in the past, having most of his minutes come as a first-pairing defenseman opposite of perennial All-Star Alex Pietrangelo. 
But Parayko has opened with a less than a stellar start to the 2020-21 campaign. While he certainly hasn't been bad, or unplayable by any means, Parayko has been underwhelming. With just one goal and seven assists through 16 games, the Blues have not seen the production they've hoped for from their hypothetical budding star. Tied in with taking 12 penalty minutes and being only a plus-one rating compared to some of his peers at +12 and +15, Parayko has not been as expectedly effective on either end of the ice.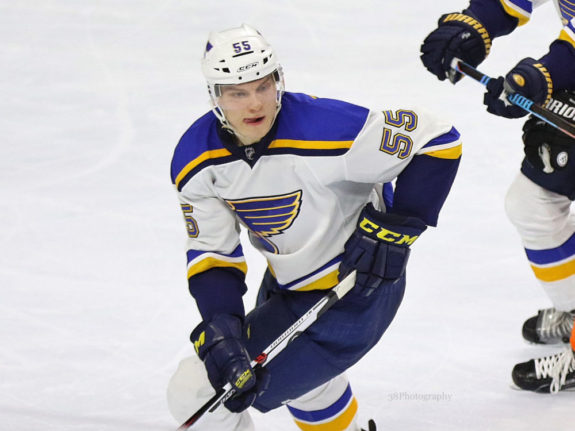 It is hard to know exactly where or why Parayko has been struggling. Overall, his problem seems to be less of his own liabilities and more of his seeming inability to impact the game in positive ways, leading his flaws to seem plentiful compared to his limited successes.
Limited Role Player
Parayko's inability to make an impact for the Blues has largely stemmed from his limited role on special teams. In previous seasons, Parayko has been at the very least a contributing member of the power play. This season he is averaging just 22 seconds a game playing at the man advantage. In the most recent loss to the Arizona Coyotes, Parayko was limited to just over 15 minutes of ice time – close to seven minutes less than his average this season alone – due to his coach's choice not to utilize him in special teams situations. 
Historically, Parayko has not exactly been a high-volume scorer or point producer. His career-high is 35 points and in the last two seasons, one in which he played a key role on a Stanley Cup championship roster, he potted just 28. That being said, between a quarter and a third of his production has come from his points off the power play. Limiting his role there certainly reduces his chances to impact the game. 
On top of all this though, the 6-foot-6 defender has taken himself out of games in unprecedented ways early this year. Parayko's 12 penalty minutes is just four short of his entire season total in 2019-20, three short of 2018-19, and one shy of his entire 82-game tally in 2017-18.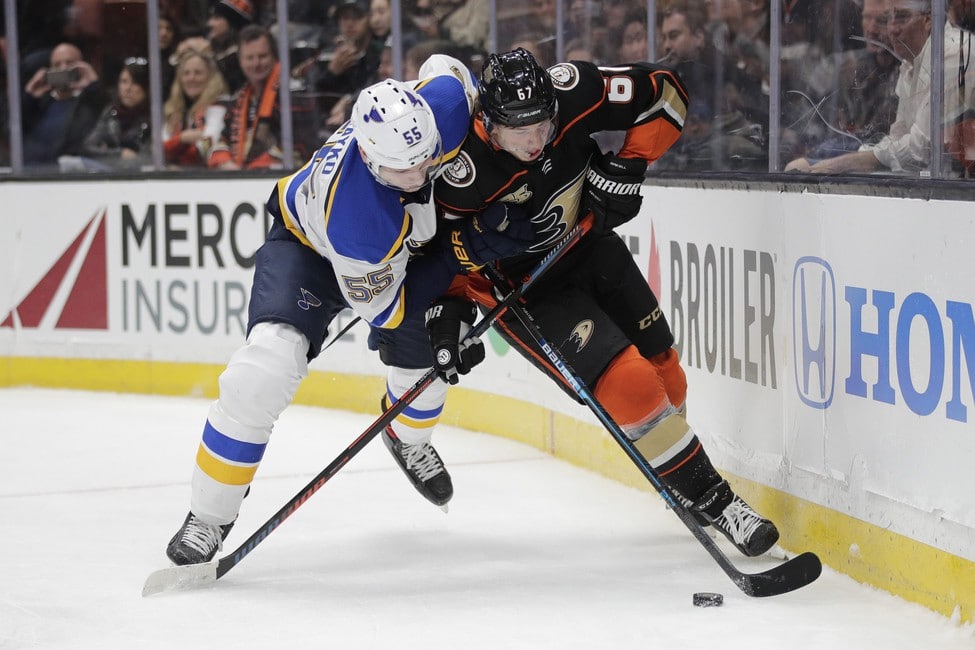 By spending more time in the box, not only is he hurting his team by literally not being able to play, but this increased rate of infraction has led to – at the very least– the appearance of ineptitude on defense, leaving his team to pick up the slack for his mistakes. 
Unfriendly Analytics 
The challenges the sixth-year D-man has faced unfortunately do not just seem apparent, they are apparent. The eight points Parayko has racked up, through (one goal and seven assists), isn't all that bad and is technically above his average output through 16 games. Should he continue that pace, his end-of-year statistics would not look all that different than those of the previous year. 
The advanced numbers do tell a different story and seem to jive a little bit better with what the eyes tell us about Parayko's game at the moment. 
Riding a career-high PDO of 102.3 (whereas 100 would be considered league average), Parayko is showing a high degree of luck going in his favor on both the offensive and defensive end. Relative to the expected outcomes, it seems that he should have a closer to minus-one plus/minus rather than the positive one he currently owns, indicating that the presence of goaltender Jordan Binnington is once again helping out the team with his solid play. 
PDO is a statistic that would indicate a regression to the mean eventually. It ultimately accounts for league averages and thus would average out over time. But a sample size of 16 games is enough to show us some pieces of information to draw from. He's been (slightly) lucky to be as good as he has been, and hopefully, he can turn it around before that luck runs out.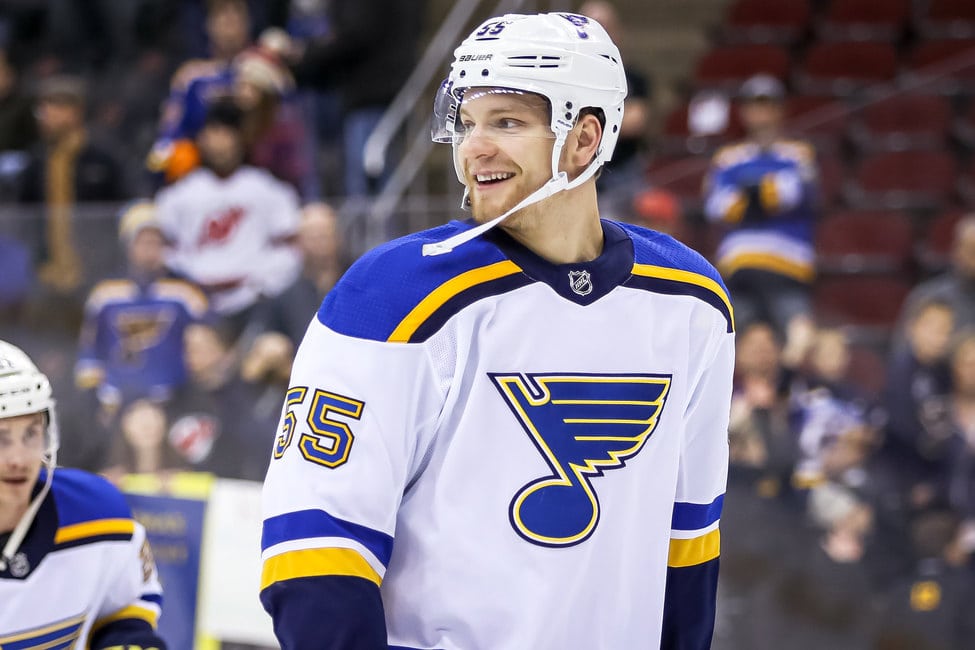 Additionally, though, Parayko has not shown a particularly encouraging body of work when it comes to maintaining possession and ultimately is playing defense far more often than he is playing offense. We know this by virtue of his negative Corsi and Fenwick stats. When Parayko is on the ice at even strength, the Blues are allowing 9.9% more shots than they are creating, meaning opponents are possessing the puck significantly more when he is playing. 
When you factor in Parayko's best defensive skill, which is blocking shots, that number drops to 7.7% which shows that clearly, Parayko is impactful in some way. He also makes well over half of his zone starts in the defensive end, meaning head coach Craig Berube trusts him. But the overall trend is concerning. It is obviously a team game, but Parayko's individual stats do not encourage confidence at this moment.
Loss of a Partner 
It's hard to quantify or fully understand just how impactful losing a defensive partner can be to a player's game. For the most part, Parayko has played most of his games with former Blues top defender and captain Alex Pietrangelo. 
On the one hand, the departure of a pairing partner can be difficult mentally and personally – Parayko has had to create new habits, communication tactics, and trust with a new partner. Added to that, you are losing the ability to, in this case, play with a really good player. Being partnered with top talent like Pietrangelo can potentially hide deficiency or allow you to get away with more. When you aren't the guy opponents are keying in on, you can perhaps be freer with your play. 
Now Parayko must be held to a new standard. He has to be the one to carry a pairing while playing with defenders further down the depth chart like Marco Scandella, Carl Gunnarsson, or Vince Dunn. That may take some time to adjust to.
The Blues (and the Blues faithful) expect a lot out of Colton Parayko. He was/is in many ways the heir apparent to be the next great homegrown defender to wear the Note, and has already been tabbed as a potential future captain. It's hard to know if Parayko is battling an ailment, or is in some way injured. He has taken maintenance days, but like many hockey players of his style, playing hurt is just part of the occupation.
Like many, he is facing a new challenge in 2020-21 and will be called upon to rise to the occasion. 
---
---
A Canadian native who found himself covering St Louis sports after graduate school, Carter has a passion for sports (especially hockey) and the minute details that make the games special. After covering the college basketball scene in Missouri for two years, and covering special stories like the NHL All-Star Game and the XFL, Carter is excited to get back to his sporting roots and cover the 2019 Stanley Cup Champions.