Successful drafting makes or breaks an NHL franchise. Since Doug Armstrong took over as the St. Louis Blues general manager in 2010, they have built very successfully from within. Several key draft selections have developed into cornerstones of the team, playing a major role in securing the club's first-ever Stanley Cup Championship in 2019. But it hasn't all been roses. The Blues have missed, and missed badly, on a few top round selections as well.
As we survey the best and worst draft picks of the Armstrong era, we'll keep several things in mind. 1) These choices will be measured by NHL success with the Blues. Success in the junior leagues, internationally, or for another NHL team will not be considered. 2) For a pick to be a "bust," it has to occur in the first two rounds. Rounds three and beyond are a dice roll at best. 3) By the same token, players selected in the third round or later who make impacts in the NHL are incredible finds by their organization, and therefore will be given special consideration as great picks.
The Blues' Worst Picks Since 2010
5) 2011: Ty Rattie, Pick 32
Due to the trade that sent Erik Johnson to Colorado, the Blues were without a first-round pick in 2011, so Ty Rattie became their first selection. Rattie had a phenomenal career with the Portland Winterhawks of the WHL, one that included two 100 point seasons, a WHL championship, and a WHL playoff MVP trophy. He also looked great in the AHL, scoring 136 points across three extended seasons with the Chicago Wolves.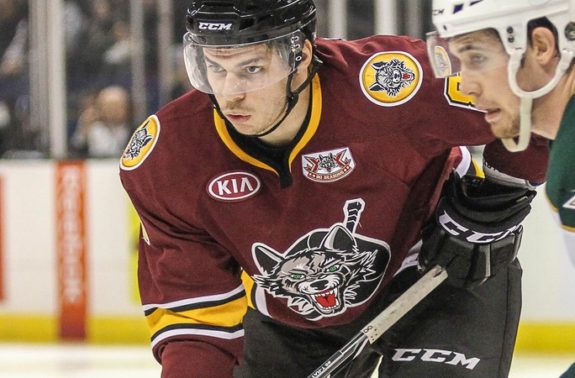 For whatever reason, though, Rattie never caught on in the NHL. Perhaps his diminutive size  — 5-foot-11, 170 pounds — is somewhat to blame. But the Blues never even gave Rattie an extended chance in the pros, and he bounced around the league somewhat. He later resurfaced with the Edmonton Oilers, where he was given the opportunity to play alongside Connor McDavid.
Rattie has the speed to keep up with a player like McDavid, but it's looking less and less like he's a viable NHL performer, and even if he is, it will not be with the Blues. Even the Oilers' constant desperation for talented wingers couldn't convince them to keep Rattie, and he moved on to play in the Kontinental Hockey League (KHL) in Russia in the 2019-20 season, and in Finland after that.
4) 2013: Tommy Vannelli, Pick 47
There was a time when Tommy Vannelli was thought of as a potential steal in the second round and was looked at as one of the team's top defensive prospects. He suffered a debilitating concussion that kept him out for over a year, though, and his development stalled. Since then, defensive prospects like Colton Parayko, Vince Dunn, Jake Walman, and others have passed him by, and in 2018, the Blues decided not to tender Vannelli, allowing him to become an unrestricted free agent.
3) 2012: Samuel Kurker, Pick 56
Samuel Kurker is a second-round pick that never played a game in the NHL. A defensive defenseman, Kurker scored just 30 points in 116 NCAA games with Boston University and Northeastern University, and since leaving college, he has bounced around several stops in the AHL and ECHL. He has never earned an NHL contract, and at 26, it's unlikely that he ever will.
2) 2010: Sebastian Wännström, Pick 44
As we will see, 2010 was one of the better draft years in team history; however, their second-round pick was a swing and a miss. Sebastian Wännström signed a one year contract with the Blues in 2014-15, but he never played. He has not in fact played much anywhere outside of his native Sweden. He's been a decent point producer there but has never tempted any NHL team to give him a shot in the States.
1) 2012: Jordan Schmaltz, Pick 25
The Blues have not missed much in the first round since Armstrong took over. But their record isn't spotless, and Jordan Schmaltz looks likely to go down as the biggest first-round bust of the Doug Armstrong era. While there may be time for him to reignite his career, as a 2012 pick that has yet to make a big impact, that seems unlikely.
In just 42 total NHL games, Schmaltz, who was drafted as an offensive defenseman, has five assists, no goals, and is a minus-7. He has had some highlights in the lower levels, including a stellar collegiate career and an AHL All-Star nomination in the 2017-18 season. But with the Blues' stacked defensive core ahead of him, it was always going to be hard to find a spot. Armstrong decided to move on once and for all in 2019, trading Schmaltz to the Toronto Maple Leafs in exchange for Andreas Borgman, little more than a shuffling of AHL bodies. Schmaltz moved onto the Tucson Roadrunners in 2020-21 where, if he is called up to the NHL Arizona Coyotes, he will join his younger and more successful brother Nick.
The Blues' Best Picks Since 2010
Honorable Mention: 2014: Robby Fabbri, Pick 21
Robby Fabbri was an excellent first-round selection who was lauded right out of the gate, earning the Blues high grades in the immediate aftermath of the 2014 draft. After one more season in juniors, Fabbri made his NHL debut and looked great, scoring 37 points in 72 games in 2015-16.
But injuries severely hindered Fabbri's career. He first suffered an ACL injury in February of 2017, and he re-injured that surgically repaired knee the following preseason. It was a devastating series of injuries from which to recover, and Fabbri struggled in his first season back. Though he won a Stanley Cup with the team, it was obvious that the roster had passed him by, particularly as he struggled to gain the trust of new head coach Craig Berube.
Armstrong brought an unremarkable end to the Fabbri era early in the 2019-20 season, fulfilling the player's request for him to find him a new home with better playing opportunities. Armstrong did that, trading Fabbri to the Detroit Red Wings, the worst team in the league that season. As one of the few shows in town in the Motor City, Fabbri looks a lot more like the player he used to, despite playing for an awful team. There may be a resurgence in his young career, but sadly, it won't be in St. Louis.
Honorable Mention: 2016: Jordan Kyrou, Pick 35
In a year's time, Jordan Kyrou could soar up this list. The youngster had an incredible career with the Sarnia Sting in the OHL, winning the Red Tilson Trophy for the OHL Most Outstanding Player and the Jim Mahon Trophy as the top-scoring right winger. That season, he had 109 points in 56 games. That same season, he also won a gold medal (along with Thomas) for Team Canada at the World Junior Championship.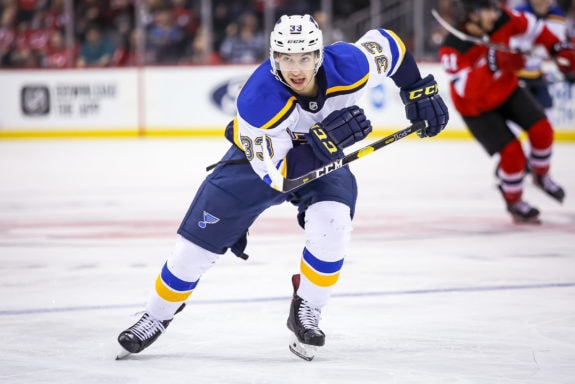 The following season, Kyrou played in the AHL and was an All-Star. His breakout in the NHL was a little slow, but early in the 2020-21 season, he looks like the Blues' breakout player. Kyrou has elite speed and is by far the fastest player on the Blues. He looks poised to have a long career as a top player for the franchise.
5) 2017: Robert Thomas, Pick 20
When the Blues selected Thomas 20th in the 2017 Draft, there were mixed reviews. Some analysts believed it was a strong selection, and that Thomas' high hockey-IQ and strong playmaking instincts would serve him well in the NHL. Others thought the Blues had taken a player without obvious elite skill too high. But Thomas quickly proved the latter group wrong with his play on the ice, winning an OHL Championship, a World Junior Championship gold medal, and being named the OHL Playoff MVP the following season.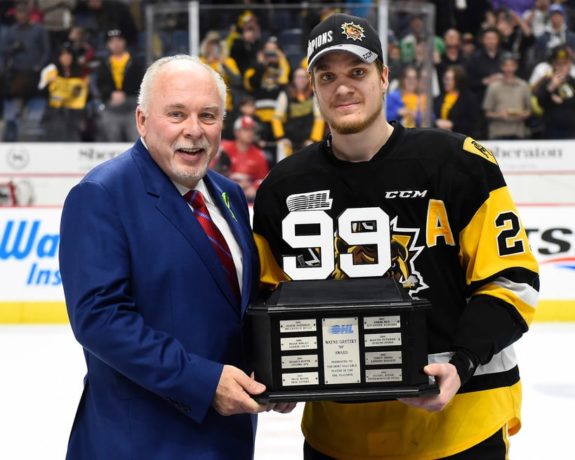 By the time the next season started, Thomas was a top prospect in the league and the Blues expected him to make the roster at age 19. He did, and despite early struggles, he became an integral part of the team's Cup run, including setting up the most momentous goal of the entire playoffs: Patrick Maroon's double-OT Game 7 winner against the Dallas Stars.
Thomas has evolved into one of the Blues' most consistent and impressive forwards in his sophomore season. Though he has limited opportunities to move into his natural center position with Ryan O'Reilly, Brayden Schenn, and Tyler Bozak on the team, he still contributes at a high level. Not convinced? Thomas has a fan in EA Sports' NHL Instagram account, who comments on every NHL post with the four words: "Robert Thomas is elite."
4) 2014: Samuel Blais, Pick 176
Speaking of players who made a name for themselves in the 2019 playoffs, Berube's decision to insert Blais for the first time in over a month in a win-or-go-home Game 6 against Dallas paid off in spades. The young forward contributed a goal and nine hits.
And while Thomas may be the longterm better player, Blais' selection in the back end of the sixth round deserves some extra recognition on this list. He made his NHL debut in the 2017-18 season, and his AHL numbers were outstanding, with 40 points in 42 games and one hat trick.
The secret with Blais was size. When the team drafted him, he was undersized at just 5-foot-9, 165 pounds.  He has since sprouted, now standing 6-foot-2 and weighing 205. Despite the growth, he has not shed any of the speed or playmaking skills that warranted his consideration in the draft. Whether Blais ever graduates past a middle-six forward and depth contributor remains to be seen, but even at that level, he was an absolute steal in the sixth round.
3) 2015: Vince Dunn, Pick 56
Vince Dunn exploded onto the NHL scene in the 2017-18 season, seemingly out of nowhere. He overtook defensive prospects like Jake Walman and Jordan Schmaltz in that season's training camp and became a fixture on the big league club. In the long run, it seems likely he will quarterback a power play unit and play consistently on the top four. That the Blues drafted such a player late in the second round indicates that they know what they're doing in the draft, particularly on defense.
2) 2012: Colton Parayko, Pick 86
Speaking of defensemen the Blues found later in the draft, Colton Parayko has become the Blues' foremost defenseman and now looks to replace Alex Pietrangelo as the top righty on the team. But the Blues took him deep in the third round in 2012. Armstrong was enamored with Parayko long before he was drafted, literally hiding him as well as the team could in rural Alberta so that they could take him in the middle rounds.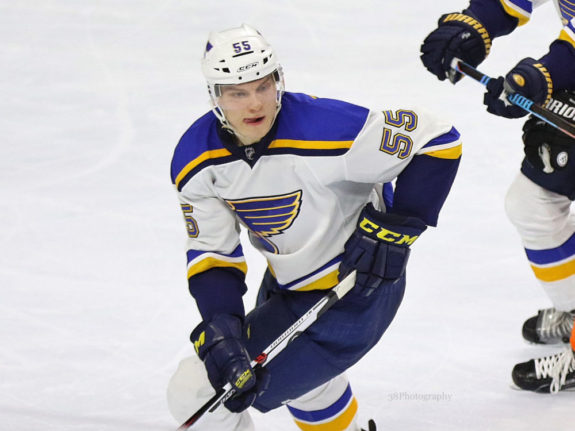 Since the draft, Parayko has added size and he's added skill, and he's entrenched himself in the NHL. Though his name is often circulating in rumor mills, he isn't going anywhere. He's too valuable to the Blues' defense to let him leave, and that speaks of how great a draft pick he was.
1) 2010: Jaden Schwartz, Pick 14; Vladimir Tarasenko, Pick 16
It's not often that a team can set the foundation for its forward group in one round of one draft, but that's exactly what Armstrong did with his first two picks as general manager of the Blues in 2010. With their own pick, the Blues selected Jaden Schwartz, a small but talented forward out of the USHL. Then they traded David Rundblad to acquire the 16th pick, with which they chose Vladimir Tarasenko, a super talented Russian forward who fell in the draft due to fear that he might prefer the KHL.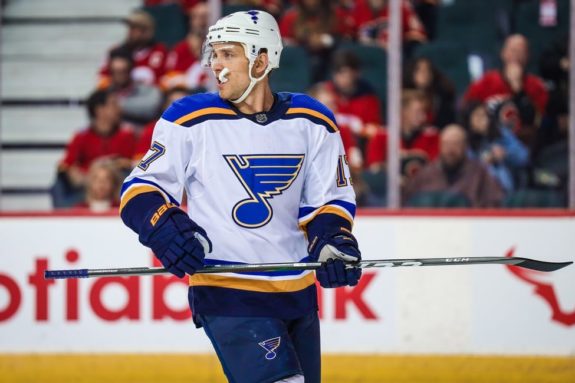 Much to the Blues' benefit, Tarasenko chose to play in the NHL and became a league superstar. He scored the second-most goals in the league from 2015-2018 and now plays for the Blues on an incredibly reasonable contract. Schwartz, for his part, consistently ranks among the league's most underrated players (including being voted as such by his fellow NHL players). Even so, he had something of a breakout year in 2017-18, playing alongside new teammate Brayden Schenn.
In Schwartz and Tarasenko, the Blues have perhaps their two most important forwards, and they selected them two picks apart in the same draft. It was a masterstroke by Armstrong that established his place in the Blues' front office, and it will be talked about by Blues fans for a very long time.
Doug Armstrong's Great Strength
Drafting is what makes Doug Armstrong one of the league's strongest GMs. He and his scouting department, until recently headed by Bill Armstrong (no relation) have found gem after gem through the draft, while suffering relatively few draft busts. It's no wonder that when Martin Brodeur left the team to return to New Jersey recently, the team chose Bill Armstrong to fill his role as Assistant GM. The Blues have consistently filled needs and built their roster through the draft, something every franchise must do to succeed.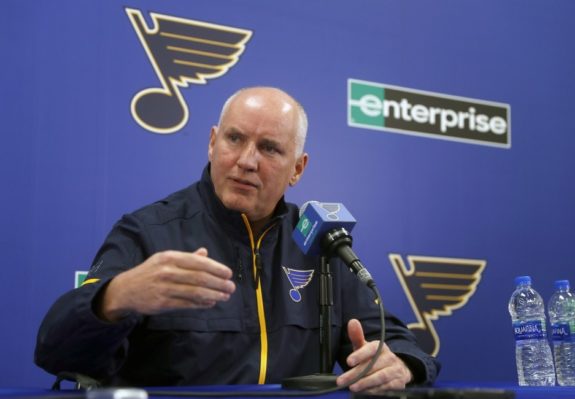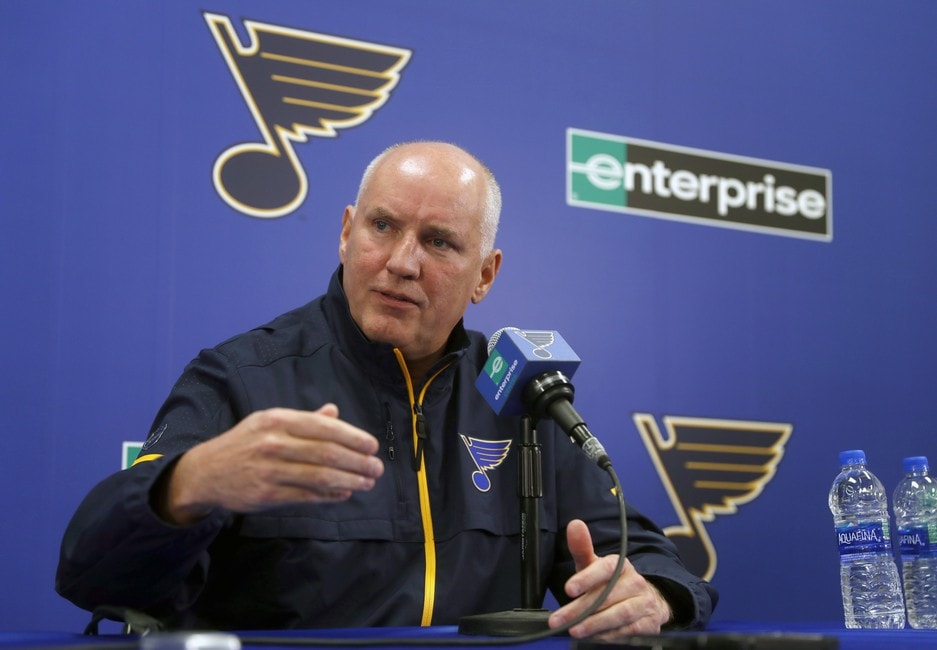 Now, the Blues have a bevy of great prospects, some of them mentioned above, that could continue to build that legacy of draft success. But the true mark of Armstrong's success will be the names emblazoned on the Stanley Cup and the banner hanging in the rafters at the Enterprise Center. It's the first such banner the team has ever hung, and Armstrong's decade of drafting and development had a lot to do with getting it there.
Enjoy more great hockey history and 'Best of' posts in the THW Archives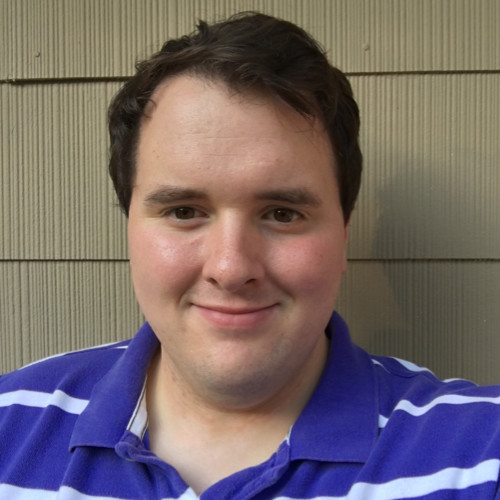 Stephen Ground is a veteran of over three years at THW, focusing on the St. Louis Blues, NHL goaltending, and the annual World Junior Championship. He is the co-host of the Two Guys One Cup Podcast, a hockey podcast focused on the Blues.