It's the Bryan Rust show and everyone else is just skating in it. The underrated Pittsburgh Penguins winger has been red hot lately, scoring two goals and one assist against the Washington Capitals on Sunday to give the Penguins their second regulation win this season. The NHL recognized Rust's dominance, awarding him the NHL's Third Star of the Week, but he's been the Penguins' first star on offense this season.
Rust Dominance
It's been a rollercoaster ride for the Penguins' offense, who have struggled to convert on the power play and whose veterans have slowed down. Rust has been a steady presence this season, with a point in 10 of his 13 games. He started the season on the second line with Evgeni Malkin and recorded three assists in the first four games. Head coach Mike Sullivan moved him up to the first line after Evan Rodrigues was injured against the New York Rangers on January 24, and since then, he has been flying up the ice and leads the team with 51 shots – 17 more than his linemate Jake Guentzel, who is second on the team with 34 shots on goal.
Rust was on fire last week against the Capitals and New York Islanders with two multi-point games. He averaged 2.50 goals-per-game to lead the NHL, and he snapped the Penguins' power-play drought, scoring the team's first power-play goal in 21 attempts. It was fitting that Sunday's game was also the first multi-goal game by a Penguin this season. Rust's speed has created many scoring chances and caused havoc around the net, and his outstanding production has trickled down to his linemates.
---
Latest Penguins Content:
---
The first line is having fun and it shows. Sidney Crosby, Jake Guentzel and Rust lead the Penguins with five goals each. Rust is the sole leader in points (13) and assists (8). Sullivan commented on the line after the Capitals game saying, "I think they've been dominant. They've been a threat every time they've been on the ice." They have been the Penguins' bright spot these last few games, and their talent has allowed the Penguins to come back after falling behind in almost every game this season.
Underrated Last Season
Rust's development has been fun to watch. Last season was his break out campaign when he quietly became the Penguins' best goal-scorer. He reached career bests to lead the team with 27 goals and finished second behind Malkin with 56 points. This was an encouraging improvement on his previous career-high of 38 points during the 2017-18 season. He has one year left on his four-year contract extension signed in 2018.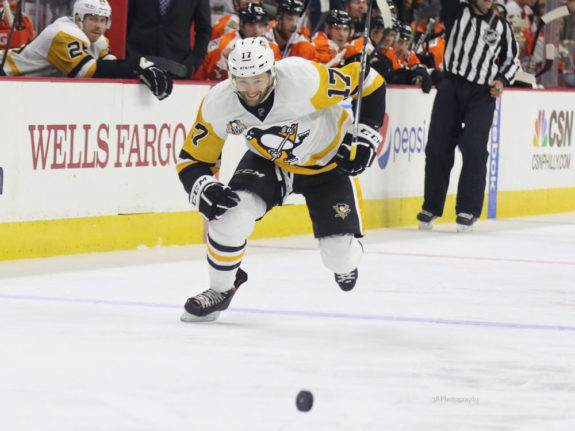 New general manager Ron Hextall should make it his priority to re-sign Rust. The odds are slim that Crosby and Guentzel will go anywhere before their contracts are up, and Rust could be a key piece to the Penguins' future as a versatile winger who can boost his linemates' production. The chemistry he has built is finally paying off, and at 28 years old, he is in his prime.
Related: Penguins Will See Success With Hextall and Burke
The Penguins need Rusts' momentum if they want to make a playoff run this season and remain in contention for the next couple of years. Hextall has the cornerstone pieces of his offense, now he just needs to fill in the holes around it.
---
---