The Montreal Canadiens' leadership core officially comprises captain Shea Weber and alternates Brendan Gallagher and Paul Byron. However, it's fairly clear those aren't the only leaders on the team.
Carey Price's Team
As an example, this continues to be goalie Carey Price's team. In addition to the team having effectively been built around him, he's also the longest-tenured Habs, having debuted in 2007.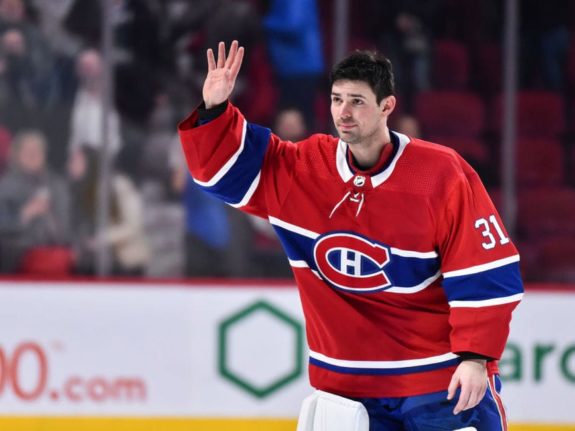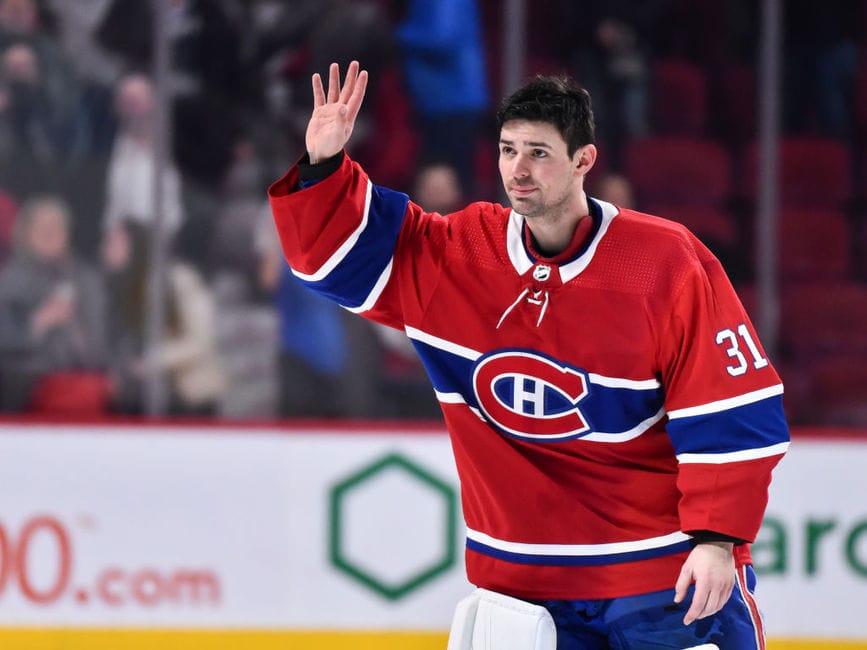 Put simply, it's easy to imagine Price wearing an additional "C" above the "CH"… were it not for an official rule (6.1 under Section 2 – Teams) stating "No… goalkeeper shall be permitted to act as Captain or Alternate Captain" (or Roberto Luongo feeling like he had to step down after unofficially acting in that capacity for the Vancouver Canucks).
Needless to say, Price is proof positive that you don't need a letter on your chest to be a leader in a dressing room. However, with Byron having been demoted to the team's taxi squad, the Canadiens may be looking for another quasi-permanent alternate, even if only to dress the maximum three "C"/ "As" that the rules permit.
If so, defenseman Jeff Petry is the logical next choice.
Byron Sent to Taxi Squad
To be fair, Byron is still a Canadien. His demotion to the taxi squad isn't necessarily permanent. For cap purposes though, it makes sense to keep him there considering his relatively high $3.4 million hit and his lack of production playing a fourth-line role (three assists). Until his return, it also makes sense to dress as many alternates as possible (two or three without a captain). It also makes sense to acknowledge Petry's contributions to the team.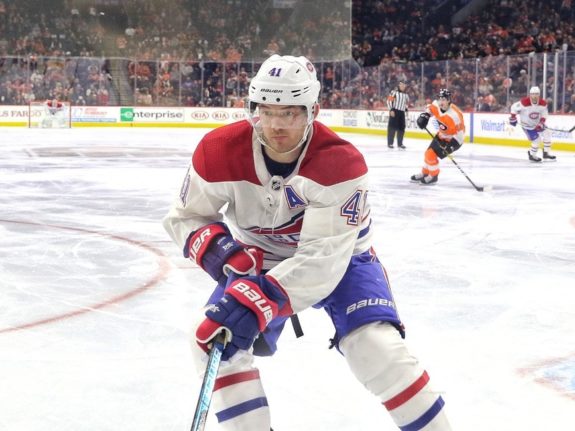 It wouldn't be the first time, not even this season. Petry wore an "A" in Byron's absence when the latter had been healthy scratched a few Toronto Maple Leafs games ago. So, it should hardly be seen as sacrilegious or a slight to Byron for the Habs to simply do what they've readily done before.
Furthermore, consider how much Petry means to the Canadiens. He's routinely hit new career highs in goals and points over the last few years. He is currently tied for second in points with Victor Hedman among NHL defensemen, with 15. In fact, if he maintains this pace, as unlikely as that is, he'll reach a new career high, even this pandemic-shortened 56-game season.
In effect, Petry's playing at an elite level. Granted, points do not mean everything. However, when one can make a case Petry's ctually the team's best defenseman, leading by example in getting the results he does, at both ends of the ice, it's hard to argue against giving him his "due" here, especially when his due would simply be a symbolic gesture that doesn't make all that many waves in the grand scheme of things. Like taking a brisk walk, it's easy to do. It also doesn't cost you anything. You may even feel better once you do.
Petry with Habs for Long Haul
A letter on the jersey does not make the player, but Petry's time with the Canadiens, going back to his 2015 trade from the Edmonton Oilers, would have helped shape him and his degree of influence in the locker room. Indeed, aside from Price and Gallagher, no player has been here longer. With Petry having been extended through 2025, he's in little danger of going anywhere for the next few seasons at least.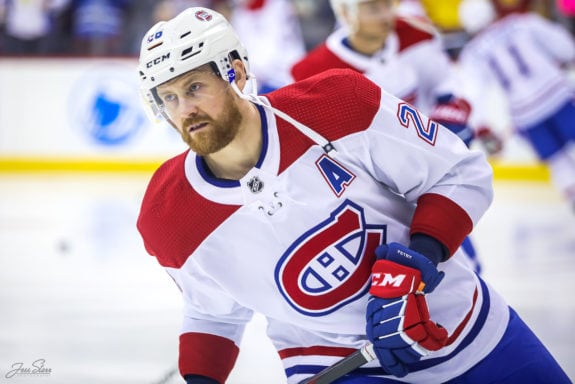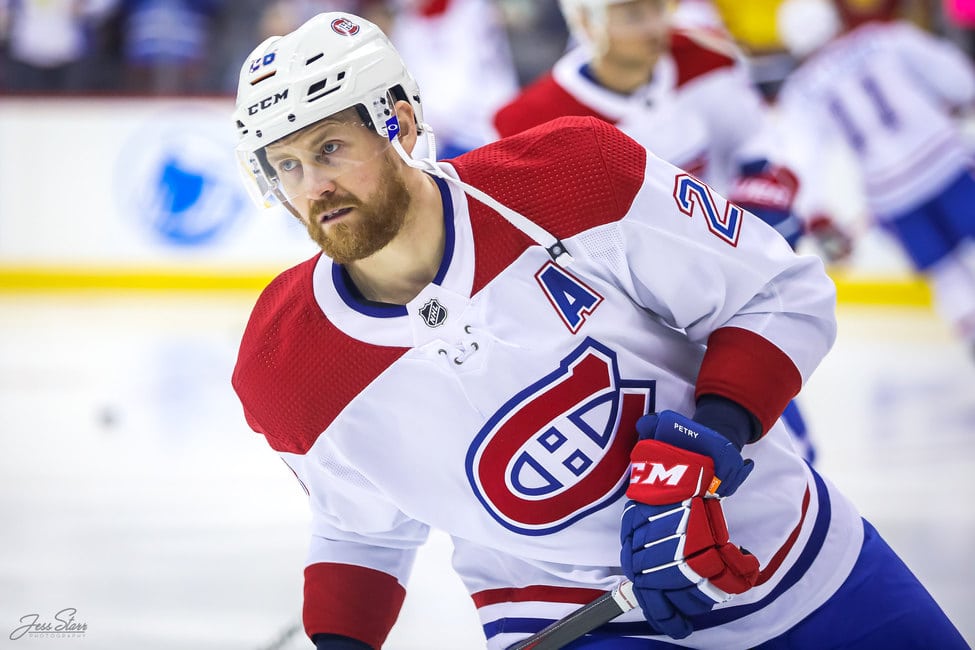 Phillip Danault is yet another example of the huge amount of leadership the Habs have at their disposal. Despite being on the verge of turning just 28, Danault is the elder statesman down the middle and is seen at least by the younger centers on this team as somewhat of a mentor. However, he has a single year left on his deal before he becomes an unrestricted free agent.
It's just an "A" admittedly. However, much like you wouldn't name someone captain when he may have one foot out the door, Petry's long-term commitment to the team comfortably pushes him above Danault on the team's hierarchy.
Byron is meanwhile under contract until 2023, for the record. And, seeing as no one claimed him off waivers for free, it's hard to imagine anyone trading for him in the near future, all due respect to the near-three-consecutive 20-goal seasons he's put together with the Habs. In part a victim of circumstance, Byron simply won't be producing like he once did as a result of the greater depth the team now has. So, the letter is still his for the foreseeable future. Petry would just be keeping it warm.
It bears repeating one more time no one is going anywhere, though. The Habs still have the benefit of Byron in the locker room, even if he doesn't get to play as often. Recognizing Petry in more of quasi-permanent capacity as an alternate doesn't take away anything from Byron. Truth be told, it may not even add all that much to the team from a leadership perspective. Thankfully, it's not like the Habs are lacking in that department.
---
---