The St. Louis Blues placed forward Paul Stastny on injured reserve with a lower-body injury, the team announced on Tuesday.
While the specific cause of his injury is not known at this time, it's believed Stastny's injury stems from a collision with Toronto Maple Leafs center Nazem Kadri shortly after a face-off at center ice to start the second period on Feb. 9. Stastny got up and skated to the bench where he stayed for a few minutes before heading to the locker room and did not return.
Stastny, 31, is the Blues' fourth-leading scorer with 35 points in 54 games and his 15 goals are second on the team. He's been a major piece of the Blues' offense since signing in St. Louis as a free agent before the start of the 2014-15 season.
Being placed on injured reserve means that he will miss the team's back-to-back games on Wednesday and Thursday against the Detroit Red Wings and Vancouver Canucks but has not been ruled out to play against the Buffalo Sabres on Saturday, according to Blues head coach Mike Yeo.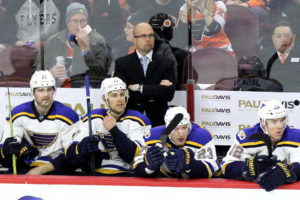 Yeo discussed the important role that Stastny plays for the Blues' offense outside of just scoring points, while highlighting how other members of the club must step up in his absence.
"He's usually the first guy over the boards for a power-play face-off or the first guy over the boards for a penalty kill faceoff and those are key. He's a very important player for us," Yeo said, according to Chris Pinkert of StLouisBlues.com. "You don't take out a top-line center from too many lineups where they don't feel that. It's got to be a next-man-up mentality here. We have more than capable players and our focus is on the guys that are in the lineup and if we take care of our job, we give him a chance to get better and obviously we'll be stronger when he gets back."
With Stastny out at least the next two games, the Blues recalled center Wade Megan from the Chicago Wolves in the American Hockey League on Tuesday.
Megan, 26, has tallied an AHL-leading 23 goals and is fourth in scoring with 45 points in 50 games this season. He was originally drafted by the Florida Panthers in the fifth round of the 2009 NHL Entry Draft and signed with the Blues as a free agent on July 2, 2016. He made his NHL debut on Dec. 22 in his only game of action with the Blues, tallying his first NHL goal and a plus-2 rating.
Puljujarvi's Progress in Bakersfield
Edmonton Oilers prospect Jesse Puljujarvi has played 15 games with the Bakersfield Condors (AHL) and is drawing the attention of Oilers general manager Peter Chiarelli, who hinted that he could return to the NHL club this season, according to a story by Chris Wescott of EdmontonOilers.com.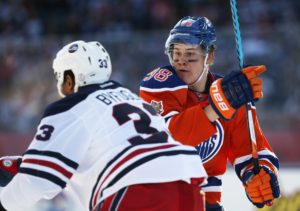 Puljujarvi, 18, began the season with the Oilers and skated in 28 games, tallying a goal and seven assists, and playing limited minutes as the Oilers got off to an unexpectedly strong  start to the 2016-17 season and other players emerged as scoring threats.
Puljujarvi, the fourth overall pick in the 2016 NHL Entry Draft, was assigned to the Condors and has scored 11 points in 15 games — including goals in three of his past four contests — and is now playing alongside fellow Finn Iiro Pakarinen.
While Puljujarvi certainly figures into the Oilers' plans for the future, it's possible he could return to the team before the end of the regular season, although that remains to be seen.
Chiarelli recently made the trip down to California to watch Puljujarvi in person.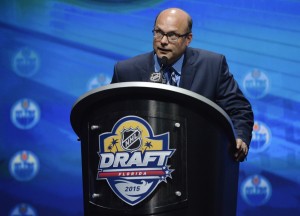 "I was down there a couple weeks ago and watched two games against Stockton," said Chiarelli, according to Wescott. "He is getting a lot of touches and you could see his confidence is coming back. The defensive side of his game is getting better, and he's made a lot of progress down there and he's playing a lot of minutes.
"He's going to be in the conversation come the deadline," Chiarelli said. "He's a dangerous player down there. He was far and above the most dangerous player I saw in both the games down there."
The Oilers are third in the Pacific Division with a 29-19-8 record and eyeing their first trip to the postseason since a trip to the Stanley Cup Final in 2006.
Odds and Ends
— The San Jose Sharks reassigned forwards Timo Meier, Marcus Sorensen and defenseman Tim Heed to the San Jose Barracuda (AHL).
— Minnesota Wild forward Tyler Graovac has cleared waivers and been assigned to the Iowa Wild (AHL). The 23-year-old center has skated in 45 games with the NHL club this season, tallying six goals and a plus-4 rating.