The NHL Combine is back in full force after Covid-19 postponed the event for a couple of seasons. Last year's event had 71 prospects go through the fitness testing. This year that number was scheduled to be 106.

Before a prospect begins their fitness testing, they step on the scale and then get measured. What you see here is what's posted on the TV screen at the beginning of the course. Heights are recorded to the quarter inch and weights are recorded to the nearest pound. Prospects are weighed and measured without shoes on.
---
Latest News & Highlight
---
As always, feel free to use the data you see here as needed. All we ask is that you provide a link to the piece and credit the Hockey Writers if this is used. We take the time to manually record this for the benefit of everyone.
Related: 2023 NHL Draft Guide
We are going to present the figures differently this year than we have in past years. It will be presented in two big tables below for your convenience. The first list has prospects in alphabetical order. The second list has prospects sorted by rankings with North American prospects first and then International prospects after. The listed heights and weights you see are what was realized at the Combine.
2023 NHL Combine Heights & Weights (Alphabetical)
| | | | | | | | |
| --- | --- | --- | --- | --- | --- | --- | --- |
| List | Ranking | First Name | Last Name | Position | Feet | Inches | Weight |
| NA | 33 | Beau | Akey | D | 6 | 0 | 175 |
| NA | 46 | Cameron | Allen | D | 6 | 0 | 192 |
| NA | 3G | Trey | Augustine | G | 6 | 1.25 | 190 |
| NA | 79 | Denver | Barkey | C | 5 | 8.75 | 155 |
| NA | 12 | Colby | Barlow | LW | 6 | 0.5 | 195 |
| NA | 1 | Connor | Bedard | C | 5 | 9.75 | 185 |
| NA | 6 | Zach | Benson | LW | 5 | 9.75 | 170 |
| NA | 32 | Tristan | Bertucci | D | 6 | 1.75 | 175 |
| NA | 1G | Carson | Bjarnason | G | 6 | 3.25 | 190 |
| NA | 20 | Oliver | Bonk | D | 6 | 1.5 | 180 |
| NA | 23 | Gavin | Brindley | C | 5 | 8 | 168 |
| NA | 41 | Hunter | Brzustewicz | D | 5 | 11.75 | 190 |
| NA | 35 | Luca | Cagnoni | D | 5 | 9 | 182 |
| NA | 91 | Jonathan | Castagna | C | 6 | 2.25 | 195 |
| NA | 36 | Mathieu | Cataford | C | 5 | 11 | 190 |
| INT | 21 | Alex | Ciernik | LW | 5 | 10.25 | 174 |
| NA | 64 | Brady | Cleveland | D | 6 | 4.75 | 210 |
| NA | 51 | Easton | Cowan | RW | 5 | 10.5 | 170 |
| NA | 15 | Andrew | Cristall | LW | 5 | 9.5 | 175 |
| NA | 7 | Nate | Danielson | C | 6 | 1.5 | 186 |
| INT | 17 | Noah | Dower Nilsson | LW | 5 | 11.75 | 185 |
| NA | 18 | Lukas | Dragicevic | D | 6 | 1 | 194 |
| INT | 15 | Jakub | Dvorak | D | 6 | 5 | 210 |
| INT | 3 | Dalibor | Dvorsky | C | 6 | 1 | 200 |
| INT | 25 | David | Edstrom | C | 6 | 3 | 185 |
| NA | 58 | Paul | Fischer | D | 6 | 1 | 200 |
| NA | 60 | Drew | Fortescue | D | 6 | 1 | 176 |
| NA | 6G | Adam | Gajan | G | 6 | 2.75 | 180 |
| NA | 57 | Brad | Gardiner | C | 6 | 1 | 184 |
| NA | 16 | Ethan | Gauthier | RW | 5 | 11.5 | 183 |
| NA | 31 | Andrew | Gibson | D | 6 | 2.75 | 202 |
| NA | 180 | Terrell | Goldsmith | D | 6 | 4 | 220 |
| INT | 11 | Kasper | Halttunen | RW | 6 | 3.25 | 215 |
| INT | 8 | Lenni | Hameenaho | RW | 6 | 1 | 185 |
| NA | 21 | Riley | Heidt | C | 5 | 10.5 | 180 |
| NA | 67 | Beckett | Hendrickson | C | 6 | 1.5 | 174 |
| NA | 9 | Samuel | Honzek | LW | 6 | 3.25 | 195 |
| NA | 2G | Michael | Hrabel | G | 6 | 6.75 | 215 |
| NA | 73 | Larry | Keenan | D | 6 | 3.25 | 186 |
| INT | 13 | Jesse | Kiiskinen | RW | 6 | 0.25 | 190 |
| INT | 22 | Rasmus | Kumpulainen | C | 6 | 2.75 | 190 |
| NA | 27 | Nick | Lardis | LW | 5 | 11 | 168 |
| NA | 5 | Ryan | Leonard | RW | 5 | 11.75 | 190 |
| NA | 39 | Kalan | Lind | LW | 6 | 0.5 | 158 |
| INT | 14 | Theo | Lindstein | D | 6 | 0 | 185 |
| NA | 49 | Jaden | Lipinski | C | 6 | 3.75 | 210 |
| NA | 61 | Dylan | MacKinnon | D | 6 | 2 | 190 |
| NA | 84 | Matteo | Mann | D | 6 | 5.5 | 230 |
| NA | 52 | Gavin | McCarthy | D | 6 | 1.5 | 186 |
| NA | 50 | Ethan | Miedema | LW | 6 | 4 | 208 |
| NA | 78 | Aram | Minnetian | D | 5 | 11 | 195 |
| NA | 45 | Martin | Misiak | RW | 6 | 1.5 | 200 |
| NA | 28 | Tanner | Molendyk | D | 5 | 11 | 181 |
| INT | 18 | Oscar Fisker | Molgaard | C | 5 | 11.75 | 166 |
| NA | 8 | Oliver | Moore | C | 5 | 11 | 195 |
| NA | 19 | Etienne | Morin | D | 6 | 0 | 180 |
| NA | 8G | Carsen | Musser | G | 6 | 4 | 212 |
| NA | 14 | Quentin | Musty | LW | 6 | 1.5 | 200 |
| NA | 26 | Nico | Myatovic | LW | 6 | 2.5 | 180 |
| NA | 62 | Sawyer | Mynio | D | 6 | 0.5 | 163 |
| NA | 17 | Bradly | Nadeau | LW | 5 | 10.25 | 160 |
| NA | 59 | Zach | Nehring | RW | 6 | 2.75 | 182 |
| NA | 22 | Danny | Nelson | C | 6 | 3 | 212 |
| INT | 24 | Felix | Nilsson | C | 6 | 0.5 | 187 |
| INT | 20 | Noel | Nordh | LW | 6 | 1.5 | 200 |
| INT | 28 | Jesse | Nurmi | LW | 5 | 11 | 168 |
| NA | 76 | Tyler | Peddle | LW | 6 | 1 | 204 |
| NA | 10 | Gabriel | Perreault | RW | 5 | 10.75 | 163 |
| NA | 43 | Jayden | Perron | RW | 5 | 9 | 166 |
| NA | 77 | Alex | Pharand | C | 6 | 2.5 | 205 |
| INT | 31 | Emil | Pieniniemi | D | 6 | 2.25 | 175 |
| NA | 54 | Luca | Pinelli | C | 5 | 8.75 | 167 |
| NA | 117 | Aaron | Pionk | D | 6 | 0.75 | 173 |
| NA | 37 | Coulson | Pitre | RW | 6 | 0.75 | 170 |
| NA | 47 | Caden | Price | D | 6 | 0.5 | 190 |
| NA | 4G | Scott | Ratzlaff | G | 6 | 0.5 | 175 |
| NA | 29 | Carson | Rehkopf | LW | 6 | 2.5 | 195 |
| INT | 5 | David | Reinbacher | D | 6 | 2.25 | 194 |
| INT | 4 | Eduard | Sale | LW | 6 | 1.75 | 175 |
| INT | 7 | Axel | Sandin-Pellikka | D | 5 | 11 | 180 |
| NA | 24 | Gracyn | Sawchyn | C | 5 | 10.75 | 155 |
| NA | 96 | Zachary | Schulz | D | 6 | 1 | 197 |
| NA | 55 | Jayson | Shaugabay | RW | 5 | 9.25 | 165 |
| NA | 3 | William | Smith | C | 5 | 11.75 | 180 |
| INT | 26 | Jakub | Stancl | C | 6 | 3 | 202 |
| INT | 6 | Otto | Stenberg | C | 5 | 11 | 185 |
| NA | 30 | Charlie | Stramel | C | 6 | 3 | 222 |
| NA | 44 | Andrew | Strathmann | D | 5 | 10.75 | 185 |
| NA | 48 | Maxim | Strbak | D | 6 | 1.25 | 198 |
| NA | 40 | Aydar | Suniev | LW | 6 | 1.5 | 192 |
| NA | 66 | Brandon | Svoboda | C | 6 | 3.25 | 209 |
| NA | 38 | Carey | Terrance | C | 6 | 0.25 | 178 |
| NA | 123 | Jordan | Tourigny | D | 5 | 11.25 | 165 |
| INT | 30 | Anton | Wahlberg | C | 6 | 3.25 | 192 |
| NA | 42 | William | Whitelaw | RW | 5 | 8.75 | 175 |
| INT | 12 | Tom | Willander | D | 6 | 1 | 180 |
| NA | 4 | Matthew | Wood | RW | 6 | 4 | 197 |
| NA | 11 | Brayden | Yager | C | 5 | 11 | 170 |
| NA | 25 | Koehn | Ziemmer | RW | 6 | 0.25 | 210 |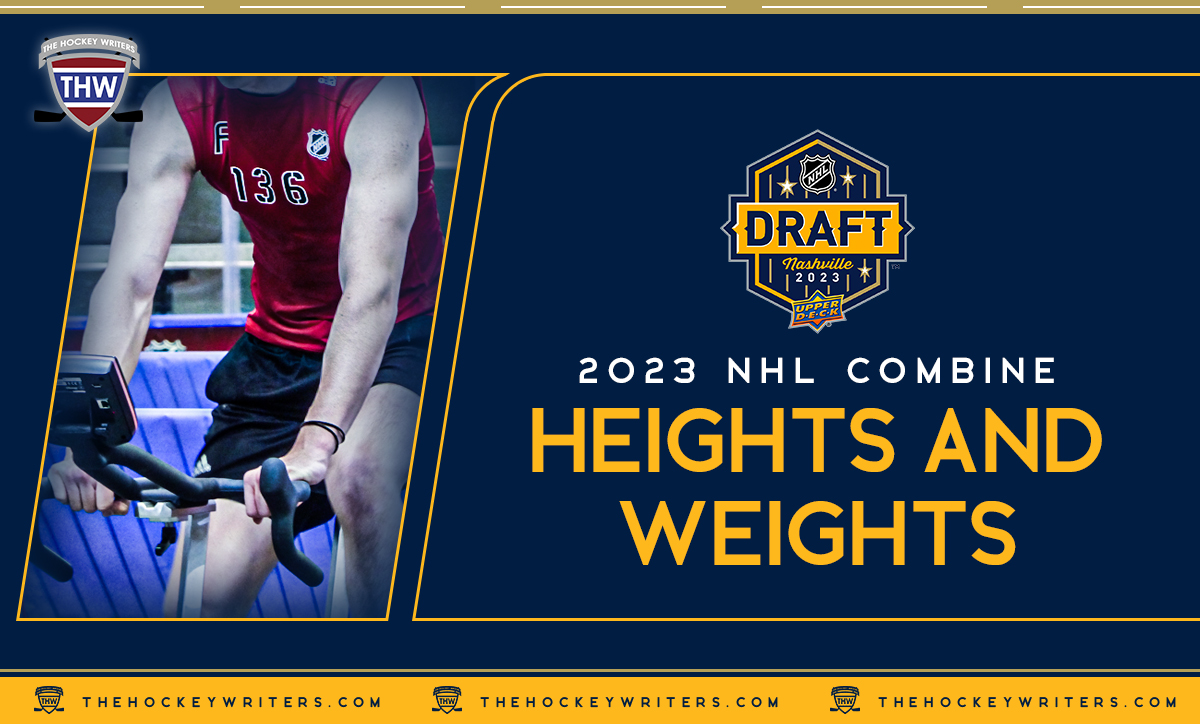 2023 NHL Combine Heights & Weights (Ranking Order)
| | | | | | | | |
| --- | --- | --- | --- | --- | --- | --- | --- |
| List | Ranking | First Name | Last Name | Position | Feet | Inches | Weight |
| INT | 3 | Dalibor | Dvorsky | C | 6 | 1 | 200 |
| INT | 4 | Eduard | Sale | LW | 6 | 1.75 | 175 |
| INT | 5 | David | Reinbacher | D | 6 | 2.25 | 194 |
| INT | 6 | Otto | Stenberg | C | 5 | 11 | 185 |
| INT | 7 | Axel | Sandin-Pellikka | D | 5 | 11 | 180 |
| INT | 8 | Lenni | Hameenaho | RW | 6 | 1 | 185 |
| INT | 11 | Kasper | Halttunen | RW | 6 | 3.25 | 215 |
| INT | 12 | Tom | Willander | D | 6 | 1 | 180 |
| INT | 13 | Jesse | Kiiskinen | RW | 6 | 0.25 | 190 |
| INT | 14 | Theo | Lindstein | D | 6 | 0 | 185 |
| INT | 15 | Jakub | Dvorak | D | 6 | 5 | 210 |
| INT | 17 | Noah | Dower Nilsson | LW | 5 | 11.75 | 185 |
| INT | 18 | Oscar Fisker | Molgaard | C | 5 | 11.75 | 166 |
| INT | 20 | Noel | Nordh | LW | 6 | 1.5 | 200 |
| INT | 21 | Alex | Ciernik | LW | 5 | 10.25 | 174 |
| INT | 22 | Rasmus | Kumpulainen | C | 6 | 2.75 | 190 |
| INT | 24 | Felix | Nilsson | C | 6 | 0.5 | 187 |
| INT | 25 | David | Edstrom | C | 6 | 3 | 185 |
| INT | 26 | Jakub | Stancl | C | 6 | 3 | 202 |
| INT | 28 | Jesse | Nurmi | LW | 5 | 11 | 168 |
| INT | 30 | Anton | Wahlberg | C | 6 | 3.25 | 192 |
| INT | 31 | Emil | Pieniniemi | D | 6 | 2.25 | 175 |
| NA | 1 | Connor | Bedard | C | 5 | 9.75 | 185 |
| NA | 3 | William | Smith | C | 5 | 11.75 | 180 |
| NA | 4 | Matthew | Wood | RW | 6 | 4 | 197 |
| NA | 5 | Ryan | Leonard | RW | 5 | 11.75 | 190 |
| NA | 6 | Zach | Benson | LW | 5 | 9.75 | 170 |
| NA | 7 | Nate | Danielson | C | 6 | 1.5 | 186 |
| NA | 8 | Oliver | Moore | C | 5 | 11 | 195 |
| NA | 9 | Samuel | Honzek | LW | 6 | 3.25 | 195 |
| NA | 10 | Gabriel | Perreault | RW | 5 | 10.75 | 163 |
| NA | 11 | Brayden | Yager | C | 5 | 11 | 170 |
| NA | 12 | Colby | Barlow | LW | 6 | 0.5 | 195 |
| NA | 14 | Quentin | Musty | LW | 6 | 1.5 | 200 |
| NA | 15 | Andrew | Cristall | LW | 5 | 9.5 | 175 |
| NA | 16 | Ethan | Gauthier | RW | 5 | 11.5 | 183 |
| NA | 17 | Bradly | Nadeau | LW | 5 | 10.25 | 160 |
| NA | 18 | Lukas | Dragicevic | D | 6 | 1 | 194 |
| NA | 19 | Etienne | Morin | D | 6 | 0 | 180 |
| NA | 20 | Oliver | Bonk | D | 6 | 1.5 | 180 |
| NA | 21 | Riley | Heidt | C | 5 | 10.5 | 180 |
| NA | 22 | Danny | Nelson | C | 6 | 3 | 212 |
| NA | 23 | Gavin | Brindley | C | 5 | 8 | 168 |
| NA | 24 | Gracyn | Sawchyn | C | 5 | 10.75 | 155 |
| NA | 25 | Koehn | Ziemmer | RW | 6 | 0.25 | 210 |
| NA | 26 | Nico | Myatovic | LW | 6 | 2.5 | 180 |
| NA | 27 | Nick | Lardis | LW | 5 | 11 | 168 |
| NA | 28 | Tanner | Molendyk | D | 5 | 11 | 181 |
| NA | 29 | Carson | Rehkopf | LW | 6 | 2.5 | 195 |
| NA | 30 | Charlie | Stramel | C | 6 | 3 | 222 |
| NA | 31 | Andrew | Gibson | D | 6 | 2.75 | 202 |
| NA | 32 | Tristan | Bertucci | D | 6 | 1.75 | 175 |
| NA | 33 | Beau | Akey | D | 6 | 0 | 175 |
| NA | 35 | Luca | Cagnoni | D | 5 | 9 | 182 |
| NA | 36 | Mathieu | Cataford | C | 5 | 11 | 190 |
| NA | 37 | Coulson | Pitre | RW | 6 | 0.75 | 170 |
| NA | 38 | Carey | Terrance | C | 6 | 0.25 | 178 |
| NA | 39 | Kalan | Lind | LW | 6 | 0.5 | 158 |
| NA | 40 | Aydar | Suniev | LW | 6 | 1.5 | 192 |
| NA | 41 | Hunter | Brzustewicz | D | 5 | 11.75 | 190 |
| NA | 42 | William | Whitelaw | RW | 5 | 8.75 | 175 |
| NA | 43 | Jayden | Perron | RW | 5 | 9 | 166 |
| NA | 44 | Andrew | Strathmann | D | 5 | 10.75 | 185 |
| NA | 45 | Martin | Misiak | RW | 6 | 1.5 | 200 |
| NA | 46 | Cameron | Allen | D | 6 | 0 | 192 |
| NA | 47 | Caden | Price | D | 6 | 0.5 | 190 |
| NA | 48 | Maxim | Strbak | D | 6 | 1.25 | 198 |
| NA | 49 | Jaden | Lipinski | C | 6 | 3.75 | 210 |
| NA | 50 | Ethan | Miedema | LW | 6 | 4 | 208 |
| NA | 51 | Easton | Cowan | RW | 5 | 10.5 | 170 |
| NA | 52 | Gavin | McCarthy | D | 6 | 1.5 | 186 |
| NA | 54 | Luca | Pinelli | C | 5 | 8.75 | 167 |
| NA | 55 | Jayson | Shaugabay | RW | 5 | 9.25 | 165 |
| NA | 57 | Brad | Gardiner | C | 6 | 1 | 184 |
| NA | 58 | Paul | Fischer | D | 6 | 1 | 200 |
| NA | 59 | Zach | Nehring | RW | 6 | 2.75 | 182 |
| NA | 60 | Drew | Fortescue | D | 6 | 1 | 176 |
| NA | 61 | Dylan | MacKinnon | D | 6 | 2 | 190 |
| NA | 62 | Sawyer | Mynio | D | 6 | 0.5 | 163 |
| NA | 64 | Brady | Cleveland | D | 6 | 4.75 | 210 |
| NA | 66 | Brandon | Svoboda | C | 6 | 3.25 | 209 |
| NA | 67 | Beckett | Hendrickson | C | 6 | 1.5 | 174 |
| NA | 73 | Larry | Keenan | D | 6 | 3.25 | 186 |
| NA | 76 | Tyler | Peddle | LW | 6 | 1 | 204 |
| NA | 77 | Alex | Pharand | C | 6 | 2.5 | 205 |
| NA | 78 | Aram | Minnetian | D | 5 | 11 | 195 |
| NA | 79 | Denver | Barkey | C | 5 | 8.75 | 155 |
| NA | 84 | Matteo | Mann | D | 6 | 5.5 | 230 |
| NA | 91 | Jonathan | Castagna | C | 6 | 2.25 | 195 |
| NA | 96 | Zachary | Schulz | D | 6 | 1 | 197 |
| NA | 117 | Aaron | Pionk | D | 6 | 0.75 | 173 |
| NA | 123 | Jordan | Tourigny | D | 5 | 11.25 | 165 |
| NA | 180 | Terrell | Goldsmith | D | 6 | 4 | 220 |
| NA | 1G | Carson | Bjarnason | G | 6 | 3.25 | 190 |
| NA | 2G | Michael | Hrabel | G | 6 | 6.75 | 215 |
| NA | 3G | Trey | Augustine | G | 6 | 1.25 | 190 |
| NA | 4G | Scott | Ratzlaff | G | 6 | 0.5 | 175 |
| NA | 6G | Adam | Gajan | G | 6 | 2.75 | 180 |
| NA | 8G | Carsen | Musser | G | 6 | 4 | 212 |