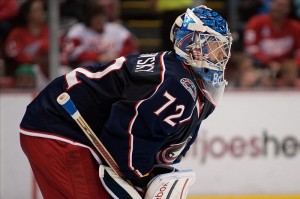 The Columbus Blue Jackets and Sergei Bobrovsky have made a statement during the second half of the season with their perseverance, determination and a burning desire to win.  It has been a pleasant surprise for die-hard fans that have waited for so long to see their team play with pride, dignity and respect.  If that isn't enough, it appears as though the Blue Jackets have awoken the city of Columbus including fringe hockey fans, hard-core Ohio State fans and even a waiter at a local Mexican cantina.   While that may be an overgeneralization, there is no question that the city is stirring from its long slumber and realizing there is an exciting professional hockey team in town.  Greater Columbus has awoken to a Vezina Trophy hopeful in Sergei Bobrovsky and the red-hot "El Jackets" who have exceeded all expectations for this season. 
Mile-High Attitude And Swagger In Mile-High City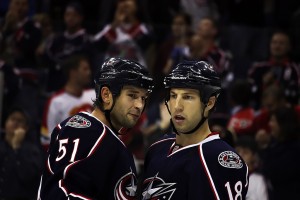 The Blue Jackets brought their mile-high attitude and swagger to match the mile-high altitude in Denver against the speedy Colorado Avalanche.  After giving up a late goal in the third period, the Jackets trailed by one with only about two minutes remaining.  But somehow, RJ Umberger and the Blue Jackets found a way to tie it up a minute later.  In overtime, Bobrovsky made several spectacular saves to keep the Jackets in it.  And then through sheer determination, Nick Foligno scored the winning goal with time about to expire.  If it wasn't for their mile-high attitude, the Jackets would have folded as in previous seasons but not this team.  Not the red-hot "El Jackets".
Enchiladas, Margaritas and "El Jackets"
Speaking of "El Jackets", a trip to a local cantina for authentic Mexican enchiladas and margaritas proved to be more than just a culinary adventure.  The expectation was to be flooded with TV screens showing soccer matches, Mariachi music playing in the background and the scent of salsa and corn chips permeating the air.  
However, before I go any further, you should know that my family tends to sport Blue Jackets gear most of the time in casual social settings and this was no exception.  After settling at a table, the waiter finished taking our order.  And, when he returned with our beverages, he exclaimed, "Senor, El Jackets are playing very good, no?"  
Say, what?  I was caught completely off-guard.  I was not expecting that to come out of his mouth at all.  And, he then pointed at my Blue Jackets sweatshirt as he saw the puzzled look on my face.  It dawned upon me that the Blue Jackets had finally arrived.  If a waiter at a Mexican cantina was talking about "El Jackets" then what more could a puck fan ask for?  We raised our glasses and toasted in honor of Sergei Bobrovsky and "El Jackets"!
Bobrovsky Is The New Face Of The Franchise?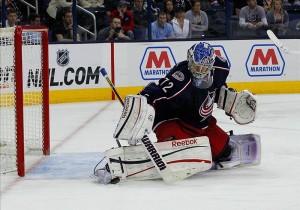 With Columbus going bananas over Sergei Bobrovsky, one has to wonder if he has taken Rick Nash's place as the face of the franchise.  Many players such as Brandon Dubinsky, Artem Anisimov, Jack Johnson, Vinny Prospal, James Wisniewski, RJ Umberger and Adrian Aucoin have played a critical leadership role especially in light of a team without a captain.  While they have performed admirably, none has risen to the level of Sergei Bobrovsky. 
Could Bobrovsky legitimately be considered the new face of the franchise?  I would submit that there is a case to be made here since Columbus has seemingly fallen in love with Bobrovsky and he is the talk of the NHL.  Also, the results speak for themselves including the shootout victory over Minnesota and overtime victory over Colorado.  These were games that the Jackets ought to have lost by a lopsided score but thanks to Bobrovsky's heroics.   And, it doesn't hurt that he has been named NHL's number one star twice in the space of a month. 
Western Conference Farewell Tour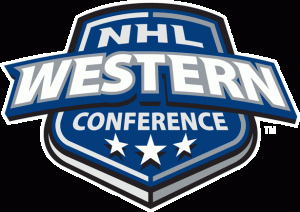 As the Blue Jackets embarked on their Western Conference farewell tour a few days ago, they have found indescribable ways to win on the road against the Minnesota Wild and Colorado Avalanche which has been difficult in the past.  If they continue their winning ways, they could bid adieu to their Western Conference foes in style.  But what is more important is the coveted eighth-place playoff spot.  The Jackets will need a little help from upper-echelon teams to knock off teams that are in a log-jam that has developed around the eighth-spot in conference standings.   Even if "El Jackets" don't make the playoffs, this has been one of the most exciting seasons in team history.  And, Columbus has awoken to the prospect of the future being even more promising for its Blue Jackets! 
Follow me on twitter @HarryKamdarNHL
Harry is a business professional by day and a hockey writer by night. He covers the NHL and the Columbus Blue Jackets on the fastest growing hockey website, THE HOCKEY WRITERS. You can follow him on Twitter @HarryNHL, email at harry.kamdar@yahoo.com and access his articles at https://thehockeywriters.com/author/hkamdar