We all know the story. A couple of bloggers wanted to stick it to the NHL by stuffing the ballot box and voting an enforcer into the All-Star Game. The ploy worked, and despite the league's skepticism, John Scott made it to All-Star Weekend, and became an instant star. Regardless of how you feel about fighting in hockey, or the validity of the All-Star Game, it was hard not to be happy for the big guy.
Fighting to Belong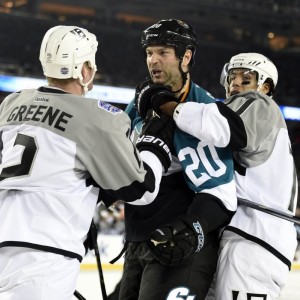 Today, Scott is without an NHL contract. He officially retired in November of 2016 after 10 years in professional hockey (AHL and NHL). On the surface, Scott is your typical enforcer. No discernible hockey skills, brought in to punch guys' faces and "keep order" out on the ice. He'll never play a ton of minutes or score a lot of points. To some, he's a waste of a roster spot.
But that's a superficial way to look at a player like Scott. And it's unfair. Fighters used to have a very significant place in the game. In fact, they were some of the most coveted players. But that era is long gone, and Scott's role is no longer deemed necessary to modern-day teams. Instead, general managers are on the lookout for the next Brad Marchand, a gifted goal scorer who also rattles the other team.
The fraternity of fighters is a sacred one, and one that has lost too many of its own in recent years. It's easy to judge a player for what you see on the ice surface, or in the boxscore, but there's always much more going on behind the scenes. Perhaps the best insight into the life of an enforcer is to hear from one himself.
"There are many people who ask why hockey players fight in the first place, whether it serves a purpose in the game and whether it will always be in the game. Those are not short answers," writes Scott.
Scott's story is one of a hockey player. Not a goon, not a meathead. Just a kid who wanted to play the game he loves. From humble beginnings, surrounded by the love and support of his family, Scott found his way into hockey thanks to a natural athleticism, and his towering size. In his book "A Guy Like Me", Scott chronicles his journey from fringe player to All-Star hero.
Just a Hockey Player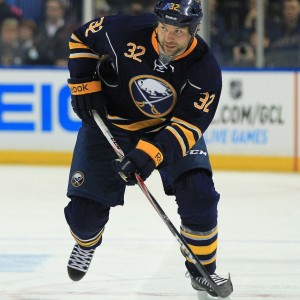 If you think guys dream of being a fighter, and all they want is to hurt people, you'd be wrong. Scott was something of a gentle giant in his early years, looking to protect rather than provoke. Like any good Canadian boy, Scott had lofty plans of making it to the NHL. Luckily for him, he came into the league when size was still highly valued. The importance of speed and the emphasis on fast skaters was beginning to rear its head, but finding a big guy was optimal.
Scott was always bigger than everyone else, in fact he saw it as a detriment. There was a stigma that bigger guys were bad skaters, and Scott put a lot of focus on improving that side of his game. His hockey hero growing up was Ray Bourque, which is why he started off as a defenceman.
Scott opted to play college hockey, with the determination to have a degree and back-up plan if pro hockey didn't work out. There was no fighting in college, so using that to be effective wasn't even a thought in Scott's head. In the eye-opening biography, Scott chronicles his development as a fighter, and how he fell into the role.
"The tough guys are usually the ones who keep things light in the locker rooms. We probably appreciate our place in the game as much as the front-line guys because we have to work so damn hard to keep it," writes Scott.
Scott's light-hearted personality allowed him to have sustained success as a pro because he never took himself too seriously, and did whatever he could to help the team. But life as an NHL enforcer isn't an easy one. Scott watched players like him fall victim to the perils of being a fighter. Using your fists to stay in the game you love takes a toll on even the strongest of men. But as Scott so eloquently put it, playing hockey was always a choice.
From Zero to Hero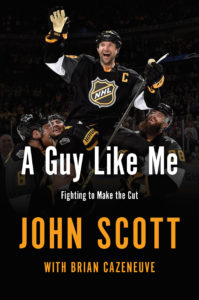 Gaining respect when you're a fighter is something very difficult on the outside, but it's completely different in the dressing room. Scott's teammates in every city he played in always loved him. There's a reason why his peers bought into his All-Star Game inclusion. Hockey players understand that every guy on the roster plays a part.
If you still can't find a way to respect a guy like Scott, getting to know his journey may change that. It's easy to look at a situation from behind a television screen, or a computer, and figure that you know the truth. But when you look at things through the eyes of the guy himself, you get a new perspective.
Scott wasn't just facing a battle with opponents on the ice. He was up against the NHL entity, who didn't want him anywhere near their precious mid-season classic. To this day, it's still a shame the way it all started, which was really an attempt to make a mockery of Scott and all players like him. But to the credit of the people in Scott's corner, a lot of good came out of it.
Being named All-Star MVP wasn't a gimmick in Scott's eyes. It was the pinnacle of a career that came with many pitfalls and setbacks. A career that didn't look the way he expected when he used to skate in his backyard rink, pretending he was Ray Bourque. Scott's remarkable story reminds us what hockey is really about, and what all of these guys sacrifice to play a game.
"There was nobody on the planet who enjoyed those moments more than I did or who was grateful for them more than I was. I felt like I had hit the jackpot. I had worked my tail off for it for twenty-five years, but I never expected to experience all that," Scott wrote.
If you only read one book this year, make it Scott's book. It's time we all understood what these players go through, and how sitting in the stands cheering (or booing) doesn't even give us a partial glimpse into the realities of the game. More players should sit down and write their stories. We could all benefit from hearing their tales. John Scott proved that if you work hard, and never give up, you can achieve great things. We'll all benefit from that lesson.
Visit Amazon to purchase your copy of "A Guy Like Me".
Marcy, a former hockey player, is a hockey correspondent on CTV News and TSN radio. She began her career as a Sports Journalist in 2009 and has been part of The Hockey Writers since 2010, where she is currently a senior writer and editor.