The Boston Bruins made a splash on draft day of 2015 when a number of moves landed them three straight first-round picks in the NHL Entry Draft.
Having missed the playoffs for the first time since the 2006-07 season, the Bruins prepared for the 2015-16 season by making dramatic changes to both their roster and their front office.
The Bruins parted ways with general manager Peter Chiarelli, promoting former-B's defenseman Don Sweeney to fill the role. Sweeney got off to a busy start with his new job, dealing highly-touted defensive prospect Dougie Hamilton to Calgary in exchange for three draft picks.
The B's then flipped Milan Lucic for Martin Jones (who they would soon trade), Colin Miller and a first-round pick in a deal with the Los Angeles Kings, and later traded Carl Soderberg to the Colorado Avalanche for yet another pick.
Long story short, the Bruins ended up with three consecutive picks, 13-15, in the first round of the draft. With those picks, the Bruins selected Jakub Zboril, Jake DeBrusk and Zachary Senyshyn. Here's a look at how those prospects are doing two summers later.
Jakub Zboril
Zboril has spent the last two seasons with the Saint John Sea Dogs of the QMJHL, the same team he played for when the Bruins drafted him. He quieted down a bit for the Sea Dogs in the season after being drafted, tallying just 20 points in 50 games in 2015-16. He did a bit better in the playoffs, earning ten points in 17 postseason games.
This season was much more encouraging for Zboril, who helped Saint John reach the Memorial Cup playoffs. Zboril notched a very solid 41 points in 50 regular season games before adding seven points in the playoffs.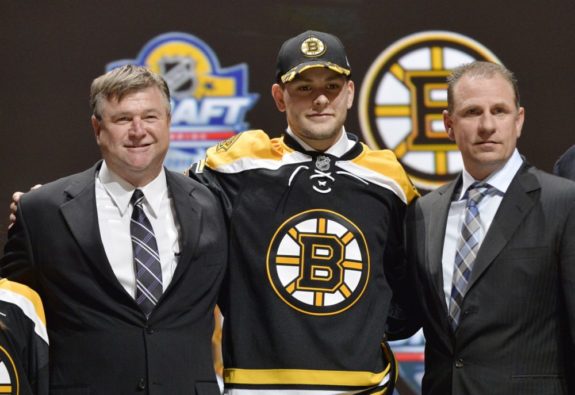 Zboril is a two-way defenseman whose playmaking abilities are quite strong. At just 20 years old, he has time to develop into an NHL-caliber D-man, and the Bruins hope that he'll be a key player in the youth movement that is making its way through the organization now.
He will certainly be a contender for a roster spot next season, especially if the Bruins lose a defenseman in the expansion draft.
Jake DeBrusk
DeBrusk has already started climbing the rungs of the Bruins organization — he spent this season with Providence developing his game in the AHL. In 74 games with the Baby Bruins, DeBrusk registered 19 goals and 30 assists for 49 points in 74 regular season games. He followed that up with a decent playoff performance, scoring 6 goals and 9 points in 17 postseason games.
DeBrusk showed significant signs of improvement this season — and his coaches noticed.
"He's always been strong [on the puck] and greasy, but he is quicker now," said Providence head coach Kevin Dean back in April, as quoted by the Providence Journal's Mark Divver. "He's deceptively fast and quick. When you add some strength onto that, for a guy that's not huge, it's tough to contain."
DeBrusk takes pride in being a gritty player — his work in the dirty areas of the ice leads to many of his scoring chances. Listed at 6-feet, he isn't a huge guy, but he knows how to use the size he does have to play strong hockey. DeBrusk will in all likelihood begin the season with Providence again, but it's very likely that he gets his first shot at the NHL at some point this season.
Zachary Senyshyn
Of Boston's first-round picks, it was the selection of Zachary Senyshyn as the 15th overall pick that had many people scratching their heads. Many had projected the right winger would be a second-round pick, but the Bruins opted to select him just halfway through the first round.
It remains to be seen whether or not that was a good decision, but this season will certainly be an important one for Senyshyn as he enters his first season in the pros.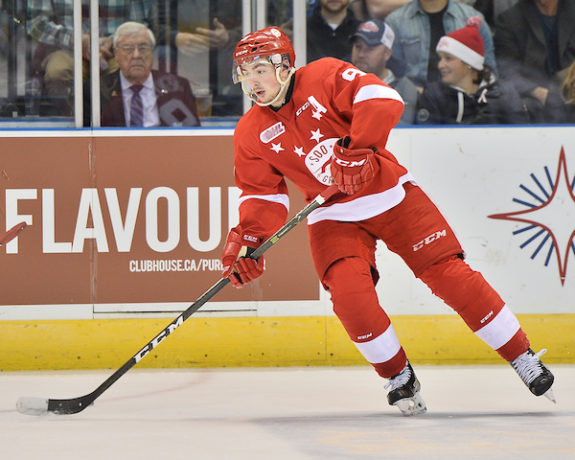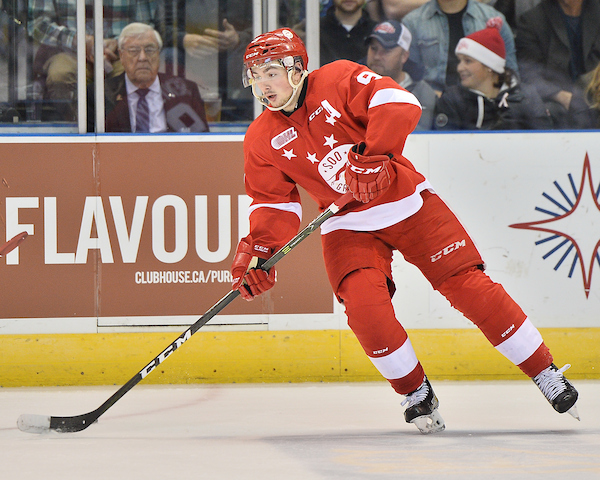 The 20-year-old spent most of this season with the Sault Ste. Marie Greyhounds of the OHL. In 59 regular season games, he scored 42 goals and 23 assists for 65 points before adding four goals and an assist in 11 playoff games.
He joined the Providence Bruins for four AHL playoff games but failed to tally a point.
Senyshyn will certainly begin the season with Providence, and, depending on his performance, may get a chance with the NHL squad this season.