On Thursday, Bruins fans on their lunch breaks were treated to some pleasant news. The third-round pick shipped to Broadway in the Nick Holden deal had been replaced for the minimal cost of seldom-used depth forward Frank Vatrano. What's more, the replacement selection coming from the Florida Panthers figures to be 15-20 spots higher in the round.
That's some impressive finagling from general manager Don Sweeney.
With the meteoric rise of numerous young wingers already in Boston (and with more on the way), Vatrano's struggles this season were magnified, leading to his ouster.
One such player who had leapfrogged "Frank the Tank" on the organization's depth chart was Anders Bjork, the former Notre Dame standout whose brief offseason indecision caused more than a little vexation amongst Bruins fans. Bjork eventually signed, made Boston's roster out of training camp and hit the ground running with nine points across his first 15 games of professional hockey.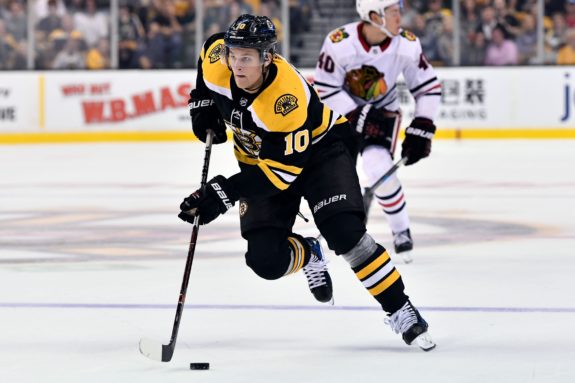 Before those Bruins fans on their lunch breaks were able to finish their Jell-O Pudding, their chipper moods were soured with the news that Bjork was done for the season, requiring surgery to repair a torn labrum courtesy of a Francois Beauchemin cross check. It was the final-blow to a rookie campaign that began with so much promise for Bjork, only to be derailed by a concussion and now this.
So in light of these alterations to the roster, what's the path forward for the Bruins?
Filling the Void from Within
Thursday morning I referenced Boston's tremendous depth as being a key component of the team's Stanley Cup DNA. By late afternoon that same day Boston's ace in the hole (Bjork) and spare forward (Vatrano) were no longer options.
Clearly, this leaves a bit of a void beyond the club's 12 starting forwards.
Austin Czarnik has performed better than admirably each time he's been called upon, even recording three points in four games during his last stint with the parent club. The smart money is on him replacing Vatrano as the team's spare forward and, frankly, the Bruins could do a lot worse than that.
Peter Cehlarik, who has dangled tantalizing attributes in front of Bruins fans throughout his two-year tenure takes over as the de facto ace in the hole at the AHL level. However, the flashes of talent have been punctuated by injury on several occasions, seemingly every time the 22-year-old Slovak starts to put it all together. The potential is undoubtedly there, but Stanley Cup contenders prefer to not rely on unproven commodities in the playoffs.
Ryan Donato, fresh off of a dominant performance for Team USA at the Olympics is set to return to Harvard, where the 21-year-old sniper has recorded 21 goals in just 23 games. Some sources have claimed that Donato intends to join the club immediately after the Olympics. Though the prospect of that happening seems far-fetched to me, there's no doubt that he at the very least intends to burn the first year off of his entry-level deal and turn pro once Harvard's season comes to a close.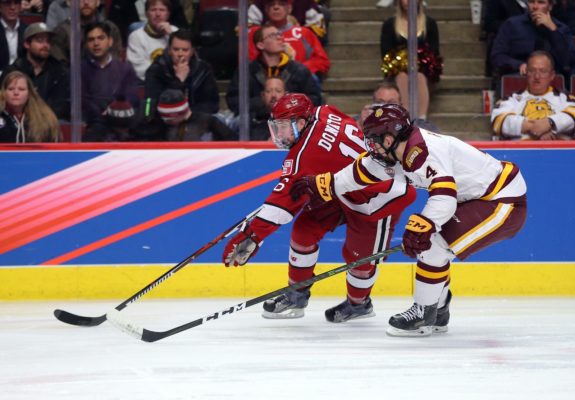 The role he plays for the Bruins down the stretch and during the playoffs remains to be seen. He could be an immediate hit (a la Charlie McAvoy last season) or he could be a non-factor entirely (like McAvoy's Boston University teammate Jakob Forsbacka-Karlsson). Unfortunately, the organization won't have an answer until long after the trade deadline passes.
He'll be an option, but an entirely unproven one.
Trade For Help?
Any additions or augmentations the Bruins make between your reading of this sentence and Monday's 3 p.m. ET deadline are gravy, or the cherry on top. Nothing needs to be done. That's unequivocally a good thing and bears mentioning before launching into any hypotheticals.
With Michael Grabner moving from New York to New Jersey for the ultra-reasonable cost of a second-round pick and mid-tier prospect, Don Sweeney missed out on the only pending UFA forward on the market whose price tag (both cap hit and acquisition cost) was unlikely to exceed his production.
Seeing the asking prices for both Grabner's now ex-teammate Rick Nash as well as Buffalo Sabres forward Evander Kane causes my eyes to roll into my head with such force that a portal to another dimension opens.
Not only does Grabner have more goals this season than both of the "premier" rentals, but his 27 goals last season topped Nash (23) and came within one of Kane's 28; this season's production is no aberration.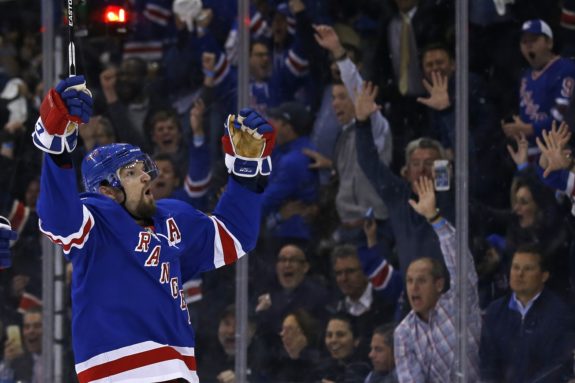 Moreover, Boston's own Nash (Riley) has just as many points this season as New York's Nash, doing so in three fewer games no less. Unless those asking prices come down significantly, you can bet Sweeney stays miles away from either player.
All of this means that Boston's options (should they feel outside help is required) boil down to philosophy and fit.
Low-Key Options
Patrick Maroon has been linked to the Bruins for some time now. He would certainly bring size and physicality to a roster than has gotten substantially smaller and finesse-driven than Bruins teams of yore.
But where does he fit? Is he good enough to bump Jake DeBrusk or Ryan Spooner off of the team's second line? Prior to receiving regular minutes alongside superstar Connor McDavid he had never eclipsed 11 goals in a season, so that's still very much in doubt.
If the answer is no, then Maroon becomes a fourth-line forward on the Bruins. He'd be a great fit on any team's fourth-line, but perhaps less so in Boston where the "Killer B's" (Sean Kuraly, Tim Schaller and Noel Acciari) are already pretty darn good. Moreover, is adding Maroon to the fourth-line worth what figures to cost Boston at least a second-round pick or noteworthy prospect?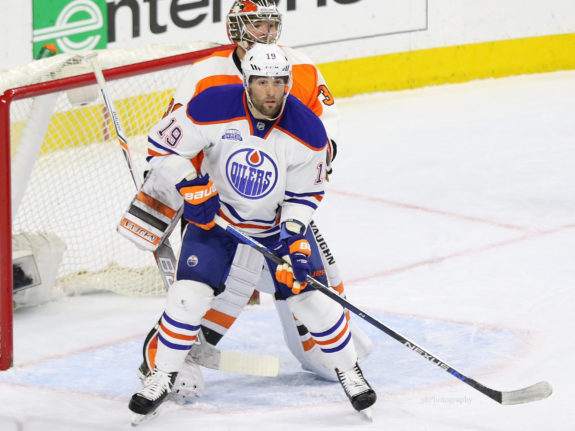 What about Thomas Vanek? He's on the trade block for the 47th time in his career and is once again reportedly on Boston's radar. His 40 points in 60 games are nothing to sneeze at and he would certainly provide a boost to a Bruins power play that has seen its effectiveness wane in recent weeks.
Is his acquisition and expected production worth altering and potentially disrupting the chemistry Boston's lines are currently enjoying? Taking that risk with a versatile, two-way speed demon like Grabner is one thing. Doing so for a 34-year-old, one-dimensional power play specialist is another.
Mark Letestu or Brad Richardson could be the kind of sneaky, low-key additions which pay huge dividends in the playoffs where every face-off, blocked shot and penalty kill could mean the difference between a ring and a tee-time. Both would shore up the team's bottom six depth in the same way Holden provides insurance for the blue line. Nevertheless, neither is anything more than a depth addition or spare forward.
Silver Lining
The one silver lining associated with Anders Bjork's injury is the fact that any temptation to trade him as part of a blockbuster deal has been nipped in the bud.
Just a few days ago, Bruins Beat Writer and Insider Joe Haggerty suggested that of all of Boston's exciting prospects and first-year NHLers, Anders Bjork appeared to be the most likely to be included in a mega-deal. He cited Bjork being leapfrogged this season by Jake DeBrusk and Danton Heinen as well as Ryan Donato's rise as justifications.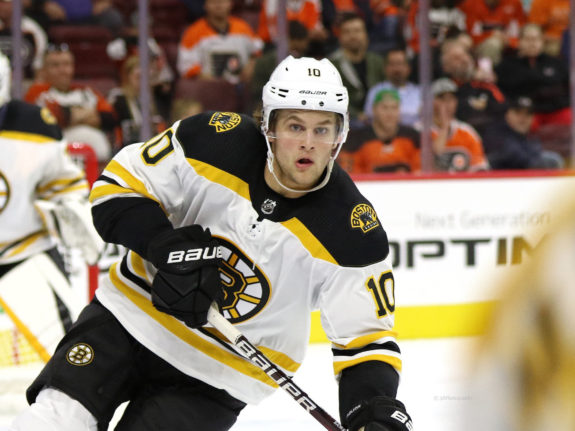 I can't argue with that logic, but I can take issue with including Bjork in a trade to begin with.
Bjork may have been leapfrogged by DeBrusk and Heinen, but those two are each playing their second year of professional hockey, whereas Bjork is still in his first. DeBrusk played zero NHL games during his first season as a pro, while Heinen's experience was limited to eight games and zero points.
Conversely, Bjork was already at 30 NHL games by the time his rookie campaign was abruptly ended and the 21-year-old had a respectable 12 points to his name. One could argue that though he was leapfrogged by his fellow rookies, Bjork is actually far ahead of where either DeBrusk or Heinen were at this time last season. That's not to say he's a sure-bet to surpass the two next season, but it does mean that I have little appetite to see him traded.
There are worse things than icing Heinen, DeBrusk, Donato and Bjork next season, with all four possessing cap hits under $1 million. That kind of youth/productivity/cost blend is the goal of all 31 NHL teams, no?
Outlook
There's no denying that Boston's depth and flexibility at the forward position took a hit with Bjork's prognosis and even Vatrano's departure, down-year and all.
Regardless, the worst thing Don Sweeney could do at this juncture is talk himself into paying a prohibitive cost to bolster the group. Tinkering with team chemistry is not to be taken lightly, especially on a first place team. If it's to be done, it must be done either all the way on a can't-miss talent or subtly, in the form of one or two low-cost depth additions.
Considering the former do not exist at the forward position in this market, the Bruins would be wise to settle for the latter. Depth behind the personnel playing at a 116-point pace should be the new goal at this trade deadline, not exorbitantly-priced replacements.
Despite being New England's Son (hailing from the Great State of Connecticut), Joe currently resides in Los Angeles, California. One of his earliest memories is of the Bruins losing in the 1990 Stanley Cup Finals, setting up a lifetime of crushing disappointments. He feels genuine sadness for those without a passion to rival his unwavering love for the greatest game on earth.